If you are just starting your journey to buy a tankless water heater, you are likely asking yourself, "What size tankless water heater do I need?"
It is probably the most important question when choosing a tankless water heater.
People are used to thinking in terms of capacity. Like, a hot water tank for 5 people will require at least a 60-gallon tank.
But since tankless water heaters supply endless hot water, you don't have to worry about capacity. Instead, think in terms of water flow rate. Flow rate is how much hot water you will need in a certain period of time, and is measured in Gallons Per Minute (GPM).
In this article, I'll explain flow rate and more so you know exactly how to size your tankless water heater and save money. So let's get right to it!
How Many Gallons Per Minute (GPM) Do I Need?
To determine your GPM, you first need to determine which fixtures you realistically expect to run at the same time. And then add up how much hot water (flow rate) each individual fixture consumes.
For example, let's take the morning as that is when most people are taking showers or doing laundry.
Let's say that you have a two bathroom house with 4 people. In the morning you have two showers running and somebody put in a load of laundry at the same time.
You have to figure out how many gallons each of those fixtures uses per minute and add it up.
How many GPM is a shower? How many GPM is a dishwasher? Or washing machine?
You can check your specification sheet on your manual for the fixtures. Or, you can take a look at this handy cheat sheet below to get an idea.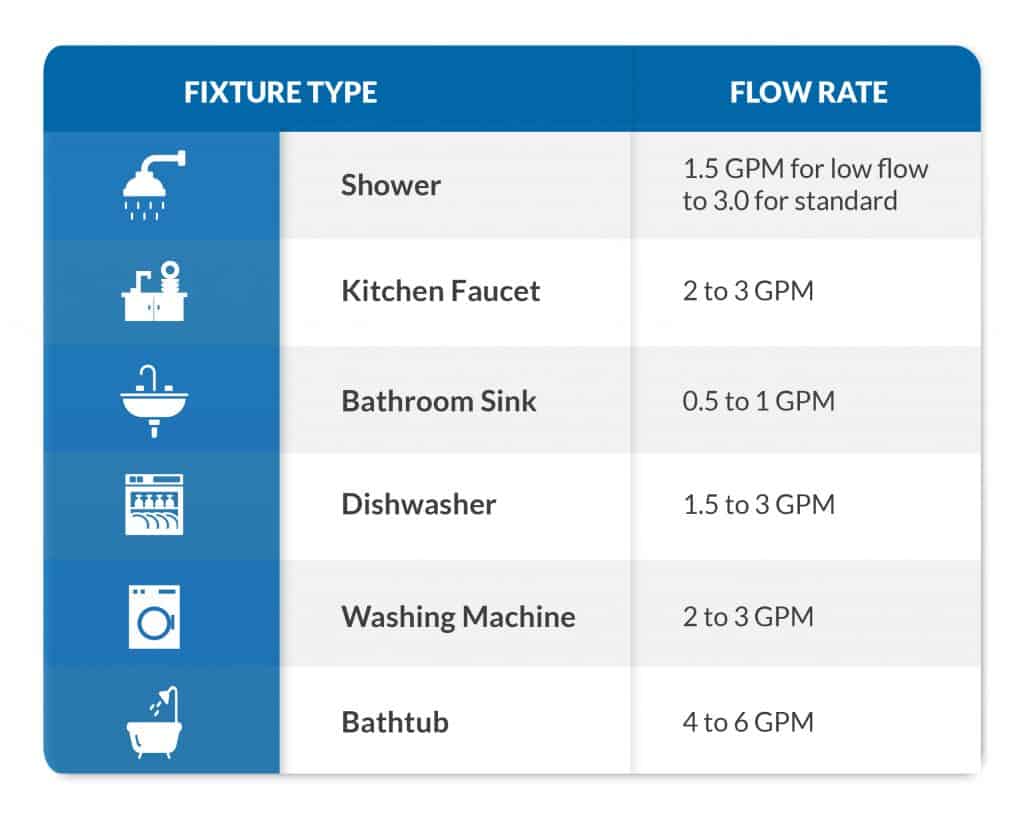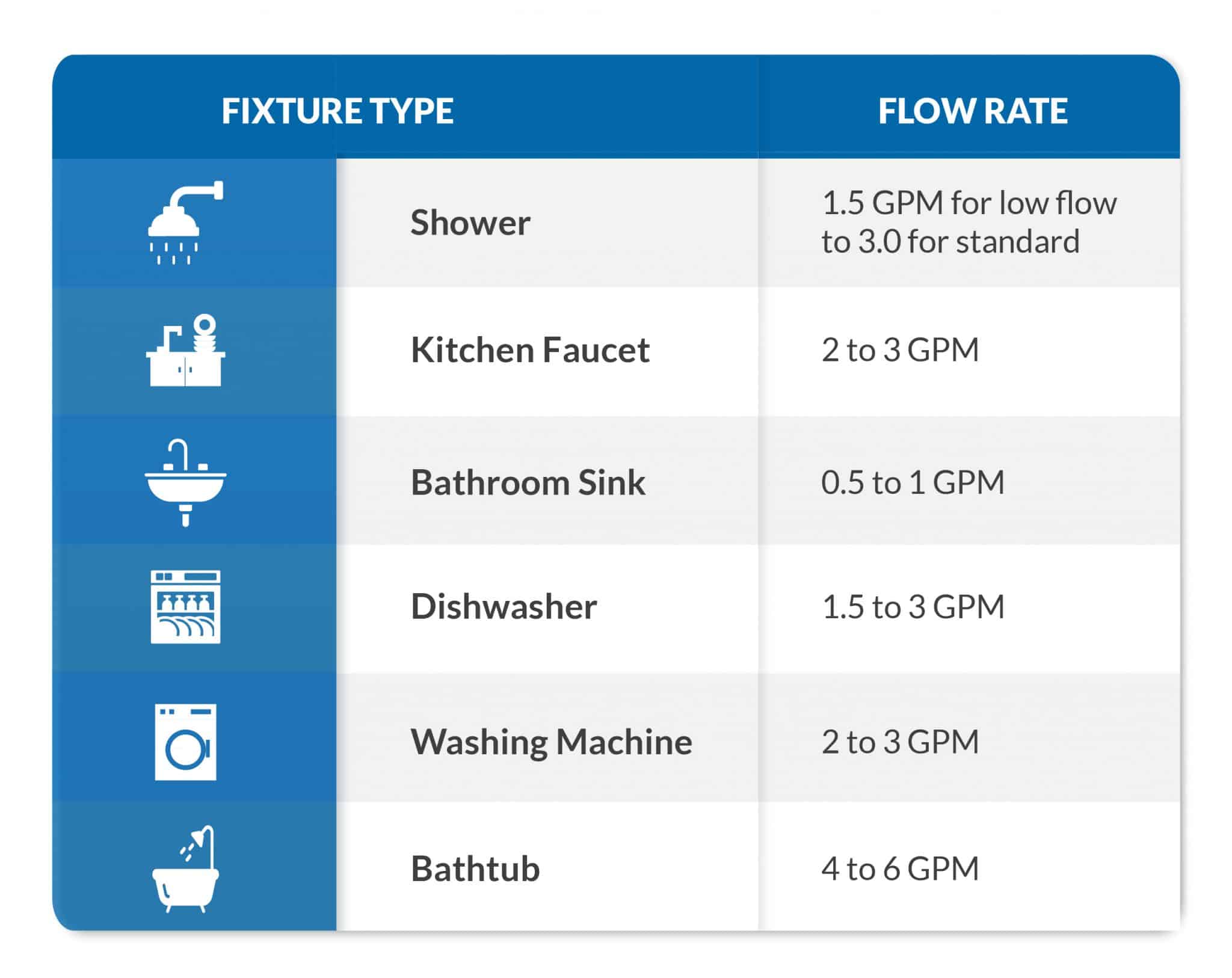 Take a week or so and write down the times that you have multiple fixtures running at the same time and which ones they were. At the end of the week, you will see some patterns and understand exactly when your peak water demand is and how many GPM you will need from your on demand water heater to cover that.
Rheem Mid-Efficiency 8.4GPM Outdoor Natural Gas Tankless Water Heater
Exclusive Water Savings technology conserving up to 1, 100 gallons per year
157, 000 BTU (gas consumed per hour)
Exclusive Hot Start Programming minimizes cold water burst by staying in...
Recirculation pump ready kit ready
For use outdoors with freeze protection up to -30 degrees
Tankless Water Heater Sizing Calculator
After you write down the maximum number of appliances you use on an average week, plug those fixtures into our custom tankless water heater sizing calculator.
Fixture Type
Flow Rate (GPM)
Qty
Total for Fixture Type

0 GPM

0 GPM

0 GPM

0 GPM

0 GPM

0 GPM

Total Flow Rate

0 GPM
You should now have the total GPM that you need for a tankless water heater.
Now that we've covered GPM, let's talk about the factors that go into understanding what size inline water heater you need.
First, you need to understand what temperature rise means.
Temperature rise is simply the difference between the incoming water temperature and the temperature you want.
You will generally want a temperature of 110 for your faucets. Temperature rise is how you will figure out what the actual GPM that the tankless water heater is.
When you see the GPM rating of a tankless, it is the best case scenario. In certain circumstances, you won't get that water flow and still have the water come out hot.
What happens when the GPM you need is higher than what the tankless water heater is capable of is you end up with endless lukewarm water.
This is why sizing a tankless water heater is so important.
Determining Your Temperature Rise
To determine your temperature rise, you need to figure out the temperature of the water coming into your home. And this is based on groundwater temperatures, which will vary considerably based on where you live in the U.S.
Take a look at this groundwater temperature map to get general idea of what temperatures you can expect depending on where you live. If you need real time temperature data, then consult this interactive map from the USGS site.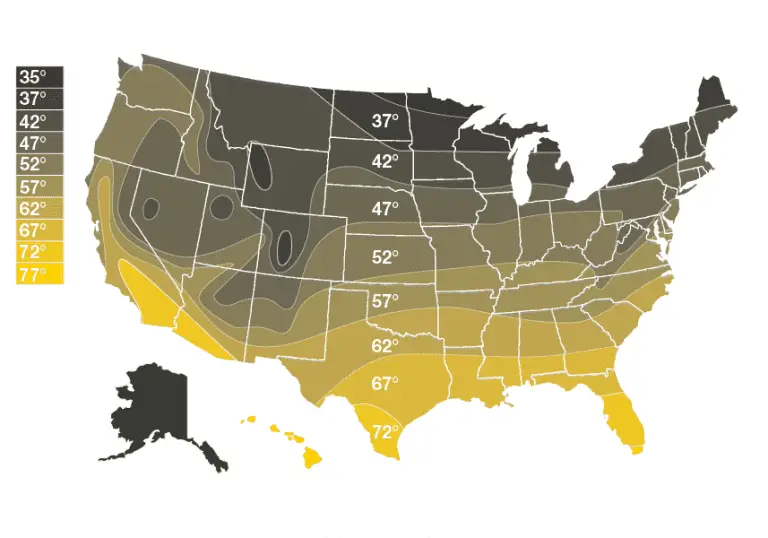 As you can see, the temperatures vary wildly by location.
Just take the temperature that you expect your incoming water to be based on the graph above. Then subtract that from how hot you want your water to be.
This is your temperature rise.
Once you have your temperature rise, you can look at the specification sheet of the tankless water heater you want to buy and see what the GPM is rated for based on that number.
How Big of a Tankless Water Heater Do I Need?
What size tankless water heater you need depends on your GPM at peak hot water demand. And your temperature rise which is determined by your incoming water temperature subtracted from your hot water setting.
As an example, I will show you what came out for me. I live in Boston so my groundwater temperature is around 47°F.
I have small kids at home so I keep my water set around 105°F. This is a safe temperature and it also will keep my gas bill down. My temperature rise then is 58°.
Our peak water demand is a shower, washing machine and faucet running at the same time so I calculated my GPM as 6.
Since I live in Boston I should be looking at a gas tankless water heater since they work best in cold climates. I wrote a really detailed article reviewing the best gas tankless water heaters for different sized households that might be helpful.
Anyway, I need to know what size tankless water heater is best for a family of 4.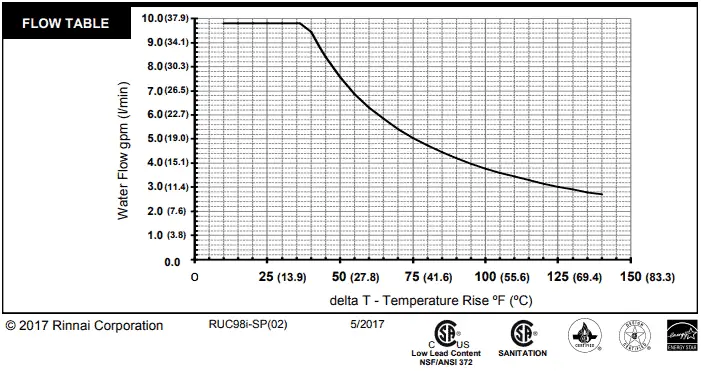 Looks like the Rinnai RUC98iN is going to be best to suit my needs. It is listed as being 9.8 GPM, but since my factors are not the best case scenario, it drops down to 6.7 GPM. This will probably rise in the summer as my incoming groundwater temperature will also be a bit warmer. To get the calculation, you can use a Rinnai tankless water heater sizing calculator and find the best that suit you.
If you are thinking of going with a Rheem water heater, here is a link to their easy to use sizing calculator.
If you live in a cold climate that is going to be a huge factor in which tankless water heater to go with. Read up on my full article on how to use a tankless water heater in a cold climate with 8 simple tips.
How Big of a Water Heater Do I Need for Radiant Heat
Water heaters are a common choice for you radiant floor, as well as your domestic hot water needs. But exactly how big of a water heater do you need for radiant heat?
Keep in mind that when you have a radiant floor, your tankless water heater will be constantly running. In addition to your normal household water usage, you probably want to consider a higher GPM.
In addition, your water heater is likely to last only 5-10 years if used for radiant heat, so we think it's wise to consider a boiler for your hydronic radiant heating system. A lot of things go into how long your radiant floor system lasts, so make sure you do your research beforehand.
In order to calculate how big of a water heater you need for radiant heating, you need to calculate your heat loss. In general, you are looking at a heat loss of as high as 50-60 BTUs per square foot in colder environments, and 15-25 BTUs in warmer environments. It really depends on your particular situation, how old your house is, etc.
But below is a chart with some rough estimates that will let you know how many BTUs you need for your floor heat.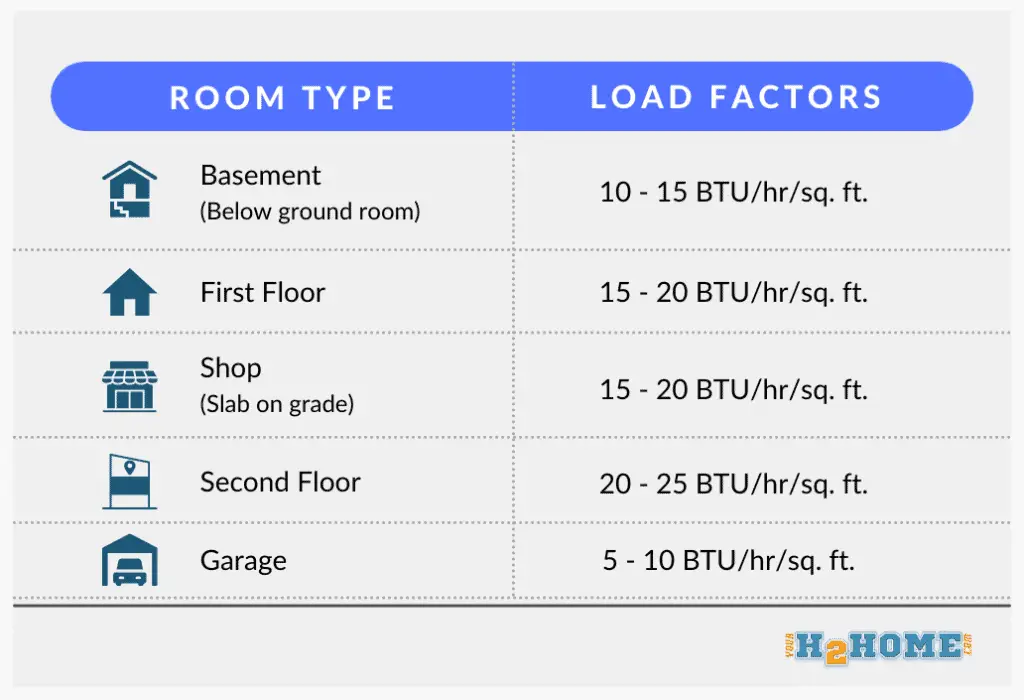 Below is a water heater we recommend for radiant floor heat. It is an 11 GPM and 199,000 BPU model, which is sufficient for most households. And don't forget that radiant heating thermostats will help you maintain your system.
Sale
Rinnai 11 GPM Water Heater
Discontinued. Please see new model RSC199iP
Energy and Space Efficient: Space-saving design conserves energy as it...
Optimal Water Pressure: Up to 11 GPM hot water flow rate for a powerful,...
Instant Heating: ThermaCirc360 technology provides faster hot water with a...
Guaranteed to Last: 15-, 5-, and 1-year residential for heat exchanger,...
How to Choose a Tankless Water Heater
There is more to just the size of the tankless that you need to think about. There are a few different kinds to choose from. Each has its own purpose that it is designed and engineered for.
Here are a few things to consider before buying.
Gas vs Electric
It's my opinion that most households should use a gas tankless. Gas tankless water heaters are best for most homes since they deliver the highest GPM. To get hot water to the whole house using only one unit, then this is going to be the way to go.
Electric units are good when you don't have access to natural gas or propane. 
The benefit of electric tankless heaters is the initial cost. They cost much less to buy than a gas version.
How Much BTU?
BTU is a measure of how much energy is needed to heat water. 
The formula goes like this: 1 BTU is equivalent to the amount of energy it takes to raise 1 lb of water by 1°F. The higher the BTU, the more water it is capable of heating. To make sure you are getting the water hot enough you need to have a high BTU for high water demand.
If you need to provide a whole house with hot water and your peak water demand is high, then you'll need up to 200,000 BTU.
If you only need a couple of low flow fixtures at once, then you can go with lower BTU since it will consume less. Something around 140,000 BTU is more than enough for a small household with low water demand.
Whole House vs Point Of Use
Most people will opt for one unit to provide hot water for the whole house. In many scenarios, this makes the most sense.
However, there is a case to be made for having multiple, small tankless water heaters at each point of use. 
For example, if you have two bathrooms, you can put a unit under the bathroom sinks and it will provide hot water on demand for the sinks and showers in each and even a washing machine. Then another, larger one can go in the kitchen to provide hot water for the kitchen sink and dishwasher. 
These point of use tankless water heaters can provide a few GPM which will be enough for most applications and they don't cost nearly as much to buy or install.
I wrote a buyer's guide to the best point of use tankless water heaters that you can read by clicking that link.
Installation
The cost to install a whole house gas tankless heater can be quite expensive and may play into the decision as to which type of tankless heater to buy.
The factors that contribute to the cost are the distance from the heater to the fixture and where you need to vent. In some cases, you may be drilling through a brick wall which increases the cost. You can read all about your installation options by clicking that link. 
Electric units cost far less to install since they don't need to be vented. There is no exhaust since the heating element is a type of anode.
You'll need an electrician to help, though since they need to be hard wired.
Can you install a tankless water heater yourself? In most cases, you definitely can. It's a matter of following the instructions. But, it may make sense to hire a professional to make sure you don't void your warranty if you install it incorrectly.
FAQ About Tankless Water Heaters
Can a tankless heater run out of hot water?
Technically, no, it can't run out of hot water. When you have the right sized tankless for your hot water demand, you will have endless hot water.

However, with that said, if your tankless heater can't keep up with your demand, you will have and endless supply of lukewarm water as it will have to lower the temperature to keep up. This is why it's so important to buy the right unit for your needs.
Does a tankless water heater give you instant hot water?
No, they don't. If your unit is close to your fixtures then you will get hot water faster than with a tank system placed far away. However, if you want to get instant hot water you will need a hot water recirculating pump.
How long does a tankless water heater last?
If you take care of your tankless water heater and do yearly flushing of the heat exchanger, then you can expect your tankless to least up to 20 years.

However, if you are using your tankless water heater for your radiant floor, expect a shorter life span.

Can you have a tankless hot water heater with a well?
Yes, you can use a tankless water heater even with well water, but you will need to use a sediment filter to make sure it doesn't get ruined. You should also use a filter to deal with hard water from a well.
What is the best 10 GPM water heater?
The lowest price you can get for the highest GPM is easily the Takagi T-H3-DV-N that will give you a whopping 10 GPM.
What size tankless water heater do I need for a family of 5?
If you plan on running at least 2 showers and a faucet in peak hours, a family of 5 would need a 9 GPM gas tankless heater in the Southern U.S. In the Northeast, a family of 5 would need an 11 GPM gas tankless water heater. It is always advisable to go a little too big than to go too small.
Are Tankless Water Heaters Worth It?
After sizing a tankless water heater and evaluating your needs, it may become clear that a tankless water heater is not the way forward for you. They are not for everybody after all.
In the right circumstances, a tankless water heater is the best way to go. If you have heard negative reviews, then you probably are dealing with somebody who didn't properly evaluate their needs and got one that didn't offer the GPM necessary.
If they had sized their tankless heater well, then they would have gotten the one with a higher GPM and more than likely would be very satisfied. What size tankless water heater you need is one of the first things you should address.
I hope that this article on how to size a tankless water heater was helpful and will put you onto the best one for your needs.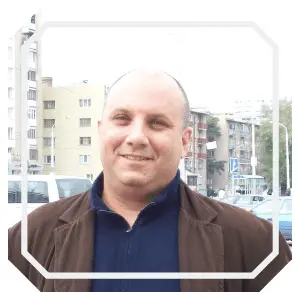 Nick Lopresti is the founder of YourH2Home and a home improvement expert. He has years of experience writing about various home improvement topics, mostly as it pertains to water systems.