There is no reason to have a tank system water heater eating up your energy by heating water when your water demands are low.
Instead, you can use a small tankless heater for under sink, in the RV or boat or in a guest bathroom.
If you love saving money on your electric bill, but would also like instant and endless hot water, then there is only one way to go. An under sink point of use tankless water heater is just the ticket for your needs!
In this article I am going to give you some good reasons to buy an easy to install point of use on demand water heater and give some reviews on the best brands.
In a Rush? Here are our Top Choices
---
Best Point of Use Tankless Water Heater for Shower – EcoSmart ECO 11
Sale
EcoSmart ECO 11 Tankless Water Heater
Endless On-Demand Hot Water; Consistent hot water when you need it that...
Save Space; EcoSmart tankless electric water heaters are 90% smaller than...
Save Energy; EcoSmart tankless electric water heaters are 99% thermal...
EcoSmart ECO 11 Sizing; 13-kilowatt tankless electric water heater ideal...
Whether you are planning to use this under sink ECO 11 in your shower, workshop or RV, you're getting some top notch technology to give you an endless supply of hot water.
This doesn't just heat up your water and deliver it instantly to your fixture, it also does it smartly.
Water Flow Rate
You can easily get two fixtures running off of this point of use tankless water heater. In fact, with an incoming water temperature of 77°F you can get over 2.5 GPM.
This means you can run a hand sink and two showers at the same time if you have low flow fixtures.
With an activation flow trigger of 0.3 GPM you pretty much will always get hot water even with low flow faucets and showers. There aren't many that have a GPM below the minimum here.
What if you live in a cold area?
Then you can still use the ECO 11 but you'll need to be satisfied with only running one fixture like a faucet or shower.
Here is the temperature rise chart so you can see the specs and what you can expect if you've already determined your number.

As you can see, even with really cold water coming in you can still get at least over 1.5 GPM which will be enough for a low flow shower head.
Self Modulating Technology
Here is where the smart in EcoSmart comes into play. The unit will automatically adjust the flow rate to make sure it can keep up with the demand, or, even how much energy is used to meet the demand. This cuts way down on wasted water and wasted electricity since it is not using a one size fits all approach.
Efficient
EcoSmart claims you can save up to 60% off of your current electricity usage for a tank storage system largely thanks to the Self Modulating feature. You may or may not get that much, but you will save money, no doubt about it.
And since your unit will be close to the point of use, then you won't be waiting for a minute or more for the hot water to arrive, saving you in water too.
There is only a 2% loss of heat so there is no waste either.
Electrical Specs
If you are looking to use this in a camper or cabin, make sure you have the right breaker box to handle the Amps needed. You can take a look below at the chart that gives the requirements for installation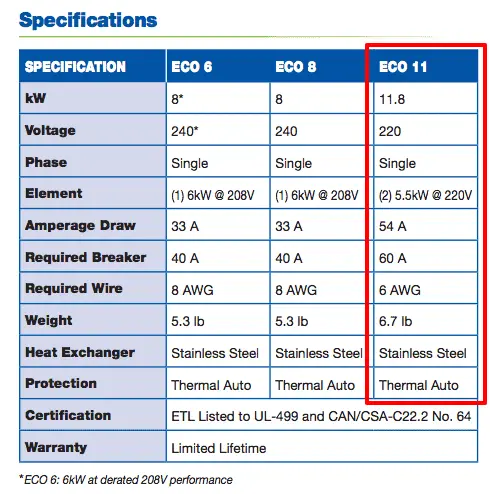 Basically you will need a breaker with at least 60 amps. And 6 AWG wire. This will need to be hard wired so make sure you use a professional that knows what he is doing to hook up your tankless water heater.
You can likely do the plumbing part yourself as the instructions are very clear and it is pretty easy. But, electrical should not be taken lightly.
Easy to Use
With a digital LED screen that adjusts the temperature in 1°F increments, you are in total control.
And replacing parts is also simple thanks to the threaded heating elements.
What We Like:
Up to 2.5 GPM water flow
98% energy efficient
Save up to 60% off electrical bill
Self Modulating Technology for even water heating and flow
Lifetime warranty available
Threaded heat elements for easy replacement
What We Don't Like:
Doesn't give enough GPM in cold climates
Installation can be expensive
Verdict
For a great low price you can get a lot more GPM and performance than you would have thought possible for such a small tankless water heater.
A.B Crew 110V Tankless Electric Hot Water Heater Review

No products found.
What We Like:
Great low price
Convenience of plugging into a wall outlet
Only 110 V
Very easy to install
Great for a camper or RV
LED temperature display
Heats water up in seconds
What We Don't Like:
LED temperature displays only in Celsius
Faucet is made out of ABS plastic
Not easy to control temperature
For use in a guest bathroom, cabin, camper or RV you can get endless hot water in seconds with this instant sink tankless heater.
The best part is you don't need to hardwire it. It just plugs right into a 110V outlet for convenience.
It has very few frills and really no bells and whistles, so it isn't for everybody and every situation.
You can't really control the temperature of the water, so how how the water will come out will be determined by the temperature of the incoming groundwater.
For this reason, I don't recommend this in cold climates.
It is best used for a hand sink or washing dishes if you have an off grid cabin or tiny house with limited space and low hot water demand.
It does work though, and it works well, as long as you don't have expectations for heavy use.
Verdict
For the right person in the right situation this is a great solution to getting hot water somewhere that might usually be a challenge.
The price is great, it is dead simple to install and will give you endless hot water. Not much else you can expect or ask for!
Best 110V Plug In Tankless Water Heater for Sinks | Lyty Mini Instant

Mini 3kW 110v 120v Tankless Water Heater
【Important Note】Working current need :25A-32A, so you need 10 gauge...
【Endless hot water】 No need to preheat before using. As soon as you...
【Eco & Electric & Water Saving】 Safe heater, save up to 55% on your...
【Work Depend on The Flow】 Start to heat when the flow is more than 0.6...
【Compact Design, Wide Use】Meets your various needs such as used in...
What We Like:
1.5 GPM in warmer climates
Great for low hot water demand situations
Smaller than a shoe box
Plugs right into an outlet – No hardwiring
Works with ½ inch water connection
What We Don't Like:
LED displays temperature only in Celsius
Can only control temperature by adjusting the water flow
Like the AB Crew Sink tankless reviewed before, there is not a ton to say about this simple and no frills small tankless water heater.
If you have low hot water demand and live in a warm area, then you will get the endless hot water you need.
With up to over 1.5 GPM you can easily run a low flow shower with the Lyty. And since it can be hooked into multiple fixtures you are not relegated to only one. You may not be able to use multiple fixtures at once, but you can run either a sink or a shower off of the same unit.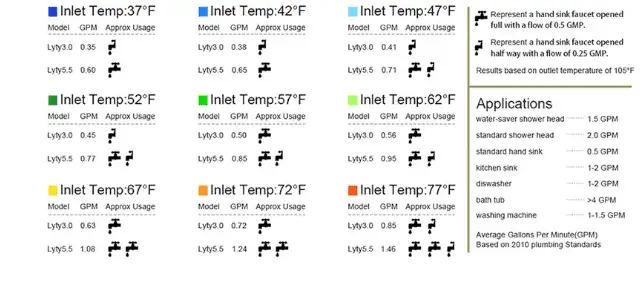 It plugs right in so installation requires no hardwiring of the cables. This makes it very versatile. If you have a tiny house or RV then you can still enjoy endless and instant hot water.
Verdict
This is definitely worth it considering the low price. It won't work in every situation but in certain circumstances it can be extremely helpful.
Best Under Sink Tankless Water Heater | Rheem 240V RTEX-13

Rheem 240V Tankless Water Heater
External adjustable digital thermostatic control with LED display (+/1...
Durable Copper immersion two heating elements, field...
Simple installation – 1/2 NPT adapters included; side 1/2 inch...
99.8% energy efficient. External controls to adjust temperature in...
Threaded for easy replacement, simple installation, digital temperature...
What We Like:
Super easy to install without a professional
Gets up to 4 GPM flow rate
Takes up a small amount of space
Great for studio apartments or guest bathrooms
99.8% energy efficient
0.3 GPM activation trigger
What We Don't Like:
Water flow slows down when using multiple fixtures
People who have been researching the best electric tankless water heaters for a while have no doubt come across Rheem. They are one of the best, if not the best, brand for electric on demand water heaters.
The most popular of their line is the Rheem RTEX-13. It is small, versatile and effective. Under a cabinet or under a sink, this compact unit can be mounted wherever you need it close to the fixtures you'll be using.
Water Flow Rate
In the best case scenario, ie warm incoming groundwater and a low outgoing temperature, you can get up to 4 GPM from this tiny under sink unit.
Though, most people looking for a point of use model are not usually looking for that much water flow. It is nice to know, though, that if you hook this up under a bathroom sink and run a line to the faucet and shower, that you can comfortably run both fixtures at once and have endless hot water.
Take a look at the chart below to see what kind of GPM you can expect based on your temperature rise.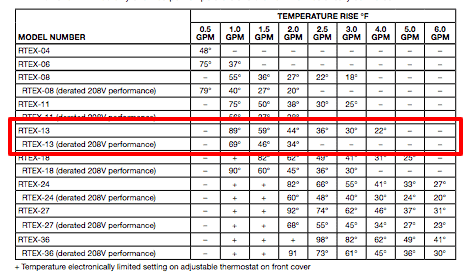 Installation
As long as you can handle a 240V unit and have a 60 amp breaker then you can use this anywhere.
The installation is not difficult but you will need a professional to hardwire it for you to avoid any dangerous mistakes if you try it yourself. Since it is a quick procedure, assuming you don't have to upgrade your breaker, then it won't cost much.
Energy Efficient
At 99.8% efficient, there is just about no heat waste at all. All of your energy used is spent heating the water.
Since it features Self Modulating technology, it can automatically adjust the water flow to ensure a steady temperature which saves on electricity. Also, it can determine how much energy is needed to meet the demand so it doesn't use more than what is needed.
This should show some significant savings on your electric bill.
Verdict
No matter where you use your Rheem, you're sure to see the results you're looking for. For those with low hot water demand, this is a great, affordable and high tech choice for your instant hot water tankless.
What is a Tankless Point of Use Water Heater?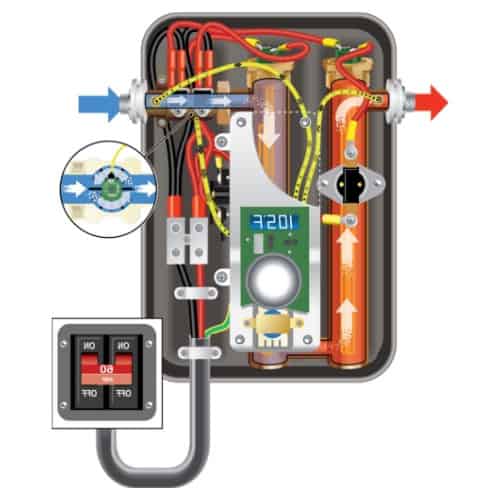 If you landed on this page without knowing what a tankless water heater even is, it is as simple as its name suggests.
It is a water heater that does not store water in a tank. Rather, when the hot water is turned on, there is a heat exchanger that heats the water to a set temperature as it passes the heating elements.
This means you don't pay to heat water in a tank all day while there is nobody using the hot water.
Even better, it also means endless hot water. Since there is no tank to deplete, the water continues coming out hot until you shut off the fixture. If you are usually the last person who takes a shower and ends up with lukewarm water then you are in luck!
There are some that will heat all the water you need for the whole house, but these small units are meant to be used at one or two fixtures. For instance, under a bathroom sink for the shower and sink, or in an RV or boat. Anywhere that you need to have some hot water without waiting for it to arrive from a source at another part of the house.
How to Know Which Small Tankless Heater is Best For You?
It doesn't matter what model somebody says is best. For you to get the right tankless water heater for you, you have to know what size will work according to your specific needs and circumstances.
For instance, your incoming water temperature will determine if you will get the maximum GPM (Gallons Per Minute) listed for your model. If you live in a cold part of the country and your water is coming in cold then your heater won't be able to heat the water quickly enough for you to actually get the GPM that you were expecting.
I have a fully detailed article that goes into all the aspects of how to know what size water heater you need including an online calculator. Click the link to read all about it.
The basic gist of it is you need to add up the average GPM of the fixture or fixtures you need to use the heater with.
Here is a chart for the averages, but you can also look on the manual of your particular fixture.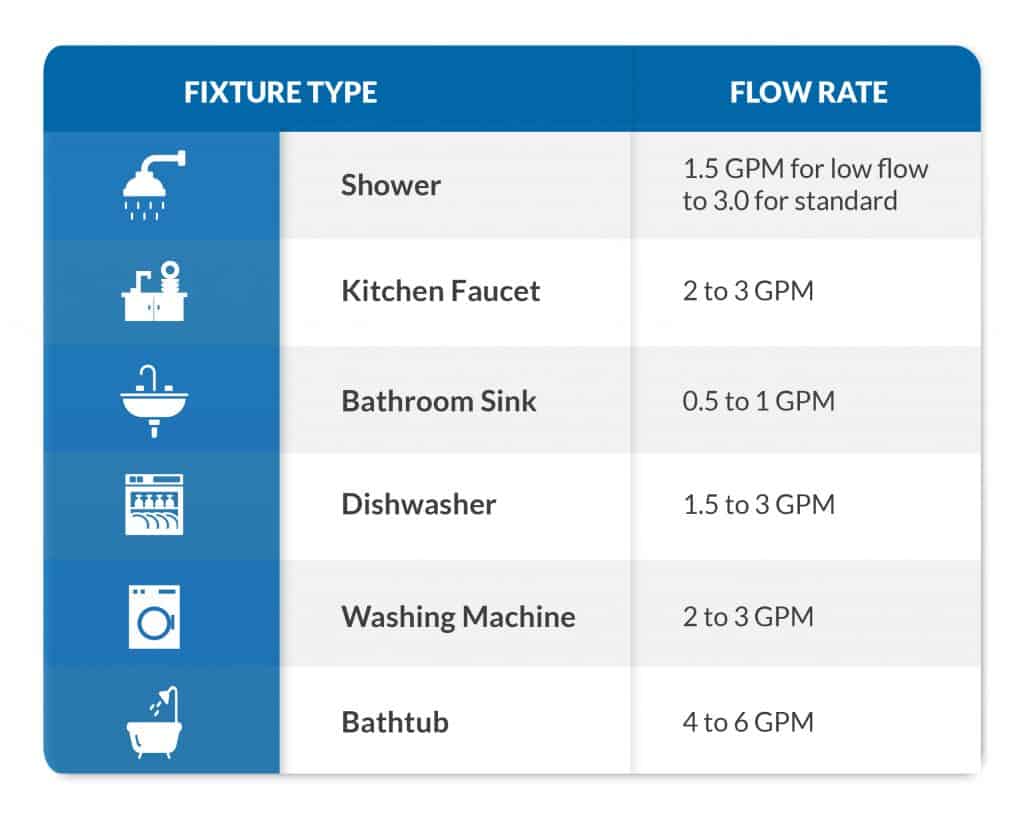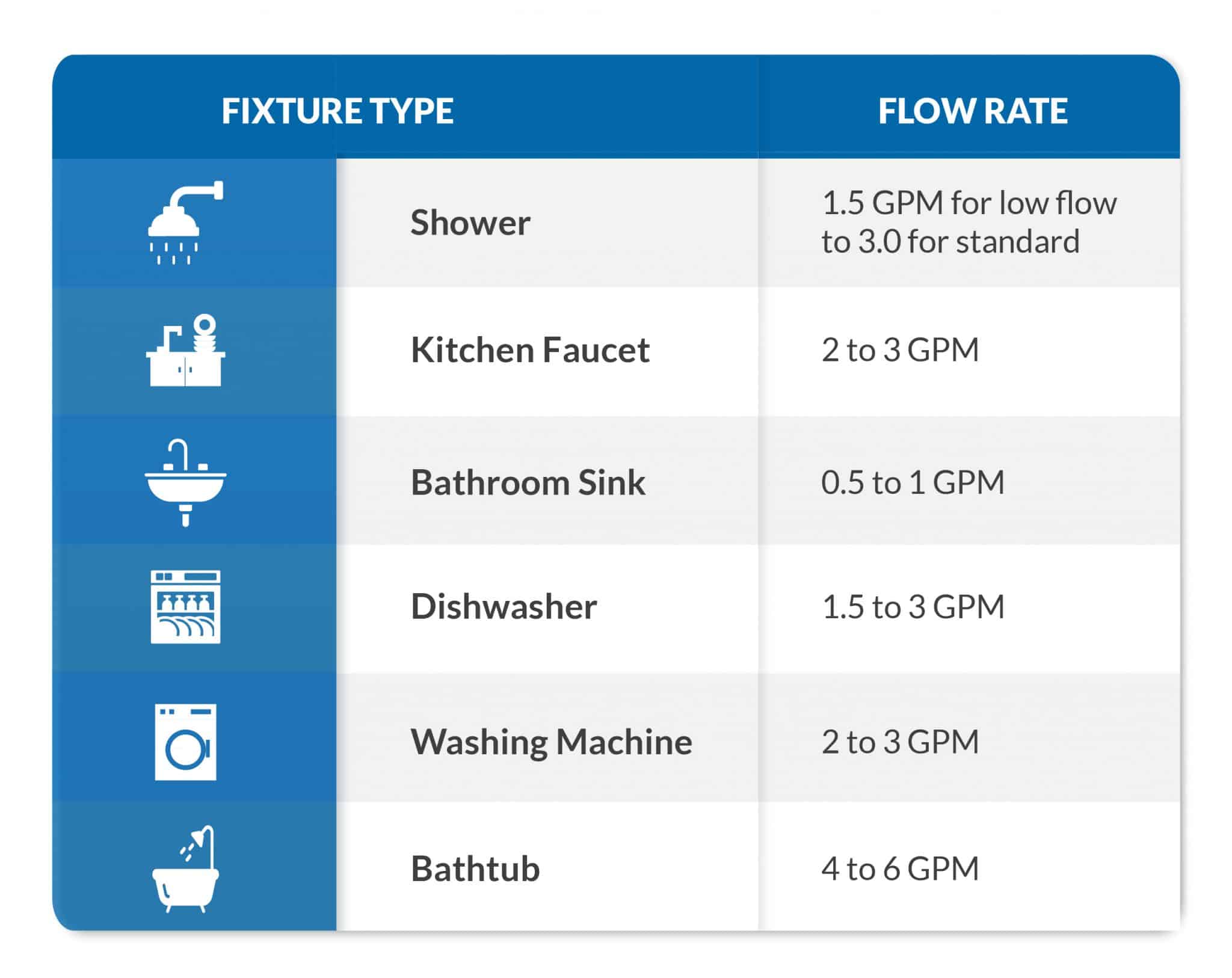 Then you also need to figure out what your groundwater temperature is. Take a look at the map below to get an idea. Or, to be more specific, you can head over to the USGS site and see what the real time water temperature is for your area.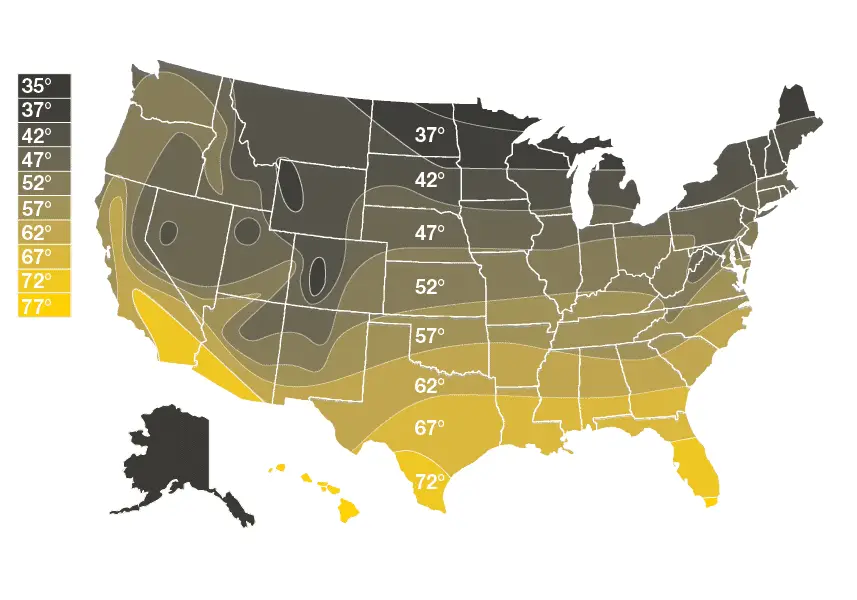 This should give you a basic idea of what your temperature rise number is and what kind of tankless model will suit you best.
If you live in a cold climate then your choice of tankless water heater is extremely important. Tankless water heaters are very popular in Canada where it is obviously very cold. I wrote a full and detailed article about the ins and outs of using a tankless water heater even in a cold climate. Before you buy make sure you read it.
The gist of it is that you may need several point of use tankless heaters if your groundwater is cold.
Pros and cons of a point of use tankless water heater
As much as I love to promote any and all tankless water heaters, I will say that they are not a perfect appliance and some people may not benefit from one. It highly depends on your needs and circumstances.
To understand if a small tankless water heater is for you let's go over some advantages and disadvantages first.
Pros
Instant hot water – Though many other types of tankless water heaters mistakenly get labeled as instant hot water heaters, the point of use ones do actually live up to that name. WHen you put a unit under your sink, it is right where the water demand is so there is no time to wait for the hot water to arrive. Even with a tank system, if the heater is on the other side of the house, you need to wait for the hot water to travel all the way to the point where you need it. Simply being closer to the source gives you hot water much faster with the added bonus that it is endless.
Environmentally friendly – Heating a big tank of water when nobody is home or using it is very wasteful. A tankless point of use water heater only heats water when it's turned on so reduces energy consumption by up to 30%. This also is nice on the wallet.
Long lifespan – Many small tankless water heaters are made to last over 20 years. Many have a warranty of 12+ years so there is really no downside to owning one. Compare that to 7 to 10 years that a typical tank system lasts.
Space saving – Putting a small tankless water heater under your sink can free up space in your basement or closet when you remove your large tank system. If you are downsizing and live in an apartment then every inch of space is needed so this comes as a very welcome feature.
Cons
Water flow trigger – Your point of use tankless will likely have a minimum water flow rate trigger. This means that for it to turn on it has to detect the incoming water flowing at a certain rate for it to start heating the water. If you have low flow fixtures that run water at a low gallon per minute then you might not get hot water. A typical water flow trigger is around 0.5 gallons per minute (GPM) for most tankless units. If your low flow faucet, say a bathroom sink, is less than that then you'll have to go with a tank.
Doesn't always work with pumps – If you are in a camper or RV and have well water then you may have issues. A tankless water heater needs a steady flow of water. Most pumps that draw from well water sort of stagger so you don't get a steady flow. This means that the heat exchanger doesn't trigger. If you have that type of pump, you'll need to upgrade to something compatible with a tankless.
Low water pressure – Point of use tankless water heaters were not made to run too many fixtures at once. If you have a low GPM unit and try to run a fixture too many, like on a washing machine in addition to the sink, for instance, then you'll end up with low water flow. If you use them as intended, you won't see any reduction in pressure, however.
High amperage – These may be small, but do require a fair bit of Amps from a circuit breaker. In a cabin, RV or boat, then you won't have enough juice to run one unless you are hooked into the main electrical supply. Older houses may even have trouble with frequent tripped breakers if your box doesn't have enough amperage.
Different ways to use a small tankless water heater
There are a lot of benefits to using a small on demand water heater which I will get into in a bit, but one of the biggest is the versatility.
Here are some of the many ways that a point of use tankless water heater can be used:
Under a Sink or Under a Cabinet
Enjoy instant hot water right where you need it by placing a small tankless water heater right under your bathroom or kitchen sink.
With some small units, you can still run a couple of fixtures so they can be used for a sink and shower for instance.
In a Boat or RV
If you are out of your house but still want endless hot water you do have options. There are a few RV specific tankless water heaters which you can read more about here, including reviews, but even some small under sink tankless water heaters will work in a camper or RV.
Even a boat if you are moored is a good place for a tankless water heater. Many of even the smallest units will need quite a bit of power, so if you are not hooked up to the power at a slip then you won't have enough power to use it. In other words you can't use it while underway. But in the right circumstances you could use one.
In a Guest House
If you have periodic guests over but not frequent enough to want to install a huge, wasteful tank system then a small point of use is the answer. Having a bigger tank that only gets used when you have people over doesn't make a lot of sense. If you normally have low hot water demand, then you can install a dedicated instant tankless unit in your guest bathroom so you only get hot water when they are there.
In a Workshop
Another spot that gets hot water infrequently is a workshop or a shed for a man cave for instance. Once again, why have a bigger tank that will be kicking on all day for hot water that you only need occasionally.
Put an under sink tankless water heater in there for your industrial sink and get all the hot water you need but only when you want it.
At the Cabin
If you are off grid then a tankless electric water heater (or water heater running on a generator) is the answer. You can get hot water to one or two fixtures with even a small on demand heater and get all the hot water you need.
If you like being out in your nature house but want the comfort of a long, hot shower then you will love bringing a point of use water heater out there.
If you don't want one permanently installed you can check out some of the best portable tankless water heaters that will also get the job done.

Final Thoughts
I really hope this list of under sink tankless water heater reviews has helped you realize that there is a solution to every problem.
When your water demand is low, you have a small apartment or anywhere that space is limited, then your best bet is a point of use tankless water heater.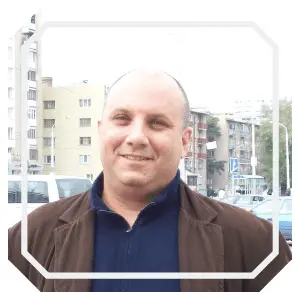 Nick Lopresti is the founder of YourH2Home and a home improvement expert. He has years of experience writing about various home improvement topics, mostly as it pertains to water systems.