You've finally decided to go for a tankless water heater after hearing so much about them. The energy savings, the endless hot water and the small size all look really appealing.
But, you can't decide between the two leading companies: Rinna and Rheem.
You can't really go wrong if you buy either, but when you stack up the differences in a Rinnai vs Rheem comparison, we believe one of these water heaters is the overall better choice.
I'll go through the major models of Rinna and Rheem and see how they stack up against each other. I will be focusing on cost, capacity, and efficiency as the major determinig factors. So let's get to it!
Rinnai vs Rheem | An Overview
Both of these brands are at the top of the tankless water heater market. They both offer up exquisite engineering, great energy efficiency and lead the way in innovations in the technology behind tankless systems.
As I mentioned in the introduction, you can't go wrong really with either brand unless you buy the wrong unit for your needs.
When you read negative reviews about any of the models that either produce, most of the negative ones were written by people who didn't fully evaluate their needs and bought the wrong unit.
Keep that in mind as you read on.
Wondering how Rinnai stacks up against Noritz? Check out this article to find out.
Whole House Tankless Water Heater

Both of these models will cover your water demand for a whole house with a family of 5 or so. With almost 10 GPM you can be running multiple fixtures at once and not experience any slow down of water flow.
Here are some more details about how they compare.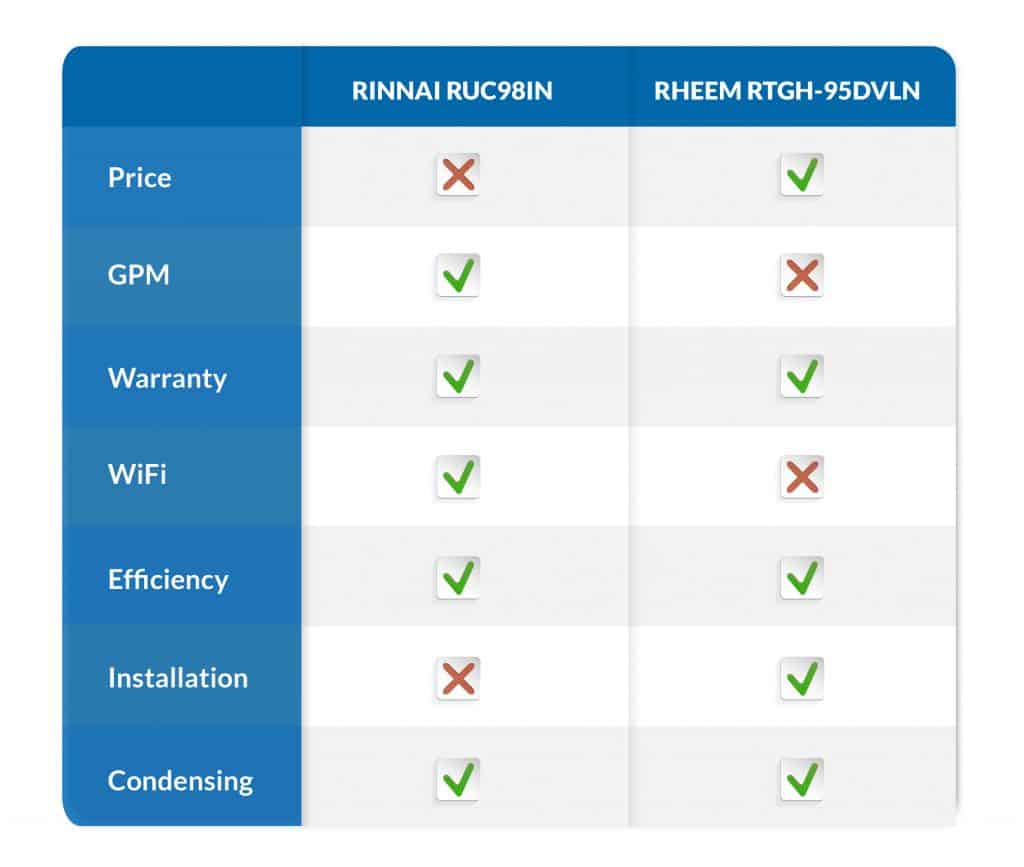 Other Features
Rinnai
Has Wifi capability to connect your smartphone for things like setting the temperature and receiving maintenance alerts.
A 12 year warranty on the heat exchanger is very generous and will give you the confidence that this will last you quite a long time. Long enough to pay for itself over the years.
Rheem
With a built in condensate neutralizer, you don't have to worry about adding one separately to deal with the acidic runoff or special drains.
A self diagnostic system will alert you to any problems that may be affecting the unit and even let you know if there is a problem with installation.
Verdict
This is a very tough one to call. They both offer up very good GPM, but Rinnai beats out Rheem in this department.
The price of these units is about the same, with the Rheem having lower installation costs.
If you like convenience, the Wifi capabilities of the Rinnai RUC98iN is really nice to have especially if you are running a smart home. It also comes with the better warranty (12 year heat exchanger, 5 year on parts vs 10 year heat exchanger and 1 year for parts for the Rheem).
I give this one to Rinnai.
Rheem vs Rinnai: Outside Natural Gas Models
This is another close one as both of these outdoor tankless systems give you similar performance.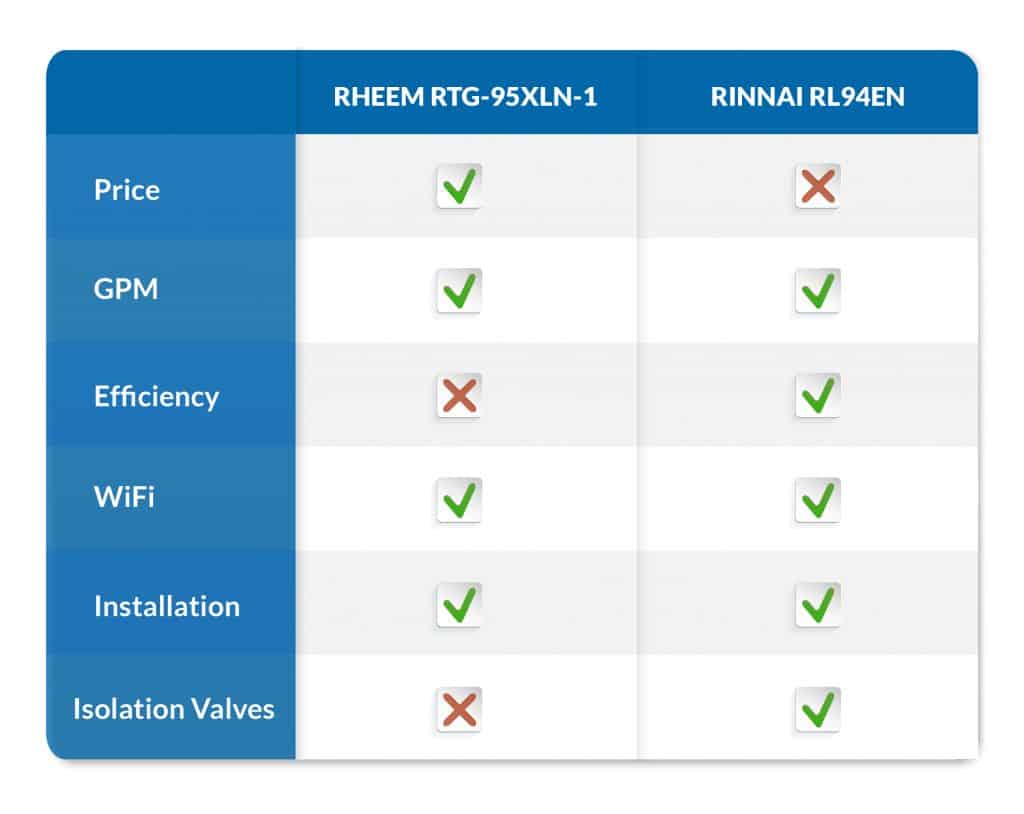 Other Features
Rinnai
With Circ Logic, you can set up a hot water recirculation that will keep hot water ready so you have instant hot water without needing to add a separate pump. It even can be programmed so it only heats the water in the line when you usually need it most to cut down on wasting energy.
Included isolation valves save you a fair bit of money in two ways. One is that you don't need to spend extra money to buy them separately and installed, and it also means you can do the yearly water flushing yourself so you don't have to pay a plumber.
Read this article to learn how to flush you Rinnai tankless water heater.
Rheem
Installation potentially costs less due to the fact that it is compatible with ½ inch gas lines where Rinnai needs ¾ inch.
There are no cold water sandwiches with the Rheem and you don't even need to have a recirculation pump do keep the water heated since it has Hot Start programming so the heat exchanger stays ready to heat the water for a few moments after you've shut the water off. If you need to turn it right back on then you will have continuous hot water.
Verdict
Once again, you get two very high end water heaters here that both feature some nice technological advances for comfort and ease of use.
But, there is a difference in price. You pay a few hundred dollars more for the Rinnai up front. However, Rinnai models are known for their durability, often lasting up to 20 years. So in the long run, you'll probably save money with the Rinnai model.
I would go for the Rinnai in this case since it is all ready for upgrades and maintenance without any headache in getting it set up.
Ways Rheem Beats Rinnai
I'll stop the comparisons there as the other models are two different from each other to put head to head.
What I mean by that is Rinnai doesn't have electric tankless water heaters and Rheem has many.
Rheem has an entire lineup of electric tankless water heaters that go from small point of use ones for one or two fixtures, to being enough for a whole house. So you have more options with Rheem for your needs than you do with Rinnai.
You can see the whole line of Rheem electric tankless water heaters here to see if there is one that suits your needs!
The other major factor here is price. Rinnai make the most expensive tankless water heaters so you can save money with a Rheem.
Installation is also usually cheaper for a Rheem than Rinnai.
If you want to read more in depth reviews about Rheem products then follow the link!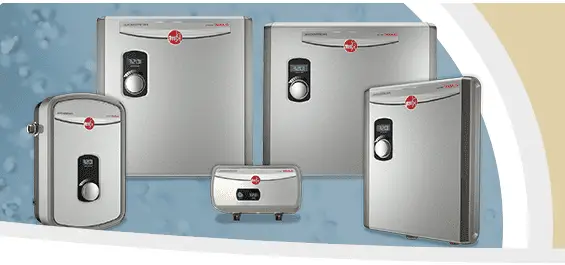 Where Rinnai Beats Rheem
For efficiency, capacity and performance, you can't really find a better brand for tankless water heaters.
Yes, they cost more money than other brands in the same class, but what you get is reliable technology and more features. If you like bells and whistles like being able to connect to Alexa and having maintenance alerts sent right to your phone then you'll love the Wifi.
You can add on other features like the recirculation pump that is already integrated.
You get the highest Gallons Per Minute (GPM) than with any other brands besides Navien, so if you live in a cold area or have a large family with high water demand, then you really need to have a Rinnai to meet your needs.
How to Know What Water Heater You Need
That was a general overview of how Rinnai and Rheem water heaters differ. But at the end of the day you need to evaluate what your individual needs are.
Here are the things you need to consider before you can decide which unit to buy:
Water Demand
Since a tankless water heater does not store any water, you need to calculate how much water you use at any one time.
This number is called GPM or Gallons Per Minute. It isn't difficult to figure this out, but I have a handy chart below that will give you the average GPM of your household water fixtures to make it even easier.
Take a few days to write down when you have multiple fixtures running at once. See if this is a one off event or if you need these fixtures running simultaneously frequently.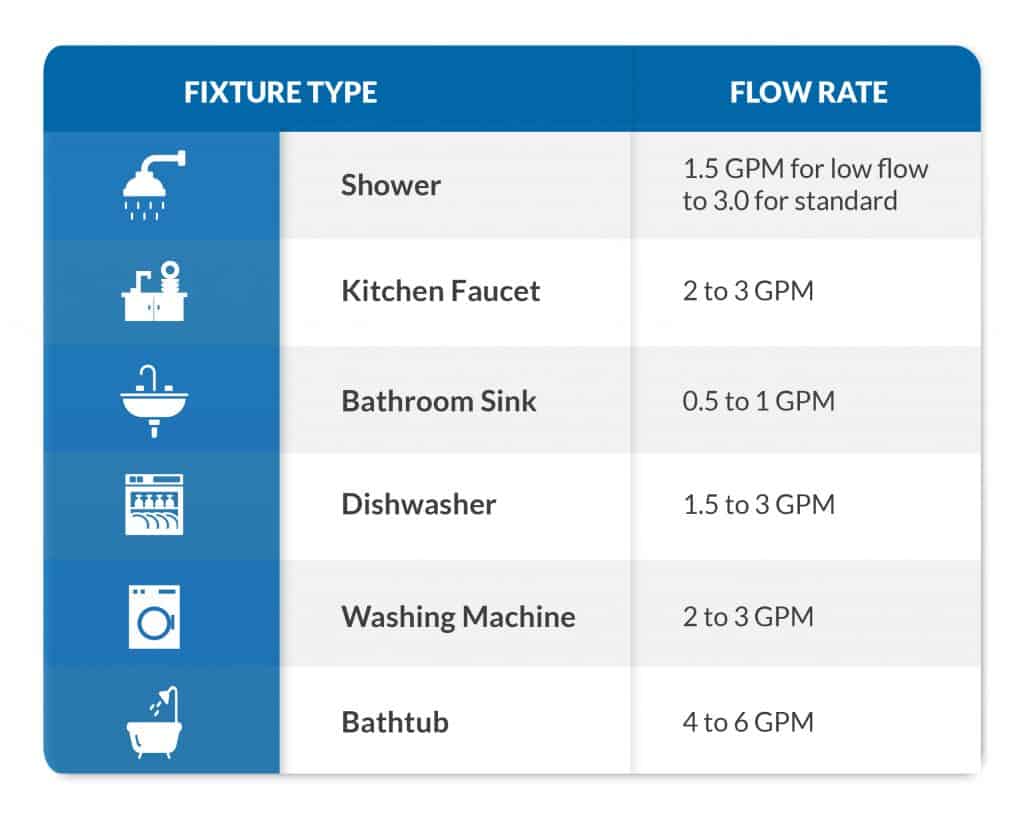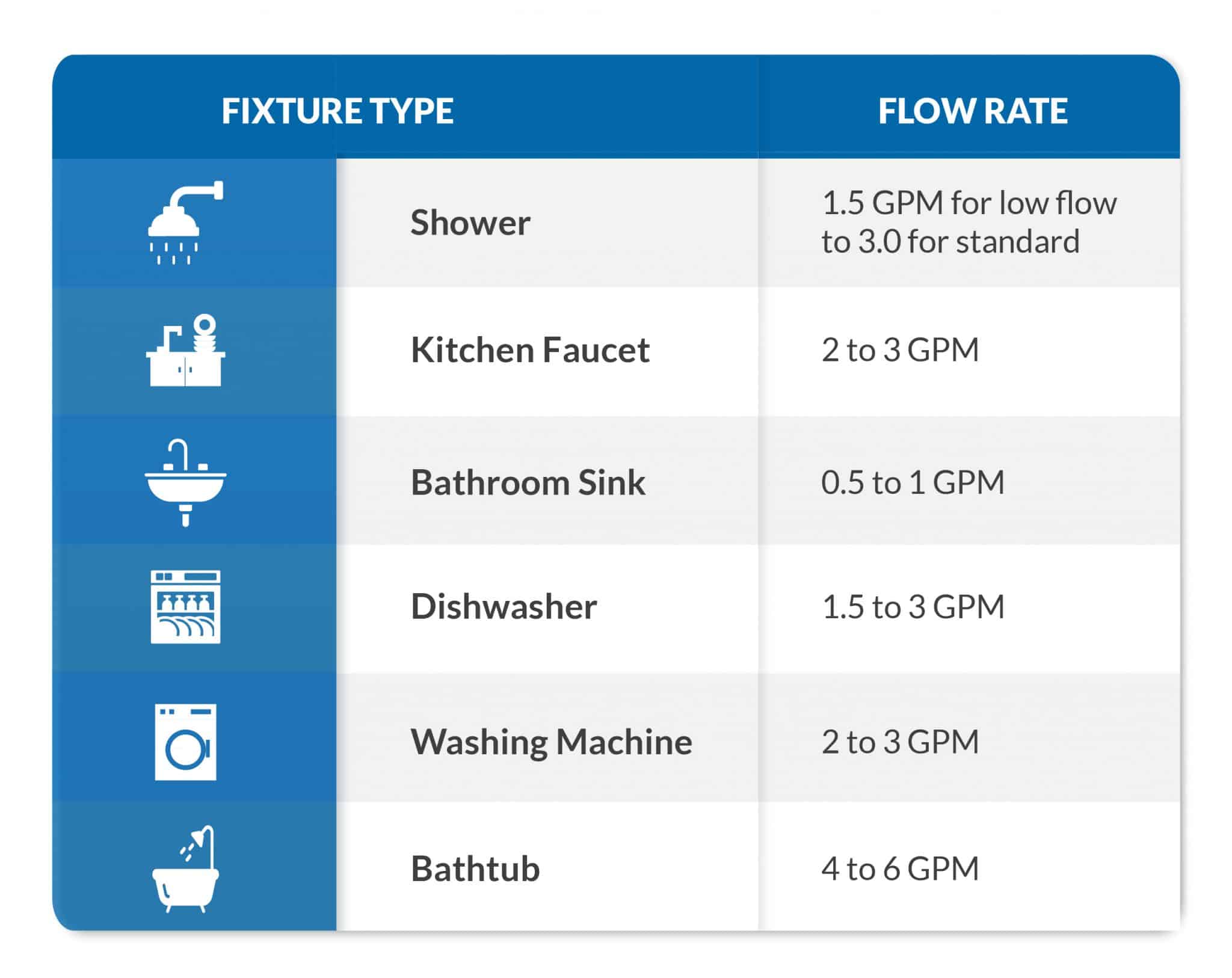 It doesn't matter if you use 100 gallons of water per day. It only matters how much you use at once.
When you have that number, then you'll need to see what size tankless water heater you need for your GPM.
This is a bit more involved.
To understand how to determine what size tankless water heater you need, click that link to check out the full article with a handy calculator to figure it out!
Inside or Outside
You get a lot of options when it comes to where to install your tankless water heater. They offer up a lot of space savings since they take up so little space.
In addition to that, you can opt for an indoor or outdoor model to increase your possibilities further.
You should carefully consider where you would rather install your on demand water heater as you can't just put an indoor model outside.
There are many reasons to go for an outside tankless water heater, but you'll need to live in an area of the country where you don't encounter too many days of freezing weather. Though many outside tankless water heaters have freeze protection, if it is consistently cold where you live, then that will impact how efficient your unit works.
To understand all the ins and outs of where and how to install a tankless water heater, check out this article that highlights the requirements that may impact your decision.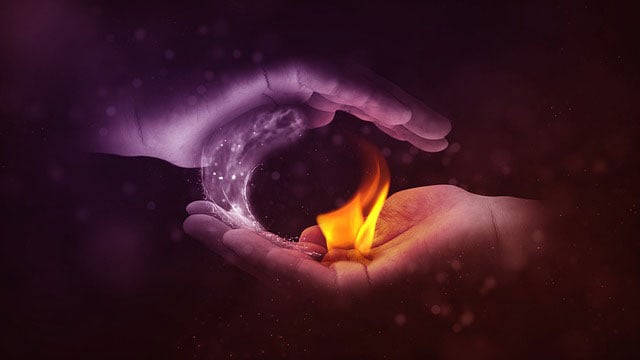 Fuel Source
For many people, this is not going to be an issue as they are free to choose from natural gas, propane or electric to heat the water.
Others, may have some limitations. I could say that Product X is the best one to buy, but if it only runs on natural gas and you don't have any gas lines, then you need an electric model so this recommendation means nothing.
This is why I will review units in the same category so you can make a more informed decision.
The age of your house can also impact what kind of model you can buy because some older houses have small gas lines that aren't compatible with a tankless water heater. This adds to the expense of installation and can negate any of the cost savings by switching to tankless from a tank system.
How much does it cost to install a tankless water heater? Click that link to read the full article as you may be surprised what you find.

Final Verdict
These are the two heavyweights in the water heater space and for good reason. Overall, I think that Rinnai is the better brand between the two, but most people will get what they need with a Rheem and spend less money in the process.
If you are worried about long-term maintenance, I would go with the Rinnai. They have a great reputation for having long-lasting water heaters, and they have a better warranty vs Rheem.
The nice thing is that you get a high quality on demand water heater whichever brand you go with.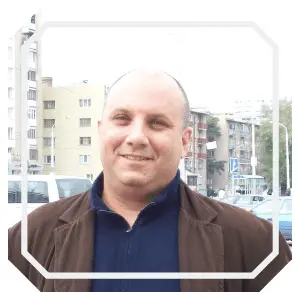 Nick Lopresti is the founder of YourH2Home and a home improvement expert. He has years of experience writing about various home improvement topics, mostly as it pertains to water systems.