If you are here you probably thinking about installing a new tankless water heater at your home. While reaching this intent you might have come across good brand names featuring some up-to-the-mark tankless water heaters. So I have decided to make the selection process a bit easier for you by doing a detailed Rinnai vs Noritz comparison review.
Both the brands, Rinnai and Noritz, have a range of promising models offering energy efficiency, uninterrupted hot water supply, and good design. This comparison review is based on their features, quality, price, and user feedback.
I am going to walk you through all the other information you need to know about making that decision. Everything from installation cost, operational cost, best model and even get down and dirty how to size that.
Rinnai vs Noritz – An Overview
Rinnai and Noritz, both are great water heater manufacturers using Japanese tankless water heating technology. They bear the same 12 – 15 years warranty while all the units are qualified by Energy Star. Burner's quality is equally good in both brands having a low emission rate.
Said that the comparison would be mostly scenario based acknowledging that each model has its own individual advantages and disadvantages. Having an in-depth breakdown of each will let you decide what best satisfy your desire.
While Noritz has value for durability, green technology, variety in size, and dual flame burner, Rinnai stands out in high efficiency, smart control, best venting options, and environmentally friendly designs.
For a full review of the entire Noritz lineup, check out this article.
Noritz vs Rinnai: Whole House Tankless Water Heater
These models are equipped to facilitate the hot water demand of a whole house at once without any interruption. Having a supply of 10 GPM (and above) is enough to run all your home fixtures altogether and never see a shortage. See other distinctions here:
| | | |
| --- | --- | --- |
|   Models / Specs | Rinnai RU199iP | Noritz NRC111DVLP |
| Gas input (BTU) | 199000 | 199,900 |
| Water flow (GPM) | 11 GPM | 11.1 |
| Energy Factor | 0.93 | .94 |
| Temp. settings (F) | 98 – 140 | 100 – 140 |
| Weight (lbs) | 74.1 lbs. | 74 lbs. |
| Remote | Yes | Yes |
| Ultra-Low NOx | 20 ppm |   |
| WiFi ready | No | No |
| Recirculation | Yes | Yes |
| Warranty | 15-Years Limited Residential, 5 Year Parts, 1 Year Labor | 12-Years Limited Residential, 5 Year Parts, 1 Year Labor |
Other features
Rinnai RU199iP Condensing Tankless Hot Water Heater, 11 GPM, Propane, Indoor Installation
Endless Hot Water: Enjoy unlimited hot water flow throughout the house;...
Energy and Space Efficient: Space-saving design conserves energy as it...
Optimal Water Pressure: Up to 11 GPM hot water flow rate for a powerful,...
Instant Heating: Equipped with Circ-Logic - Pair with an external pump to...
Guaranteed to Last: 15-, 5-, and 1-year residential for heat exchanger,...
Has multiple venting options, where you can go with concentric venting or you can go with PVC.
Has a recirculating pump to instantly have the hot water whenever you need it. There is no waiting and wasting gallons of water.
Has the controller unit set timers for the recirculation system and to set the water heater itself.
Enhance safety features added with a digital display for maximum control.
Noritz NRC111DVLP
Flow rates up to 11.1 GPM
Heat Exchanger manufactured from commercial grade copper, 25% thicker...
Vents easily with Schedule 40 PVC , CPVC or Polypropylene
Link two units with QC-2, Quick Connect Cord
Remote thermostat & 6' power cord included
This model is a 94% efficient condensing residential unit meaning that it can achieve the highest efficiency by utilizing its primary heat exchange along with a secondary100% stainless steel heat exchanger.
This model is capable of vaping with PVC that has zero clearance which lowers the cost and simplifies the installation.
It is also remote controlled which allows you to adjust the temperature anywhere between 100 – 180 Degrees.
Verdict
It is a close call. As you can see both models have higher efficiency and cut-to-cut features. The concern may arise in the price department. If you are tight on a budget I would suggest the Rinnai, having a Limited 15-year or 12,000 hrs. on heat exchanger, 5-year on parts, 1-year on labor but a professional installation is required. Besides, it has got some cool safety features like a flame failure, Combustion fan RPM check, over current – glass fuse, and automatic frost protection which is enviable in a gas tankless water heater.
Noritz vs Rinnai: Outside Natural Gas Models
These two listed models are highly energy-efficient and prove to be a good replacement to any conventional storage water heater models suitable for outside installation.
Other Features
Rinnai RL94EN
Energy and Space Efficient: Space-saving design conserves energy as it...
Optimal Water Pressure: High-performance 9.8 GPM hot water flow rate for a...
Instant Heating: Circ-Logic technology enables recirculation patterns that...
Guaranteed to Last: 12-, 5-, and 1-year residential and 5-, 5-, and 1-year...
This high energy-efficient water heater conserves energy by up to 40% by heating the water only when needed.

With a capacity of 9.4 GPM, it is designed to provide a hot water stream to at least 5 faucets in the house at the same time.

It is a long-lasting and space-saving unit having brilliant wall-mounted hardware.

There are no venting needs. Mounted outside of the house it blows the exhaust gas out right there.
Noritz NR98
199,000 BTU
.05 GPM activation flow rate
Self-diagnostic onboard computer system
84% thermal efficiency
For outdoor installation only. No venting required
Running on natural gas, this model saves the cost of energy compared with electric heaters

Has a capacity of 9.8 GPM, it provides sufficient hot water for multiple fixtures in a house.

It offers a hard water treatment system by Noritz which saves your cost on frequent maintenance due to scaling.
Verdict
Putting both models and their features side by side there is hardly any difference but again Rinnai has decent pricing while Noritz is costing more by offering the same energy efficiency and compact design without any added benefits.
Also, there is no Isolation Valve Kit included in the Noritz model that even increases its installation cost. My vote for this segment goes to Rinnai having all theneeded features at a good price.  
Where Noritz Beats Rinnai
Most of the Noritz water heaters including NR98ODNG and Noritz NRC111DVLP have a built-in pump control mechanism for recirculation while Rinnai doesn't.
They are also equipped with dual-flame burners for maximum output, maintained temperature, and a low emission rate.
Noritz uses high-quality stainless steel and commercial grade copper in all its manufacturing units and there is no outsourcing of a single piece down to screw.
Where Rinnai Beats Noritz
Rinnai has introduced advanced recirculating models with stainless steel heat exchangers and smart condensing heating technology and all of these in a bracket of affordable price.
Rinnai offers an excellent warranty that can include 5 years of labor and very supportive tech support that is available 24×7 and for 365 days.
Their new models are easy to service and operate, though you need a plumber to install first.
There is one good thing about Rinnai, they have a built-in condensing set-up. Not having a condensing setup can significantly shorten the life of the heat exchanger of a water heater so yes Rinnai wins in that.
Their state-of-the-art designs units make the interaction between user and unit most convenient by using Wi-Fi connections and remote monitoring through smartphones and voice commands. 
Rinnai has been voted #1 among all the HVAC manufacturers in a builder Magazine, based on customers' reviews.
Wondering how Rinnai stacks up against Rheem? Read this article to learn more.
Common Problems of a Tankless Water Heater
No Hot Water
Make sure you are not exceeding your water heater gallon capacity. If multiple fixtures are open at multiple locations at the house then it is definitely going to affect the per minute gallon output.
Frozen weather can prevent hot water from coming to the taps. It may go dead due to cold weather and it may cause your gallon per minute to drop. You should pay attention to its defrosting.
If you are getting an error code the first thing to check is its vents. Make sure they are not blocked up because if they are not getting enough fresh air they cannot fire correctly.
Too much hot water
If you are getting way too much hot water the first thing to check is your temperature settings. It is easier to gauge with e digital display.
If the issue is in the specific area of the house that can be to do something with the circulation or the specific fixture as well.
Final Verdict
Noritz and Rinnai are technically very much the same. They both deliver about the same amount of hot water efficiently using gas fuel. The warranties are also fairly alike. What really matters is reliability and support in case something goes wrong which also depends on the installation part.
As mentioned earlier, Rinnai has a better reputation and amazing customer service. Plus their rates are comparatively reasonable in contrast with Noritz.
But you really can't go wrong with either Rinnai or Noritz- they are two of the most popular brands for a reason.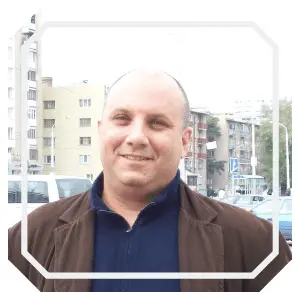 Nick Lopresti is the founder of YourH2Home and a home improvement expert. He has years of experience writing about various home improvement topics, mostly as it pertains to water systems.