Looking to replace a tank style hot water heater and lower your electricity bill at the same time?
An electric tankless water heater could be the solution to your water heating needs, but you need to make sure you have the right one. Different models serve different needs.
Instead of thinking about which one is the best, you have to consider if it is the best choice for what you need it to do.
In this article, I will go over the top 5 electric tankless water heaters for different categories so you can decide which one is going to solve your particular problem. 
After the list of reviews, keep reading for the buyer's guide that explains in detail what you need to look for.
In a Rush? Here Are Our Top Choices
How We Rated The Top Electric Water Heaters
The following list comprises the top brands in the electric tankless water heater arena. 
There are dozens of different ones to choose from but the ones in this best of list are dependable, easy to install and offer great warranties.
What to look for in Electric Water Heaters
To understand which inline on demand water heater is going to work best, you need to consider a few criteria. Then read the list to see which one ticks most of the boxes that you need.
GPM
GPM are the Gallons Per minute that you will get from your electric tankless water heater. Remember, you can't think in terms of capacity as there is no storage tank. You have to think in terms of water flow at any one time. In other words, how many fixtures will you be using at once.
There are a few factors that go into how many GPM you need to cover so read the detailed guide on how to size a tankless water heater first and then circle back here once you understand what you need. It even has a handy calculator for you to determine your GPM.
In a nutshell, your incoming water temperature and the type of fixtures you use at once will determine your ideal GPM. If you need to have a shower running at the same time as your dishwasher, then that will impact your ideal GPM.
Amperage, voltage and watts
The second most important aspect is how much electricity it will draw. You need to make sure that your system can handle the tankless heater kicking on while other appliances are working. If you don't have this right then you will be tripping circuit breakers every time you use your hot water.
Many newer houses will be fine, but you may need to retrofit an old house with an old circuit breaker.
Pay close attention to the minimum circuit breaker required.
Energy savings
All of the on demand electric water heaters on this list are as energy efficient as they come. They can save you up to 30% on your electric bill as there is very little heat loss. The range to look for is no less than 85% efficiency ratings to see that kind of saving on your bill.
The Dimensions
The physical size of the unit is something to consider if you are limited in space. The benefit of an electric tankless over gas is that they are much smaller and you have more options on where to install, but the size still is a consideration.
If you only need endless hot water at one fixture, then check out the reviews of the point of use tankless water heaters instead as those are more geared to your needs. 
Best Electric on Demand Water Heater – Stiebel Eltron 36 Plus Tempra
Sale
Stiebel Eltron 36 Plus Tempra
On-demand, continuous and unlimited supply of hot water
Sleek design saves space and no venting required
Electronic switch activated for virtually silent operation. Phase- single...
Copper sheathed heating element housed in copper cylinder
7 Years leakage and 3 years parts complete warranty
There aren't many electric tankless water heaters for the whole house that can actually supply enough GPM for multiple fixtures. 
The exception being the Stiebel Eltron 36 Tempra.
With a very generous 8 GPM you can run a shower, faucet and even a washing machine at the same time.
It offers constant temperature output so it will always deliver hot water at the set temperature even if you are going beyond your GPM. It will slow down the water flow so you don't end up taking a lukewarm shower if you have too many fixtures going at once.
And to save on electricity, it uses Advanced Water Flow Control to use only as much energy as needed to get the water to the correct temperature.
What We Like:
8 GPM for 30°F Temperature Rise
No Venting Needed
Takes Up Very Little Space
Advanced Flow Control for High Water Demand
Auto Modulation Saves up to 30% Energy Costs
What We Don't Like:
Expensive installation should only be done by a professional
Verdict
Made in Germany with the kind of engineering you would expect from Germans, this Stiebel Eltron Tempra 36 Plus is the top rated tankless electric water heater for the whole house.
If you live in a warm area, your energy costs will be lower, you will enjoy a steady stream of endless hot water and will take up very little space.
For the price, it just makes sense to go with Stiebel Electron Tempra for 36 when your water demands are high.
---
Best Point of Use Electric Tankless Water Heater: Bosch Tronic 3000 T ES8
Sale
Bosch Tronic 3000 T ES8
CONVENIENT TANKLESS HOT WATER HEATER: 12 kW output tankless electric water...
EASY INSTALLATION: Easily install under any bathroom or kitchen sink and...
TEMPERATURE CONTROLED: Features thermostatic control for easy temperature...
IMPORTANT INFORMATION: Unit is only designed to operate on 240-Volt....
GREAT EFFICIENCY: 98% efficient with minimal stand-by loss. Water pressure...
When you are limited on space, the Bosch Tronic 3000 is ideal as it is smaller than a shoe box and still gets you 1.8GPM. This is usually enough for one normal fixture or two low flow fixtures. 
I highly recommend this for use in an RV or a cabin. In fact, it is affordable enough that you could have several in your house and eliminate the need for a whole house model.
It has a thermal efficiency of 98% so almost all of the energy used is to heat the water without only a tiny bit going towards heat loss. You'll see considerable savings on your water bill.
What We Like:
1.8 Gallons Per Minute Flow Rate
Can be installed under a sink or in a closet for Point of Use applications
98% thermal efficiency rated
Advanced Flow Control for High Water Demand
145°F maximum temperature
What We Don't Like:
Hard wired so must be professionally installed
Verdict
For the price, size and efficiency, this is a home run. It is backed by a trusted brand in Bosch and offers a good 6 year warranty. It can be installed easily under a sink in no time at all as long as you are comfortable hard wiring it to the breaker.
The only downside is that the GPM may not be enough for more than one fixture if you don't use low flow.
---
Most Accurate Electric Tankless – Ecosmart ECO 27 Review
Sale
Ecosmart ECO 27
Endless on-Demand Hot Water; Consistent hot water when you need it that...
Save Space; EcoSmart tankless electric water heaters are 90% smaller than...
Save Energy; EcoSmart tankless electric water heaters are 99% thermal...
EcoSmart ECO 27 Sizing; Refer to the sizing map. Requires 3x40 AMP Double...
Warranty and Certifications; Limited Lifetime Warranty on electronics,...
With savings of up to 50% off of your electric bill, it is no surprise that the Ecosmart ECO 27 is one of the most popular electric tankless on the market today.
The temperature can be adjusted in 1°F increments up to 140°F. That combined with the self modulating mode means that you never have to use more energy than necessary to get the temperature that is perfect for you.
The size makes it seem like it won't be able to keep up with the demand, but the truth is that it is ideal for a medium sized household with two bathrooms. It fits under a sink making it perfect for an apartment.
What We Like:
6.6 GPM water flow rate with 30°F temperature rise
Digital temperature control in 1° increments
90% smaller than similar units
Copper and stainless steel components for efficiency and longevity
Saves up to 50% on energy costs
What We Don't Like:
Installation can be expensive due to the cost of the wires and breakers needed
Verdict
For those with a medium sized, single family house, the Ecosmart 27 is the best electric tankless water heater. It gets the job done and saves money.
There is a lot to love with this endless hot water heater. So much so that if you have a bigger house with high demand for water, then I would recommend putting two of these in so you can run multiple points at the same time. It also helps to have each one close to the point of use, too.
---
Best For Small Apartment – Rheem RTEX-13 240V Review
Sale
Rheem RTEX-13 240V
External adjustable digital thermostatic control with LED display (+/1...
Durable Copper immersion two heating elements, field...
Simple installation – 1/2 NPT adapters included; side 1/2 inch...
99.8% energy efficient. External controls to adjust temperature in...
Threaded for easy replacement, simple installation, digital temperature...
At 99.8% efficient, the Rheem RTEX is as energy saving as possible. Many people report seeing over 30% reduction on their electric bill after installing this.
If you have low hot water demand, then this small electric tankless water heater is ideal. Small apartments that need to have two fixtures working at once will still get good GPM.
Like the other units reviewed here, it has a self modulating mode to adjust the energy needed to get the temperature right. And the water flow rate will slow slightly if your water demand is too high at one time so you don't lose temperature.
What We Like:
Super easy to install without a professional
Gets 4 GPM flow rate
Takes up a small amount of space
Great for studio apartments or guest bathrooms
Max temperature of 140°F
What We Don't Like:
Flow rate slows down when water demand is high
Verdict
This is an excellent on demand hot water heater that is efficient, small and economical. It will last quite a few years with a 5 year warranty to back it up. It should pay for itself within the first year of use.
That said, it is not for every household.
High water demand houses or ones that are in colder Northern climate, then you should consider a bigger whole house on demand water heater. If you need a bigger one, then take a look at the RTEX-24 by clicking the link.

---
Best Budget Electric Tankless – Marey ECO150 Review
Sale
Marey ECO150
Unlimited Hot Water on Demand: This Marey tankless water heater is ideal...
Save Energy and Water: ETL approved, our tankless water heater heats water...
Save Space: The ECO150 tankless water heater is compact enough to be...
Installation Requirements: The ECO150 tankless hot water heater needs...
Why Choose Marey: Marey offers water heating solutions for every budget and...
Sometimes you get more than you pay for.
When your hot water needs are not that high, you shouldn't have to spend a lot for a great tankless water heater. The Marey tankless water heater is just the ticket since it is a great budget tankless heater for small homes.
Though if you do need more GPM and don't want to spend as much as the Stiebel, you can go with the ECO 36. 
Though the ECO150 doesn't have the bells and whistles of the other units reviewed on this list, it does a great job at delivering the hot water you need with great efficiency.
What We Like:
Very cheap price
Up to 3.5 GPM with 30°F temperature rise
Resists hard water and corrosion
0.5 GPM low flow trigger
Easy to read LCD screen
Very easy installation
What We Don't Like:
Very low GPM in colder climates
Verdict
This is a pretty straightforward affair. If you want to save money and still get a decent gallon per minute water flow rate, then don't look any further. 
A 5 year warranty will give you peace of mind that you made a good purchase.
---
FAQ About Electric Tankless Water Heaters
Do electric tankless water heaters need to be vented?
No. The beauty of these electric on demand water heaters is that the installation is very easy as they have no exhaust and don't need to be vented to the outside.
Do electric tankless water heaters need maintenance?
Yes. You should be flushing your tankless water heater at least once a year to keep it running properly. Minerals in the incoming water build up on the heat exchanger and will lower the efficiency. Too much build up and it will stop working eventually.
Are electric tankless water heaters as good as gas?
Yes and no. They are very efficient and will save you money on your electric bill, but you don't get nearly as much GPM from an electric like you do with gas. Read my review of the best gas tankless here if you need a bigger tankless.
How much does it cost to install an electric tankless water heater?
This is highly dependent on where you live and how much needs to be done for the installation. If you need a new circuit breaker box then expect to pay over $1,000 but if it only requires a simple hard wiring under a sink then it should cost less than $800.
Will my electric tankless water heater work if the power goes out?
Your electric water heater won't work in case of a power outage. You have a few options. The most common way is to have a backup battery power option like the Hugo. You can also plug your water heater directly to a portable generator, depending on the model.
Benefits of an Electric Tankless Water Heater
There are several great reasons to install an electric tankless water heater. Here are the main benefits of an electric tankless water heater.
Easy installation
The size of the electric tankless heater is small enough to be installed just about anywhere. Under the sink, in a closet or laundry room are all possibilities. Because of this, you can get your tankless heater close to the point of use which saves on labor and the cost of the pipes.
Not only that, but they don't need to be vented so that also saves a ton of money.
Inexpensive
Of all the types of tankless water heaters, the electric ones are the least expensive. In fact, you can buy two or three for your whole house for less than the cost of a single gas version in some cases.
Faster hot water
Though it actually takes a little bit longer for an electric heat exchanger to get the water to the correct temperature than gas ones, you end up getting the hot water to the fixture faster.
This is because the small size allows you to place the unit closer to the fixtures where you need it. A whole house tankless heater can be quite far from the furthest fixture and don't give you instant hot water.
An electric usually only needs to get the hot water a few feet to the fixture so you get hot water in seconds.
Wrapping it up
The best electric tankless water heater is the one that fits your needs best. Just make sure you have an adequate size for your GPM needs. The worst thing is to have a water heater that is way too big (or small) for your normal hot water consumption.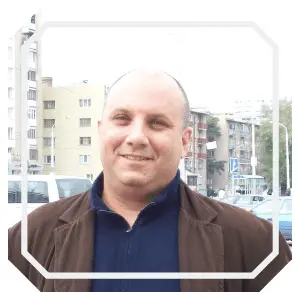 Nick Lopresti is the founder of YourH2Home and a home improvement expert. He has years of experience writing about various home improvement topics, mostly as it pertains to water systems.