Do tankless water heaters work for large homes?
You bet they do! It does take the right one, though as not all of them will provide you with enough gallons per minute (GPM).
That's why I wrote this handy buyer guide to the best whole house tankless water heaters.
When you are spending the kind of money they command, you need to understand which one will get the job done.
Read on for the reviews plus a bit about how to choose the right tankless whole house water heater.
In a Rush? Here Are Our Top Picks..
How to Choose a Whole House Tankless Water Heater for Large Homes
Before you can settle on which whole house tankless water heater is going to provide endless hot water, you need to know how much GPM you need at peak times.
It doesn't matter if you need 10 gallons per day or 100. It all comes down to how many gallons you use at the same time.
So, you'll need to read up on how to know what your hot water needs are. I wrote a detailed article on how to size a tankless water heater that you need to read first to know what GPM you need. Click that link, read the article and then circle back here when you are done.
Take a look at this list below to see what the average GPM is for common household fixtures.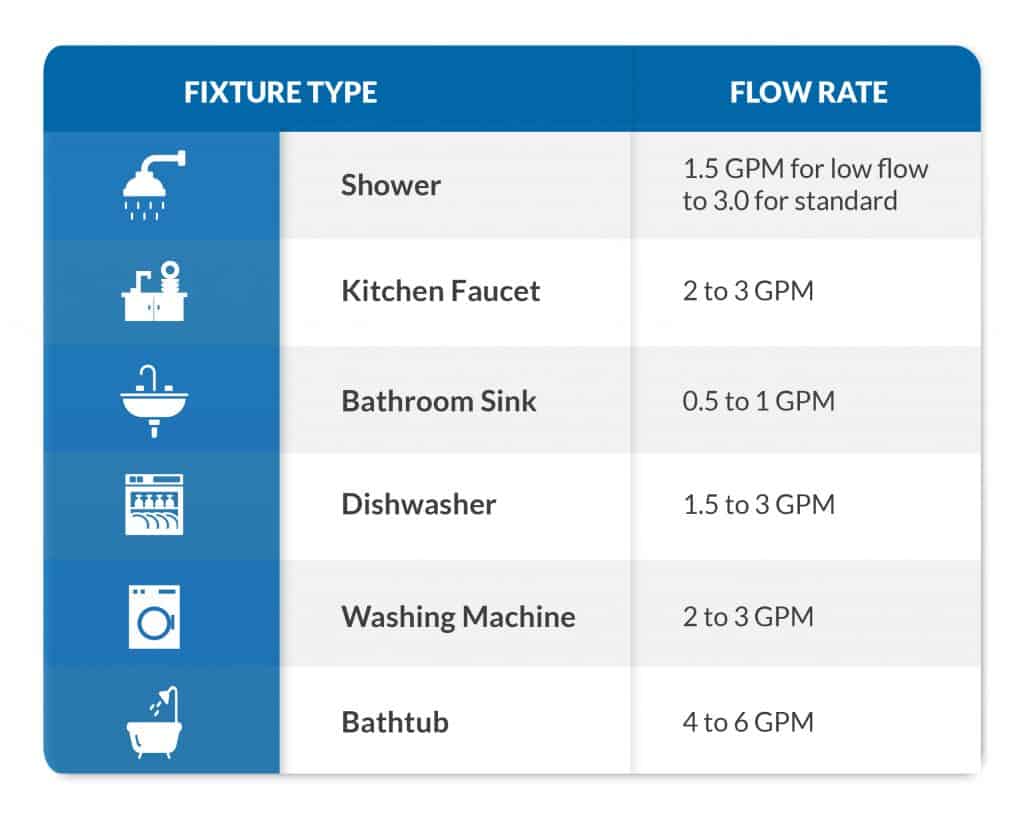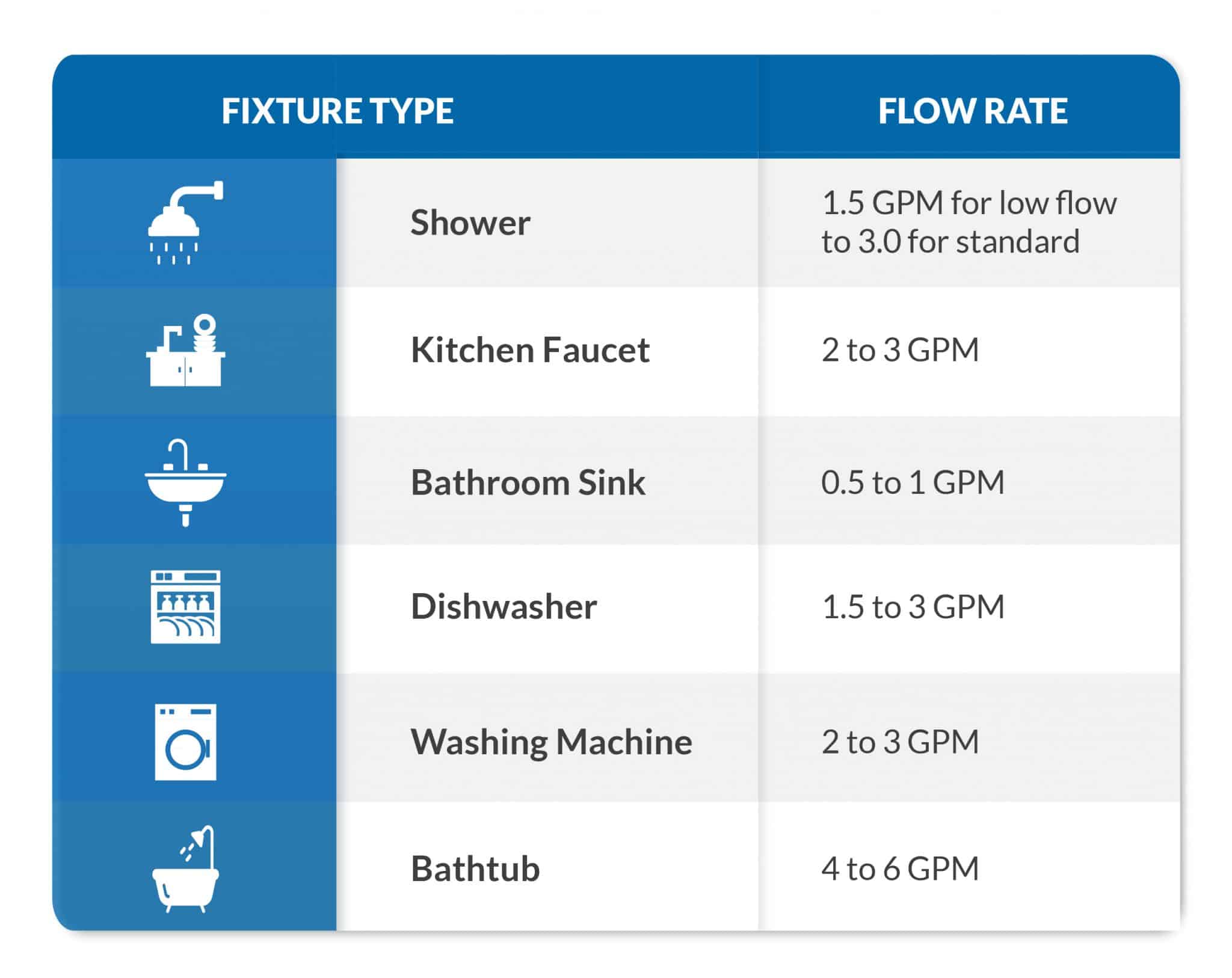 You'll need a tankless water heater that offers up a high GPM to supply the whole house. A good rule of thumb is to go for a tankless that gets up to 10 GPM to make sure you can handle your peak demand especially when the groundwater temperature is cold.
To get that kind of GPM you really need to have a gas tankless water heater for large homes. Electric tankless water heaters can not get you that high a GPM.
Best Gas Tankless Water Heaters For Large Homes (4 to 5 people or more)
For big households (or commercial businesses), a condensing tankless gas water heater is best. The ones reviewed below are always a good choice to meet your hot water needs when you have a big family.
Takagi 10 GPM Tankless Water Heater Review
Takagi 10 GPM Tankless Water Heater
Endless hot water, On-demand usage, Compact, Space saving, Energy...
Computerized safety features, No pilot light to have to worry about
Safety features include freeze, overheat, surge protection, and...
Satisfies the 2012 SCAQMD Rule 1146.2 for Ultra-Low NOx Emissions
Primary heat exchanger utilizes commercial-grade copper alloy for 25 times...
To get the GPM you need for large homes, then this Takagi is a great way to do it and save some money in the process.
Not to say that this is a cheap option, but condensing tankless water heaters are generally more expensive than the non condensing versions. The Takagi T-Hs-DV-N is hundreds lower than other condensing tankless heaters for hot water and performs to a really high level.
Utilizing commercial-grade copper alloy for the heat exchanger tubing, it is built for high water demand and ultra efficiency.
Getting up to 10 GPM water flow is impressive and can handle most water demands for hot water even if you have more than 5 people.
In the best case scenario, you can get up to 10 gallons per minute. In a normal house of five people with two adults and three kids, you can easily get a couple of showers running simultaneously with a washing machine, dishwasher and even a faucet running.
Flow Rate
Even with a higher temperature rise number, the power you get from up to 199,000 BTUs will give you enough flow rate to take care of multiple fixtures.
This Delta T chart for Takagi below can give you an idea of what to expect for your GPM based on the incoming water temperature.
If you are replacing a 50 to 60 gallon water heater, then this is going to get you the right GPM with the perfect temperature for your needs.
Efficiency
Since this is condensing the efficiency is much higher than you get with a traditional tankless and especially from a tank storage type heater.
Rated at 95% efficient by Energy Star, you will see a reduction in your natural gas bills by up to 30% per month. This adds up over time and will see the tankless water heater pay for itself over time. Since they last decades, they are worth every penny you pay for them.
Installation Cost
Condensing tankless water heaters cost less to install so you end up saving in that regard which makes the high initial price more palatable.
Since your venting kit can be made with PVC because the exhaust is not hot, it costs much less for installation. Stainless steel and dual venting kits cost more and are more complicated to install.
In most circumstances, a professional plumber can have the installation done in less than four hours. If you are handy and do it yourself, you will likely need the better part of a day.
The only other extra expense with condensing units is that they need to be drained properly since the condensate is acidic. You can make your own condensate neutralizer to cut down on the cost, however. 
What We Like:
10 Gallon Per Minute (GPM) water flow rate
Condensing for high efficiency
Very quiet operation
Safety features like surge protection, freeze control, and overheating management
Cascading ability to connect more than one unit
Energy Star rated 95% efficient
Great price for the GPM
What We Don't Like:
Doesn't include isolation valves for flushing
Verdict
For bigger households, you can't find a more powerful unit to heat the water for the whole house. And if for some reason you have some really intense water demand or you have multiple apartments in one house, there is a cascading option so you can have multiple units hooked up to each other and run independently or together to provide far more than the 10 GPM with just one.
---
Rinnai RUC98iN Tankless Water Heater Review
Rinnai RUC98iN Tankless Water Heater
INDOOR installation only. Fuel Type: NATURAL GAS.
Concentric or PVC venting option
Up to 0.96 Energy Factor/Up to 0.92 Uniform Energy Factor
The space-saving design allows Indoor Installation type
Ultra low NOx emissions
Getting all the hot water you need across the whole house with an on demand hot water heater can be a bit of a challenge. 
Which is why I think the Rinnai RUC98iN is the best whole house tankless gas water heater for.
Flow Rate
With a family of four or more, you can be using up to 9.8 gallons of water per minute at the same time. That means that with low flow shower heads, you can be using two showers, a sink and a dishwasher at the same time.
No more waiting to do laundry until somebody is done with the shower!
Efficient
As a condensing tankless gas water heater, it is highly efficient operating at a very generous 0.96 Energy Factor.
Adding to the efficiency is an electric pilot that only switches on once the unit detects the water flow. In some other models, there is a pilot light that always stays lit. This will keep your natural gas consumption to a bare minimum.
Make sure that if you are using low flow shower heads that they are over 0.5GPM, as the Rinnai won't trigger. To turn on, it needs to have at least 0.4 GPM.
Installation Costs
Tankless gas water heater installation can get expensive when using a professional. Since the quotes for how much are very site specific, it is hard to put a number on it, but expect at least $2,000.
Rinnai includes extremely detailed instructions so a DIY installation can be done for a fraction of the price for a professional installation.
Since there is the option to use concentric tubes, it makes the install a bit easier since there are no heat concerns from the exhaust which stays on the inside of the two pipes.
Not only that but then only one hole needs to be drilled through the wall.
Keep in mind that some states offer an Energy Star rebate but only when using a professional to install the tankless gas water heater.
You should more than make up the difference doing it yourself.
Variable Pressure
The range of water pressure that the Rinnai RUC98iN can work with is quite generous. The lower end of water pressure being 50psi and the upper limit is 150psi. The optimal range, however, is 60-80psi.
That puts in in range for use in just about every home whether it is old or new.
Accurate Temperature Control
Temperature control is very accurate. It comes set at a default of 120°F, but can be manually switched to go up to 140°F. That is not recommended if there are young children in the house. Most people set it to 105°F for energy efficiency while still getting the water hot enough for everyday use.
Here is a chart so you can see what the temperature rise is for this Rinnai RUC98iN. With my hypothetical scenario I laid out in the how to find the right size section, you can see that the GPM flow rate is a little over 6.5 gallons to keep it at a temperature of 105° with groundwater at 47°F. That is very, very good.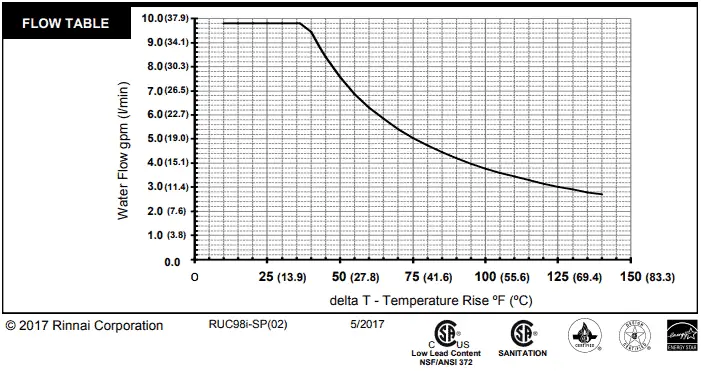 Warranty
These Rinnai RUC98iN are built to last so don't be surprised if 20 years after you buy it, it is still pumping out hot water on demand for the whole large house. The Rinnai warranty is very generous and will cover most defects up to 12 years. Compare that to a typical tank water heater that would likely never even make it to the 12-year mark.
What We Like:
9.8 GPM (Gallons Per Minute)
Incredibly efficient – Up to 0.96 Energy Factor
Low flow rate trigger – .4GPM
Ultra low NOx emissions
Concentric or PVC venting option
Long warranty – 12 years for residential
What We Don't Like:
Can only be used indoors
Slight dip in water pressure
Verdict
If you need something beefy to make sure that all of the hot water needs of your house are met, then this is definitely the best tankless gas water heater for big homes. It is pricey, but the added features make it worth the money and the energy efficiency means it will pay for itself over a few years.
If you live in a cold climate then this is going to be your best bet since a high GPM tankless heater is essential. I wrote up a long article about how to use a tankless water heater in a cold climate with 8 easy tips. If you live somewhere cold then make sure you take a look at that article before you buy.
---
Best Gas Tankless for Medium Sized Homes Under 5 People
Rheem RTG-84XLN 8.4 GPM Water Heater Review
Rheem RTG-84XLN Tankless Water Heater
INDOOR installation only. Fuel Type: NATURAL GAS.
Concentric or PVC venting option
Up to 0.96 Energy Factor/Up to 0.92 Uniform Energy Factor
The space-saving design allows Indoor Installation type
Ultra low NOx emissions
This "medium efficiency" tankless gas water heater from Rheem is a great budget option for people that don't need to have many water sources running at once.
Flow Rate
Though, 8.4 GPM is very generous, it doesn't have as good a temperature rise as the previously reviewed Rinnai. That GPM is with a 35° temperature rise, so if you set your temperature to 110°F for example, then your groundwater will have to be 75°F.
Which makes this one of the best tankless gas hot water heater for Southern states.
In non summer months, with a 45° temperature rise, or 65° water temperature you can expect 6.6 GPM.
Who Is It Best For?
This is one of the best outdoor tankless gas water heaters, but, in an area of the country that sees temperatures regularly dip below freezing, it is not the best option. It is rated to withstand temperatures up to -30°F, though, but since the temperature rise would diminish the GPM in a northern, cold climate, it is probably best to go for an indoor unit instead.
This is ideal for people that are going to be using at most two showers and a dishwasher at the same time, for example, and live in a moderate to hot climate.
The price is also something that makes this an excellent purchase. Not just the fact that the purchase price is much lower than other high GPM equipped on demand water heaters, but also the fact that installation can be done DIY since it doesn't require any venting.
Easy Installation
Unless you already have some plumbing experience, make sure you read up well and watch some videos on how to hook a tankless water heater to the gas lines.
If you have an older house with old gas lines, then luckily this can be fitted to .5 inch lines. Though you will need to make sure that the pressure is at least 2psi. If you are under that, then there will be an added expense of changing your gas meter.
All tolled though, the purchase price and low cost of installation means that if you have a big house and high hot water usage, it would still be economical to buy two of these tankless gas water heaters rather than a bigger whole house inline heater.
There are some very nice convenience features, as well.
Wireless App
First, it is EcoNet enabled which means that the heater communicates to an app where you can check your usage and other stats. It will also let you know when it needs to be flushed.
Efficient
It also has Water Savings Setting, which can save you up to 1,100 gallons of water waste per year by reducing the flow rate at the tap until it reaches the temperature setting. At which point the normal pressure will kick in.
The thermostat is "remote", which is not to be confused with having a wireless remote. It means that it can be installed inside the house, but is connected to a wire to control the unit. This is a plus so you don't have to go outside to change the temperature or other settings.
Instant Hot Water Ready
Lastly, it is recirculation pump ready. It will need to be installed separately, but if you want instant hot water, this pump recirculates the hot water back so you will have hot water as soon as you turn on the tap.
This tankless gas water heater has the potential to save up to 12,000 gallons of water per year. Though it will increase your gas usage slightly if you opt to use it. It can be programmed to only keep the water hot during certain times of the day so it isn't heating water when you're at work.
What We Like:
8.4 GPM (Gallons Per Minute)
Low flow rate trigger – .4GPM
Up to 0.82 Energy Factor
A 40% thicker heat exchanger and a new burner pattern
Self-diagnostic system for easy installation and service
12 year warranty
What We Don't Like:
The 2 degree increments change after 120°F to 5 degree increments
Verdict
If you live in an area with hard water, there is the option of bypass valve assemblies that make it a cinch to do your yearly flush to get rid of any calcium or lime deposits.
For these reasons and more, this gets the nod for best outdoor tankless gas water heater in my book. If you live in the South, can do the installation yourself, and don't have more than four people needing water at the same time, then it is the ideal.
---
Noritz NRC661 Indoor Water Heater
Sale
Noritz NRC661 Indoor Water Heater
Endless hot water
Can be vented with Schedule 40 PVC Pipe and Fitting
High Efficiency
Low Nox
Remote thermostat & 6' power cord included
Apartment dwellers and empty nesters will love this high efficiency natural gas tankless hot water heater.
Noritz NRC661-DV-NG is a condensing tankless water heater that is ideal for those that need a reliable unit at a great price.
Flow Rate
With a 6.6 GPM flow rate at a 30° temperature rise, you can service a two bathroom home easily.
Here is a handy chart to see what the temperature rise and flow rate is.
As you can see, this is really meant for a house with two to three people or houses located in the Southern states where the groundwater is not that cold.
If you live in the North and have a groundwater temperature of 50° coming into the unit, and keep your water temperature set at 105° then you drop down to roughly 4GPM. Which would get you two low flow showers running at the same time as a faucet.
Space Saver
When you live in a smaller home and space is of the essence, you will love the small profile of the Noritz NRC661-DV-NG. It is 20.5" (H) x 13.8" (W) x 6.7" (D) and takes up about the same amount of space as a medium size suitcase. Mount it in a closet, basement or garage and you'll not sacrifice any precious space to it.
Efficient
At an Energy Star 0.93 efficiency rating, it will easily pay for itself in a few short years as you see your gas bill decline.
Expect savings of roughly 10 to 20% off of your old bill and you can see how it adds up.
Installation
Whether for you or for a professional plumber, the instructions included are incredibly detailed to make sure it goes in easily.
It's hard to say what the installation cost is for a professional, but if you do it yourself, you can save quite a bit of money. Add those savings to the low cost of the unit and you have a great bargain.
Making your installation even easier is the PVC vents. They are much easier to go through the wall since you can use a sealant for a tighter fit. Stainless steel vents get hot and require some precision to get them safely through the wall.
Cost
Talking about cost, this is one of the lowest prices for the quality you get and for similar GPM units.
In fact, if you have higher hot water demands, it may even make sense to buy two of these units instead of one larger one.
With a 12 year warranty, it is built to last and will easily outpace a 40 gallon tank boiler.
Verdict
For those with low hot water demand, this is about as good as it gets. Noritz water heaters are reliable and their customer service is top notch.
You don't have to go overboard spending on a bigger tankless heater when you don't need it. If this fits your water usage needs, then I highly recommend it.
What We Like:
High Efficiency 0.92 rating
Small profile for space saving
6.6 GPM flow rate
9 Temperature settings from 100° to 140°
0.5 GPM low flow trigger setting
Economical price
What We Don't Like:
Slow to get hot water to tap
Fittings are sold separately
Takagi Indoor Tankless Water Heater Review
If you don't have a very high hot water demand household, then there are not many reasons why you shouldn't be considering the Takagi T-K4-IN-NG small tankless water heater.
For the power you get out of a small unit, it is ideal for two bathroom homes.
Let's dive into the features.
Flow Rate
With a 35° temperature rise, the water flow rate is a respectable 8.0 GPM. If you have your temperature set for 105°F and you have groundwater coming into the unit at 70°F then that means you can have 2 showers running simultaneously. And more if you're using low flow shower heads.
This is ideal for those living in the South or for Northerners with two adults in a smaller home.
Saves Space
Only the size of a suitcase, this can fit in just about any space that keeps it out of the way. As long as it can vent horizontally outside. Keep it in a corner of the basement or in that utility closet.
Since it is off the ground, you'll hardly notice it is there and can use that extra space for more storage.
Safety Protection
This is an indoor unit, and shouldn't be installed outside. But, there are times when you may lose your heat and still can get hot water on demand even if the temperature in the house drops below freezing. It has a system that kicks on to warm the heater if it detects air temperatures below 36°F.
There is also a surge protection system to protect the unit for burning out.
Efficient
This is where the Takagi T-K4-IN-NG comes up somewhat short when compared to other gas tankless water heaters.
It is fairly efficient, but is not Energy Star certified. You should see some savings on your gas bill as it is rated .83 energy factor.
This is definitely more efficient than it needs to be when there are not many people living in the home, however.
Installation
If you need to set this up yourself, you will be lead step by step with very detailed instructions. Even the hon handy among us rarely report any trouble with the installation.
The only problem with installing yourself is that you void the warranty if something goes wrong. However, with the low price of this small tankless natural gas hot water heater, it may make more economic sense to take that chance. After all, installation will likely be more than what you paid for the Takagi T-KJr2-IN-NG anyway.
Since the installation is fairly straightforward, it won't cost as much as similarly sized tankless water heaters either.
Warranty
If you do opt for a professional installation, the Takagi T-K4-IN-NG is backed up by a nice 10 year heater exchange warranty.
What We Like:
8.0 GPM with 35° temperature rise
Temperature can be set up to 165°F
Very small profile
Easy installation
Great low price
Very low operating costs
What We Don't Like:
Not Energy Star certified
Verdict
This is the best small tankless water heater when you are on a budget. If you don't want to spend much on a large on demand water heater that is more than what you need, then you won't be disappointed by how well this works.
For cheap tankless water heaters, there are not many that can compete with the durability and quality engineering that you get with the Takagi T-K4-IN-NG.
Wrapping it Up
It may seem daunting to find the best tankless gas water heater for large homes as there is a lot to consider.
You've probably been reading tons of whole house tankless water heater reviews and wonder…
Is a gas tankless hot water heater worth it?
Look, these gas tankless hot water heaters are not for everybody.
It comes down to this.
Yes, tankless last more than twice as long as a standard, so they will pay for themselves over time.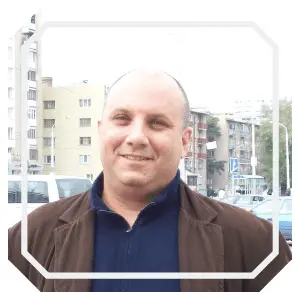 Nick Lopresti is the founder of YourH2Home and a home improvement expert. He has years of experience writing about various home improvement topics, mostly as it pertains to water systems.