When you are looking for reliability, and you also don't want to spend too much, then you could use a Takagi tankless water heater.
Looking for endless hot water for the whole house but you're not sure if Takagi is the right brand for you?
Or, maybe you already know you want one but you're not sure which model is the best for your needs.
Either way, this article of Takagi tankless water reviews should help you narrow it down. Before we get into the nitty gritty of the three different Takagi models, I'll provide you with a buyer's guide so you know exactly what to look for in your next tankless water heater.
Read on for all the details or just take a look at this handy comparison table below if you don't have time to read the whole article.

Before you get started, check my article on how to size a tankless water heater complete with sizing calculator so you know exactly how big you need.

Takagi Tankless Water Heater Installation
The very first thing you need to consider before you settle on the type of Takagi you need is how your house is configured for the installation.
You'll also need to decide if you will be installing indoors or outdoors, but more on that later.
Here are some of the requirements you need to be aware of before installing.
If you want to get an idea of how much it costs to install a Takagi or any other tankless water heater, then make sure you read this article to understand what it entails.
Gas Lines
Just about every Takagi tankless water heater requires gas connections of ¾ inches. As for inlet pressure, for natural gas the range is a minimum of 4.0 inches W.C (Water Column) and a maximum of 10.5 inches W.C.
For liquid propane, the range is a minimum of 8.0 inches W.C. and a maximum of 14.0 inches W.C.

Location
This goes for just about any tankless water heater, but you have to be careful about where you install your Takagi.
Make sure there is enough clearance to be able to service your Takagi. There should be at least 2 feet from the side of the unit to the nearest wall.
As far as venting, you should always make sure the exhaust is not next to any other vents or windows. Also, make sure it is not pointed towards a neighbor's house or a sidewalk where people will be walking by.

Cost
The cost of a Takagi tankless water heater installation varies by what model and where in the country you are.
As a rule of thumb, expect to pay anywhere between a few hundred dollars to over one thousand. This is highly dependant on where the installation will be and how much venting and piping is needed. You may need to drill a hole for the vent through solid brick, for instance, which adds to the cost.
Make sure you call for a quote before you commit.

Takagi Tankless Water Heater Warranty
As is the case with most warranties, the Takagi stipulates that the warranty covers only manufacturing defects. If you break the unit when servicing or improperly install it, they will not honor the warranty.
If there is a problem or defect that has it stop working before it should, then you will qualify.
Here is a quick look at how long the warranty lasts and what is covered.

Now, here is a huge caveat.
If you do the installation yourself. Or if you have a professional that is not certified by Takagi. Either of those things will negate the warranty. Now, it is probably still worth it to either install it yourself or have a regular plumber do it as these on demand water heaters are not very expensive.
For instance, the T-KJr2-IN-NG is only $500. You will save at least that much, or more if you install it yourself. You may even save that same amount by using a plumber that is not Takagi certified. In which case, if you have to replace it yourself since the warranty is void, you may still have saved some money.
This is a totally personal call, but I know for myself I would rather save the money up front since I feel like the chances of a problem that can't be fixed are not very high with Japanese tankless water heaters.
Wondering if it is worth it to have a tankless water heater? Check out the pros and cons by clicking here!
Takagi Tankless Water Heater Parts
Each of the Takagi models reviewed here come with just about everything you need to get started, but there are a few things you may need to buy in addition.
Takagi Venting
Which kind of venting you need depends on which model. If you are buying a traditional or direct vent unit you will need a stainless steel venting kit.

Z-Vent Concentric Direct Vent Kit
If you're lucky enough to have your tankless heater vent directly through the same wall where it is installed, then this venting kit is all you need. It will work with any 4 inch vent.
---
Isolation Valves
Since tankless water heaters are susceptible to hard water scaling, having an easy way to flush the system is a must. Otherwise, you will need to pay a plumber to come once a year and flush it for you. Which can cost between $100 and $200 a pop.
These will pay for themselves the very first time you flush your tankless water heater yourself.
iTANSO Isolation Valves
[ Leakage avoidance] Hot and cold set of full port forged brass ball valves...
[ Lead Free Brass] Meets all federal & state standards for lead levels in...
[ Easy Identification and Wide Applicability ] Colored valve handles for...
[ Trouble-free Installation] Hi-flow hose drains (500 WOG) & pressure...
[ Trusted Support & Warranty] iTANSO provides a ONE-YEAR guarantee against...
---
Condensing Drain
If you have a condensing unit it is important for it to be properly drained. The condensate that accumulates can be quite acidic. If it sits inside the unit it can corrode the parts, shortening the life of the unit and voiding the warranty.
Sale
Z-Flex Condensation Drain
4" Universal Appliance Adaptor with Back-Flow Preventer & Condensation...
For Takagi, Paloma, Rheem, Noritz, and Bosch AquaStar 240FX and AquaStar...
Useful in colder climates to prevent cold air from flowing back into your...
Condensation drain provides a 3/8" drain point
Takagi vs The Competition
All things eventually break down, and some much faster than they are designed.
But, the nice thing is that Takagi has fewer warranty claims their first year than other brands. And it is usually within the first year that you know you have a lemon.
The Japanese engineering seems to have the edge as far as longevity and the quality of the craftsmanship that leads to fewer problems than some other brands.
As far as cost, Takagi leads the way compared to other brands.
Take a look at the Takagi T-KJr2-IN-NG. You get a great 6.6 GPM (Gallons per Minute) compared to the same GPM from the Noritz NR661-DV-NG. Now, don't get me wrong. I like Noritz, but if I am on a budget then knowing how reliable Takagi are, I would gladly pay $300 less for the GPM.
Best Whole House Takagi Tankless Water Heater
Takagi T-H3-DV-N Tankless Water Heater Review
Takagi T-H3-DV-N Tankless Water Heater
Endless hot water, On-demand usage, Compact, Space saving, Energy...
Computerized safety features, No pilot light to have to worry about
Safety features include freeze, overheat, surge protection, and...
Satisfies the 2012 SCAQMD Rule 1146.2 for Ultra-Low NOx Emissions
Primary heat exchanger utilizes commercial-grade copper alloy for 25 times...
When it comes to reliability and performance it is hard to beat the T-H3-DV-N condensing tankless water heater.
Utilizing commercial-grade copper alloy for the heat exchanger tubing, it is built for high water demand and ultra efficiency.
Combine that with 10 gallons per minute flow rate and you have what could be the best whole house tankless water heater, especially considering the price. To compare, check out the Rinnai RUC98iN. It offers the same GPM but for hundreds of dollars more. And the warranty is 12 years compared to 15 for the Takagi.
Flow Rate
In the best case scenario, you can get up to 10 gallons per minute. In a normal house of five people with two adults and three kids, you can easily get a couple of showers running simultaneously with a washing machine, dishwasher and even a faucet running.
Even with a higher temperature rise number, the power you get from up to 199,000 BTUs will give you enough flow rate to take care of multiple fixtures.
Take a look at the temperature rise chart below to see how many GPM to expect based on your incoming water temperature. If you used the calculator from the article I linked to earlier then you can just find your number on the chart and see if your water needs will be suited by the T-H3-DV-N.
If you are wondering what size tankless water heater you need, this Takagi T-H3-DV-N is big enough to replace a 50 gallon tank system without a decrease in flow rate, or any fluctuation in temperature.
Efficiency
It is incredibly efficient with very little heat loss due to the fact that it is condensing. There is almost no exhaust. As long as you set up a drain for it, the combustion byproduct cools, turns to water and then drains off.
Rated at 95% efficient by Energy Star, you will see a reduction in your natural gas bills by up to 30% per month. This adds up over time and will see the tankless water heater pay for itself over time.
Installation Cost
The fact that it is condensing also reduces the cost of installation as you can use cheaper PVC pipe for the venting. Since a condensing type tankless water heater doesn't issue much exhaust, it doesn't heat the venting pipes. Whereas a normal unit would require a more expensive venting kit made of stainless steel.
How much it costs to install a Takagi will depend on where you live, where you plan to install it and what your gas and water lines in the house are like.
In most circumstances, a professional plumber can have the installation done in less than four hours. If you are handy and do it yourself, you will likely need the better part of a day.
What We Like:
10 Gallon Per Minute (GPM) water flow rate
Condensing for high efficiency
Very quiet operation
Safety features like surge protection, freeze control, and overheating management
Cascading ability to connect more than one unit
Energy Star rated 95% efficient
Great price for the GPM
What We Don't Like:
Doesn't include isolation valves for flushing
Verdict
For bigger households, you can't find a more powerful unit to heat the water for the whole house. And if for some reason you have some really intense water demand or you have multiple apartments in one house, there is a cascading option so you can have multiple units hooked up to each other and run independently or together to provide far more than the 10 GPM with just one.
I recommend this to anybody with a family that loves their endless hot water.
Best Outdoor Takagi Tankless Water Heater
Takagi T-KJr2-OS-NG Water Heater Review
There are some nice advantages to having an outdoor tankless water heater in general, but they become even nicer when you don't have to pay so much for one.
The wallet friendly price of the Takagi KJr2-OS-NG is priced hundreds of dollars less than other 6.6 GPM outdoor units.
Don't believe me? Check out its nearest competitor's price, the Rheem RTG-70DVLN-1. This one costs over $200 more for basically the same performance. It's a good tankless water heater, but why pay more?
Flow Rate
As I already mentioned, you get a very nice 6.6 GPM with a 35°F temperature rise. This means that in a warmer climate you can run two showers, a washing machine and a faucet at the same time with no loss of hot water.
Of course, this number does go down once you start raising the outgoing water temperature and your incoming water is cold.
The best thing to do is to keep your water temperature set to the actual temperature you want it to be and not use any cold water. If you set it to 140°F and then cut it with cold water, you're going to seriously limit how much hot water you actually get.
The unit comes with thermometers on the incoming and outgoing water so you always know exactly what to expect for your flow rate and can adjust the temperature accordingly.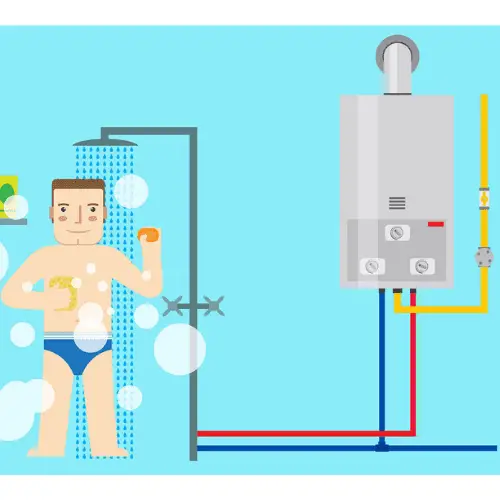 Efficiency
You also get a respectable 82% efficiency rating. This number may seem low when you compare to indoor units, but it actually very good for one that will experience some heat loss from being outside.
It is still a high enough rating to get you rebates in most areas of the country.
Expect to see a drop on your gas bill if you are switching from a tank to tankless water heater. How much can you save? It depends on too many factors for me to say for sure, but expect around 20 to 30% reduction.
Installation
You can probably install this yourself if you are even the least bit handy. As long as you don't need to change out your gas meter or anything, then it is pretty straightforward. You'll need your gas and water lines to be at ¾ inch, though. If you have ½ inch gas lines, then you should consult with a plumber.
Since it doesn't need any venting as it sits outside, that reduces the cost and complexity of the installation.
Just make sure you read the instructions carefully as you'll need to keep a certain distance from windows and doors.
No Pilot Light
Since there is an electrical ignition, there is no need to worry about a pilot light going out if it is windy and you don't have your unit in a tankless water heater box outside.
The one big downside to that is if you lose power, you also lose your hot water.
Keep that in mind. It usually is a trade off that most people can live with as the older outdoor tankless models would have lights blowing out often and needed to be enclosed.
What We Like:
Great price
6.6 GPM max flow rate
Easy installation
Small size will fit anywhere
Wired remote control
Self modulating sensor saves power
What We Don't Like:
Low GPM in cold climates
Slightly loud operation
Verdict
The cost savings alone makes the Takagi KJr2-OS-NG worth it if you are looking for a reliable outdoors tankless water heater.
As long as you aren't expecting it to perform for a big household with high water demand in a cold area of the country, then you will love the endless hot water you get.
If you have an RV that stays in one place, this is an excellent way to heat your water. They even have a propane version that you can check out by clicking here.
Best Takagi Tankless Water Heater for Mid Size Homes
Takagi T-H3S-DV-N Condensing High Efficiency
Takagi T-H3S-DV-N Water Heater
Endless hot water, On-demand usage, Compact, Space saving, Energy...
Computerized safety features, No pilot light to have to worry about
Satisfies the 2012 SCAQMD Rule 1146.2 for Ultra-Low NOx Emissions
Dimension:22.5"H x 17.75"W x 10.75"D
When you have a medium size household and don't want to overspend on a tankless water heater that is too big for your need, there is the Takagi T-H3S-DV-N. When I say medium sized, what I mean is that if you have a family of 6 or less then you are likely to get the flow rate you need.
Flow Rate
At 8 GPM, your gallons per minutes at a 40°F temperature rise is a much higher GPM than other models will give you for a similar temperature rise.
This will supply you with 3 showers and a washing machine running simultaneously in a multiple bathroom home. Since most households don't have three bathrooms with showers running at the same time, then you can see you'll have plenty of flexibility when it comes to the number of fixtures running at the same time.
Even at the lower end of the spectrum when you have a high temperature rise, you still get more GPM than from its competitors.
Efficiency
Since the unit is condensing, it has a much lower heat transfer than traditional tankless water heaters with exhaust that gets vented.
This keeps the energy efficiency around 90% so it uses less gas to heat the water.
Tankless water heaters in general use less gas and will give you savings of over 20% on your heating bill. Expect something more around 30% and possibly more depending on how old the tank system you're replacing is.
The Takagi T-H3S-DV-N features Air-Fuel Ratio Rod to measure and adjust air input in order to maintain optimal combustion efficiency.
Installation
I think most people that are handy can install a tankless water heater themselves, but when it is a condensing unit, the drain needs to be done correctly. I suggest using a professional to do this. Yes, it can be expensive, but there is one point of savings with the Takagi T-H3S-DV-N.
Condensing units can use PVC venting since there is no hot exhaust coming out of the vent. Usually you need stainless steel, which can be expensive on its own, but the installation is also more complex.
PVC is cheap to buy and cheap to install. This saves a few hundred dollars which can be taken off the cost of installation.
Long Life
The Takagi warranty on this unit, as well as many others, is for 15 years on the heat exchanger. It is made with high quality copper and is built to last. This is evident by the long warranty which means that Takagi is very confident that your unit will be supplying endless hot water for a really long time.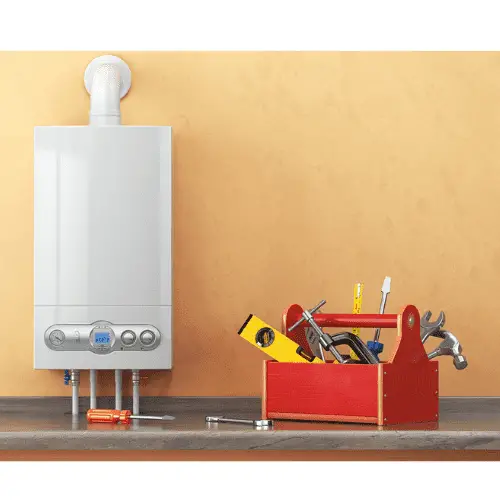 Safety Features
With surge absorbers for electrical surge protection, an overheat cutoff fuse and freeze protection, you can feel secure that your tankless water heater is safe to use. It even has freeze protection, so if you lose heating in your house it will not damage the unit.
An electric pilot also keeps things safe in case of a gas leak as well as being convenient.
What We Like:
Great price
6.6 GPM max flow rate
Easy installation
Small size will fit anywhere
Wired remote control
Self modulating sensor saves power
What We Don't Like:
Low GPM in cold climates
Slightly loud operation
Verdict
The price may be high, but you get an exceptionally made tankless water heater that performs at a high level. Most households will get all of their hot water needs met with the 8 GPM that you get from the Takagi T-H3S-DV-N.
Even if you live in a cold water area, you'll still get a decent GPM compared to other competitors.
Final Thoughts
It isn't an easy decision to make when looking at which tankless water heater is best for your needs. These days the technology to make a reliable and high performing tankless water heater is cheap enough that all the best brands are able to make them.
That said, I love Takagi because the price is so right. They consistently perform to a very high level while beating other brands on price almost every single time.
To spend less than what you would on a Takagi means a compromise on quality, reliability and longevity.
With a 15 year warranty you know you're in good hands with a Takagi.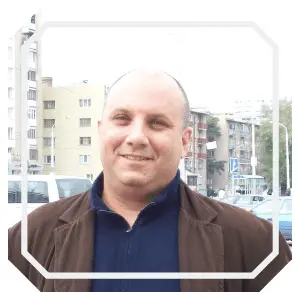 Nick Lopresti is the founder of YourH2Home and a home improvement expert. He has years of experience writing about various home improvement topics, mostly as it pertains to water systems.