Whether you plan to do the tankless water heater installation yourself or hire a professional, you need to know where to install it before you do anything.
Don't assume that your plumber knows all the tankless water heater installation requirements and location codes for your area.
Why do you need to know the tankless water heater location?
For one thing, you can figure out how much the installation will cost before you get started. The further from a water or gas source the more the labor and parts will cost. Even more expensive is running a long vent to the outside of the house.
The attractive thing about tankless water heaters is that you aren't as restricted to where they can be installed as a storage tank system is. That said, you are still required to have a certain tankless water heater clearance to windows and other factors.
Let's dive right into the meat of the guide on tankless water heater installation requirements!
Do You Need a Permit to Install a Tankless Water Heater?
While you may not need a permit specifically for a tankless water heater installation in your area, chances are good that you need a permit to replace a water heater in general. This is the first thing you need to sort out before you do anything.
Why would you need a permit?
Since codes have changed over the years, the city or town needs to make sure that your house is up to code that lines up with the type of water heater requirements needed.
You should be careful about tankless gas water heater installation requirements like gas lines and meters need to be up to code.. An electric one will require that your breaker is equipped to handle a tankless water heater.
How Do You Get a Permit to Install a Tankless Water Heater?
It's a pretty simple process that only requires a quick trip to the local building department. You'll probably need a few dollars for the permit. This is exactly where you should be asking questions as they will tell you exactly what the requirements are. In fact, they will probably have a flyer with all the information to give you before you get started.
Even if you plan to install the tankless water heater yourself, make sure you at least call the local department to ask what you need.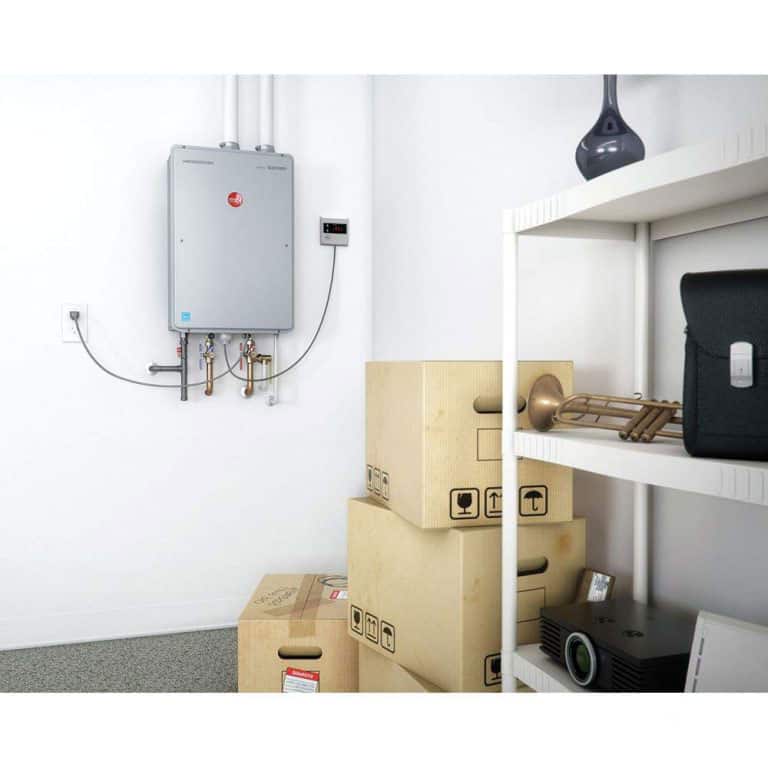 Do Tankless Water Heaters Need a Vent?
The type of tankless water heater will determine if you need a vent or not.
Natural gas and propane tankless water heaters need a vent unless they are installed outdoors. That is the biggest factor when selecting the location for the installation.
Yes, you want to be close to the source of your gas or water. But, if you need to vent to the outside then there are certain codes and clearances that may not allow you to be too close to your source.
An electric tankless water heater doesn't need a vent, so if you are really restricted then this may your best choice of tankless. In fact, in certain circumstances, it may be your only choice.
The Holy Grail of installation locations would be to be at the point of incoming water and gas, in an area with an existing vent and also out of the way where it frees up space.
Whether this will be the case when you install remains to be seen, of course.
Venting Requirements for Tankless Water Heater
This is easily the most important part of the decision on where to install a tankless water heater. Not only for staying within code requirements, but also to maximize your efficiency and keep your usage expenses to a minimum. As well as possible savings on the installation itself.
What to keep in mind for venting a tankless water heater:
Tankless water heaters are vented in two ways: direct vent and power vent. Direct vent needs to draw air in from the outside so you will either need two vent pipes or a concentric one with the exhaust inside the intake vent.

A power vent draws in indoor air for the combustion and only needs an exhaust vent. This can lower your installation costs and frees up where you can vent your unit.

Tankless water heaters use fans to blow exhaust from the unit horizontally, allowing vents to terminate on the side of a house. You can't use an existing tank vent if it goes from the basement to the roof. Keep in mind that you will likely need to drill through a wall to do this.

An exhaust vent can be metal or PVC, but what kind of unit will determine which you can use. For instance, a metal or stainless steel vent exhaust will get very hot and will cost more to seal to the wall since you can't use a silicone to seal the gap. A concentric or condensing unit will solve this problem. PVC does not heat up and costs less to vent because of this.

Outdoor tankless water heaters don't need a vent so they are the easiest ones to locate as you only need to consider how close to a window you place it. There are problems with outdoor tankless water heaters so it is still not the ideal solution.
Tankless Water Heater Location Code
The installation code for a tankless water heater varies a lot by location. Since it would not be economical of me to provide the codes for every town in the United States and Canada, let me just give an example.
I randomly picked San Jose California as an imaginary location for us to do our home installation.
Before you even consider where you are allowed by your town to install a tankless water heater, make sure you are following the specific instructions of the manufacturer as to where they recommend.
Ok, so San Jose has the following requirements for where to install the tankless water heater:
Vent termination – All tankless water heater vents must terminate at least 4 feet from a property line.
Restrictions on gas-fueled tankless water heaters – No gas appliance may be located in a room used for sleeping, a bathroom, a clothes closet or in a closet or other confined space opening into, or having access from a bedroom or bathroom.
Gas Line Requirements – All new and altered gas piping systems must be pressure tested as prescribed by Code.
Venting Size – Properly sized combustion air vents are to be located within the upper and lower 12 inches of an enclosure.
BTU Restrictions – A 200,000 BTU input tankless water heater requires an opening or vertical duct at the upper and lower locations with the equivalent area of an 8-inch round duct (50 sq in). Double the area for horizontal ducts.
This is hardly an exhaustive list of requirements, but it does highlight that your city may have similar restrictions as to where you can place a tankless water heater location.
It is mostly common sense. I mean, I hope none of you are actually planning to keep a tankless water heater in your bedroom!
Tankless Water Heater Vent Clearances
If the unit is vented to the outside then it needs 12 inches of clearance from a door or window. If the window does not open, the tankless water heater clearance from a window requires a 12-inch setback.
Tankless water heaters should not be installed near dryer vents or intake air vents. Besides whatever the local codes are, you should be very careful about any interference with other vents.
If you're going to place a vent where there is a driveway where kids could be playing basketball or even a sidewalk where people will be walking, then it needs to be placed over 7 feet from the ground.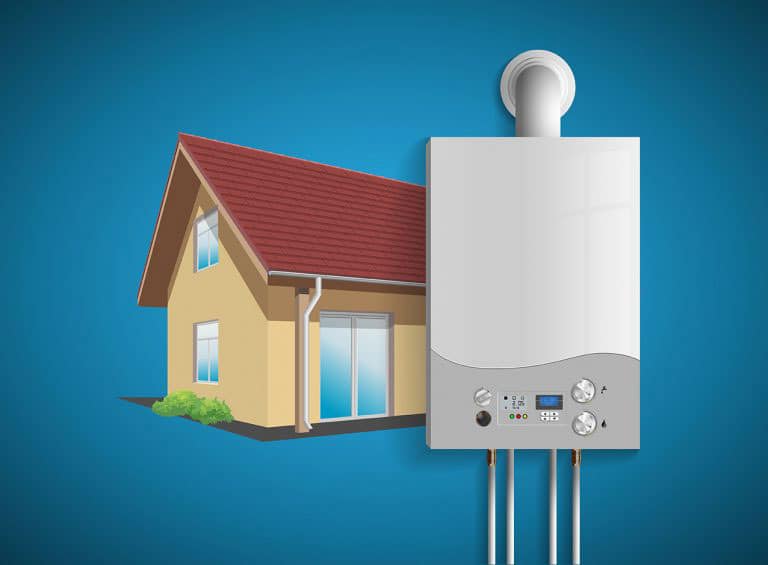 Can You Vent a Tankless Water Heater through a Chimney?
Your tankless water heater cannot share a vent with any other furnace. It has to have its own venting pipes.
Not only that, but since the gases from the exhaust are highly corrosive, so you can't vent out of a masonry chimney flue.
Also, a galvanized vent from a storage tank heater will quickly rust and dissolve away. Not only is this going to cause you a financial headache to replace, it is extremely dangerous.
Your venting pipe needs to be stainless steel or PVC piping. Do yourself a favor and buy a tankless that comes with its own venting kit, or buy your venting according to the requirements of the manufacturer.
Requirements for Tankless Water Heater Installation Outside
If you live in an area where it is warm most of the year, or at least doesn't dip below 32°F for more than a few days, then you're probably better off with an outdoor tankless water heater.
You do end up with more options regarding where you can install it since it doesn't have any venting.
That doesn't mean that there are no codes or requirements to consider, however.
You'll need to consult with your local building department in your town or city to see what the exact requirements are as far as how far from a window or door the unit can be.
Keep in mind that there will be a minimum distance, though.
The gases from the exhaust are toxic. You will also need to make sure that the unit is located at least a minimum distance from other dwellings, too.
Outdoor Tankless Water Heater Enclosure
You may be thinking of aesthetics when you think of covering up your tankless water heater, but you have to remember that it does emit an exhaust. Make sure you consult the manufacturer manual for your model since you may cause problems if the dimensions of the enclosure are not correct.
Here are some tankless water heater enclosures for pipes that will protect them and also just look nicer in general.
You can cover the pipes with insulation foam to look prettier and also to prevent too much heat loss.
Rinnai PCD03 Small Chrome
Tankless water heater accessory
Application: For covering the water and gas piping of the RL75i/e, RL94i/e,...
Noritz PC-3S Pipe Cover
Conceals the piping underneath the water heater to provide a cleaner...
Professional finish
Easy installation
Compatible with all water heater models and requires light assembly
Cleaner look
Additional Considerations
Once you know what your local building codes are and are ready to pick your tankless water heater placement, you should think about what spot a couple of things.
What location will cause the least disruption – If you can keep your tankless water heater where your old tank system was, then you won't need to worry too much about the gas or water lines being run too far. You will need to consider the venting, though.

How far does it need to vent – The biggest expense is the venting. If you have to cut through a brick wall, that will cost some time and money if you hire a professional. If you do it yourself and want to avoid drilling through a wall, or are not able to do that, then you may be adding to your installation costs by needing to run a long vent pipe to where you can get it outside.

Venting a gas tankless water heater in a basement with stone walls, for instance, you will need to place it closer to where you can vent it outside since you can't drill. You may need to run your gas or water lines further instead.

In an enclosure, will it get enough air intake – The beautiful thing about tankless water heaters is that they can be put into enclosures to be kept out of the way and save space. It may seem like a great idea to place your tankless water heater under the stairs or in a utility closet.

But before you settle on a spot like that, you need to make sure the space will allow for enough air intake if it doesn't vent air from the outdoors. If it is a power vent that takes air from inside to combust the flame, then you may be restricted as to where you can install it. 
None of this is a factor when you have an electric tankless water heater. Tankless water heater enclosure requirements do not necessarily apply to an electric unit since there is no exhaust and it doesn't require any air intake for combustion. The heat exchanger is an electric one that requires no flame.
If you are on the fence about getting a tankless water heater then make sure you read my guide on the pros and cons of tankless water heaters to know exactly what you are getting into!
FAQ About Tankless Water Heater Installation
What are propane tankless water heater installation requirements?
There are multiple requirements for the installation of a propane tankless water heater. First, you must make sure that it's installed in a place where the gas, water lines and venting are nearby. This will reduce the installation cost and enhance the heater's performance.
Second, you'd have to follow all local codes or, if local codes are absent, follow the National Fuel Gas Code: ANSI Z223.1/NFPA 54. Thirdly, the plumber should not tinker with the manifold gas pressure that comes preset from the factory, which is computer-controlled.
Fourthly, make sure that the exhaust vent's termination – which is the distance between where the vent ends and the adjacent building starts – meets the distance requirements set by the local code. This is done to ensure that the exhaust's presence of noise won't disturb your neighbors.
Lastly, you must refer to the installation manual to know more about recommended gas supply, approved vent material, maximum run lengths and approved pipe diameter.
Do you need an electrician to install a tankless water heater?
Given that improper installation might void the warranty, may decrease the lifespan of the tankless water heater and could result in potentially serious personal injury, we suggest you hire an electrician for the installation.
How do I install a tankless water heater in a garage?
Follow these steps to install a tankless water heater in a garage:
Gather the supplies: Make sure you've a pipe cutter, couple of brushes, manual hand sanders, hole saws, spade drill bits, and twist drill bits. Also get a couple of pipe sealants, sanded plywood, solder flux, black pipe and black pipe fittings.
Upgrade your gas line: Since they heat water instantly, tankless water heaters require more gas upon firing than tank-carrying heaters. Which is why you need to upgrade your existing gas line by two sizes – from ½-inch to 1 inch.
Remove the old heater: Start by turning off the heater's water and gas supply. Next drain the heater and follow it up by disconnecting the heater from the gas and water lines. The gas line might contain a union fitting. Remove it too.
Dispose of your old heater: Check with your local recycling or sanitation company to get more information about its disposal.
Install new water lines: Follow the manufacturer's instructions to hook up your water supply line to the water heater valves. Use a copper pipe to hook up new hot and cold water lines to the existing ones. Take care as you may have to cut and solder the copper pipe.
Dry-fit everything first: Once you have the necessary pieces in place, use a sanding cloth to clean the end of each pipe and the inside of each joint. Next apply flux to the pipe and the fittings, solder them in using a propane torch and hold the pipe against the wall using bell hangers.
Install pressure relief valve: A pressure relief valve is a safety device that prevents the pressure from building too high. Install it per the manufacturer's instructions. Then turn on the water and gas supply lines to check for leaks.
Hook up the exhaust vent (1): Get a vent hit and turn off the gas supply. Next lubricate the heater's vent shaft with a heat-resistant silicone sealant. Slip on a connector and hold it in place with a hose clamp.
Hook up the exhaust vent (2): Slide on a section of stainless steel vent pipe. Slip on a retaining ring and secure it in place by folding over the taps. Then slip on an elbow and adjust it so that its opening is pointing in the water heater's vent's direction.
Hook up the exhaust vent (3): Drill a hole from the inside through the wall or joist for venting to the outside. Mark a point that will be the vent hole's center. Then go outside and use a thimble to outline a circle on the outer wall. Use a spade bit to bore a 1-inch circle at the top.
Hook up the exhaust vent (4): Use a reciprocating saw to cut out the vent hole. Wear gloves and remove siding or shingles from around the hole. This is required to ensure the flange thimble rests flush against the outer wall.
Hook up the exhaust vent (5): Lubricate the edges of the flange with a silicone caulk. Push the flange through he vent hole and secure it to the outside wall with screws before using silicone caulk to seal the screws.
Hook up the exhaust vent (6): Repeat the same procedure with interior flange before running a vent pipe's section through its opening. Use tabs to secure each section. Then go outside and connect the vent hood and the remaining section of the vent pipe.
Hook up the exhaust vent (7): Remember the shingles you removed in the 10th step? It's time to replace them. Make sure you're wearing gloves while doing that otherwise you might end up getting a cut injury on your fingers and/or hands.
Complete the installation: Open a faucet to purge air from the heater and water pipes. Turn it off and plug in the heater. Insulate the pipe carrying hot water from the heater, turn on the gas and follow start-up procedure listed in the heater's instruction manual.
Pro Tip: You might have guessed from the instructions that the installation of tankless water heaters is a complex process. It requires the skill of a professional plumber to make gas connections, follow local codes and solder pipe. That's why you might want to hire a licensed technician.
What is the easiest tankless water heater to install?
Electric tankless water heaters are easy to install because they require no venting or gas lines. You can also install them virtually anywhere – without having to worry about drilling a hole in your home's walls to vent their exhaust into the atmosphere.
Conclusion
There are so many variables at play with tankless water heater installation that we can't tell you exactly what is required. For example, we didn't even talk about thermostats for water heaters.
Don't worry if this all seems to be too complicated. You'll see that in most cases you have a lot of options on where to install a tankless water heater and still stay within your local codes.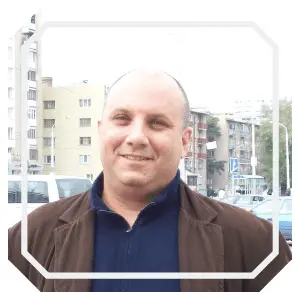 Nick Lopresti is the founder of YourH2Home and a home improvement expert. He has years of experience writing about various home improvement topics, mostly as it pertains to water systems.