When you are spending money to set up your new radiant underfloor heating system it makes sense that you would want to save a few bucks. 
You're probably wondering if you can skip the new radiant heat thermostat and use your old one and save money and hassle.
Well, the answer is that is a possibility, but it may not be.
My personal philosophy is to always use the right gear for its intended purpose. You'll get more out of your system that way. 
In my opinion, you should use the right kind of thermostat for your radiant floor heating especially if it is hydronic.
In this article, I wrote up a detailed buyer's guide to help you pick the right radiant heat thermostat and included my picks for the top 5 best radiant heat thermostats.
In a Rush? Here Are Our Top Picks
Do You Need a Special Thermostat For Your Radiant Floor Heating?
You really do need a special radiant heat thermostat as the ones that work the best measure the temperature of the floor and in the air to make sure that the floor is not getting dangerously hot while it heats. If you only are measuring air temperature then the floor heating system could overshoot the temperature and be way too hot to the touch until it reaches the thermostat sensors.
With a smart radiant heat thermostat, you have far more control than with a traditional thermostat. Radiant floor heating is not complicated, but since it is slow to heat it is best if you can program it with more accuracy. That's what you get with the right radiant heat thermostats.
You can even use sensors to know when somebody leaves the room so it shuts off on its own. And you can also turn it on remotely through an app so it is warm when you get home if you come back when it isn't normally scheduled to go on.
There are a lot of benefits including energy savings. It just makes sense to have one if you go for infloor heating.
Make sure you have the right thermostat for your heater!
Electric vs Hydronic
Hydronic floor heating simply means that it uses circulated hot water. The term can refer to baseboard heat or even a heat fan that has a pipe with hot water that radiates heat.
In our case, it is a closed-loop system in which a boiler or water heater circulates the hot water through a series of PEX tubing underneath the flooring.
If you don't have your water heater for your radiant floor sorted out yet then check out this article on whether you should use a radiant floor heating water heater or boiler!
An electrical system uses heat conducting mats with coils that heat up by using electricity. They use resistance to produce the heat and are wrapped in a polymer for safety.
Usually, the mat and thermostat come together as they are part of the same system. If you are looking into an electric radiant floor heating system then half of your job is already done. You likely don't need to use your old thermostat or buy a special electric radiant heat thermostat for the job.
Do Smart Thermostats Work with Radiant Heat?
Most smart thermostats are designed for forced air heating and not for radiant hydronic systems. Nowadays you really want a wifi thermostat for hydronic radiant floor heating.
Now that radiant floor heating is becoming more popular for its efficiency and effective house heating, they are starting to adjust to the demand.
What makes it difficult is that radiant floor heating systems take longer to heat up and sometimes require two stage heating. Even if the thermostat can control two stages, sometimes the boiler used doesn't.
Houses with different zones also present a challenge and usually require multiple thermostats and sensors.
The best smart thermostats work with a floor sensor that can adjust the temperature more accurately and avoid overshooting the desired temperature. This is both safer and more efficient.
Now that you know that smart thermostats work with radiant heat, we provide our 5 best radiant floor thermostats. We also include our top choice for best thermostat for radiant floor heating.
5 Best Thermostats for Radiant Floor Heating
Best Overall – Honeywell Home T9 WIFI Smart Thermostat
Sale
Honeywell Home T9 WIFI Smart Thermostat
SAVE MONEY AND ENERGY. Adjust your ENERGY STAR certified thermostat from...
LIVE AND SLEEP SMARTER. Choose the temperature in a specific room, like the...
AMAZING SENSOR RANGE. The battery powered Smart Room Sensors utilize unique...
MULTI-ROOM FOCUS. Don't be forced to choose one room over another, the T9...
CONTROL IT YOUR WAY. Control the T9 using the Resideo app or through Amazon...
You can see some of the key features in the box above, but here are some more details.
The Honeywell T9 has multi room capability so you can set the temperature for each room individually. You can set different times for each room besides just the temperature.
If there is nobody on the upper floors during the daytime then there is no use in heating the floor there. Just add a sensor for each room that has the radiant heat to create a different setting for each. (NB: This only comes with one sensor so you will need to order more for each additional room!)
Geofencing can also be added so when you are home it is picked up by your phone entering the zone. The heat can kick on at that point so it doesn't need to be turned on if you arrive at a time that hasn't already been programmed. 
What We Like:
Easy to install
Works with Alexa, Cortana, and Google voice commands
Has multi zone capability
Supports geofencing
Tracks your heating trends
What We Don't Like:
Requires C wire
Can't change brightness of display
---
Most Popular – Nest Learning Thermostat 3rd Gen
Sale
Nest Learning Thermostat 3rd Gen
Multi zone capability allows you to track different areas of the home. AI sensors learn your daily heating and cooling schedule and sets a schedule for you. Super easy installation
Though this is not the best smart thermostat for radiant floor heat it is easily the most popular. This 3rd generation Nest thermostat does do a great job and is easy to use, but it doesn't have quite the sensitivity and accuracy of the Honeywell T9 reviewed above.
This latest generation does have multi zone capability that was not available previously so that is a nice bonus. You can put sensors in different areas of the house and heat accordingly.
The AI algorithm will help you track your usage and actual movements to know when and where you need heat the most. The sensors can tell how much time you spend in each area of the house and will preemptively heat those areas at the times it feels it is needed. It does not monitor the temperature in those rooms however.
This saves you money as you aren't overheating an area because it is taking too long to heat up. This is especially helpful when you have radiant floor heating as it can take a while to heat up.
You can check to see if it is going to work with your boiler or water heater by clicking here and going through the questionnaire. 
What We Like:
Saves up to 12% on heating bills
Multi zone capability
Works with Alexa, Google Home
Easy to read display
AI algorithm works when you need it
What We Don't Like:
Needs a C-wire
Doesn't monitor temperature in other zones
---
Best For Luxury – Ecobee Smart Thermostat with Voice Control
Sale
ecobee SmartThermostat with Voice Control , Black
Save up to 26% annually on heating and cooling costs (compared to a hold of...
Included SmartSensor extends comfort to your most important rooms
Comes with Siri and Alexa Built-in for calls, music, and added control...
Automatically pauses your heating or cooling when a door or window is left...
Integrates seamlessly with your preferred smart home system. Compatibility:...
The Ecobee Smart Thermostat is an expensive thermostat, no doubt about it. But it helps to have when you are using it for radiant heat in a few ways.
It is much more accurate and programmable than the Nest and is close in terms to the Honeywell T9.
I'll get into the bells and whistles in a second, but first, let me say why it works well with radiant floor heating. It supports 2 stage heaters like a boiler or heat pump so it can help you heat a room effectively without overcompensating.
If you have multiple heating systems in your house then this is essential for that as well.
Now, if you love having many different applications at your fingertips, or even the tip of your tongue with voice, then you will love how much you can do with your ecobee thermostat.
It works on both 2.4GHz and 5GHz Wi-Fi so if you are on a dual band router then you are all set there. Many smart homes are using these dual band routers so this is good even if you don't think you need it as you may one day in the near future.
It uses Alexa, Google Assistant and Siri voice integrations to control but really excels with Alexa and even has an Alexa speaker if you want to listen to music or podcasts from it. It will only access the Alexa voice with the unit closest to where you are.
The remote sensor can detect whether you are home or away and can heat different zones of your home individually according to your needs. It will also go into smart mode and do it automatically without needing to set it. If it detects your presence in a room it will automatically turn on. Of course, since it takes a while to heat a radiant floor, you can also turn it on remotely from your smartphone on the way home.
What We Like:
Very advanced Alex capabilities
Remote room sensor
Dual band wifi
Easy installation
What We Don't Like:
---
Best Budget Option – Emerson Sensi Touch Smart Thermostat
Sale
Emerson Sensi Touch Smart Thermostat
PRIVACY PROTECTION*: Sensi won't sell your personal information to third...
EASY DIY INSTALLATION: Use the built-in level, illuminated easy-click...
SAVE ABOUT 23% ON HVAC ENERGY*: The ENERGY STAR-certified Sensi smart...
SLEEK, MODERN DESIGN: The large color display features easy-to-read...
CONTROL FROM ANYWHERE: Remotely control your home comfort from your...
You don't have to spend as much as the other thermostats reviewed here to get quality. 
The Emerson Sensi is a great option for those on a budget that are installing a radiant floor heater as it works with gas, propane, oil and even electric HVAC systems. It can handle up to 4 stage heating with a heat pump and is the only one on this list that can. For conventional systems it works in 2 stages. 
The size and shape are around the same as a traditional thermostat. If you are replacing one then it is easy to have this fit right in without needing to repaint the area around it. It may not look as flashy as the others, but it gets the job done. 
It is limited compared to the ecobee when it comes to using sensors and automatic heating, but it does still have geofencing and flexible scheduling. 
It does give you detailed reports so you can set your schedule accordingly, but it won't sense a person entering a room and turning the heat on. Nor does it offer much in the way of zoning unless you install several thermostats where you need them.
Installation takes less than 30 minutes, but you should know that you do need to connect it to the C-wire. It does have an adapter so it is very easy to do yourself.
What We Like:
Works with multiple hydronic systems
Great low price
Offers geofencing
Multiple stage heating compatible
Compatible with Amazon Alexa, Google Home Assistant, Apple HomeKit, and Wink
What We Don't Like:
Not as smart as some other thermostats
Doesn't offer multi zone sensors
---
Best Compatibility – Bosch BCC100 Smart Thermostat
Sale
Bosch BCC100 Smart Thermostat
SAVE ENERGY AND MONEY: This Alexa-enabled, internet-connected programmable...
MODERN SLEEK TOUCH SCREEN: The full color, 5-inch display touchscreen...
MULTI-USE COMPATIBILITY: Including heat pump (4 Heat, 2 Cool) or...
NEW COMMERCIAL UPDATES: Updates allow control of both evaporation and steam...
C-WIRE REQUIRED: A C-wire (common wire) is required to power the unit. Two...
If you are looking for a brand that has a history behind it then Bosch is definitely one you can trust.
They make the heaters that people have been relying on for years to heat their homes. In fact, I mention them several times on this site for their tankless water heaters.
Because of this, you get excellent compatibility across many different HVAC systems. As an added bonus it can also control whole house humidifiers and dehumidifiers. 
Out of all the thermostats reviewed on this list, the Bosch BCC100 is the easiest one to use. In fact, you can use it without the app if you really want to keep things basic.
Of course, if you want to use the app, it is going to give you far more options for temperature control. It does not offer geofencing, however.
Though it doesn't have the bells and whistles that the others on this list have, it does get the job done and is very reliable. 
If you are looking for lots of extras and something more intuitive then I would scroll back up and check out the others.
Otherwise, for the price it does do a good job and has the backing of a major brand behind it.
What We Like:
Compatible with many different HVAC systems
Works with humidifiers and dehumidifiers
4 stage heating with heat pump
Works without wifi
Alexa and Google Home Connected Control
What We Don't Like:
Not a lot of features
Needs C-wire
---
FAQ About Radiant Heat Thermostats
How Many Thermostats Do You Need For Underfloor Heating?
According to a rule of thumb, you need one thermostat per zone for underfloor heating. Keep in mind that one zone doesn't mean one room, as large rooms may have more than one zones.
However, if you have secondary heat generators such as Aga-type cookers or log burners in the room, you may need additional thermostats for underfloor heating.
What temperature should radiant heat be set?
Radiant heat should be set at 75*F. This will allow it to keep the room temperature close to what HVAC experts recommend as ideal: 68*F at eye level and 61*F close to the ceiling.
Are floor heating thermostats interchangeable?
Floor heating thermostats are interchangeable. All you need to do to replace the old thermostat with a new one is to turn off your breaker, unwire the old thermostat, wire its new counterpart in its place and turn the breaker back on. Your new thermostat will work exactly like the old one.
If you need more information on installing your radiant heat thermostat, check out this article.
Conclusion
The best radiant floor heating thermostat is going to ensure that you get the most out of your infloor heating. It will pay for itself with the savings in energy since you can be so accurate with the settings and make sure it only works when you need it.
With the AI capabilities of appliances today, it just makes sense to use one.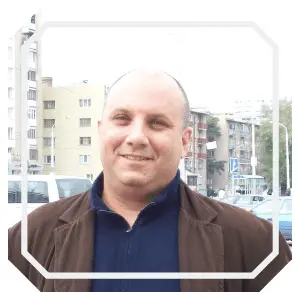 Nick Lopresti is the founder of YourH2Home and a home improvement expert. He has years of experience writing about various home improvement topics, mostly as it pertains to water systems.