Radiant floor heating has been increasing in popularity in recent years. This type of heat provides a very even dispersal of heat throughout your home and is especially great for tile and hardwood floors. One of the most important components of radiant floor heat is insulation. Insulation is crucial in order to maximize the heat produced by radiant floor heat. 
The best insulation for radiant floor heat is sheet foam insulation. These sheets are the most common type of insulation used when installing radiant heat on a slab floor. They're available in 4×8 sheets and in thickness levels of 1 to 3 inches. The radiant floor tubes sit on top of the insulation, and the concrete goes on top of the radiant heat. 
Radiant floor heating is a great way to provide warmth and comfort to your home, as long as it's correctly installed. In this article, we'll look at the best insulation for radiant floor heat for every situation. We'll also look at some of the ins and outs of radiant floor heat. Let's get started! 
Best Insulation for Radiant Floor Heat 
The best insulation for radiant floor heat depends on its application. The best insulation for a slab house isn't the best insulation for radiant heat on a second floor or house with a basement. Here are the best types of insulation on the market and where the best place is to use them. 
Best Insulation for a Concrete Slab 
If you're installing radiant heat underneath a concrete slab, foam sheets of insulation is best. Foam insulation that's 2"-3" forms a perfect base to attach the radiant heat pipes to, and it also provides sufficient warmth to keep your pipes hot during winter. 
Once you've laid your vapor barrier and foam insulation, the radiant heat pipes get stapled onto the insulation. Concrete along with the concrete grid gets laid on top of the pipes and insulation, followed by whatever flooring you desire. The combination of foam insulation and radiant heat provides enough warmth to warm up your concrete and your flooring. This makes for a nice, warm floor during winter months which then radiates upward and heats your home. 
Best Insulation for Joist Spaces Between Floors 
The best insulation for joist spaces if you're installing radiant heat below a main floor or beneath a second story, is SmartShield Insulation.
Smartshield insulation is very thin and made specifically for radiant heat. When you use smartshield in combination with aluminum heat transfer fins, this will provide the best insulation for your radiant heat pipes. 
The order looks a little something like this. 
The radian heat pipes are placed directly against the bottom of the above floor and stapled to it. 
Aluminum heat transfer fins are placed on the radiant heat pipes, spaced a foot or two apart. 
SmartShield insulation then envelopes the entire joist space from side to side at the top of the space. 
A piece of R-15 insulation then gets placed in the joist space beneath the SmartShield. 
Using this method will provide the maximum amount of warmth for your floor and home. 
Alternative for Between Joist Spaces 
If you really want to seal your radiant heat in, you can also opt ot use spray foam insulation between your joist spaces. You'll still want to install the radiant heat pipes, followed by the aluminum fins, then the Smartshield. However, instead of using R-15 insulation to seal it all in, use spray foam insulation. 
The downside of using sprayfoam insulation is that you'll no longer have access to the radiant heat pipes. If you have a leaky pipe, it will be extremely difficult to locate and fix. 
Benefits of Proper Subfloor Insulation 
Properly insulating the radiant heat in your subfloor isn't beneficial just because ot creates more heat. Here are a few other reasons why using subfloor insulation is the only way to install radiant heat. 
Saves Money 
Insulation that directs the heat where it needs to go will save money on your monthly power bill. Your radiant heat won't have to operate as long when insulation contains heat where you want it. The sooner your floor and home reach the temperature setting on your radiant heats' thermostat, the sooner it will automatically stop. 
Produces Heat Faster 
The more radiant heat your insulation retains, the quicker your house will warm up. Proper insulation leads to quicker heat generation and a more efficient home. 
Saves Electricity 
Aside from saving money and heating your home faster, subfloor insulation also saves the environment. The less electricity and energy that your radiant heat uses, the more eco-friendly it will be. 
Prevents Moisture From Occuring 
When radiant heat is used in floors without proper insulation, there's a risk of condensation occurring. Condensation happens when moisture-laden warm air gives up that water as it cools down in the process of heating up colder air that it comes in contact with. Proper subfloor insulation prevents moisture and mold from occurring, which would be hazardous to your home. 
What is Hydrofoam? 
Hydrofoam is a new and exciting hydronic floor heating insulation board that's ideal for radiant heat. Hydrofoam is easy to install, cut, and maximizes radiant floor heating by ensuring proper heat dispersal.
Hydrofoam was created due to the amount of problems associated with sheets of foam insulation. Hydrofoam provides more heat and retains heat better than foam insulation. Hydrofoam also makes it easier to install radiant heat piping, which you can do without the use of a stapler. 
Advantages of Hydrofoam 
It's quicker and easier to install radiant heat piping with hydrofoam than with traditional foam sheets. 
It's lighter and easier to install hydrofoam than sheets of foam insulation. 
It provides more heat and insulation than other types of insulation. 
Hydrofoam is eco-friendly, made from recycled materials, is moisture-resistant, and rot-proof. 
Related Questions
How Thick Should Insulation be for Radiant Floor Heat? 
The minimum thickness for insulation that's used for radiant floor heat is 1.5." However, for maximum warmth and comfort, you should use insultion that's 2" thick. 
Final Thoughts 
If you're looking for a great way to heat your floors and home in general, radiant heat is an excellent option. Radiant heat does exactly what its name entails – it radiates heat. It first warms up your floor and then proceeds to heat up whatever room the pipes are running under. 
Whether you're installing radiant heat piping in a slab home, in a garage, or in a joist space, proper insulation is crucial. By using the products listed above and using them in the right application, you will ensure that your radiant heat is properly insulated for maximum results.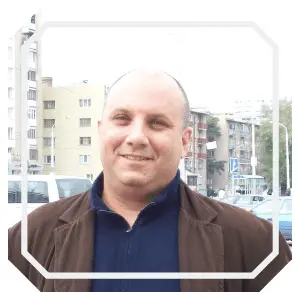 Nick Lopresti is the founder of YourH2Home and a home improvement expert. He has years of experience writing about various home improvement topics, mostly as it pertains to water systems.