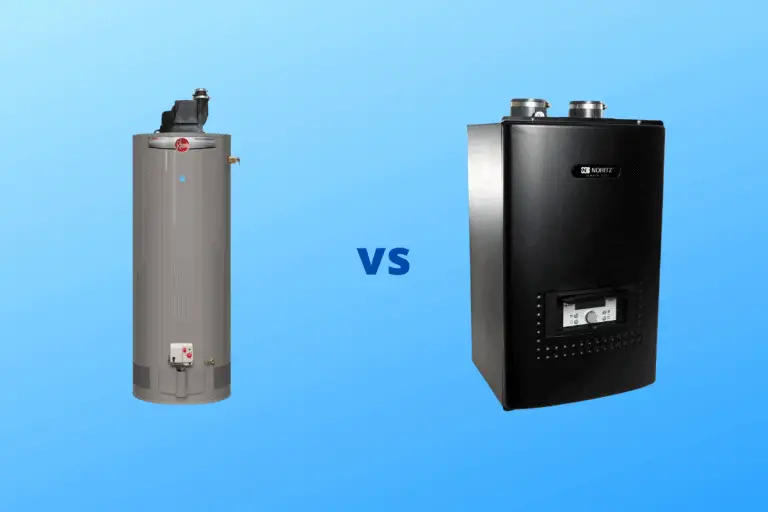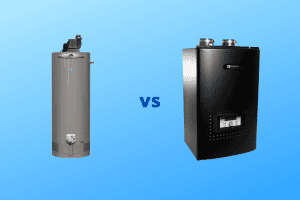 A lot of people wonder what kind of heater they need for their hydronic radiant floor heating system. The problem is, there are too many variables for a perfect answer.
In some cases, a boiler is needed and only a boiler will do. In other cases, you can certainly use a water heater and it will also be more efficient than some boilers.
In yet other cases, the right tankless water heater is great for radiant floor heating since it only heats the water when you need it and it provides it quickly.
Which one is best for you will depend on how big a space you need the radiant flooring to cover and if you need the hot water for other applications.
In this article, I will go over how each option should perform for your radiant floor heating system and in what circumstances so you can understand which one is going to do the job for you. 
Water Heater Vs Boiler for Radiant Floor Heat
Many people use these terms interchangeably, but the reality is that they are very different. They both heat hot water, this is true, but their function is different.
Hot water heater – A hot water heater is used to give you domestic hot water for your appliances like dishwashers and washing machines as well as fixtures like showers and sinks. They are either a tank or tankless style and can be gas or electric.
Water boiler – A boiler is used to heat just the water as it boils the water and turns it to steam. These are for closed systems usually called hydronic systems and they are just for heating. They can be used with radiators or radiant floor heating.
There is a third type, called a combi water heater, that can actually do both. It is designed in a way to use different zones. You can send hot water to your heating system like an infloor heater or use it to wash your hands.
So, which one do you need for radiant floor heating?
You actually have a choice between them as you can use a water heater or tankless for radiant floor heating and not just a boiler.
Radiant Floor Heating Water Heater
Water heaters are good for radiant floor heating systems because they maintain a low temperature. You really only need a maximum of 120°F for your radiant heat floor. 
That temperature is safe and comfortable as well as being efficient.
You will need to be aware of the incoming groundwater temperature as cold water will drop the overall water temperature. It may take a little longer for the radiant heating system to warm when using a water heater with water colder than 55°F.
To have your water heater heat your floors, you'll need the right water heater and a hot water circulating pump which I will get to in just a minute.
When you are not trying to heat different zones, then a water heater will work. Where you get into trouble is when you have different zones that require less, more or no heat than the others.
With a water heater, you are better off when you have one zone with the same temperature throughout.
What Water Heater is Good for Radiant Floor Heat?
The radiant floor heating system you use should be a high efficiency unit. The best kind is one that has a sealed combustion chamber and an external heat exchanger.
The reason for this is to have the two water uses separate. In the summer, water will stagnate in the water heater floor and if it mixes with your regular water it won't be good. Legionnaires disease is a real threat when water sits in pipes for too long.
This keeps the two separate for their intended use.
What you can also do to avoid this is to set a timer on your hot water circulating pump to run 10 minutes per day to flush out any stagnant water. Or, set up an external heat exchanger for your ordinary water heater if you are not looking to upgrade. Then you'll just need to run a loop from that to back into the water heater so the water doesn't mix with your domestic use water.
Here are a couple of good water heaters that can handle your hydronic radiant floor needs as well as domestic.
A major caveat is that many water heater manufacturers will void the warranty if you use it as an infloor heater. That is not its intended purpose even though you can use them effectively for radiant floor heat.
Another thing to remember is that they don't usually have the BTU that can heat up a big house and supply the domestic water at the same time. If you only need one zone and not the whole house then these will work fine. You'll also need an expansion tank for when the hot water heats up so it doesn't end up coming out of the pressure relief valve.
Since it is a closed loop, the expanding hot water won't have a release so you need the expansion tank to give it somewhere to go.
Lastly, you need a hot water recirculating pump. I have an article about the best ones for tankless, but those on the list will also work great on a tank style water heater. You can read that here. 
Below you'll see a good one that has a timer and is easily installed on any water heater.
If you already have a hot water recirculating pump but it doesn't have a time, there is no need to replace it. Instead, use this Taco Smart Plug to control when you need the pump on. It even records your water use patterns so you know when you need it most.
Boiler for Radiant Heating Systems
Since a boiler does one job, to heat in a hydronic system, they are ideal for the job. Many people don't like to use boilers because then they need to have two systems. One for the heating and one for the domestic water use like appliances and fixtures.
The reality is that they are built for this purpose and will have a full warranty if something goes wrong since they aren't being asked to do a job they aren't designed for.
A key in finding the right boiler for radiant floor heating is to find one that doesn't drop the temperature too quickly.
Why?
Well this causes a caustic condensation to develop. A condensing boiler will release the exhaust through a flue at around 60°F so it is cool enough to vent with PVC. The acidic discharge is condensed to water and returned into the boiler to avoid a drop in efficiency as well as special venting being needed.
Below is the Rinnai Condensing Boiler, which is compact, efficient, and a great choice for your radiant floor heating system. 
If you need to radiant floor heating in a garage that can get really cold when it is not in use, or are trying to heat a driveway, then you'll need a boiler since you will need to use antifreeze fluid mixed with the water.
Did you know that the wrong thermostat can ruin your furnace? Read the detailed article here!
Combi Boilers
A combi boiler is the best of both worlds and is how I suggest you heat your home and take care of your domestic water needs. They are designed to do both jobs well, are very efficient, and are ideal for radiant floor heating systems.
They are small so the installation is easier as you have more options as to where to install them. 
They are super efficient as they act almost like tankless water heaters and deliver hot water quickly without a lot of heat loss.
For radiant heating, they have enough BTU to handle large areas and different zones if you set up a manifold. And most of them also have a circulating pump already built in so they save you some money on that plus less to install.
Below are the two that I highly recommend for radiant heat.
Tankless Water Heater for Hydronic Radiant Floor
Lots of people are turning to tankless water heaters for their radiant floor heating systems and to supply the domestic water needs.
They take up very little space, are extremely efficient and can operate at temperatures lower than a traditional boiler without creating toxic condensation. They also maintain the right temperature thanks to high tech internal sensors so they can operate consistently at those lower temperatures. 
I recommend a tankless water heater with at least a .90 energy efficient rating for radiant floor heating. You can go as low as .82 but I think you'll see better savings with the higher rating versions. 
There are natural gas or propane tankless water heaters available so you can find one that works with your fuel source. There are electric ones too but they will only be good for very small areas.
One big downside is that when you are heating your floor, the tankless is running non stop. This can shorten their life from 15 years down to around 5. 
Also, when you have a high heat load where you need a lot of BTU/hour then a tankless with a high GPM is going to get the job done whereas you may need multiple boilers to handle the heat load. 
You'll need a recirculating pump unless the model you choose has an internal one already built in. Below is the unit I highly recommend as you get the highest Gallons Per Minute (GPM) out of any tankless heater. You will need a high GPM tankless if you live in a cold climate to make sure you can get the hot water you need at the right temperature. 
The Rinnai 11 GPM water heater is a great option for hydronic radiant floor systems.
How Big of a Water Heater Do I Need for Radiant Floor Heating Systems?
Unfortunately there are a lot of factors that go into the size of a water heater to use for radiant floor heating.
The average output needed is 25 BTU per square foot, but that could be higher or lower depending on your circumstances. 
To get a bit more specific, here are some common load factors based on where you need it:
Then you need to multiply the load factors by the area you need to heat. The result will be the heat load. Here's an example:
Basement @ 12 BTU/hr/sqft X 1000 sqft = 12,000 BTU/hr
Do the same for all of the spaces you need to heat based on the load factors above and then add them all up. That will give you the BTU/hour that you need to determine how big your water heater or boiler needs to be. 
If you have over 60,000 BTU/hour needs then you should look into a high GPM tankless or get multiple boilers.
Is it Legal to use a Water Heater for Radiant Heat?
Before you decide on which type of source for your hydronic radiant floor, make sure you find out if it is allowed to use a water heater and not a boiler. In some states like Michigan, you cannot. Any heater used for space heating has to be labeled as such and can't be used for domestic hot water either. 
Some localities require a closed loop system to avoid legionnaires disease.
Even in areas where it is permitted to use a water heater instead of a boiler, many manufacturers will void the warranty if something goes wrong when you use it as a boiler.
Conclusion
Hopefully, after reading this article on water heater vs boilers for radiant floor heating systems, you have a better idea about what you need. Although there are many types of radiant floor heating systems, boilers and water heaters both get the job done.
Finding the right hydronic radiant floor heating system is not easy to make as there are so many variables as you no doubt have gathered. But hopefully you are better positioned to make the right decision.