What is better than being out hiking for the day and returning back to the RV for a nice hot shower? That is, if you have a rv tankless water heater to provide endless hot water.
Unfortunately, a 6 or even a larger 10 gallon water heater for an RV is not usually enough for more than 3 or 4 people to take a hot shower.
If you're tired of taking quick showers even when hooked up to the campground supply, then the endless hot water of an RV tankless water heater may be the way to go.
But, is an on demand water heater for RV worth it?
There are pros and cons to on demand water heaters, especially when using it in an RV so read carefully to see if one will be right for you.
In this article, I will go over a buyer's guide before getting into the reviews in more detail.
In a Rush? Here are Our Top Picks
The 3 Best On Demand Water Heaters for RVs
Girard Tankless Water Heater Review
Sale
Girard Tankless Water Heater
Regulates the burner to maintain the set hot water temperature.Freeze...
42,000 BTUs which provides the optimum performance for an RV's plumbing
No special LP gas lines or special plumbing required
Quiet brushless motor
12V power operates at less than 3 amps
What We Like:
No special LP gas lines or special plumbing required
Quiet brushless motor
Freeze protection for winter use
Very lightweight
Temperature can be set up to 140°F
What We Don't Like:
Doesn't come with door panel
Minimum flow trigger is 0.8 Gallons Per Minute (GPM)
Leading the way in the RV tankless water heater market is definitely Girard. This model, the 2GWHAM can also be called the GSWH-2, but they are essentially the same unit.
Why do I recommend Girard? It seems to get mixed reviews when you search around.
As I mentioned in the last section, when somebody has a bad experience with a tankless in their RV, I always wonder what their water flow situations is.
Water Flow Rate
To make sure you get hot water, you have to have a gallons per minute water flow of over 0.8 GPM. many RVers have low flow fixtures to conserve water. A very prudent move, but it can also prevent the trigger from switching on and you won't end up with hot water.
The beauty, though, is that you can have multiple fixtures running and still get plenty of hot water. If you have a shower, faucet and dishwasher running simultaneously, you can still have endless hot water.
Installation
The installation is pretty easy and in most cases shouldn't take more than a couple of hours. There are no special lines for propane that need be run to it and no special plumbing is required.
You do nullify the warranty by doing a DIY installation, but since it will probably cost about as much as you paid for the unit, it comes out in the wash.
Besides, most people are in RVs to get away from the city and when you do this, you inevitably end up somewhere that doesn't have a certified technician nearby anyway. So, even if you find a plumber that can do the work, if he isn't a certified tech, the warranty is similarly nullified.
If you are even the slightest bit handy, and if you are an RVer I assume you must be, then you can easily do this installation yourself.
In case you need to see for yourself, here is a Girard GSWH-2 installation video.
Something you need to be aware of is that the panel door does not come included and must be purchased separately. You can order one on Amazon by clicking here.
Girard Door Kit
New hinged door design
Package Dimensions: 5.588 L x 36.83 H x 36.83 W (centimeters)
Package Weight : 1.882 kilograms
Country of Origin : China
Quiet
The unit runs so quietly, too. It is just a very subtle hum as it triggers and then heats the water. Since it doesn't heat water when nobody is using any, it doesn't get annoying by going on and off all day.
Efficient
It sips LP as it is a 42,000 BTU tankless heater. Your propane tank will last so much longer by using this over a tank system.
Not only does it only burn propane when you need the water so it saves by not wasting propane when you don't need hot water, but by it also has a feature to keep waste to a minimum.
It has a self-regulating burner to keep an even temperature so it doesn't use anything more than what it needs to keep the water hot.
Cold Weather
You can get hot water all year, so good news for the full-timers that will be living in the RV over the winter.
It may end up struggling to keep up if the temperature gets into the 20's F however. If you find the water is not getting as hot as it should during the winter, then all you have to do is turn the water flow down. The slower the water goes through the heat exchanger, then the more likely you will still have hot water even when the temperatures are very low.
Verdict
If you are a DIY type then you will appreciate that just about anybody can install this unit.
Rv families with more than three or four people can be guaranteed hot water no matter how long they take a shower.
I think for the price, you get a lot of value. Throw in the fuel savings over time and it pays for itself rather quickly.
PrecisionTemp Wall Vented Review
What We Like:
VariFlame technology self-adjusts the gas usage for constant temperature
0.5 GPM water flow trigger
55,000 BTU
Takes ½ the space of 10 gallon tank heater
Four season use
Made in USA
What We Don't Like:
Before I get into the meat of the review, let me say that the biggest issue with the precision Temp 550 is that it is not easy to figure out the sweet spot. That is where you have the temperature set to get a consistent flow of hot water, but need to add enough cold water to not be too hot. But, then the cold water flips the switch and you end up with lukewarm water.
For the price, it should be much easier to use.
That being said, once you do have it down pat, you are rewarded with endless hot water and no more Navy showers!
Installation
Getting this put into your RV or tiny home is really easy. In fact, even somebody who is not the most mechanically inclined (Like me!) can get this done in less than a couple of hours. With a possible run to the hardware store thrown in for good measure.
Again, the downside to this, especially considering the price, is that you end up needing to buy loose ends separately.
Here is a precision Temp RV-550 installation video just so you can see how easy it is to put in.
Powerful and Efficient
Pumping out 55,000 BTU is pretty good for the size of an RV tankless heater. It can supply you with a nice flow of hot water, yet at the same time only sips your propane.
Adding to the efficiency is the VariFlame control system so the temperature stays constant no matter how the water pressure is.
The heat exchanger is made out of copper for quick heating and a long lifespan.
Other Features
What I like is how there has been some thought into little things. For one, the flow rate trigger is low, at 0.5 GPM. This means that it only needs to detect a half gallon per minute flow from a fixture to kick on and heat the water. That is the lowest of the RV tankless heaters I have seen. One caveat though, is that since it self regulates the temperature of the output, you may need a higher GPM, around 1.0 to get the water the temperature you like.
Verdict
I will say that I was conflicted about adding this to a best of list for RV tankless water heaters. It is quite expensive and still has some quirks that I think will make it less than ideal for some people.
Others may be pleased as punch to have the kind of performance that you get when it is set up well.
So, make sure you are ready for a few road bumps when you get the unit, but be ready to persevere if you need to as the Precision Temp RV-550 is one heck of a water heater for people that love the comforts of home in their RV.
Bosch Tronic Point of Use Review
What We Like:
Convenient temperature Control
Easy Installation
1.8 GPM (Gallons per Minute)
98% Thermal Efficiency
Only weighs 5 pounds
What We Don't Like:
Needs to be hardwired to breaker
Though this tankless water heater is not exactly designed with an RV in mind, I think it works great in a camper, mobile home, tiny house or RV.
It is so tiny that it can be fitted anywhere. In fact, it is so small, that even where space is at a premium, like an RV, you could still afford to put in two as a point of use tankless water heaters.
Flow Rate
You get a decent water flow rate of 1.8 GPM. If you have low flow fixtures and are using the RV in a warm groundwater area, then you can use a shower and faucet without any issues.
The best part is that unlike some RV tankless water heaters, the activation trigger is 0.6 GPM. This is good news for those with very low flow fixtures. It will still kick on and provide hot water even if you only have one fixture running in most cases.
Installation
Since it doesn't need to be run to a propane tank, it is very easy to install. The only tricky part is that it needs to be hard lined to the breaker. You can't just plug it in.
The specs you need to be aware to be sure that this is going to be the right purchase are:
Requires 6 gauge wire
50 Amp breaker
Water pressure range must be between 10psi and 150 psi
240 / 220 / 208 Volts
½" Male NPT water fittings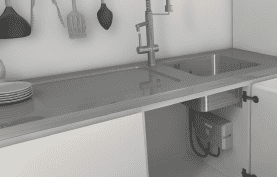 Since it is so small, it can be mounted just about anywhere. Under the sink, in a cabinet or even inside the panel where an RV water heater would have been. And it works equally well if mounted horizontal or vertical adding to the versatility.
Verdict
After learning more about tankless water heaters, if I were to buy a RV now, I would not go with an RV on demand water heater. Rather I would pick this Bosch Tronic 3000. I think it is longer lasting, more efficient and more reliable than the RV versions.
And the price is much better. For the price of another model, you can buy two and never worry about not having enough hot water again.
How Does an RV Tankless Water Heater Work?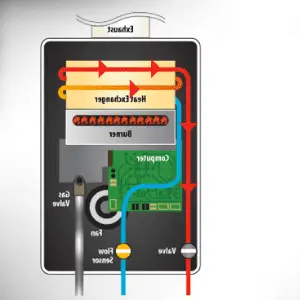 Any tankless water heater, not just for an RV, does not have a storage tank. Instead it heats water through a heat exchanger as it enters the unit.
Because of that, it can supply endless hot water.
There are two different kinds. Electric and gas. Gas being either natural gas or propane. In the case of RV tankless water heaters, the gas used is most likely propane.
Which type is better depends on a few things, which I will go into in a bit.
But, the gist of it is, if you have and endless supply of water, you have an endless supply of hot water with a tankless.
With a tank system you will always be limited by the size of the tank even if you aren't using water from your fresh water storage tank to supply it.
Pros and Cons of using a Tankless Water Heater for RV
Getting an on demand RV water heater is not going to always be the best choice for everybody. It is even a more complicated decision than when planning for a house since there are so many variables that come with an RV.
Some people are weekend warriors when it comes to RVing and don't mind the Navy shower, while others live in one full time and like the luxuries of modern living.
Here are the advantages and disadvantages of an RV tankless water heater to think about before you buy.
Advantages
Endless hot water
The most obvious advantage is having endless hot water as I mentioned.
For some people, this just doesn't matter. I would imagine that those people would not be reading this right now as there would be no reason to own one if that was not their primary reason for wanting one.
If you have 3 or more people in an RV with a typical 6 gallon water heater, then you've inevitably run out of hot water either for dishes or showering.
Savings
This may not be as big a deal for RVing as it is when you own a tankless water heater for the home.
But, if your thoughts are on being frugal, then you will see some savings by using a tankless.
If you are stingy about your propane, then you'll be happy to know that a tankless uses less gas than a tank system. Since it only consumes when it is using hot water, your propane tank will last much longer.
If you use electricity, then this also applies. You will use less electricity with a tankless since it won't be firing a tank of water even when you're not using it.
You may end up using more water with a tankless, for the simple fact that you end up taking longer showers.
If you have some restraint, that shouldn't eat away at your fresh water tank, however.
Less worry
Luckily, it never happened to me when I had an RV, but an acquaintance of mine had a tank water heater end up leaking all over his RV.
Needless to say, it is something most RVers think about and the unlucky ones have to deal with.
With a tankless, there is no water storage so bursting a pipe is not an issue.
If by some odd chance it springs a leak, there is minimal damage since there are no gallons of water spilling out of it.
No pilot light
Yes, there are plenty of DSI or direct spark ignition water heaters out there now to give RV owners peace of mind by not having a lit pilot light to heat water.
But, the latest generation of tankless water heaters uses an electric ignition so there is no pilot light needed at all.
Accuracy
You can set your water temperature to whatever you like. If you think your most comfortable temperature is 105°F then you can have it at that exact temperature at the fixture in seconds.
Your wife likes it hotter? Just turn it up a few degrees and everybody is happy.
Long lasting
The average lifespan is over 15 years for a typical tankless water heater. Tank systems last half as long.
Tank systems can end up corroding when not in use for prolonged lengths of time. This is not an issue for tankless since they don't have water storage.
Disadvantages
Sometimes inconsistent
Tankless water heaters all have a minimum flow trigger. In other words, if the water flow is too low, the heat exchanger won't turn on. Which means you won't have hot water at all.
There are ways around this, even if you have low flow fixtures. Like setting your temperature to a comfortable one without needing to mix cold water.
Not enough water flow
Many of the tankless water heaters for RVs are not that big so you can only get 2 or 3 gallons per minute. Since water usage is not usually very high in an RV this won't be an issue, but if you need a few fixtures running at once, this could be a deal breaker.
If you have space for a traditional tankless water heater then you can buy a bigger model and get better GPM.
I'll go over the best ones for GPM in the review section.
RV Tankless Water Heater Buyer's Guide
How to size an RV tankless water heater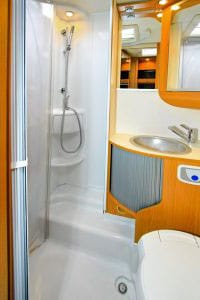 To know how big of a tankless water heater you'll need for your RV you need to know how much water you use.
The key, though, is knowing how much you use at one time.
Figure out how many fixtures you'll need to run at once to understand if the on demand water heater is going to provide the gallons per minute (GPM) you'll need.
For an in depth look at how to size your water heater, check out this article. It was written for household use, but it still relates to RVs or campers, too.
How much water does an RV shower use? If you don't have the manual for your showerhead, then do the bucket test. Get a stopwatch and a 5-gallon bucket. Place the bucket under the shower and put it on full blast. Time one minute in the stopwatch and see how much water is in the bucket. This works well for a faucet, too.
Then determine if you'll need a faucet or dishwasher and shower running simultaneously.
Where to Install the RV Tankless Water Heater
If you go for a dedicated model for RVs, then there is nothing to figure out. It's going to be mounted in the panel.
For other residential tankless heaters that could work in an RV or camper, then you can mount it under the sink, in a closet or in the bathroom itself. It really depends on where you have space.
What you need to keep in mind is that LP or natural gas units will need to be vented.
The RV tankless water heaters vent either directly through the wall as they already have a vent that the unit will attach directly to.
Others may need to cut through the outer panel.
In addition, water lines will need to be run from the unit to the water supply.
This is why I generally recommend the Girard or the Precision Tech, as they are the easiest to install. I will go into that later in the review section.
Pump it real good
Your RV tankless water heater and the water pump go hand in hand. How your unit performs depends greatly on your pump.
If you have an RV water pump that is pulsating or doesn't deliver a steady flow of water, it is very likely you won't get any hot water from the tankless.
When you read the reviews on some RV forums telling you to stay away from tankless, then I would love to ask them about their water pump. I am willing to bet money that the problem is not the heater but the pump.
Make sure your pump is working correctly and that it keeps a steady stream of water.
Electric or gas water heater
A lot of people wonder whether they should get an electric or gas water heater for their RV. In general, gas powered tankless water heaters for RV are generally more efficient than their electric counterparts.
They are also far more efficient than a regular tank system. You'll see your propane last much longer with a tankless.
If you don't have any access to gas or prefer the convenience of hooking up to electric supply, then you should think about electric.
In a residential setting electric tankless water heaters don't match the output of a gas one by a long shot. In an RV, they are generally about the same GPM.
Since there isn't a dramatic difference in the output between them, your decision will be based more on what type of fuel you prefer.
RV Tankless Water Heater FAQs
Do you need to winterize an RV tankless water heater?
Yes and no.  If you have the Girard or Precision Temp, then those will be more exposed to the cold weather. They are both Four Season heaters though so they can work even in the winter since they have a feature that keeps the pipes warm. If it will be unused during the winter then make sure the heat exchanger is drained. Disconnect the power and water supply and remove the inlet water filter.
Will hard water do any damage?
Yes, hard water will eventually lead to the heat exchanger getting scaled up and will impact how well it works. It can eventually kill your tankless water heater. Once a year you should flush your tankless water heater to descale it and keep it working the way it should.
Can I install an RV tankless water heater myself?
You certainly can. Especially if you already have some basic understanding of plumbing and connecting to a propane tank. Since most RVers I know are very handy, then it probably is not something that you couldn't handle.
Final Thoughts
Is an RV tankless heater worth it?
If you've read this far then you probably think so, but you also understand that it isn't a 100% slam dunk.
There is a bit of a process to get it working just right in an RV. Many problems can arise that you simply don't have when you use a tankless in a home.
If you plan to live in one full time, or plan to use it year round, then I would say that it is worth it to have the comfort of an endless supply of hot water.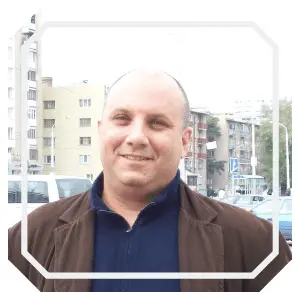 Nick Lopresti is the founder of YourH2Home and a home improvement expert. He has years of experience writing about various home improvement topics, mostly as it pertains to water systems.