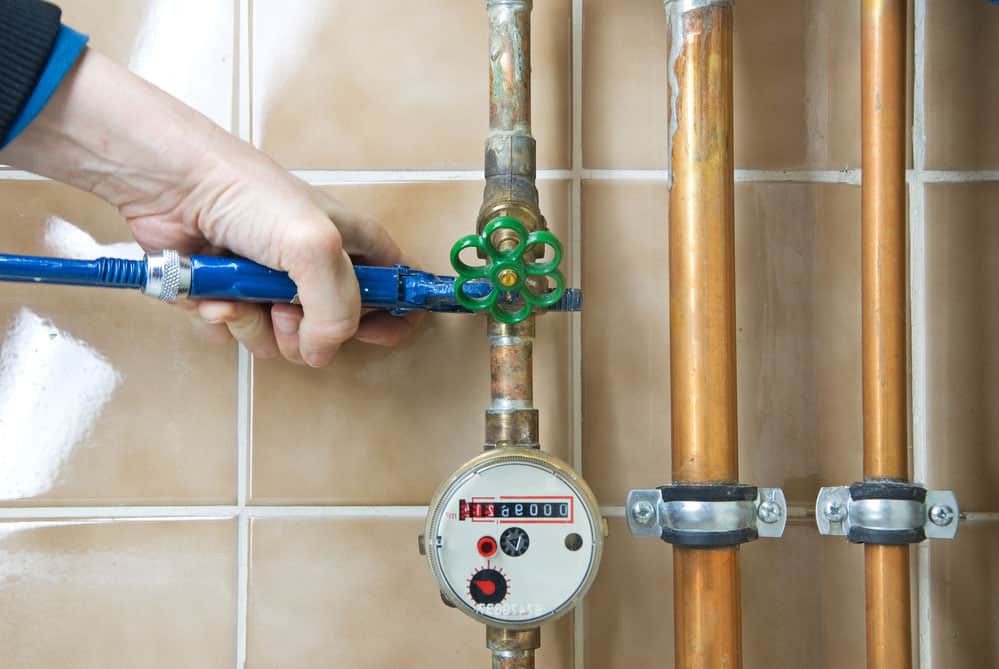 A lot of people wonder if they need to do maintenance on their tankless water heater, and if so, how hard it is to descale.
Luckily, you may not need to service your tankless water heater at all (we'll explain below).
That is not to say you definitely won't ever need to. But even if you do end up needing to service a tankless water heater, you will see that it is not difficult to do.
In this article, I will give a detailed guide on how to descale a tankless water heater yourself, when you need to hire a technician and how to keep your on demand heater working for decades.
How Often Do Tankless Water Heaters Need Maintenance?
Whether or not you ever need to service your tankless water heater will depend on a few things.
As I mentioned, you may not even need to do anything besides a few routine checks occasionally.
The number one reason you may need to service tankless water heaters is because of scaling caused by hard water. This video provides an excellent primer on hard water and the problems it causes.
If you have hard water and have your inline water heater set to a very hot temperature, then you may need to flush it once a year.
Flushing it with a solution or vinegar will descale, or delime your heat exchanger and keep it running efficiently.
Even if you do live in a hard water area, you still may not even need to do it that often.
Some units will send you an alert if your tankless water heater needs descaling. If you really want more details about hard water affects a tankless water heater then definitely read this detailed article I wrote about it by clicking here.
If you live in an area with hard water and just want to be sure that your tankless water heater is running efficiently and doesn't have any lime build up, then go ahead and flush it every year.
Otherwise, if you don't live in an area with hard water, check your error codes periodically and flush it when it indicates it needs servicing.
For peace of mind, go ahead and flush it out every couple of years just to be on the safe side, but understand it probably isn't necessary.
For the pros and cons of owning a tankless water heater read this article here!
How Do I Know If I Need to Descale a Tankless Water Heater?
You may or may not even know if you have hard water.
This map from the USGS website shows you the areas of the country with hard water and how high a threat it would be to your tankless water heater.
If your area is highlighted white or red then you definitely will need to do a routine flush to rid your tankless of scaling buildup.
Other areas in blue probably won't need any flushing but you may decide to stay on the safe side and do it every couple of years or so.
If you use well water then regardless of what the map shows, you should be at a minimum cleaning out the filter since there may be sediment in the water.
Of course, you can avoid any of the issues of hard water and buy a whole house water softener filter. This Culligan Water Filter is really cheap and will save you the hassle of doing maintenance.
Do Electric Tankless Water Heaters Need to Be Flushed?
The short answer is yes.
Lime scale builds up on the heat exchanger of an electric unit just as easily as it can on a gas. There's no difference there.
There are plenty of differences between a gas and electric tankless water heater so if you haven't decided which one to buy just yet then I recommend checking out that article.
One thing that is not different is the fact that they both need regular maintenance. An electric less so, but when it comes to scale it is just as susceptible.
Process of Tankless Water Heater Descaling
Maintenance of a tankless water heater including descaling is very important if you suspect it has lime build up.
Even a thin layer of scale will increase your energy costs by up to 30%. This essentially negates any of the savings of using a tankless vs tank system.
The inefficiency is caused by the heat exchanger getting strained to produce the hot water and will end up limiting the lifespan of the unit.
This sounds serious but servicing the tankless water heater yourself is not much work. Before you set out to flush your tankless water heater, read the instructions the manufacturer gave you if you already have your water heater. The procedure is pretty simple and standard, but there may be some steps that get missed since some models may differ.
If you have yet to buy an inline water heater and just want to see what you are getting into when it comes to maintenance, don't worry. This is a very simple procedure.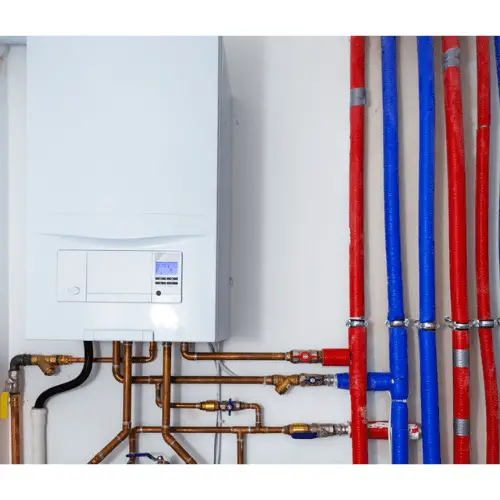 What you need to get started:
Pump for cleaning tankless water heater
Rubber or washing machine hoses to attach to the valves
Water collecting bucket
Vinegar or tankless water heater descaling solution
Channel lock wrench
Here are the steps on how to descale a tankless water heater:
That's it as far as how to clean tankless water heater goes.
Another thing that should be checked and cleaned periodically is the water filter. Again, this is important if you live in an area with hard water. It should also be done if you draw water from a well as there may be sediment. Tankless water heater filter replacements are very cheap and easy to find.
Shut off the power as before.
With a bucket ready, remove the DHW inlet, the DHW outlet and the Auto feeder inlet drain plugs. (about 0.13 gallon (0.5 L) will drain out)
Remove the water drain valves (with water filter) out of the inlets.
Take a brush and clear away the sediment or build up while running it under a faucet.
Replace the filter.
Close the valves and turn the water back on.
Then turn on the Power.
This should only take 5 minutes of time and does not require a professional.
If you are unsure of your ability to do this, just watch this quick video on how to descale a tankless water heater and you will see that it does not take a pro to do this.
Flow Aide vs Vinegar
Which solution works best is kind of not up for debate. The Flow Aide works a lot better than vinegar. Especially if there is a lot of build up.
If you haven't flushed your tankless water heater in a few years and you live in a hard water area, then I would definitely go with the Flow Aide.
Though vinegar doesn't work quite as well, it does work. So, if you are doing a regular flushing once a year, then you can probably use vinegar and see good results.
Basically, it comes down to how much is it worth to you do ensure that the lime is really gone.
You can check the price here on Amazon for a gallon of Flow Aide, and you see that it isn't exactly cheap. With that gallon, you should get 3 or 4 flushes, however.
Vinegar is obviously much cheaper, so even if you have to descale more often when you use it, you are saving money.
As with most things it comes down to your money or your time. I, for one, would rather spend a few more dollars to wipe out any lime and not worry about how effective it was so I can save myself some time later.
Not only that, but the Flow Aide is odorless and the vinegar can make a big stink when you are doing the flush.
There are a few tankless flushing kits out there that make it super easy to keep your tankless running smoothly for a really long time. Click that link to read the reviews.
Tankless Water Heater Maintenance Costs
If you are thinking of getting a professional to flush out your tankless water heater periodically, that can be expensive.
Since rates vary wildly, I can't put an exact number on it, but expect to pay between $100 and $200 to service your tankless.
This should include the descaling, cleaning of the filter and possibly replacing it, and doing any diagnostics of the tankless water heater system to make sure it is running properly.
If all you are worried about it descaling, then you can do it yourself for a fraction of that cost and it only takes an hour of your time.
Get yourself a pump flush kit descaler and it will pay for itself.
How Much Does a Tankless Water Heater Flush Kit Cost?
A decent flush kit shouldn't cost more than $150.
A descaler kit will come with a tankless water heater descaling pump and hoses that attach directly to the isolation valves or water inlet.
An excellent one that I recommend is J.C. Whitlam FLOW-KIT Flow-Aide System Descaler Kit. It has the pump, hoses, bucket and even a quart of Flow Aide. Pay that one price and all you have to pay for after is more of the descaling solution every time you need to descale.
Let's say you buy the descaler above. You just paid for the cost of a professional and it can be used for years. It paid for itself after the first use.
Now you only need to use a quart or two of Flow Aide every year, which costs about $15 per flush. I would say that that works out to being pretty cheap and only costs you a couple hours of your time.
How to Install Isolation Valves for Tankless Water Heater
You do not need to be a plumber to add some isolation valves to your tankless water heater. You just need a few tools and accessories, which you may already own.
The best thing to do is to install the isolation valves, also called flush valves, when you buy the tankless water heater and before you install it. It's just easier to do, but it can be done when it is already hung on your wall.
If the tankless water heater didn't come with the valve kit, then you can buy a good one with everything you need from Amazon. I like this one by Metpure as it has everything you need. Besides the cold and hot valves, it has a pressure relief valve, flex pipes, a gas flex and brass nipples for extra clearance. If you don't already have the valves, then make it easy on yourself by getting a kit like this to avoid multiple trips to the hardware store.
Here is a great video that explains in detail and easy to follow instructions on how to install a set of isolation valves.
When Do You Need to Call a Technician to Service Your Tankless Water Heater?
Believe me when I tell you that I am not mechanically inclined at all. I still like to do stuff around the house because I want to save money.
Either by watching videos, or trial and error, I have managed to do a lot of things myself.
Bear that in mind when I say that it is very easy to maintain a tankless water heater yourself. if it is something that I am capable of, then you are too!
Now, if you have any health problems, problems with mobility or simply fear of making a mistake, then that is when you should call a technician.
Another time to call is if you get service alerts from your tankless water heater. Some heaters, especially modern ones, have either an app that sends notifications to your phone, or error codes on the LED that alert you to some maintenance issue. If you have a smart tankless, then it runs its own diagnostics and can tell you the specific problem.
When you get an alert that your tankless water heater is not firing properly or that there is a pressure problem, then it definitely is the time to have a plumber come out to your house and run a test on it.
It probably is a case that it needs to be descaled, but since you never know what the cause it, it pays to have a pro take a look at it.
Final Thoughts on Tankless Water Heater Maintenance
If you are reading this before you bought your tankless water heater and want to know what you are getting into as far as maintenance, don't worry. It really is not that bad.
And in my mind it beats having to worry about a flooded basement with a storage tank water heater system. Or going a long time with cold water.
Most tankless water heaters have the isolation valves already installed or at least come with the kit so you can add them if you want. These will really make maintenance a lot easier.
Check out some of the best gas tankless water heaters here to see which one is best for you!