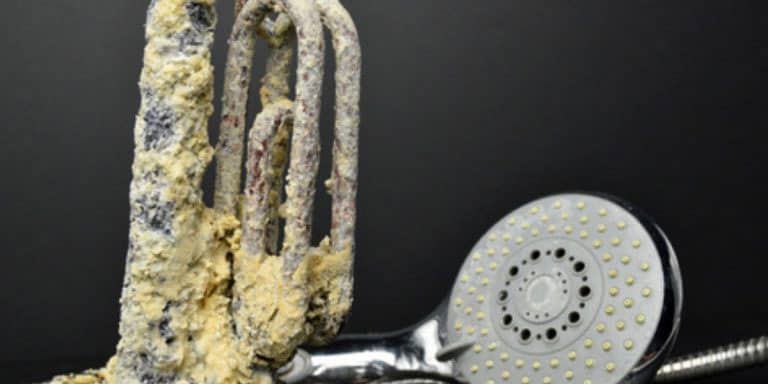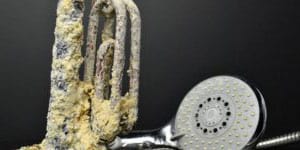 It is no secret that water heaters can be affected by hard water. Both the tank storage water heaters and tankless alike.
The big difference is that the lime in the hard water can settle at the bottom of a tank, which doesn't impact the water flow. However, it can really affect how a tankless water heater works.
So, is it ok to use a tankless water heater with hard water? Can you use well water with a tankless water heater?
The answer is yes. There is no reason that you can't use one even if you have a lot of lime or calcium in your water supply.
You basically have two options when it comes to tankless water heaters and hard water. Flush them once a year. Or, set up a water softener like one from the table below that will treat the hard water before it enters the heater.
Let's dive in to go over all the details with all the information you need to know how you should deal with this common problem.
What is Hard Water
Hard water is simply water with a high mineral content. As water travels through the ground, it dissolves minerals like limestone and chalk. Since those are very soft and easily dissolved, most people with hard water find that it contains either a lot of lime or calcium.
How to know if you have hard water
One surefire way to determine if you have hard water you have probably been seeing for years already. Does your soap lather up well or do you end up with soap scum all over your bath and shower doors?
Then you probably have hard water, but it is still worth it to investigate further.
This map from the USGS is pretty handy. Take a look and see if you live in an area that generally has hard water. If you are in a hot spot, then you probably don't even need to do a test. It is highly likely you are experiencing hard water and will need to take that into consideration when you buy a tankless water heater.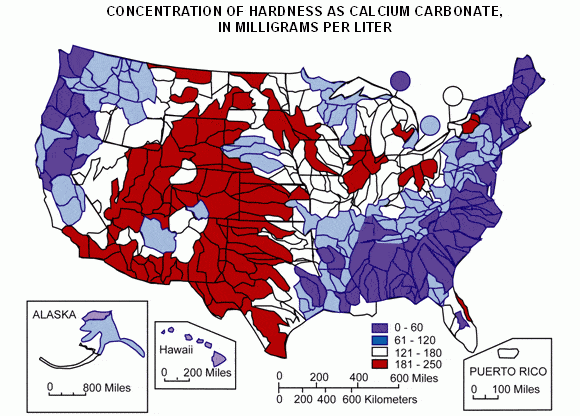 The most accurate way to know for sure is to get your water tested. You can get a cheap one off of Amazon, like this one, that also checks pH levels and chlorine among other things. The best part is it works in seconds.
It is definitely worth it to find out how hard your water is as it will impact which type of tankless water heater you get and if you need a water softener or not.
The amount of scale in your water is measured in grains. We'll get more into what that means in a bit, but keep that word in mind for later.
Save $$$ Every Year By Ditching Bottled Water! Check Out This Gravity Filter!
What are the effects of hard water on a tankless water heater?
Before I get into that let me say that hard water does not affect your health in any way. It's merely an inconvenience. If you deal with it correctly, namely with a water softener, then you will barely even notice it in your daily life.
When it comes to tankless water heaters, it can seriously limit its effectiveness and also shorten the lifespan of the unit.
You'll essentially negate any of the savings off of your gas or electric bill if your on demand water heater has been affected by the hard water as it will strain to keep up with demand. This means it will use more gas or electricity to work.
You'll be taking years off of your tankless water heater which also ends up costing you more in the long run.
One of the best features of having one is the long lifespan. If you're shaving years off of its life then again, you've taken away one of its biggest advantages.
In some cases, your on demand water heater won't even work once the lime or calcium accumulates too much. You'll get an error code and your unit will shut itself off.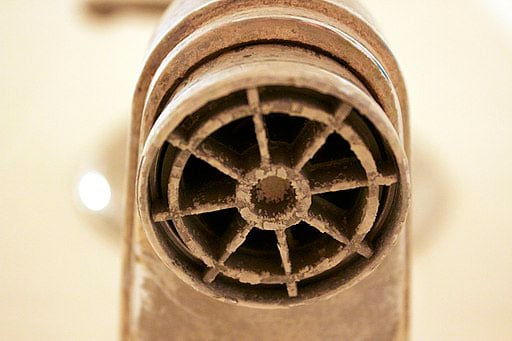 What is the Best Tankless Water Heater for Hard Water?
It doesn't matter which tankless water heater brand or model you buy when you have hard water. They all will need to be flushed. The best ones, however, will alert you to when they have accumulated lime or calcium and need to be descaled.
Here are the best on demand water heaters for hard water that I recommend that will give you an alert.
Rinnai RUR98iN Ultra Series Condensing Indoor Natural Gas Tankless Water Heater, 9.8 Max
Innovative technology provides an endless supply of hot water. Installation...
Recirculation capability, with or without a dedicated recirculation line...
Offers both Concentric and PVC, providing more venting options right out of...
Rinnai's condensing technology features dual heat exchangers to provide...
Maximum output, minimum space. About the size of a small suitcase
Sale
Knowing beforehand that your tankless water heater is getting some scale on it will prevent the headache that is an error code and unit shutdown. This way you can see it coming, flush the heater and get on with your life.
Do You Need A Water Softener With A Tankless Water Heater?
In short, it is a good idea to have some kind of water conditioner to prevent hard water scale from building in your heat exchanger. Do you have to have one? You don't 100% have to have one, but if you do t will make your life easier.
If you have a well then it is almost guaranteed that you will need to soften your water. You'll also probably need a sediment filter to protect your tankless.
This is where you need to pay attention to that unit of measuring the hardness of your water. As I mentioned, it is measured in grains per gallon. In some cases you will see the hardness indicated with ppm, which means parts per million.
For reference, very hard water is 8 grains per gallon or 130 ppm.
If you live in the Southwest around Texas to Southern California, most of New Mexico, Colorado, Wyoming and Utah, then chances are your water hardness is bordering on too hard. Those are just examples of where the water is commonly hard. I recommend that you test your water no matter where you live.
That doesn't mean that you can't have a tankless water heater. It simply means you are going to need to install a water softener. Either one for the whole house or one that connects just before the water enters the tankless water heater, which I linked to earlier in the introduction.

Fleck 7000 SXT (94FL-7120S) Meter 96,000 Grain Water Softener 14″ x 65″; 3.0 CF – $1,249.99
The 7000 valve is a high flow rate control suitable for both residential and light commercial applications where the plumbing is 1″ to 1.5″ and the demand for water is great. With the new larger homes being constructed today equipped with the latest in luxury fixtures and appliances, the water softener servicing the home needs to be able to provide flow without significant pressure loss. Softeners equipped with the 7000 are a perfect match to meet these homes needs. In addition to high flow, the 7000 incorporates advanced SE electronics with features as double backwash, soft water brine tank refill, flexible programming and optical positioning (no more micro switches). The valve body features connect clips making servicing a breeze. Finally, a high flow is available to complement the system. Specification Approximate GPG Capacity: 96,000 Mineral Tank Size: 14×65 Maximum GPM: 25 Approximate Height: 72 Weight: 255
If your hardness level is below 8 grains per gallon, then you don't really need the water softener. Though I recommend one as it is a good investment to preserve the condition of your other appliances like a dishwasher or washing machine.
If you don't want to bother with that, then you will need to flush your tankless water heater.
How often will you need to flush it? That depends. If you get one that I linked to before, you will get an alert when the scale is starting to build up.
Otherwise, you will need to do it once per year to be on the safe side. Even a slight layer of build up can reduce your tankless water heater efficiency by up to 30%. This totally negates the efficiency that you gained by switching to a tankless in the first place.
You may get a couple of years without descaling your unit, but if you start to see your gas or electric bills increasing, it may be an indication that you have some build up and it is straining the heat exchanger.
If you live in an area with hard water, then you should definitely make sure you install an isolation valve on your unit if it doesn't already have them. This will make it very easy to do the deliming without needing a plumber.
You can buy a cheap kit here on Amazon that will last as long as you have the heater and even beyond as you can always remove them and use them if you ever have to replace it.
Prevention is Key
Besides using a water softener to prevent your tankless from experiencing scaling, you can do this one simple thing to slow down the process.
Typically scaling will happen more readily when your water is over 120°F. If you keep your water temperature set to less than that, you can probably get a couple of years before you need to worry about flushing your unit.
I think your tankless water heater works better that way anyway. Rather than keeping it set to a high temperature and then mixing cold water in so it doesn't burn you, you should keep it set to a comfortable temperature.
This solves the scaling problem and also makes sure you get the right water pressure all the time. Then when you need to do laundry just turn the temperature up to what the machine calls for.
With a lot of the newest models like the Rinnai RUR98iN, you can control the temperature with your smartphone. If having to change the temperature sounds like a pain, then it really isn't since there is an app for that.
Rinnai RUR98iN Ultra Series Condensing Indoor Natural Gas Tankless Water Heater, 9.8 Max
Innovative technology provides an endless supply of hot water. Installation...
Recirculation capability, with or without a dedicated recirculation line...
Offers both Concentric and PVC, providing more venting options right out of...
Rinnai's condensing technology features dual heat exchangers to provide...
Maximum output, minimum space. About the size of a small suitcase
Verdict
No matter what hardness your groundwater is, it is still worth it to get a tankless water heater.
Buying a water softener system does add to the expense of a tankless, that is true. You will still see significant savings on your hot water bill in due time though.
Don't let the idea of hard water scale build up scare you off.
If you know ahead of time that your water is hard, then you can take the necessary precautions to still get years of efficiency out of your on demand hot water system. Enjoying unlimited hot water is definitely worth the extra effort it may require.