There is roughing it and then there's roughing it!
If you love to camp, but also love to enjoy a hot shower, then you really need one of the best tankless water heaters for camping.
Even when you have a hot water tank for your camper, if you are tired of taking a quick Navy shower then an endless hot water heater is the way to go. When you are out in the Great Outdoors, it is especially nice to come back to your pitch after a long hike and enjoy a long, hot shower.
If you are usually the last person to take a shower, then you understand all too well what it is like to have too small of a water heater at your campsite!
How do you know what portable on demand water heater is best for you?
I've compiled a list of the top tankless water heater brands for every category, whether you use propane, electricity or need it to be indoor or outdoor. There is a portable water heater that is going to be perfect for your needs.

What is a Tankless Water Heater?
If you happened upon this site because you were looking for the best portable water heater for camping, then this may be the first time you've heard of a tankless water heater.
The way they work is that incoming water is heated by a heat exchanger as it enters the unit. There is no water storage inside at all.
As it passes the heating element, is comes out hot at the preset temperature. This means that you get endless hot water as it continues to heat as the water comes in.
What to Look For in a Portable Tankless Water Heater
Before I get into the reviews, here is a concise buyer's guide to highlight the different features that each model has.
To know which one is best for you, you need to know what they can do. Different models do different things so it helps to identify what those features are.
Fuel Source
There are a few ways to get endless hot water at your camper or tent site. Since there are a lot of variables wherever it is that you need your hot water supply, it is nice that there are some options for just about any scenario.
Propane
Natural Gas
Electric
If you are off grid then your best bet will probably be propane as you can bring a few canisters to the campsite. If you're in an RV or camper then there may already be a large propane tank at your pitch, also.
Same with natural gas for an RV as in many campsites you are able to hook into the camp's source.
Electricity might be your best option as you can use it anywhere there is an electrical connection, or even solar if you are off grid.
Just about all the propane or gas units are fired up with D batteries. This eliminates a wasteful and dangerous pilot light and allows you to be able to use the heater even when there is no electricity available.
GPM Capacity
You'll read about the size of the portable tankless water heaters, and in many cases they will be referring to the dimensions. But, what you really need to know is how many Gallons Per Minute you can get from your portable on demand water heater.
How many GPM you need will depend on what you plan to do for your hot water needs.
How many fixtures do you plan to have running at the same time? If you have a small one that hangs on a post for example, you may only get enough for just the shower. For many campers that is enough as you probably won't be using a sink to wash dishes or need two showers running simultaneously.
If you want to use it in a cabin or RV and have multiple fixtures going then you need to pay close attention to the GPM and something called temperature rise.
You can learn all about temperature rise and how to determine what size tankless water heater you need by following that link to the full article.
Dimensions
Since space is limited and you can only carry so much weight, you'll need to figure out the size and shape of the tankless water heater.
Since they don't have a tank that gets filled with water they are very compact. Most can fit into a backpack, in fact.
Many weigh under 10 pounds and can easily be carried to a campsite, even a remote one.
---
Camplux 10L Outdoor 2.64 GPM Portable Propane Gas Tankless Water Heater

Versatility is the name of the game when it comes to the Camplux portable tankless water heater.
Since you get a pretty good GPM for a mobile tankless water heater, you can use it for multiple jobs.
Water Flow Rate
At 2.6 GPM, you get way more water flow than you need for a simple shower. In fact, if you put a Y connector on the outgoing water hose, then you can easily use this to shower while somebody is doing dishes, or better yet, you can have two showers going on at once.
What's also beneficial is that the Camplux only needs to have 0.4 GPM to come on. That's not much pressure needed so if you are drawing from a well or using a pump to get the water there, you shouldn't have any issues with it not triggering the heat exchanger.
Keep in mind that the listed GPM is the maximum that you can expect when your incoming water temperature is about 75°F. If you water is colder coming in then it takes longer to heat it so the GPM will fall.
Very Efficient
With an 88% efficiency rating, you should see savings on your propane usage of around 11%. Roughly translated, your propane usage should end up being around 1 pound for every 1.5 hours of use from the tankless water heater.
With a shower lasting roughly 5 or so minutes, and washing dishes around 10 then you can see just how little propane the Camplux uses.
Great news for those off the grid that don't want to keep refilling a 20 pound propane tank too often!
Add to the fact that you can set the heater for summer or winter use and it can save you even more. Summer mode not only sets the temperature of the outgoing water lower, but it also uses 60% of the heating element so it saves gas as well.
Versatile and Easy to Use
The LED display is easy to read and is customizable. The dials on the front of the unit will set your water temperature to be read on the display as well as your water flow. Keep the flow low when you want to make sure it is as hot as you like it, and up the flow when you have multiple fixtures running. Just increase the temperature to keep up with the water demand.
You can use the heater outdoors in a shower or for an outdoor sink or tub. Or, it can be used inside in a bathroom or kitchen as a point of use tankless water heater if you want it to be permanent.
Easy to Install
It only takes about 15 minutes to set this up outside. All you have to do is find a tree or post to hang it on, attach the hose or incoming water supply, hook up the incoming gas line, put your D batteries in and turn it on.
It only takes about 15 minutes to set this up outside. All you have to do is find a tree or post to hang it on, attach the hose or incoming water supply, hook up the incoming gas line, put your D batteries in and turn it on.
It's literally that simple.
Installing it indoors is more complex and will take more time, but it is not something that requires a professional. Make sure you get a venting kit as the exhaust needs to be directed outside.

Verdict
You can't beat the performance, especially for the price. If you have read any other reviews before this of other models and brands, you probably noticed that the GPM is usually under 2.0. To get the kind of flow rate and still not kill your propane tank, this is really nice.
It is versatile and adapts to any way you want to use it.

---
Even out in the wild where you have no access to running water, you can still enjoy a hot shower. And I don't mean with a solar shower that only gives you a limited amount of water.
You can enjoy endless hot water with the Eccotemp L5 since it includes a water pump.
Water Flow
Though it is not at the higher end of the water flow spectrum like the Campflux, you get 1.5 gallons per minute. This is enough for a shower and a faucet running at the same time. Or, if you keep the flow low, then you can add a Y connector and enjoy two showers at the same time.
You'll need 1 GPM to activate the heater which comes out to the same as 20psi.
Go Off Grid
Without a pump, a tankless water heater has to be hooked up at least to a garden hose that will supply the water. For the heat exchanger to go on it has to have water flow to trigger.
Which makes the Eccotemp the ideal tankless water heater for off grid camping. With a pump that delivers the water to the heat exchanger at the right psi, you can get your water from any source. A rain bucket, an open stream, even a 5 gallon bucket it doesn't matter. As long as you have some water, you can enjoy and endless hot shower.
It even has a water filter/strainer to make sure you aren't getting sediment into the heater.
Installation
This portable tankless water heater is meant for use outside. So it is dead simple to install. It literally only takes a few minutes to be up and running.
All you need to do is put in two D batteries, hook up the water and gas line to the unit and that's it. It hangs up wherever you want to put it.
Safety Features
To make sure you don't have any safety issues at your camp site, the Eccotemp has two nice features.
One is that it shuts off after 20 minutes so it doesn't overheat. The other is that if it tilts more than 45 degrees it automatically shuts off.
This is helpful to avoid any fires in dry areas if the unit were to fall of a tree and into some grass while still lit for instance.
And there is no pilot light to worry about as it ignites with the two batteries.
It does not have freeze protection, though, so make sure it is stored in an area that doesn't freeze when not in use.
Verdict
You will love how easy this is to use and just how much you will enjoy endless hot water even way off the grid.
And on top of everything the price is great.

---
Best Shower Head Portable Tankless Water Heater
This shower head portable tankless water is as versatile as it gets. You have a lot of options since it runs solely on electricity so you aren't confined to needing a natural gas or propane hook up.
Flow Rate
Don't expect a high flow rate and you will be happy. With a little over 1 GPM, if your water demand is low and you're only using this as a point of use tankless water heater, then your needs will be met.
With a 0.3 GPM activation trigger, you can be using very low flow fixtures and still get endless hot water.
You won't be able to run multiple fixtures off of this, but you're not confined to only using it as a shower since it can also be hooked up to a faucet.
Very Versatile
Since this uses electricity it can be used anywhere.
As long as you have a 30 Amp breaker or more then your draw will not trip it. It has three different power levels too so you can set it to low and draw just as much electricity as you need.
As such, this works great in a barn to wash your animals with hot water. It serves a nice function in a workshed with a utility sink away from the main house. And of course, if you are camping at a campground with electrical hook up at your pitch.
It is so small and only weighs 5 pounds.
Easy to Install and Use
You may need an electrician to do your installation if you are not sure how to hardwire this. It is a very quick installation with relatively little special needs. If you have some knowledge of electricity and are even the slightest bit handy then you can easily do this yourself.
It fits any ½ inch water line and can even fit a garden hose with an adaptor.
The LCD screen is easy to read and it makes setting your temperature a cinch. The only downside is that it only displays Celsius.
Safety Features
The water heater is equipped with electricity leakage protector, safety thermal cut-off, and dry heating protector.
It doesn't have freeze protection, so keep this in mind if you do use it outdoors. It will need to be brought in if it gets too cold out.
Verdict
For a very simple, affordable and versatile tankless water heater then I think this one really ticks all the boxes that you need it to.
It doesn't have a lot of frills and is not meant to do anything heavy duty, but it works as intended and will provide the endless hot water you're looking for.
---
Other ways to use a portable tankless water heater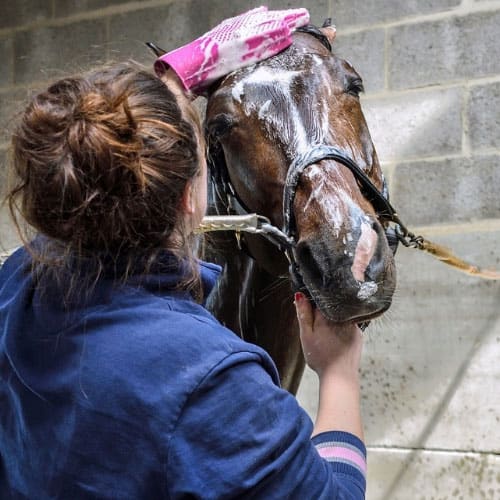 There are so many ways in which a portable tankless water heater can be useful besides just camping.
In a Barn –My mother's friend has horses and uses a tankless water heater in her barn to not only wash the horses with hot water, but also to use in a utility sink she has set up there, too. If you have any animals that need washing, you can do it outside and still give them nice warm water instead of cold water from a garden hose.
Workshop – Outside the house, you can set yourself up with a tankless water heater that gives you endless hot water and also doesn't waste gas or electricity when it isn't in use as a tank system would.
RV or Cabin –There are some specialized RV tankless water heaters if you want a permanent one. You can read all the details about them by clicking here, but if you want one you can move around or that can be put away and stored when not in use then you might want a portable instead.
For a Hot Tub –Filling up a hot tub with water set at exactly the temperature you want it is made so easy and quick with a portable tankless water heater. Now you don't have to wait hours upon hours to use your Jacuzzi as you wait for it to heat up on its own. If your hot tub is away from the house, you can use a garden hose attached to a portable tankless water heater.
These are just a few ideas for other ways to use them. Do you have any other ways that you are thinking of using one? Let me know by dropping a line below! I'd love to hear how you plan to use yours. And if you have any questions make sure you let me know that, too. I love to help and will get back to you ASAP.
I hope these reviews inspired you to go for a portable tankless water heater!