At the time of this writing, hurricane season is starting to heat up. Lots of people are wondering if their tankless water heater will work without electricity in case of a power outage.
The good news is that there are a couple of solutions available so you can have hot water during a power outage.
You can use your gas or propane tankless water heater when there is no power if you buy a backup battery like the one from Hugo. You can also use a generator with sufficient wattage if you are using a whole house tankless electric water heater.
Your plan of action will depend on the type of water heater you have and how long you expect to be without power.
In this article I will explain all your options to continue getting hot water during a power outage.
Does A Gas Tankless Water Heater Need Electricity?
A gas tankless water heater needs electricity to work. While a gas tankless uses gas as its fuel to heat water, the whole operation depends on electricity to power the circuits. This electricity is usually powered by a 120 volt power source, and the required energy output is usually under 100 watts
An electric water heater, on the other hand, uses electricity to heat the elements for hot water. And depending on if you use an electric tankless for point of use or the entire home, it can take up much more electricity (4000 or 5000 watts) than a gas tankless water heater.
Battery Backup for Tankless Water Heater
If you are worried about not getting hot water to your tankless water heater, a battery backup is your best option. Also called a UPS or Uninterrupted Power Source, a backup battery to power your gas tankless water heater is the most popular way to ensure you always have hot water during a blackout.
The absolute best backup battery for tankless water heaters is the Hugo. It isn't cheap, but it is a much better solution than a generator, especially for people living in apartments that can't use one.
HUGO Battery Backup for Tankless Hot Water Heater & Gas Appliances (Plastic Flow Sensor)
Stay Ready For Outages - Enjoy hot showers at home even during power...
Made For Tankless Water Heaters - Thanks to an innovative flow sensor, our...
Protected Against Freezing - Face the winter season with peace of mind....
Built For Year-Round Use - Our backup power supply is rated IP54, which...
Customer Satisfaction - Our power backup is covered by a 1-year warranty....
If you are running a gas tankless water heater that just requires a 120 volt outlet, a great option is the Jackery 1500W Portable Solar Generator. It can get you through the day with your tankless (if it is a gas unit) and charge other small household items. This is especially true if you charge it simultaneously with their solar panels.
However, it won't turn on automatically like the Hugo. But it is a nice Plan B in case the Hugo proves hard to find.
If you need to run an electric tankless water heater, you may need more electrical output depending on your unit. Many point of use electric water heaters use 120 volt outlets, so a generator of at least 1500 Watts will be able to handle normal water usage for a short period of time.
For whole house electric tankless water heaters that are hard wired to your electrical system, you are best served with a 7500 watt or higher inverter generator or a Tesla powerwall.
Portable Inverter Generator for Water Heater
A good option for electric water heaters during a power outage is a portable inverter generator like this one by Champion. It is quiet and clean and can power the entire house, including your water heater. It uses pure sine wave so you won't have any surges to your tankless water heater or any other appliance you connect like your computer or cell phone charger.
Sale
Champion Power Equipment 100519 6250-Watt Open Frame Inverter with Quiet Technology
Quiet technology and extended run time: 69 dba noise level is great for...
Advanced open frame inverter design: 50% quieter and 20% lighter than a...
Clean power and economy mode: confidently connect your sensitive...
Intelligauge: Monitor voltage, frequency and operating hours with ease;...
Champion Support: includes 3-year limited Warranty with free lifetime...
Check out this article to learn more about using generators with a water heater.
Even though inverter generators are a good backup for power outages, we would recommend going with the Hugo if you want to make sure your gas water heater runs smoothly during an outage. Hugo is versatile and also works with any gas appliances including traditional tank water heaters.
Up to 40 minutes of use per day for over 7 days – Or you could use it continuously for up to 13 hours depending on wattage.
LED Display – You don't have to guess if it is on or working thanks to the easy to read LED display.
Auto Activate – If your power is out when you aren't home, the unit turns itself on as soon as it detects that there is no power. It also shuts itself off automatically when the power is back online so you don't have to remember to turn it off or you aren't home.
Solar Compatible – If you think you'll be out of power for a long time, then you can have this work together with a solar panel so it always has enough power.
Indoor/Outdoor Installation – With freeze protection it can be used in all weather situations even if you have it installed outside in a shed for example. Also includes a thick metal exterior that adds a solid layer of protection.
Flow sensor-The flow sensor that comes with the Hugo helps to conserve energy by only activating when it senses there is water flow. This ensures that you can get more than the 13 hours of battery life, which is critical if there is a power outage that lasts days. This is the type of peace of mind that your tankless water heater will work during a power outage this is totally worth the cost.
Automatic switch over- The automatic switch over function ensures that you will continue to have hot water seamlessly in case of a power outage. Once power is back in your area, the automatic switch over will go back to consuming your normal power supply.
There are many more reasons to love the Hugo if you live in an area with frequent outages like in a hurricane or tornado zone. Plus, if you live up north with lots of blizzards then you understand how easy it is to lose power.
Installing the Hugo Power Backup System
The installation only takes a couple of minutes and it can be used for a variety of other gas appliances.
If you have an outside tankless water heater that depends on electricity for freeze protection then this is the best way to protect your investment.
Gas Tankless Water Heaters With Batteries
There are small, portable tankless water heaters that are fueled by gas and powered by two D batteries. These types of tankless water heaters are great for people living off grid, or can be used in case of a power outage.
They generally do not offer up a huge amount of GPM or Gallons Per Minute, however, as they are typically small.
If you are looking for an off grid solution like a barn or cabin then you should read the detailed article I wrote about portable tankless water heaters for many different solutions.
If you are thinking of using one as a temporary solution during a power outage, keep in mind that they cannot be used indoors unless they are vented. They burn fuel and have hot, toxic exhaust that needs to be vented to the outside. There are plenty of outdoor types available that can be hung wherever you want and are very easy to install.
Tankless Water Heater During Power Outage Tips
If you're using a backup battery or even a generator you need to make some adjustments to make sure you can squeeze out as much runtime as possible.
Here is a checklist of what to do with your tankless water heater during a power outage:
Adjust the temperature – Make sure you keep your tankless just hot enough. Set it to a comfortable temperature that doesn't require mixing any cold water.

For example, if you want to shower, set it to the lowest temperature that will still be warm enough that will come out of the fixture without turning the cold water on. 100°F is probably going to be hot enough for most people.

Shut off any recirculating pump – Whether you have a recirculating pump that sits under your sink or on top of your tankless unit, or you have a tankless water heater with a built in pump, it should be turned off.

Yes, you'll have to wait a few seconds for the hot water to reach you, but it's better to waste some water than risk running out of juice on your backup battery or generator. If it stays on then it will be constantly drawing electricity and will run your battery down in no time.

Use only one unit – If you have point of use tankless water heaters that need electricity then having them all on will stress your backup system. Shut down any non essential ones and only use one that will supply you with a hot shower or to wash dishes or do laundry. You can obviously turn them on and off depending on what you need to do.
FAQ
What's the best battery backup for a Rinnai tankless water heater?
According to Rinnai, the best battery backup for a Rinna tankless water heater is a HUGOX-1. If used for 1 hour a day, it will supply hot water for 5-7 days.
How long will water stay hot in water without power?
This depends on a number of factors, including how well insulated your water heater is, how big your tank is, and the temperature outside. But generally, you should be able to get hot water for 2-3 days if you run out of electricity with a tank system.
Final Thoughts
It seems like our electrical grid is getting vulnerable with all the frequent power outages you see on the news these days.
Losing power is a real possibility, and I'm sure you still want your hot water. Luckily, with the right system, you can still use your tankless water heater without electricity. For larger homes that use a gas tankless system, I highly recommend the Hugo backup battery.
Either way, don't be left without hot water and invest in either a battery backup or a generator.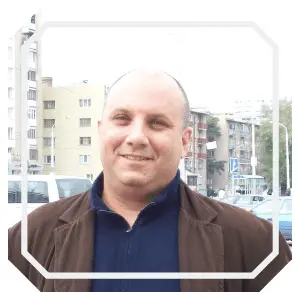 Nick Lopresti is the founder of YourH2Home and a home improvement expert. He has years of experience writing about various home improvement topics, mostly as it pertains to water systems.