At the time of this writing, hurricane season is starting to heat up. Lots of people are wondering if their tankless water heater or traditional tank system will work without electricity in case the storms knock power out.
Endless hot water is something many people enjoy so nobody has to take a cold shower when the tank runs out. But what happens when there is no power?
If you love endless hot water, there is one company that we know of that allows you to get endless hot water without any electrical connections whatsoever. We provided information below.
But if you already have a tankless water heater, you can still use it when there is no power if you buy a battery or generator. If you have a tank, then you can use them as well. If you are going to be without electricity for a few days I highly recommend having backup electric systems.
So, how can you use a tankless or regular water heater without electricity?
There are a couple of solutions available so you can have hot water during a power outage.
Read on so you can learn about your options.
In a Rush? Here is our Top Choice for Water Heater that Does NOT Require Electrical Connections.
Marey Power Gas 10L 3.1GPM Natural Gas Tankless Water Heater
Compact design saves space and is easy to install almost anywhere
Works easily with low levels of water pressure. Only uses gas while water...
Provide endless hot water on demand and only as needed
Unlimited hot water whenever is needed
No electrical connection is required, it's perfect alternative for those...
---
Does A Gas Tankless Water Heater Need Electricity?
The short answer is, yes, a gas tankless water heater needs electricity to work. As we've mentioned above, the only exception we know of is the products by Marey.
But in general, most traditional gas tankless water systems need electricity. If your pilot light is fired up by your power source then you need to be on the grid.
There are two main types of tankless water heaters. Gas, either propane or natural gas, and electric.
It may seem like an obvious choice to go with a gas fueled tankless water heater if you have frequent blackouts.
This may not be the case though. Both electric and gas both need power to work.
A gas tankless may use gas as its fuel to burn to heat the water, but the whole operation depends on electricity to power the circuits. The entire "brains" of the unit require some electricity.
Not a lot, they aren't electricity hogs. They just need enough for the system to function.
Even the ignition requires electricity since it needs the spark to light up. Gone are the days with a gas pilot light that is always on.
Obviously, an electric that uses electricity to heat the elements for hot water need a power source.
With either system you are going to need a power solution for your tankless if you are out of power.
Battery Backup for Tankless Water Heater
Also called a UPS or Uninterrupted Power Source, a backup battery to power your tankless water heater is the most popular way to ensure you always have hot water during a blackout.
The absolute best backup battery for tankless water heaters is the Hugo. It isn't cheap, but it is a much better solution than a generator, especially for people living in apartments that can't use one.
Another good option is the ROCKPALS 300W Portable Generator. It can give you a few hours of use with your tankless though it won't turn on automatically like the Hugo. It is a nice Plan B in case the Hugo proves hard to find.
ROCKPALS 300W Portable Generator
UPGRADED ROCKPALS 300-WATT PORTABLE POWER STATION: Comparing to most...
HIGHER CAPACITY CAMPING/HOME BACKUP BATTERY: 280WH(3.7V 75Ah/12V 18.7Ah)...
EASILY THREE WAY RECHARGEABLE: 1. Rockpals portable power station can be...
PURE SINE WAVE OUTLET: Better than modified sine wave and clean power like...
WHAT YOU GET: Rockpals portable generator (280Wh Portable Generator), AC...
Some people may recommend going with an inverter like the one for a computer in case of a power surge, but you're only going to get an hour or so of use before it runs out of juice.
Instead with the Hugo you get a lot of runtime and so many other options. Hugo works with any gas appliances including traditional tank water heaters.
Up to 40 minutes of use per day for over 7 days – Or you could use it continuously for up to 13 hours depending on wattage.
LED Display – You don't have to guess if it is on or working thanks to the easy to read LED display.
Auto Activate – If your power is out when you aren't home, the unit turns itself on as soon as it detects that there is no power. It also shuts itself off automatically when the power is back online so you don't have to remember to turn it off or you aren't home.
Solar Compatible – If you think you'll be out of power for a long time, then you can have this work together with a solar panel so it always has enough power.
Indoor/Outdoor Installation – With freeze protection it can be used in all weather situations even if you have it installed outside in a shed for example. Also includes a thick metal exterior that adds a solid layer of protection.
Flow sensor-The flow sensor that comes with the Hugo helps to conserve energy by only activating when it senses there is water flow. This ensures that you can get more than the 13 hours of battery life, which is critical if there is a power outage that lasts days. This is the type of peace of mind that your tankless water heater will work during a power outage this is totally worth the cost.
Automatic switch over- The automatic switch over function ensures that you will continue to have hot water seamlessly in case of a power outage. Once power is back in your area, the automatic switch over will go back to consuming your normal power supply.
There are many more reasons to love the Hugo if you live in an area with frequent outages like in a hurricane or tornado zone. Plus, if you live up north with lots of blizzards then you understand how easy it is to lose power.
Installing the Hugo Power Backup System
The installation only takes a couple of minutes and it can be used for a variety of other gas appliances.
If you have an outside tankless water heater that depends on electricity for freeze protection then this is the best way to protect your investment.
Portable Inverter Generator
Another option is a small portable inverter generator like this one by Wen. It is quiet and clean and made to handle your small electric needs. It uses pure sine wave so you won't have any surges to your tankless water heater or any other appliance you connect like your computer or cell phone charger.
Sale
It's also quieter than an air conditioner and may be suitable for those that live in an apartment as long as there is some outside space where it can be kept.
Gas Tankless Water Heaters With Batteries
There are small, portable tankless water heaters that are fueled by gas and powered by two D batteries. These types of tankless water heaters are great for people living off grid, or can be used in case of a power outage.
They generally do not offer up a huge amount of GPM or Gallons Per Minute, however, as they are typically small.
If you are looking for an off grid solution like a barn or cabin then you should read the detailed article I wrote about portable tankless water heaters for many different solutions.
If you are thinking of using one as a temporary solution during a power outage, keep in mind that they cannot be used indoors unless they are vented. They burn fuel and have hot, toxic exhaust that needs to be vented to the outside. There are plenty of outdoor types available that can be hung wherever you want and are very easy to install.
You can head over to Amazon and check out a bunch of different outdoor systems that can be used to shower or wash dishes in case of an outage. Below you'll see the three best selling portable propane tankless water heaters.
What To Do When You Lose Power
If you're using a backup battery or even a generator you need to make some adjustments to make sure you can squeeze out as much runtime as possible.
Here is a checklist of what to do after you've lost power:
Adjust the temperature – Make sure you keep your tankless just hot enough. Set it to a comfortable temperature that doesn't require mixing any cold water.

For example, if you want to shower, set it to the lowest temperature that will still be warm enough that will come out of the fixture without turning the cold water on. 100°F is probably going to be hot enough for most people.


Shut off any recirculating pump – Whether you have a recirculating pump that sits under your sink or on top of your tankless unit, or you have a tankless water heater with a built in pump, it should be turned off.

Yes, you'll have to wait a few seconds for the hot water to reach you, but it's better to waste some water than risk running out of juice on your backup battery or generator. If it stays on then it will be constantly drawing electricity and will run your battery down in no time.


Use only one unit – If you have point of use tankless water heaters that need electricity then having them all on will stress your backup system. Shut down any non essential ones and only use one that will supply you with a hot shower or to wash dishes or do laundry. You can obviously turn them on and off depending on what you need to do.
Final Thoughts
It seems like our electrical grid is getting vulnerable with all the frequent power outages you see on the news these days.
Since losing power is inevitable, you'll still need hot water.
And with the right system, you can still use your tankless water heater without electricity. I highly recommend the Hugo system.
Either way, don't be left without hot water and invest in one of these battery backup systems.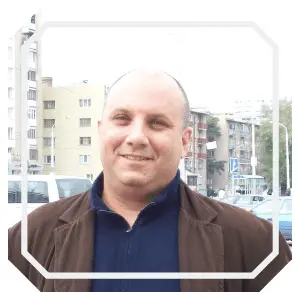 Nick Lopresti is the founder of YourH2Home and a home improvement expert. He has years of experience writing about various home improvement topics, mostly as it pertains to water systems.