This article covers the basics of one of the most important pieces of equipment for your pool, the pool pump. I will cover the various types of pool pumps, provide you with the pros and cons of each type so that you can make informed decisions when building a pool and selected a pool pump.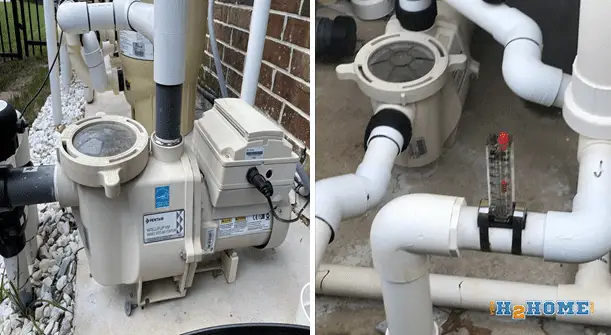 What is a Pool Pump?
Think of a pool pump as the heart of your pool. Your pool pump is responsible for circulating water through your entire pool system which includes:
Pulling water from the pool skimmers and drains in what is known as the suction side
The water that is pulled from the pool next passes through the strainer basket on the pump, through the impeller, then out of the pump to the pressure side of the pool system
The first piece of equipment on the pressure side is the filter, which is responsible for filtering out particles and other smaller debris out of your water
Next, the water passes through your pool heater and your salt-water chlorine generator or automatic chlorinator if you have that equipment installed
Finally, the filtered, heated, and chlorinated water is returned to your pool in the pool returns or other water features in your pool
What are the Components of a Pool Pump?
The main parts of your pool pump are:
The strainer, which job is to act as a skimmer and filter out leaves and other larger debris before they move through the rest of your pump
The strainer also contains a clear lid so that you can see into the basket to determine when you should empty the strainer basket and lube the o-ring around the lid of the strainer
Next, your water will pass through the impeller which is the part of the pump responsible for moving the water through the entire system
The motor is connected to the impeller and is the electric-powered mechanism that turns the impeller
Types of Pumps
There are three main types of pumps that are responsible for circulating water through your entire pool system:
Single-speed pool pumps
Two-speed pool pumps
Variable-speed pool pumps
Additionally, you can have other types of pumps that are supplemental to your primary pool pump for powering things such as pool cleaner and water features. 
Single-Speed Pool Pumps
Overview
Single-speed pool pumps are appropriately named as they have one speed setting used to circulate your water. 
The Hayward Super Pump is widely recognized as one of the top-performing single-speed pool pumps. 
Hayward Super Pump
The industry's workhorse - recognized for reliability and performance
Exclusive swing-away hand knobs makes for easier strainer cover removal: no...
See through strainer cover lets you see when basket needs cleaning and...
Features an oversized debris basket has extra leaf holding capacity for...
Easy installation and servicing with quick 4-bolt access to internal...
Single-Speed: Pros
The biggest pro for single speed is that they are generally cheaper to purchase than the other types of pool pumps.   
Their simplistic design can also be a pro as you simply turn it on, generally via a timer, when you want it to run. 
Single-Speed: Cons
While single-speed pool pumps may be the cheapest option to purchase, they do not have the efficiencies of the other pool types and are the most expensive to operate. Clients with single speed pumps generally only run their pumps when they have to and many try and take advantage of electricity plans with cheaper off-peak pricing so that they can run their pump during those hours. 
The Department of Energy passed new regulations in July of 2021 that apply to pool pumps and has stated that new pool pumps greater than 1 total horsepower cannot be single speed and must meet minimum efficiency ratings. That means there will be fewer single-speed pool pumps on the market and fewer parts available to these pumps over time. 
Two-speed Pool Pumps
Overview
Two-speed runs your pump at two pre-determined speeds, which lets you run at a lower and more efficient speed and turn it up to the high speed when you need to utilize the full power of your pump. 
The Pentair WhisperFlo 2-Speed pump is one of the higher-rated pool pumps that allows you to take advantage of efficiencies over single-speed motors.
Pentair WhisperFlo Pool Pump
The Pentair WhisperFlo two-speed full rated 1-horsepower high-performance...
Unique FunnelFlo diffuser and high-efficiency impeller maximize water flow...
WhisperFlo costs less to operate, because it uses less horsepower to...
Oversized strainer basket extends time between cleanings; see-through lid...
Compatible with all cleaning systems, various filters and jet action spas;...
Two-speed: Pros
The pros for two-speed all stem from the ability for the pump to run at a slower speed, which means you can circulate and filter your water for longer periods without worrying when the electric bill arrives. 
This lower speed also generally runs quieter, which is a big factor if your equipment is close to your pool or near a bedroom.  
These two-speed pumps are usually a good compromise in efficiency and cost. 
Two-speed: Cons
In my opinion, the biggest downfall of a two-speed pump is that the pre-determined speeds may not work exactly how you like in your pool setup. For example, if the low speed of your two-speed pump does not allow your heater or saltwater chlorine generator to run, then your only option is to run the pump on the high setting and negating the efficiency of the pump at lower speeds. 
Also, with the increase in price of a two-speed pump may put it close to the cost of a more efficient variable-speed pump.   
Variable-speed Pool Pumps
Overview
The latest technology in pool pumps is variable-speed pumps. These pumps allow you to control the RPMs to fit the needs of your pool. Manufacturers advertise savings of 40-80% over single and two-speed pool pumps. 
The Pentair IntelloFlo VS and VSF pumps are considered to be the top-of-the line VS pumps.
Variable Speed and Flow pumps (VSF) also allow you to set a specific flow rate for the pump and it will adjust the rpm to match the output. This feature is not widely used, but can be useful for water features that have specific flow rate requirements. 
Variable-speed: Pros
Simply put, they are efficient.  In the screenshot below, you can see a Pentair Intelliflo VSF pump running at 1200 RPMs and only using 90 watts. That is equivalent to a ceiling fan or light bulb!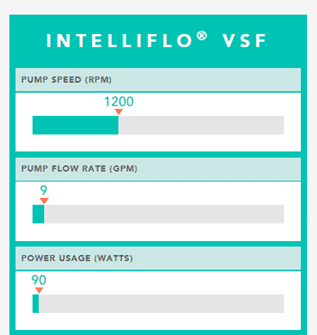 The second pro for a VS pump is also tied to efficiency in the fact that you can run your pump for longer periods or even 24/7 without worrying about large impacts to your electric bill. That means you can skim and filter for longer periods of time and reduce the amount of debris in your water that would otherwise settle to the bottom of your pool when the pump is off. 
The last pro of a VS pump is the ability to fine-tune your pump to fit the needs of your pool. Maybe your spa jets run best at 2,400 RPMs, your waterfall at 3,000 RPMs, and your basic pool skimming at 1,000 RPMs. Just simply program your VS pump to those specific RPMs when you need them. 
Variable-speed: Cons
I mentioned many pros of the efficiency of variable-speed pumps, but as you would expect, variable-speed pumps are the most expensive types of pumps to purchase. Some models cost double or even triple the amount of their single-speed counterparts, so you have to make sure the additional efficiency can make up the cost difference in your scenario. 
Other Types of Pool Pumps
Feature Pumps
A feature pump is a supplemental pump to your main pool pump that is only used when certain features, like a waterfall, are used and your primary pump needs a little bit of extra power. Many times a pool pump can be used either as the primary pump or as a feature pump. 
Feature pumps can also be plumbed in parallel to your primary system, or they can be stand-alone with their own intake valves separate from your primary plumbing. For things like a waterfall, I generally recommend stand-alone plumbing that bypasses the heater and filter that may cause you to lose some of the flow generated by the pump. 
Above-Ground Pools
Above-ground pools have the same requirements for a pump, just like in-ground pools. Many pool pumps for in ground pools are also rated for above-ground use. 
Intex and other companies also offer pump and filter combos like this one to simplify your equipment needs.
Sale
Intex Krystal Clear Saltwater System
Designed for use with above ground pools from 4,800 to 15,000 gallon...
Pump flow rate – 2,650 gal/hr. | System flow rate – 2,150 gal/hr. |...
16-inch tank diameter | 0.75 hp motor | Power source type: Corded Electric
The built in 24-hour timer adds to the hassle-free experience with...
Hydro Aeration Technology provides improved circulation and filtration,...
Booster Pumps
Booster pumps can be used to supplement power to your main pump in times of need including running a Polaris/pressure-side pool cleaner, in-floor pool cleaners, and sometimes spas. 
Polaris Booster Pump
EFFICIENT: Ultra low flow requirements allow the booster pump to operate on...
THE POWER BEHIND POLARIS: High efficiency 3/4 horsepower motor drives water...
DESIGN DRIVEN: Unlike other booster pumps, Polaris booster pumps are...
COMPATIBILITY: Appropriate for all Polaris pressure-side cleaners that...
WHAT'S INCLUDED: Comes with Polaris Softtube and quick connect fittings....
FAQ – Pool Pumps
How long should I run my pump?
Answer: I shy away from formulas that just look at turnover because each pool is different and there is so much more to the pool system than how many times per day your water is filtered. Instead, I recommend you look at a couple of things:
How long would you like to skim to catch leaves and other debris to keep it from sinking to the bottom?
Do you have a saltwater pool or an automatic chlorinator? If so, how many hours a day do you need to run to make sure your pool has enough chlorine?
Can you efficiently run your pump at low speeds for longer periods of time?
Is your filter running long enough to filter out particles in the water? A good litmus test for this is to look at your pool at night, with the pool lights turned on.  Some visible particles here and there are okay, but in general, your pool should be crystal clear at night. 
Once you have those answers, you can see how long you need to run your pump. For those of you with VS pumps, I recommend determining the lowest rpm your system can run and still keep the skimmer weir doors open and run at that rpm the entire day, with brief increases for increased skimming or water features. 
How do I determine what size pump I need?
Answer: There are many formulas you can find to pick the best pump, but I recommend first calculating how many gallons per minute your pump needs to circulate water every 8 hours. To do this, simply take the # gallons and divide by 480 (60 minutes x 8 hours). So a 15,000 gallon pool needs to have a pump that can at least generate 31.25 GPM. 
What other factors do I need to consider when choosing my pump?
Answer: In addition to pump type and GPM requirements, people often overlook the need to have the equipment talk to each other. Generally if you have automation to control your equipment you want to stick to the same brand so that you have more control over your equipment.
Are there any additional incentives to buying an energy-efficient pool pump?
Answer: Yes, check with your power provider as many offer rebates for purchasing variable-speed and other energy-efficient pumps. 
What type of maintenance do I need to perform on my pump?
Answer: Maintenance of pumps should be minimal.  I recommend checking the pump filter basket and emptying that when needed. You also need to clean and lubricate the o-ring on the lid to ensure an airtight seal. 
Should I just buy the pump with the biggest horsepower?
Answer: No! If your pump is oversized for your equipment it will begin to cavitate and form a large air bubble at the top of the strainer basket similar to an air leak or a skimmer running dry. Each of these scenarios will put additional stress on your pump and shorten its lifespan.     
What do I need to do in the winter?
Answer: Depending on your climate, you may need to drain and store your pump to prepare your pool for the winter. If you live in a warmer climate and you keep your pool open year-round, I recommend having a pump with built-in freeze protection to keep the pump running during freezing temperatures.   
Do I need a different pump for a saltwater pool?
Answer: No. Just like any piece of pool equipment, it can work in both salt and non-salt pools as long as it is rated for saltwater by the manufacturer. Outside of the heaters, it is difficult to find pumps and filters that are not rated for both pool types. 
Conclusion
The key to selecting a pump is to choose one that efficiently moves water through your pool system. Consider all types of pumps and the installation costs before you finalize this important purchase. 

I am passionate about taking care of pools and started over 20 years ago as a young entrepreneur taking care of several neighbor's pools in the Houston, TX area.  Now I live in Prosper, TX, and am known as the Prosper Pool Consultant:
I specialize in solving short-term pool issues with the goal of educating that customer so that they never need my services in the future.  It is a unique business model, but I find it very rewarding to see pool owners gain the confidence and tools to manage their pools themselves.