The best propane tankless water heaters can potentially save you up to hundreds of dollars per year on your hot water heating costs.
Getting a propane on demand water heater if you're looking to replace a tank is probably going to save you some money.
You just need to buy the right one.
There is no one size fits all scenario, so I will try to highlight all the information you need to make an informed choice.
Before I get into the in-depth article, check out this handy comparison table to see how the propane tankless water heaters reviews stack up against each other.
In a Rush? Here Are Our Top Choices
Image
Top Pick
Budget Pick
Top Pick
Image
Image
Budget Pick
Image
Tankless Propane Water Heater Prices
This is the million dollar question that everybody thinking about a tankless water heater has.
How much does a propane tankless water heater cost?
There are a couple of variables at play here.
How much the actual inline water heater costs to purchase and how much it costs to operate a tankless propane water heater.
In this article, I review the top five propane tankless water heaters that vary in price, so to get a ballpark idea of how much it costs to buy one, you can simply look at the comparison table above.
Expect to pay anywhere between a few hundred dollars to over one thousand depending on the size you need.
For operating costs, this is a very difficult question to answer. Not least of which because of the varying price of a gallon of propane. Depending on where you live and the time of year, the prices can change dramatically.
Best Outdoor Propane Tankless Water Heater | Rheem RTG-95XLP 9.5 GPM Review
Rheem RTG-95XLP 9.5 GPM
Exclusive Water Savings technology conserving up to 1, 100 gallons per year
199, 900 BTU (gas consumed per hour)
Exclusive Hot Start Programming minimizes cold water burst by staying in...
Recirculation pump ready kit ready
For use outdoor only
When you spend over a thousand dollars for a tankless water heater you have high expectations that should be met.
What a nice surprise then when you purchase the Rheem RTG-95XLP propane tankless water heater.
It gives you the high water flow you would expect for the money with 9.5 GPM which can supply a medium sized house with endless hot water. In addition, it has some nice features that put it above the competition.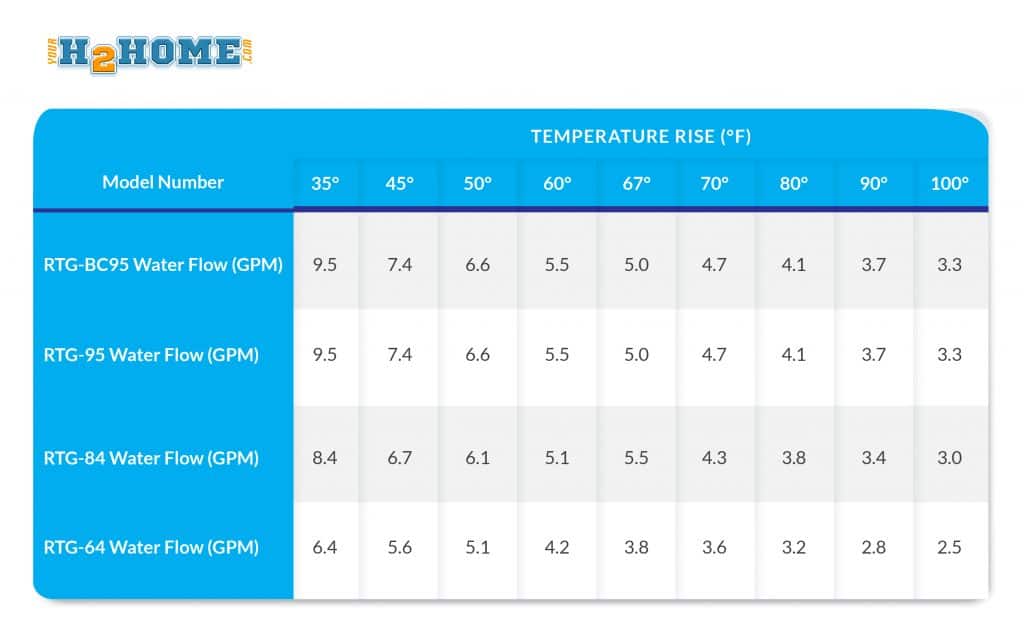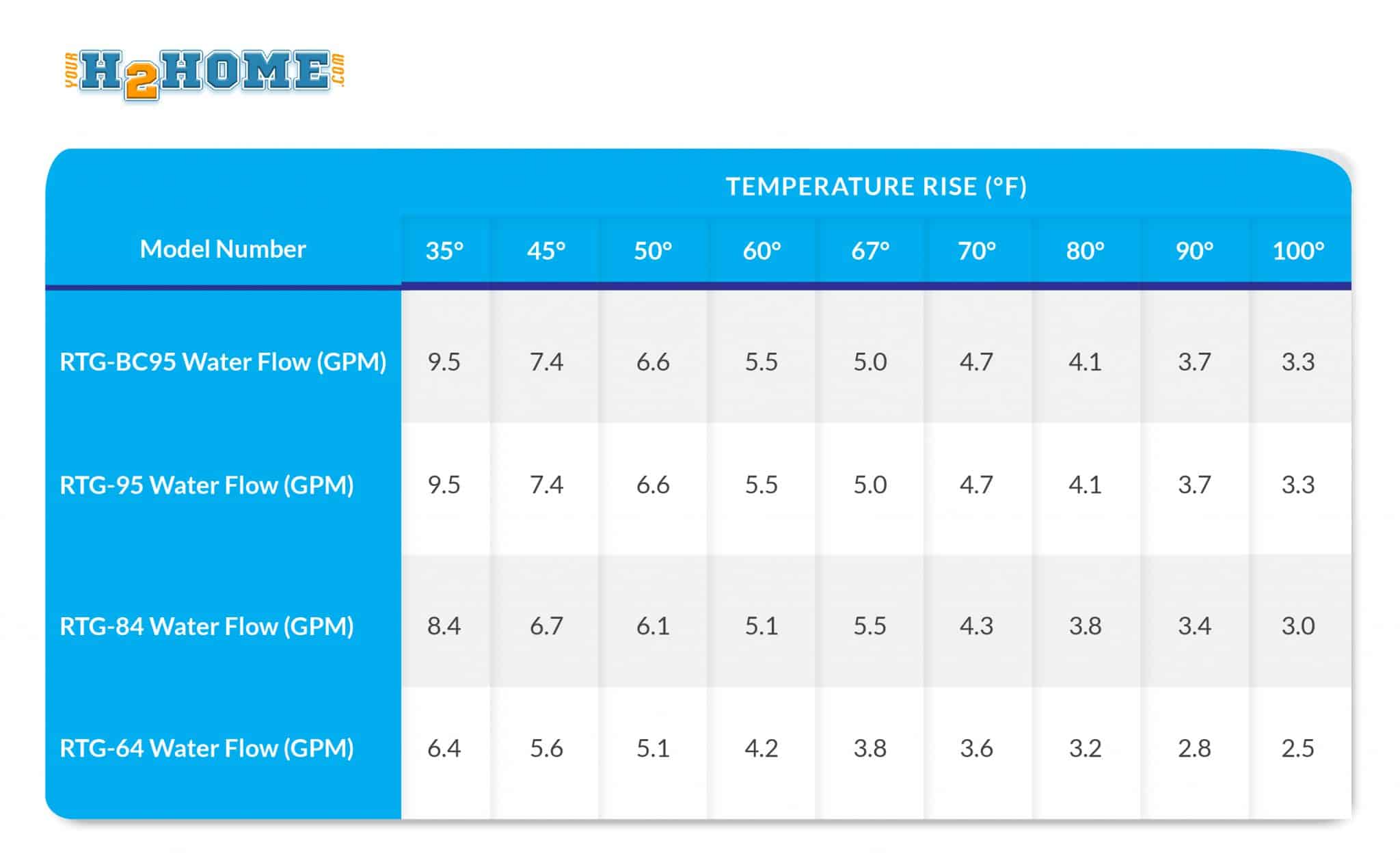 Hot Start Programming
Namely the Hot Start Programming that does away with cold water sandwiches.
A cold water sandwich is a slightly annoying feature of most tankless water heaters. It happens when the hot water is turned off and the tankless stops heating the water. Obviously, the water is now cold since it is not stored hot in a tank. If you turn the water on right away, the water comes out cold until the heated water can reach your fixture. The dreaded cold water sandwich is no more with the Rheem RTG-95XLP!
The Rheem RTG-95XLP stays in a ready fire state so that back to back uses don't end up getting cold.
Self Diagnostic
After 500 uses, the Rheem RTG-95XLP will send an alert to the homeowner that it should be checked out. This is especially true if you live in an area with hard water to check on any scaling. If so you may need to do a flush to clean the heating elements and keep them in good working order.
Any problems with the tankless water heater will be detected by the inner circuitry and will also be sent in an alert.
Water Savings Setting
If you decide to set this feature up, then you can have it so that the water flow is lowered while you wait for the hot water to arrive at the fixture.
This can save up to 1,100 gallons of water per year.
It is totally optional, though, so if you want full flow and less time to get hot water to the faucet, then you can keep this feature off.
Installation
Good news for the homeowner is that this is an outdoor unit so there is no venting necessary.
This saves quite a bit of money since installation can be done by anybody with any kind of basic DIY ability. It's just a matter of finding a spot outside and hooking it up to the gas and water lines.
The only part that is slightly intrusive is drilling a hole through the wall to run the remote control to the inside of the house. You'll need this to be done to avoid having to go outside to adjust the tankless water heater when you want to change the temperature.
Cold and Altitude Resistant
Don't worry if you live somewhere that has some cold winters or if you live at high altitude.
You can live anywhere up to 8,400 feet of elevation without any chip necessary to reprogram the propane on demand water heater. It will work the same as at sea level.
And even exposed outside, it will work efficiently in temperatures that go as low as -30°F.
Got a cabin out in this mountains? You're still covered even if you can't find a professional to come out and install this for you!
What to Watch Out For
I wouldn't classify the following features as negatives, but something that you should be aware of.
Namely, it is activated at 0.26 GPM of water flow but won't start heating until it detects 0.4 GPM. If you're using a low flow faucet that gives up less than that, then you will end up with cold water.
The other thing to consider is that this is under Rheem's class of "medium efficiency" tankless water heaters. It has an 82% efficiency rating.
You'll still see some savings even at that efficiency rating. Something in the 20% range of what you are spending now if you have a tank hot water heating system.
What We Like:
9.5 GPM Water Flow
Outdoor with Remote Control
Low NOx Emissions
Hot Start Programming – No Cold Water Sandwiches
Self-diagnostic system
What We Don't Like:
Verdict
The high price tag might put some people off, but saving on the cost of installation should offset that. Together with the fact that you get very good GPM water flow, an intelligent operation and a very sturdy and durable propane tankless water heater, the Rheem RTG-95XLP is definitely worth the money.
---
Takagi T-K4-IN-LP Indoor Propane Endless Water Heater Review
If you live in a small to medium sized household, then the Takagi T-K4-IN-LP is tailor-made for your needs.
It can be very tempting to go well over what you think your water demand is, but using a tankless water heater that is made for your type of usage is the smart play.
One of the points of having a propane tankless water heater is for it to pay for itself over time with the savings you get from reducing your propane usage.
Takagi makes an excellent tankless water heater and leads the industry in catering to its medium sized household customers.
Here are some ways that the Takagi makes sense for you.
Cost
Since this is the first thing most people are concerned about, we should start with how cost-effective the Takagi T-K4-IN-LP is.
Many propane tankless water heaters in the same category are easily hundreds of dollars more and in some cases are even twice the cost.
This does not mean it is cheap. It means you are getting a good deal on something that can have a big effect on your propane bill.
Takagi T-K4-IN-LP Installation
Installation is pretty straightforward in most cases. The venting is 4inch stainless steel which is fairly common in most houses. This is where the cost of installation can vary, of course. If you need to do custom venting, then the cost certainly rises here.
If you are at all handy then the installation can be done yourself.
The instructions that come with the Takagi T-K4-IN-LP manual are easy to follow and very detailed. A DIY installation shouldn't be too difficult for most people.
The downside is that the venting kit does not come included and must be bought separately.
Flow Rate
At a 30°F temperature rise, you can get a water flow rate of 6.6GPM. What this means is that you can have two showers and a washing machine running without any issues like the water getting cold.
That temperature rise is not going to be in effect for many parts of the country outside of the warm Southern and Southwestern states.
However, even at a temperature rise of 50°F and the output temperature set to 105°F, you can still get 4.2 GPM which is pretty good for a small or medium sized household.
Here is the temperature rise chart to see how it fares with different incoming and outgoing temperature settings.

Accuracy
With water inlet and outlet thermistors, the Takagi T-KJr2-IN-LP can give a highly accurate reading so you can get the exact temperature that you want and maximize the GPM water flow rate.
What to watch out for
As is the case with any tankless water heater, the warranty is void if you do the installation yourself. If you are unsure of how to do the installation without making an error that could jeopardize the functionality of the propane tankless water heater, then you may want to consider a professional.
That said, however, the cost of the Takagi T-K4-IN-LP is lower than what you would pay for the installation, so even if you void the warranty by doing it yourself, you're probably going to save money anyway.
What We Like:
Great price
6.6 GPM max flow rate
Includes remote control
Ideal for small homes
Low NOx emissions
Many safety features
What We Don't Like:
Verdict
With a bunch of safety features which include freeze protection in case you lose heat in your home, the thermistors to keep the temperature of the water from getting too hot and automatic shut off give a lot of peace of mind.
The low purchase price and the savings over time make it a very good value. It is not going to be ideal for everybody especially for those with high water demand, but that is the nature of propane inline water heaters in general.
If your needs line up with the features of the Takagi T-K4-IN-LP, then you're going to be happy!
---
Bosch 830 Water Heater Review
Bosch 830 Water Heater
175,000 max input (BTU)
83%+ thermal efficiency
8.3 gallons per minute capacity at 35F degree rise
Electronic ignition and patented burner design
Vents vertically or horizontally with 3" or 4" stainless steel
We might be seeing the end of the days of the cold water sandwich that is a common problem with tankless water heaters.
This is the second propane on demand water heater on the list that has solved that problem. This time it is the Bosch 830 ES LP Therm.
With a unique design to the heat exchanger, there is a modulating temperature sensor that supplies a constant flow of hot water while still keeping propane consumption low.
Bosch being a German company means some good engineering and attention to detail.
Flow Rate
8.3 GPM flow rate at a 35°F temperature rise makes this a very good choice for medium to large sized households.
If you live in a warm part of the country then you can enjoy that high GPM pretty much year round.
In colder climates, obviously, the GPM will be lower so make sure you understand how much water demand you have at your peak point of the day.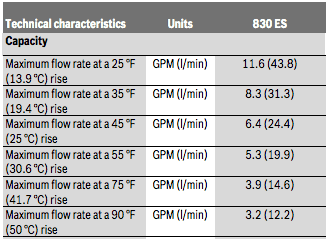 Durability
As I mentioned, you can expect some good engineering from this propane tankless water heater. The Bosch 830 ES LP Therm is confident that it will last a while and back up that thought with a 15-year heat exchanger warranty.
Tankless water heaters are known for how they can last much longer than a tank, but this warranty shows that Bosch goes above and beyond when it comes to longevity.
Efficiency
Though it is only rated at 83% efficient, this is definitely good when it comes to propane. Since propane is energy dense it is naturally more efficient than natural gas or electric so even 83% will give you savings of up to 30% from your propane usage.
It is Energy Star rated and can qualify for some healthy rebates from the government.
There is no pilot light that wastes propane as it has an electric ignition.
Installation
The Bosch 830 ES LP Therm is quite flexible when it comes to installation. It can be vented vertically or even horizontally. The vents need to be stainless steel but can either be 3 inches or 4, adding to the versatility.
This can give you some savings on installation since you may not be constricted by where and how you install it. Often, the installation costs get higher when there are limiting factors and your plumber has to do a custom fitting for it to work.
This also means that you may be able to install this yourself if you have any type of handy abilities.
What to watch out for
There really isn't much of a downside to this tankless propane water heater. The only thing that really comes up is the price.
What makes this more expensive than other tankless water heaters that can provide the same BTU and GPM?
Two things come to mind immediately. Longevity first and foremost. This unit will pay for itself many times over during the course of its long lifetime.
Then there is the elimination of the cold water sandwich through the unique patented heat exchanger.
What We Like:
8.3 gallons per minute capacity
Patented burner design
Energy Star rated certified
Built in freeze protection
Electronic ignition
What We Don't Like:
Verdict
I love Bosch products and the Bosch 830 ES LP Therm is no exception to the rule that they make some very good appliances.
A 15 year warranty for the heat exchanger says a lot about how confident that Bosch is that your unit will be dependable. This should give you some good peace of mind that you're getting good value for the money.
---
Rinnai RL94IP Propane Review | The Best Whole House Propane Tankless Water Heater
Rinnai RL94IP Propane
Energy and Space Efficient: Space-saving design conserves energy as it...
Instant Heating: Circ-Logic technology enables recirculation patterns that...
Guaranteed to Last: 12-, 5-, and 1-year residential and 5-, 5-, and 1-year...
When it comes to the best whole house propane tankless water heater, then you can't do much better than the Rinnai RL94iP.
With 9.4 GPM, a recirculation ready system to keep water hot and wifi ready to monitor your usage, it is the best way to say money and enjoy endless hot water.
Here are the features that set Rinnai apart from other inline water heaters.
Flow Rate
At a 30°F temperature rise, the Rinnai RL94iP can give you 9.4 gallons per minute water flow rate. That is enough to keep hot water flowing at multiples fixtures at the same time.
A family of four with teens will have no problem running two showers, a faucet and a washing machine at the same time. And with hot water to spare.
The minimum flow to trigger the heater is 0.4 GPM, which is pretty much standard among the better brands.
Installation
Installing a Rinnai RL94iP is no harder or easier than any other indoor tankless water heater, but what is better are the instructions. They make it very easy for somebody who is even only moderately handy complete the installation.
Of course this all depends on your home and where it will be located. And it needs to be done carefully to avoid any gas leaks or malfunctions.
Adding to the versatility is the fact that it is compatible with ½ inch gas lines so it can be used in older homes without an expensive upgrade of gas lines.
And as is the case with every other brand, the warranty is void if you install it yourself, or use somebody who is not certified to install Rinnai specific tankless water heaters.
The money saved by installing it yourself is more than the cost of the unit, generally, anyway.
Efficiency
This is a mid efficiency tankless water heater that gets an 83% thermal efficiency rating. This is still enough to return up to $400 per year in propane savings at the current $2.41 cost per gallon of propane at the time of this writing.
What can end up neutralizing the propane savings, however is using the recirculation pump to make sure there is no delay in hot water arriving to the fixture.
Bonus Features
As I just mentioned there is the optional recirculation pump that continuously circulates heated water throughout the water lines to make sure that you get instant hot water in addition to endless.
This is optional and doesn't impact the operation of the Rinnai RL94iP if you choose not to have it.
Another nice feature is the Wifi ready system. This is an add on and is not already set up, but is a very nice way to monitor your usage.
Called Control-R, it is an app that connects your smartphone to your Rinnai RL94iP. Through the app you can change the temperature settings and if you have the recirculation pump set up, turn that on. This avoids the water being heated and circulated when it isn't needed.
It can also send you maintenance alerts by programming the alerts to happen after a set number of operating hours.
What We Like:
Great for large households
9.4 GPM water flow
1/2″ Gas Line Compatible
Wifi ready (sold as an add on)
Recirculation system for instant hot water
Low NOx emissions
What We Don't Like:
More expensive than others in class
Verdict
Rinnai is known to be one of the leaders in tankless water heater technology. With the extras that make owning the Rinnai RL94iP as easy as can be, it doesn't come much more convenient as this.
Easy to install, easy to use and providing whole house endless hot water, it is very easy to recommend this.
It is quite high in price, but with the extras that set this apart, and the fact that it can pay for itself in just a few years it really is suddenly doesn't seem so expensive.
---
Marey Power 10L 3.1 Review | Best Budget Propane Tankless Water Heater
Marey Power 10L 3.1
This unit is flow activate
Save up to 60% on electricity bills for water heating
Compact design saves space and is easy to install almost anywhere
No electrical connection is required so it's perfect alternative for those...
Unlimited hot water whenever is needed
Let me start by saying that the Marey Power 10L 3.1 is not a perfect solution for everybody. The reason for the review is to show that you can get a good propane tankless water heater even at a very cheap price.
You'll need to carefully evaluate if this inline water heater is going to serve your needs before you purchase.
Flow Rate
With a maximum 3.1 gallons per minute flow rate, this really should not be advertised as a whole house on demand water heater.
With low flow fixtures, you may get two showers running simultaneously, but that is only if you have a 30°F temperature rise.
Realistically, you may get a shower and a dishwasher running at the same time. If you have a bigger house with high water demand, then there is the benefit that you can install multiple units and use the cascade feature so they sync up with each other. The low price makes this a very attractive option when you need higher GPM.
The downside is that the minimum activation GPM is 1.0. If you have a fixture that runs less than that, then you won't activate the heat exchanger and you will not have hot water.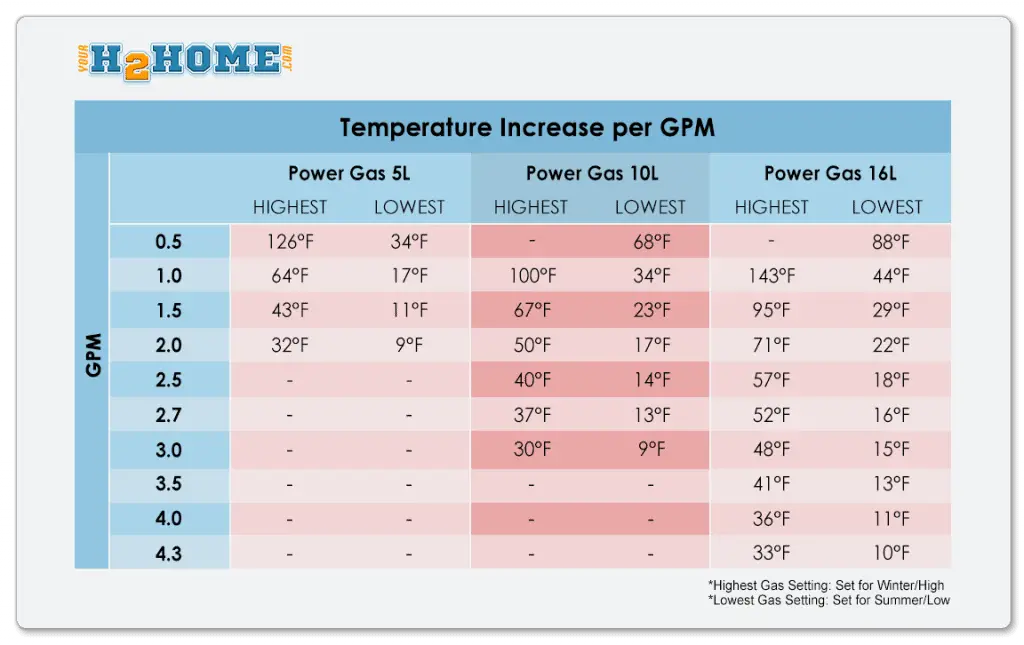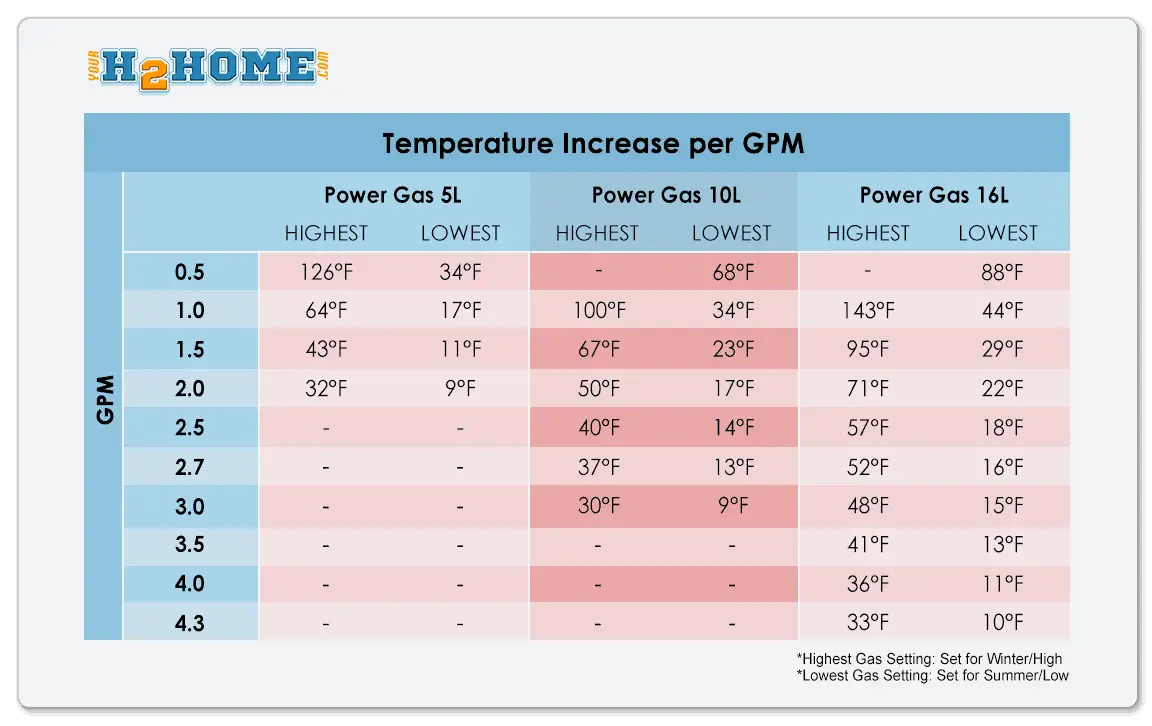 Installation
This is one of the best propane tankless water heaters for the DIY installer. There is no electrical connection necessary, so that adds to how easy it is to install.
Both the gas and water lines are compatible with ½ inch pipes so it can be used in older homes or RVs and makes the installation much less complicated.
The only thing to really make sure of are the local codes for venting.
The installation instructions are very clear and will give the multiple options available for the venting materials.
Who is this best for?
This propane tankless water heater is ideal for small households. If your water demand is low then you can enjoy endless hot water.
People that live off grid will also see some nice benefits. It uses two D batteries so it does not need to be hooked up to an electrical connection. For off grid living, this is a nice bonus.
RVs and cabins are also an ideal application for the Marey Power 10L 3.1.
What We Like:
Great low price
3.1 GPM for small home or cabin
No electrical connection needed
Easy to install
Supports cascading multiple units
What We Don't Like:
1.0 GPM minimum flow activation
Verdict
This is not the best propane tankless water heater out there. It does have some inconvenient features like the high minimum activation flow rate and the inability to set the water temperature in small increments.
That said, if you are on a tight budget and have low water demand, then it makes sense to purchase the Marey Power 10L 3.1.
Propane Tankless Water Heater Savings
How much will you save by using a tankless propane water heater?
Generally, you can expect 20-30% savings on your propane usage per month on average.
Propane is not exactly cheap, but it is efficient with BTU usage and using a tankless on demand water heater vs a tank system make it even more efficient.
Generally, people report saving $200 or so per year on their propane by switching to tankless.
Another factor in the savings department is the longevity of a propane tankless water heater. They last much longer than tanks. Not needing to replace the inline water heater as often will also save money. Where a tank water heater lasts an average of 7 years, a tankless can last 15 or more.
It will eventually end up paying for itself with those kinds of savings.
Installation Costs
Again, there are too many variables to put a firm number on how much it costs to install a propane tankless water heater.
Let's assume you already have a propane tank and are looking to install an indoor tankless propane water heater.
You'll need to have gas lines of ½ inch or ¾ inch depending on the make and model of the on demand water heater.
If you already have the right size gas lines then all you will need is for a plumber to run water lines to where you need the unit. Then a venting system will need to be installed to run the exhaust out of the house.
A professional can usually have this done in 2 to 3 hours depending on how you're already set up.
Find out how much it costs for labor per hour in your area for a good plumber and that is your labor cost.
For venting, pipes and other accessories, plan to spend an additional few hundred dollars.
There is no doubt that a propane tankless water heater is going to cost more than an electric, so if budget is a concern you may want to consider an electric unit. Of course, there are some huge differences between the two so make sure you read my article that compares gas and electric tankless water heaters so you can see which one is right for you.
To find out what size tankless water heater you need, check out this article with a tankless water heater calculator to zero in on the right one for you!
Conclusion
Propane tankless water heaters are not a one size fits all scenario. Yes it will probably save you money in the long run. But everybody's needs are different, so what works for me may not work for you.
I hope that after reading these propane tankless water heater reviews you are closer to making a purchase. A purchase that will surely change the way you approach heating your water.
Image
Top Pick
Budget Pick
Top Pick
Image
Image
Budget Pick
Image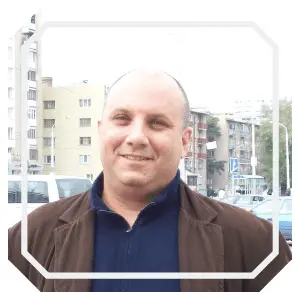 Nick Lopresti is the founder of YourH2Home and a home improvement expert. He has years of experience writing about various home improvement topics, mostly as it pertains to water systems.