If you have been searching around for an on demand water heater for endless hot water, then you have no doubt already read about Rinnai.
They are the makers of some of the best tankless water heaters out there.
But, how do you know which one is going to be best for you. After all, your needs are different than mine so we shouldn't be looking at the same tankless water heater, per se.
In this article I am going to give you some detailed reviews of the top Rinnai models with a buyer guide so you can pick the one that is going to be right for you.
For a quick glance, take a look at the comparison table below to get an idea of how they compare.
Otherwise, keep reading for the reviews with everything you need to know!
What Makes Rinnai the Best?
Tankless water heaters may seem like a new technology, but they have been in use in Europe and Asia for decades now.
Rinnai started out in Japan in 1920! They were introduced into the American market in 1974. With that kind of history behind them it's no surprise that they are the leading Japanese tankless water heater brand.
Beyond their history, they have some standards across all of their models that help set tham art from the competition.
Space Saving
Rinnai inline water heaters pack a lot into a small space so you can get maximum Gallons Per Minute (GPM) without sacrificing space.
Whether you are looking for an indoor or outdoor Rinnai tankless, you can mount it on a wall and keep it out of the way.
Like it isn't even there.
Efficient
Compared with storage style water tanks, Rinnai makes some of the most efficient tankless water heaters that also boast very low CO2 emissions.
Their least efficient model still comes in at 81% efficient and the top of the line gives you over 92%.
Reliable
One of the most, if not the most, reliable brands for tankless water heaters today. Rinnai offers long warranties across their models so you can be as confident as they are that your unit will last for years.
Rinnai tankless water heater lifespan can be up to twice as long as a tank and years longer than their competition.
You can check out how Rinnai gas tankless heaters compare to the competition by reading my article about the best gas on demand water heaters here.
How to Pick the Right Model
The most important factor to buying the right tankless water heater is knowing what your water demand is.
Whether we are talking about the best Rinnai tankless water heaters or any other brand, figure out what your max GPM needs are to zero in on the right model.
Here is a handy chart to show you what the general water usage of your fixtures use for water.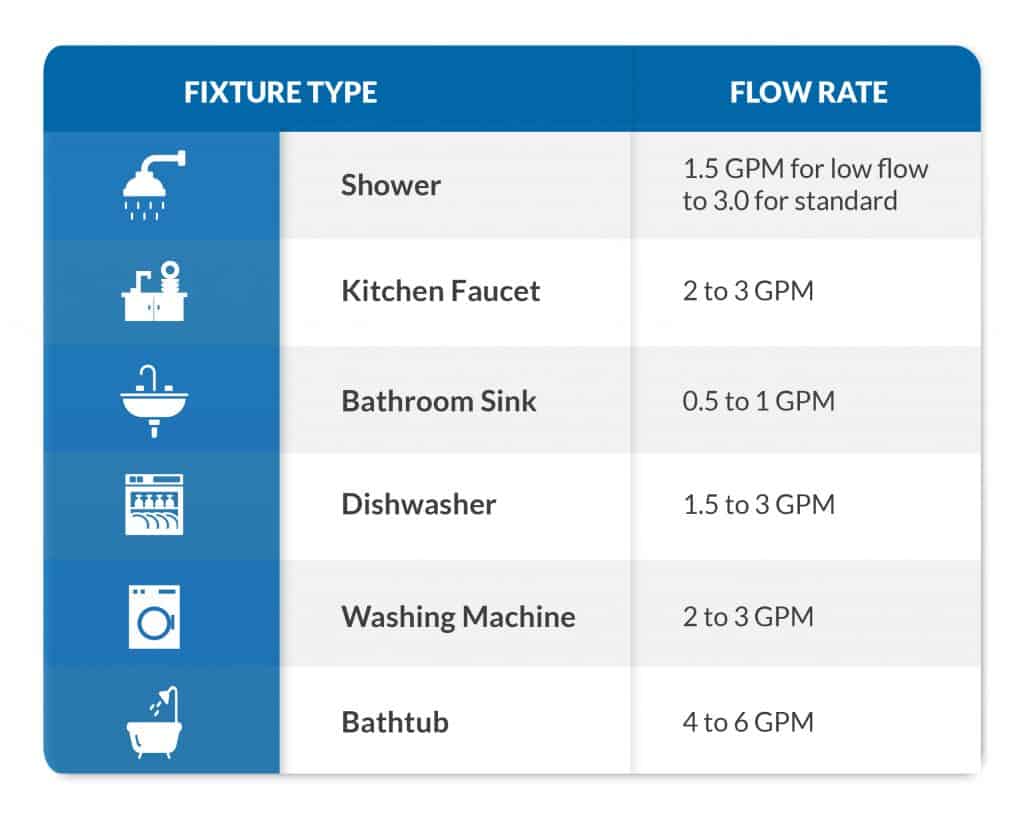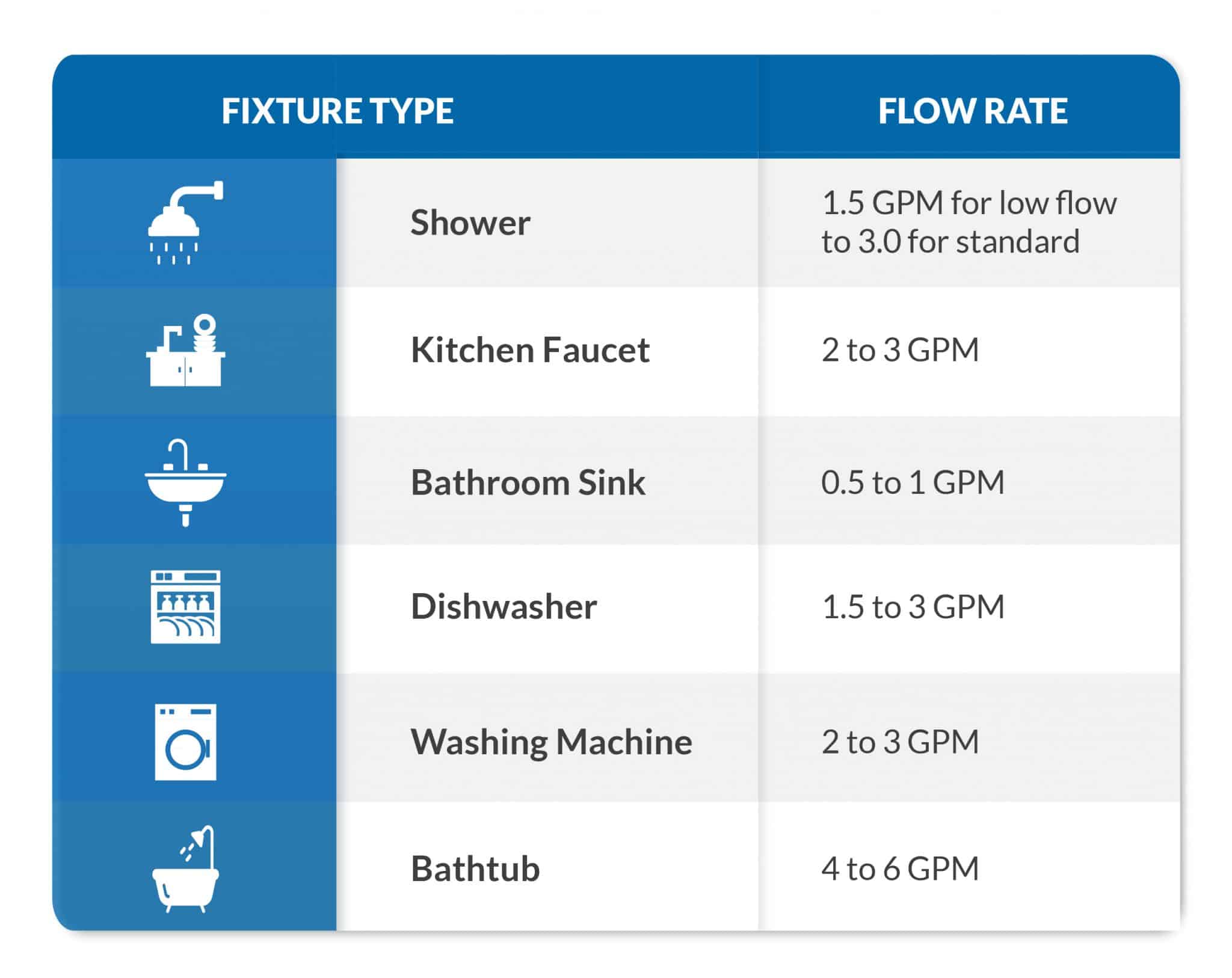 The next thing to figure out is if you will get the max GPM listed on the spec sheet of the particular model.
The GPM listed is usually the most you can get when you have a low temperature rise. In many cases it is around 30°F.
What is temperature rise and how can you find yours?
Temperature rise is the difference in temperature between the incoming water and the outgoing hot water.
I'll give you the basic idea, but to get more in depth, check out this detailed article about how to determine what size tankless water heater you need.
When you want to know the temperature of your incoming water temperature, consult this map from the USGS site for current temps.
Once you have an idea of what your needs are then you can more accurately determine how big of a tankless water heater you need.
When people tell you they don't provide enough hot water I always wonder if they didn't understand their needs before they bought one.
Rinnai Tankless Water Heater Installation
How Much Does It Cost?
How much it costs to install any tankless water heater depends on a lot of variables and is not easy to say.
I can give you a general rule of thumb about the cost to install a Rinnai tankless water heater, but where you live, where the heater will be placed and what kind of model it is will affect the price.
Here is a range of prices you might expect from an installation:
Labor Cost (Newer Home) – anywhere from $50 per hour to $150. 3 hours of labor costs between $150 to $600.
Labor Cost (Older Home) – 5 to 6 hours of labor between $250 and $900.
Material – Venting for non condensing can cost around $75. For a condensing unit expect a vent to cost around $50. Other hardware like water and gas pipes, isolation valves, pressure relief valve and other miscellaneous items can run upwards of $300 all together.
The reason for the two differentiations for labor is because a new house will likely have the right gas meter and larger gas lines. At least gas lines that can be adapted to the ¾ inch width that many tankless water heaters require.
An older house will need an upgrade in the gas lines and probably the gas meter which adds to the time involved.
An older house also may have a foundation that cannot be drilled through for the venting, like stone. If you opt for a basement placement at least. Newer house may have more options of where to place the tankless water heater so the venting can be done more easily.
So, expect to pay a minimum of $1000 for a gas or propane indoor tankless water heater. You could pay around $2000, however.
Can I Install a Rinnai Myself?
If you are particularly handy and have experience doing plumbing or running gas lines to other fixtures, then you could do this yourself.
If you have never done that, you still might be able to, since the Rinnai installation instructions that come with each model are very clear and detailed. But, it is very risky doing anything that involves gas lines and meters when you have never done so. In this case I would opt for a professional.
If your house is old, as I just explained, you may need to do some serious upgrades on your gas lines and meter which should be left to a professional.
The one big thing to keep in mind is that if you do the installation yourself you void the warranty even if the defect was not caused by a faulty installation. The money you save by doing it yourself may be more than the cost of the unit, in which case losing a warranty may not be a concern for you.
Make sure you check out my detailed guide on tankless water heater installation requirements.

Best Whole House Tankless Water Heater
Rinnai RUC98iN Tankless Water Heater
Rinnai RUC98iN Tankless Water Heater
INDOOR installation only. Fuel Type: NATURAL GAS.
Concentric or PVC venting option
Up to 0.96 Energy Factor/Up to 0.92 Uniform Energy Factor
The space-saving design allows Indoor Installation type
Ultra low NOx emissions
When you have high hot water demand you need one big tankless water heater to serve the whole home.
This is where the Rinnai RUC98iN comes in.
Flow Rate
If you have a large family of 4 or more and use many fixtures at once, then you'll get a max GPM of 9.8.
This obviously will change depending on the temperature of the incoming water and the hot water setting, but it will still likely fit your demands. It has among the top GPM for a tankless water heater.
You may notice a slight drop in water pressure when you have a lot of fixtures running at the same time. This is to keep the temperature of the outgoing water as consistent as possible.
Efficient
This is a non condensing unit and still puts out an astonishing 96% efficiency rating. This means you only lose 4% of the heat to the atmosphere rather than the water you are heating.
You typically see about a 30% savings on your gas bill compared to tank systems, but you may even beat that with that kind of efficiency.
With no pilot light needed since it fires up with an electric ignition, you won't be wasting any gas at all when this is not firing up your endless hot water.
Installation Costs
There are two things which will save you some money towards the cost of installation.
One is that it comes with isolation valves. These are important for when you need to flush the heater to prevent any lime build up from hard water. Without them you will need to call a plumber. With them you can do it yourself. So, you're saving money two ways with these.
The other factor is that you can use either two PVC pipes for venting which are cheaper than using stainless steel. Or you can get a stainless steel concentric venting kit which will save you some time and money on the installation since you'll only need to drill one hole to get the vent outside. It also can be sealed easier since the outer part of the pipe doesn't get hot.
Variable Pressure
The range of water pressure that the Rinnai RUC98iN can work with is quite generous. The lower end of water pressure being 50psi and the upper limit is 150psi. The optimal range, however, is 60-80psi.
That puts in in range for use in just about every home whether it is old or new.
Warranty
These Rinnai RUC98iN are built to last so don't be surprised if 20 years after you buy it, it is still pumping out hot water on demand for the whole large house. The Rinnai warranty is very generous and will cover most defects up to 12 years. Compare that to a typical tank water heater that would likely never even make it to the 12-year mark.
What We Like:
9.8 GPM (Gallons Per Minute)
Incredibly efficient – Up to 0.96 Energy Factor
Low flow rate trigger – .4GPM
Ultra low NOx emissions
Concentric or PVC venting option
Long warranty – 12 years for residential
What We Don't Like:
Can only be used indoors
Slight dip in water pressure
Verdict
As I mentioned, families of 4 or 5 need more than your average gallons per minute. Especially if you have teenagers. So, a whole house tankless water heater like the Rinnai RUC98iN is likely going to be your best option. This holds especially true if you live in a cold climate as the temperature of the incoming water has a big effect on your GPM.

---
Best Rinnai Tankless Water Heater for Mid Size Homes
Rinnai RL75IN Water Heater Review
Tankless water heaters can be expensive so it is important to go with the model that best suits your needs so you don't overspend.
If your water demand needs are not too high and you live in a warm area, then you can get the Rinnai RL75IN medium efficiency tankless water heater and not spend a fortune.
Flow Rate
As is the case with all the Rinnai tankless water heater line, you only need 0.4 GPM of water flow to trigger the heat exchanger. If you have low flow fixtures then you'll still get the hot water at your desired temperature.
With a 7.5 max GPM water flow rate, you can get a few fixtures running at the same time. For example, if you looked at the chart above then you see that you can have two low flow showers, a bathroom faucet and a washing machine all going at the same time and still come in under 7.5 GPM.
For a typical family of four, you will certainly get the GPM you need, especially if you live in a warm area.
Efficiency
At 82% thermal efficient, your hot water gets most of the heat with not too much heat loss. Not nearly the same efficiency of the Rinnai RUC98iN from the previous review, but will still save you some money on your gas bill.
How much will you save?
You can expect at least 20% off of your current bill for your tank storage system. Many people will get up to 30% so the on demand heater will pay for itself in just a couple of years.
Installation
As with the other Rinnai tankless water heaters, installation is not complicated and the manual gives very explicit instructions to make it easy on you.
It does come with the isolation valves which you will need for maintaining your tankless water heater.
It uses concentric venting so you don't have to spend too much on the kit and the installation of that part.
Warranty
Rinnai is very confident when it comes to the longevity of the Rinnai RL75IN. You get a 12 year warranty on the heat exchanger, which is made out of copper. A 5 year warranty on the other parts is also nice.
What We Like:
7.5 GPM (Gallons Per Minute)
82% Energy Efficient Rated for Heat Loss
Low flow rate trigger – .4GPM
Ultra low NOx emissions
Isolation Valves Included
Long warranty – 12 years for residential
What We Don't Like:
Can only be used indoors
Takes a while for hot water to reach the desired temperature
Verdict
Not everybody needs a lot of hot water at once. Even a family of four that doesn't use water at the same time can get away with the 7.5 GPM of the Rinnai RL75IN. For the price, you get an efficient and reliable tankless water heater that will provide you with all the endless hot water you need.

---
Best Outdoor Rinnai Tankless Water Heater
Rinnai RL94eN Tankless Water Heater Review
Rinnai RL94eN Tankless Water Heater
Optimal Water Pressure: High-performance 9.8 GPM hot water flow rate for a...
Guaranteed to Last: 12-, 5-, and 1-year residential and 5-, 5-, and 1-year...
When you really don't want to deal with venting, or you simply don't have many options, then an outdoor tankless water heater is a great option.
Even if you live in an area where temps can dip below freezing periodically, you can still opt for the RL94EN since it offers some freeze protection.
Flow Rate
With a very generous 9.4 GPM, your family of 5 will comfortably get plenty of hot water. You can run multiple fixtures in three bathrooms and not see a drop in water temperature.
With a 0.4 GPM activation trigger setting, then you can even use most low flow fixtures.
If you live in an area with warm groundwater, then you should get the max GPM, but even in colder areas you can expect higher than average GPM even when you have a higher temperature rise than you would with other brands.
At 35°F that is a very good temperature rise for an outdoor model to still get the max GPM.
Take a look at the temperature rise chart below to see what kind of flow rate you can expect based on your average incoming water temperature.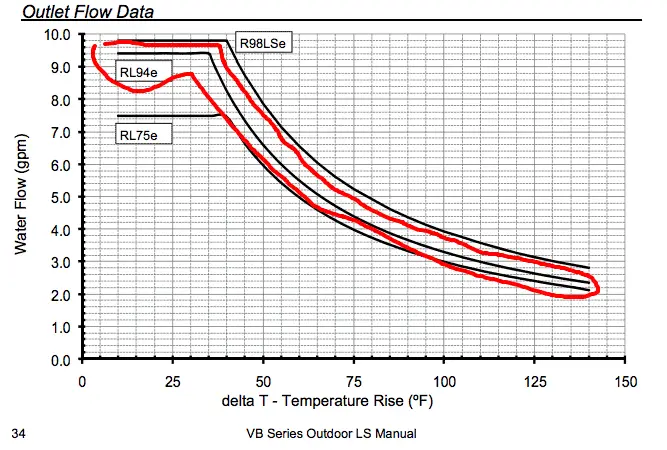 Efficiency
At 83% thermal efficiency, you won't be paying to heat up the air instead of the water for your showers.
As usual, you can expect up to 30% savings on your monthly gas bill. On average people save up to a couple of hundred dollars per year on their bill. The RL94EN will pay for itself in less than five years with those kind of savings.
Installation
Since we are talking about an outdoor model, installation is a snap. As long as you are comfortable with installing a gas appliance, then this shouldn't cause you any problems. Just keep in mind that it is a bit sensitive when it comes to pressure and needs to have a minimum of 5wc and a maximum of 10wc. If you are within that range you are fine. If you aren't then you will need to make some adjustments to make sure you're not getting error messages.
Easy To Use
Something a lot of people are going to love about the RL94EN is that it is wifi capable. You can set up your smartphone or computer to control the settings. You can make changes at the push of a button. If you feel like the water is coming out too hot, then simply lower it and if the next person in the shower likes it hotter, then they can set it to their preference without needing to use the control panel.
There is a 10 foot wire that will connect the unit to the LED screen that you can then place inside the house so you don't have to go outside to change it if you aren't using the wifi.
What We Like:
9.4 GPM (Gallons Per Minute)
83% Thermal Efficiency Rating
Low flow rate trigger – .4GPM
Energy Star Qualified
Isolation Valves Included
Long warranty – 12 years for residential
What We Don't Like:
Sensitive to gas pressure ie 5wc min and 10wc max
Takes a while for hot water to reach the desired temperature
Verdict
It really does not get any easier to use a tankless like the RL94EN. It comes with the isolation valves already so when you have to flush it for your yearly maintenance, it is a cinch to do. The wifi brings the technology into modern times with super convenience. Lastly, the savings make this an incredible purchase. You essentially will end up with a free tankless water heater in less than five years with the savings on your gas bill.
If you need a propane rather than natural gas then check out this one here. All the specs are pretty much the same except that it uses liquid propane.

---
Best Rinnai Condensing Tankless Water Heater
Rinnai RUR98iN Ultra Series Tankless Water Heater
Rinnai RUR98iN Tankless Water Heater
Innovative technology provides an endless supply of hot water. Installation...
Recirculation capability, with or without a dedicated recirculation line...
Offers both Concentric and PVC, providing more venting options right out of...
Rinnai's condensing technology features dual heat exchangers to provide...
Maximum output, minimum space. About the size of a small suitcase
The Rinnai RUR98iN Condensing tankless water heater is the Cadillac of on demand water heaters.
It has the price tag, to match which may put it out of the reach of some homeowners, but the savings mean it will pay for itself in a few years.
Flow Rate
Coming in at 9.8 GPM with a temperature rise of up to 35°F, you can get hot water for your whole house. And a big household at that!
If you have a family of five or more, then you can easily get the endless hot water you need to many fixtures at once.
The trigger to start the heat exchanger is set to 0.4 GPM so even with low flow fixtures you will still be getting hot water when you need it.
Take a look at the chart below to see what your expected GPM will be based on your temperature rise.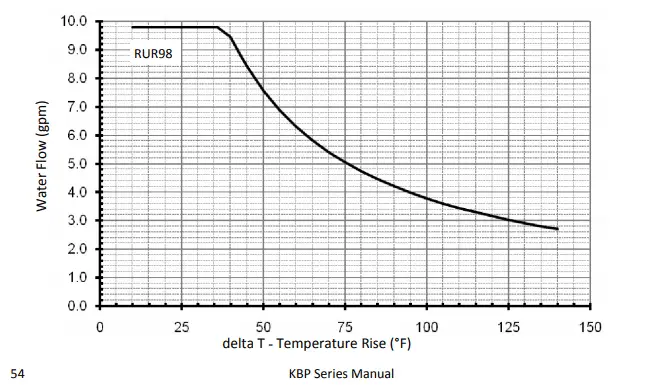 If you have light hot water demand, then you can change the flow rate through the modulating gas valve to reduce the BTU. This is great for when you have guests for short periods and have higher water demand only occasionally.
Efficiency
Because this is a condensing tankless water heater, you get some serious efficiency. Up to 96% thermal efficiency.
That means that 96% of the energy is used to actually heat the incoming water and very little thermal energy is lost.
There are two heat exchangers. This way the water is preheated before it goes to the primary heat exchanger. It takes less energy to heat the water since it has already been somewhat warmed.
If you want to know the difference between a condensing and non condensing tankless water heater then read the full article here with all the details.
Condensing tankless water heaters can get expensive, but they save some serious money. Usually around 10% more than their non condensing cousins.
Installation
Installation for a condensing unit is a little more complex than a non condensing, but Rinnai does a great job at explaining everything. You have the option of using a concentric or dual PVC venting kit so this can save on the hassle as well as the expense of installation.
And that isn't only if you plan to do the installation yourself. Having it easier on the professional will also lower the costs. Of course, this depends on your own house which could have a unique set of challenges.
Easy to Use
The LED display gives you everything you need to know about what is happening with the system at a glance.
And you can set it to whatever temperature you want with the touch of a button.
Adding to that is that it is wifi compatible. You can even use it with Alexa if you have the Amazon Echo.
Combine this with the ThermoCirc 360 and you can have instantaneous hot water. It is recirculation pump ready so if you opt for that it will keep the water hot right to the tap. That can be wasteful, so if you want money savings while still having instant hot water, then you can either set it to a timer, or simply tell Alexa that you want the water hot while you are getting ready to get in the shower.
You'll need to do yearly maintenance on most tankless water heaters, namely flushing to delime them. The Rinnai RUR98iN will let you know when it needs maintenance and what the problem might be. So, you may not need to flush it all all if it never alerts you.
What We Like:
9.8 GPM (Gallons Per Minute)
96% Thermal Efficiency rating
Recirculation Capable Even Without a Dedicated Line
WIFI Capable
Isolation Valves Included
Concentric or PVC Venting Options
What We Don't Like:
Very Expensive
Doesn't come with venting kit
Verdict
Yes, this is quite expensive. But, it will last your for over 15 years with regular maintenance. It will essentially pay for itself after a few years since it will save you so much money compared to a tank water heater.
The other thing is that the Rinnai RUR98iN adds so much quality to your life. The endless hot water, the instant hot water, the ease of use and the high water flow rate all will feel luxurious.
If you would rather have an outdoor condensing tankless water heater then check out the Rinnai RU80EN 8.0 GPM.
Final Thoughts
As you can see from the reviews, there is a Rinnai tankless water heater that suits just about every need.
They may not be the cheapest out there, but that to me is a good thing. When you want reliability and a long lifespan, then you need to spend a few extra dollars.
I mentioned several times, but it bears repeating, these units are so efficient that they pay for themselves with the substantial savings on your gas bill every month.
Add a generous warranty and you have a can't miss pick when you want the best tankless water heater.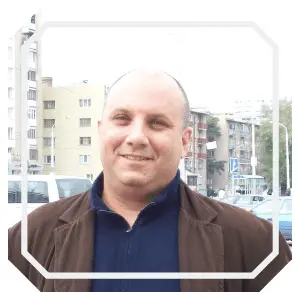 Nick Lopresti is the founder of YourH2Home and a home improvement expert. He has years of experience writing about various home improvement topics, mostly as it pertains to water systems.