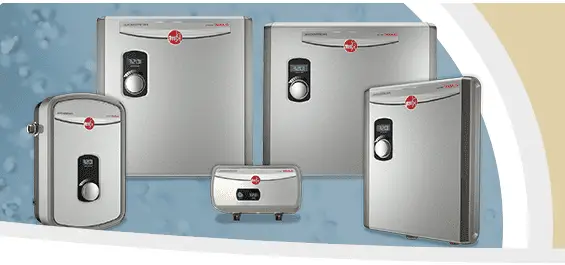 Rheem tankless water heaters have a well deserved reputation as being a leader in the on demand water heater market.
But, when you're looking to learn what the best Rheem model is, you need to know what the best one is for you.
And that is going to depend on a few different factors.
In this article I will go over the different Rheem tankless water heaters and what they specialize in. We'll also try to nail down what your needs are so we can determine which is going to work best for you.
It really boils down to how many gallons per minute you're going to need at the same time. Some models may not deliver the GPM (Gallons Per Minute) that you need.
With that said, right below you can see a chart to compare the cost of the different Rheem models at a glance, plus the different specs.
How Much Does a Rheem Cost to Install?
The biggest determining factor into how much it costs to install a Rheem tankless water heater is if you have a gas or electric.
Electric in general is much less expensive to install than a gas one since there is no venting that needs to be done.
There are a few factors that will determine how much it will cost to install so let's take a closer look at some that might affect you:
New House or Retrofit
This mainly applies to installing a gas Rheem on demand water heater. In a new house or custom build, it is actually not very much to install compared to when you live in an old house.
When you have to do a retrofit, you're probably looking at changing the gas lines to a bigger size. Usually your lines are ½ inch, and with most brands you need them to be ¾ inch. Which could also mean changing your gas meter.
Luckily, Rheem will save you some cash on the installation as they have ½ inch gas line compatibility.
New houses may already have the wider lines or don't require much to switch them out.
Installation Location
Again, this deals mainly with the gas tankless water heater since you will need to vent it. Most venting needs to be done horizontally and cannot use the same vent as your old tank water heater.
You may be looking at drilling a hole through your brick wall which can cost quite a bit of money.
If you opt to find the optimum spot to vent, it may end up taking you further away from your gas inlet which means running a long length of pipes which can also add to the expense.
You also could opt for an outdoor Rheem tankless water heater and save on the installation as there is no venting needed for that either if you don't have it in an enclosed area.
You're going to need to first decide on which model you want and then consult with a plumber to see how it needs to be installed to get an accurate price.

A rule of thumb, though, is to expect it to cost a few hundred dollars for an electrical model and around $1,000 to $1,500 for natural gas or propane.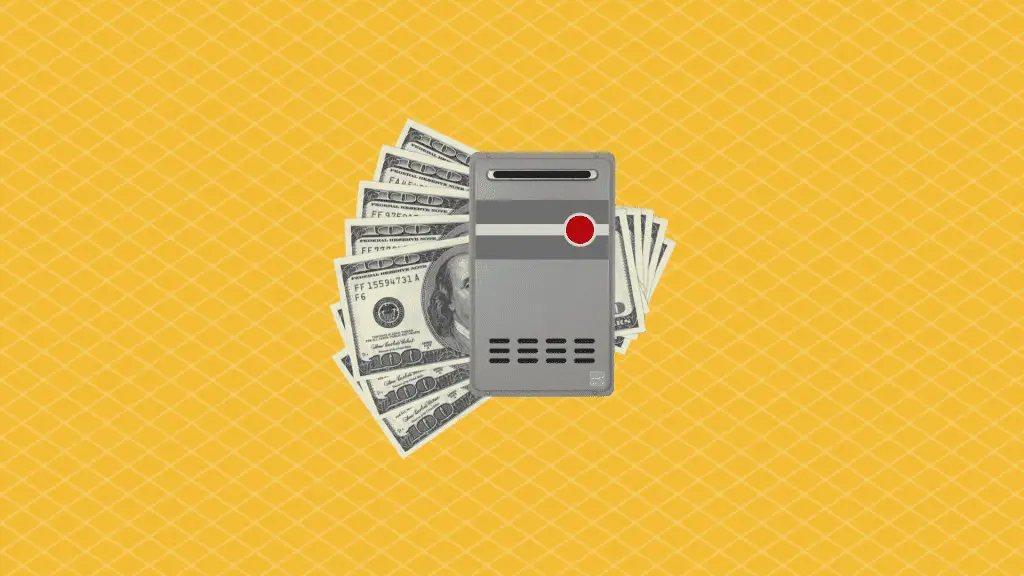 How to Select the Right Rheem Model
What's the best Rheem tankless water heater for you?
You'll need to do an evaluation before I can answer that.
What is your water demand like? Do you have a large family that needs to take showers and do laundry at the same time?
These are the types of answers you need to have ready before you even read the reviews.
The first thing you should do is to read my article on how to size a tankless water heater so you can understand what your needs are to begin with.
I'm going to make a hypothetical situation to make it easy to follow along and get an idea of how to choose the right tankless water heater.
Let's assume you have a family of 4 and two of them are teens. This seems to be a good average family needs.
Water Demand
If you followed that link then you will now know how many gallons per minute you need to have in finer detail.
In case you don't have time to read that other article, too, here is a simple chart that shows the GPM of common fixtures.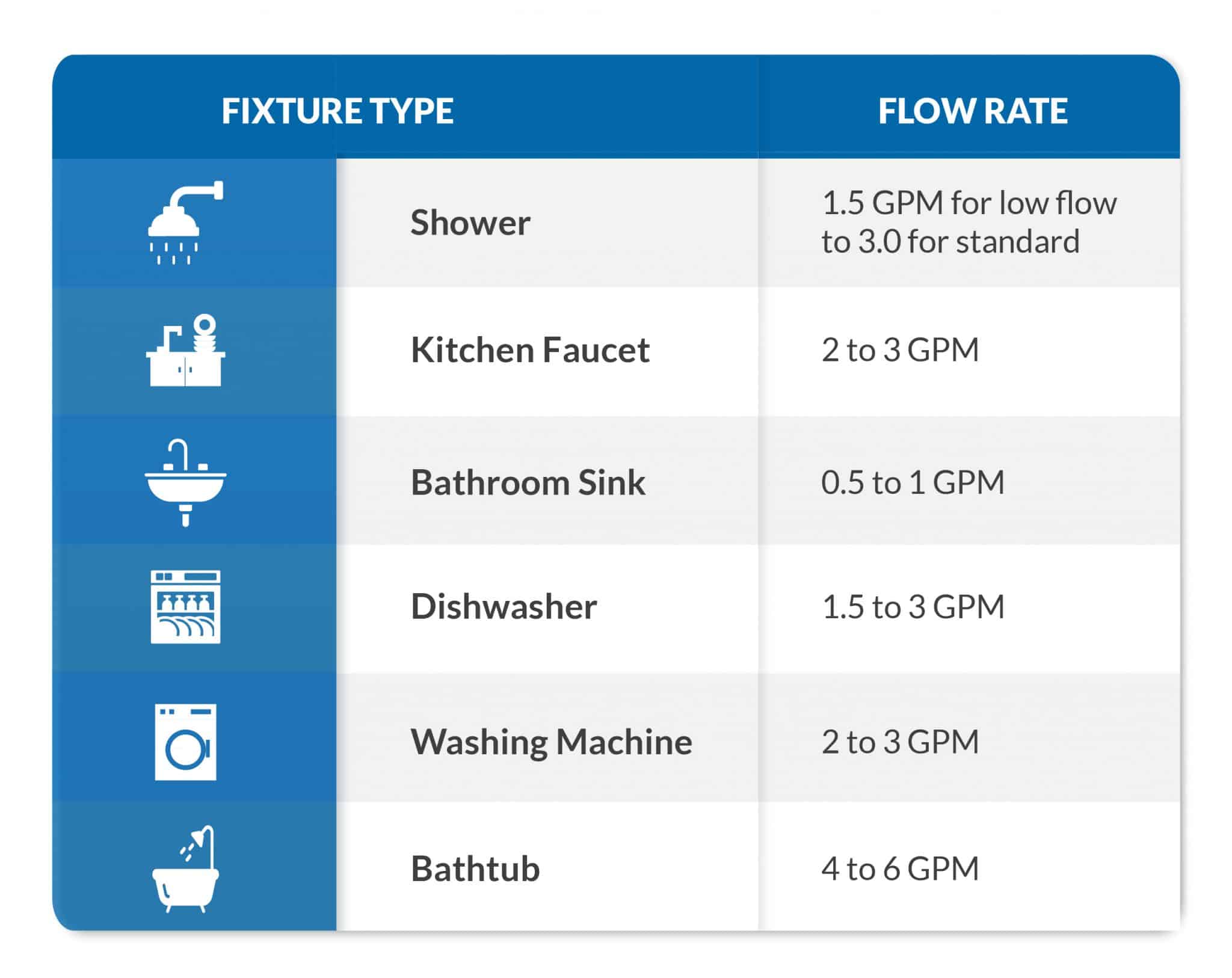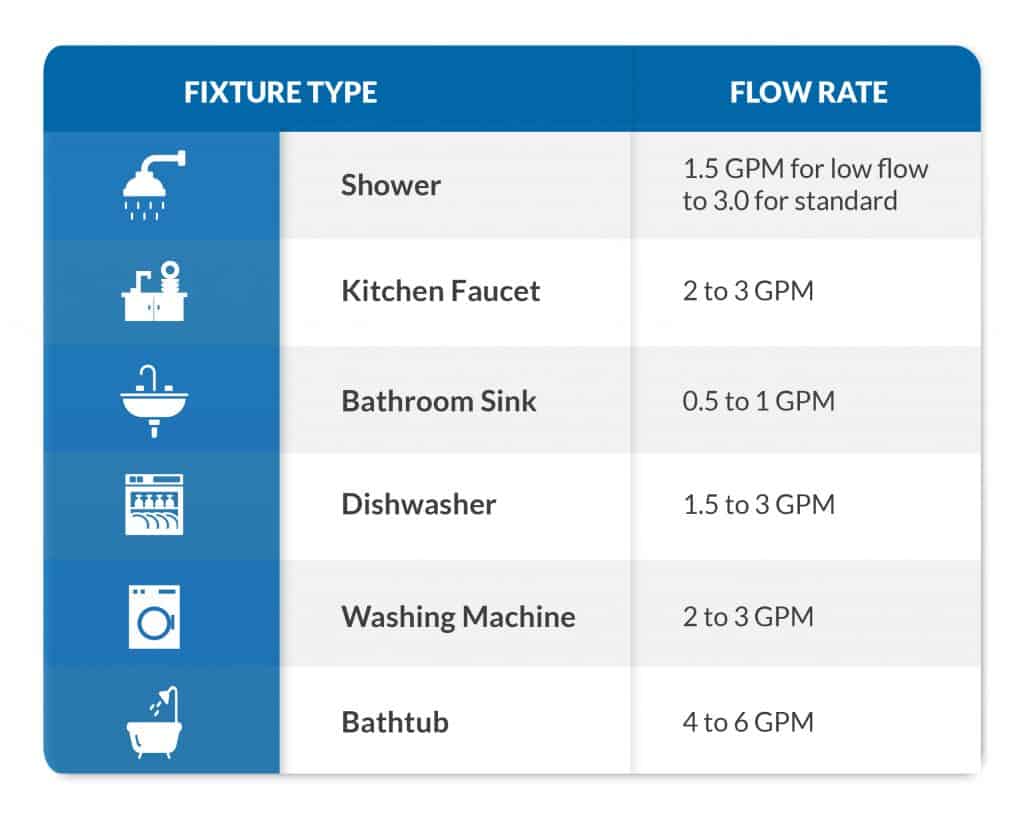 Let's say your two teens need the shower at the same time in the morning. There is a minimum of 3 GPM. Now let's also say that you need to throw in a load of laundry at the same time before you go to work.
That adds another 2 if you have a low flow washer. You're at 5 GPM right now.
And somebody needs to wash the coffee cups and dishes from breakfast in the kitchen. That adds another 2.
This makes a total of 7 GPM for your family of 4. It doesn't mean that is what you need all the time, but you have to go with what your peak water usage is.
Temperature Rise
Again, if you followed the link to that article then you know what your temperature rise is by using the special calculator that I have there.
In brief, the temperature rise is the difference of the incoming water temperature and the outgoing hot water.
It depends on what time of year and where you live as to what your temperature rise is going to be.
Our hypothetical family lives in South Carolina. That means the average groundwater temperature is around 62°F. If they want to keep the water at 105°F that is a temperature rise of 43°F. That will dramatically reduce the max GPM for most units.
You can go to the USGS site to see what your real time groundwater temperature generally is to get a better idea of what you need.
Looking at some Rheem flow rate charts, it seems the Rheem RTGH-95DVLN is the best option for that family. It provides a max of 9.5 GPM, but for their area it drops down to 8 GPM. Which is well within the range they need to provide endless hot water.

Best Rheem Tankless Water Heater Reviews by Category
In this section I will give you the product reviews based on what category they are. Look for the category that best fits your needs and you'll find the best Rheem inline water heater for you.

Best Outdoor Natural Gas for Large Households
Rheem RTG-95XLN Tankless 9.5 GPM Water Heater
Rheem RTG-95XLN 9.5 GPM Water Heater
Natural Gas Tankless Water Heater
Outdoor
9.5 gal/min. at 35-Degree Rise
UMC-117 remote control and 10-Feet of thermostat wire is included
Low Nox Version
If you live in a relatively warm, or even very warm, area of the country and have high water demand, then you need to look into this whole house outdoor tankless water heater.
With a generous GPM flow rate, a very efficient operation and the EcoNet mobile app, it is a real can't miss on demand water heater.

Flow Rate
With a 9.5 GPM water flow rate at a 35°F temperature rise, you're likely to get the flow you need to run multiple fixtures at the same time.
Now, a 35°F temperature rise can mean a few things depending on how high you set your hot water temperature and what the incoming water is. So, to get that max GPM you need to be in a warm area of the country.
Here is a chart that shows the GPM based on temperature rise.


With a minimum flow activation of 0.4 GPM you will get hot water to any fixture unless you have it running so low it is practically just dripping.
There is another nice feature that prevents cold water sandwiches since it stays in a ready state after shutting off a fixture. For a few moments, it continues to keep the water warm so if you turn your fixture back on you won't have cold water come up.
Efficiency
Rated at 82% efficient, you would need to get yourself a condensing version to get a better efficiency.
Where most outdoor units lose about 20% of the heat out of the exhaust you save about 2% with this more efficient Rheem RTG-95XLN.
What does this mean in terms of actual money savings?
If you compare this to a typical tank storage system, you likely are saving about 30% off of your gas bill every month.
Compared to other tankless heaters, it probably adds up to a few more dollars per month saved.
Easy Installation
The best part about this, and other Rheem models, is the fact that you don't need to go and upgrade your gas lines if they are only ½ inch. A ½ inch gas line compatibility will make it easier, and way cheaper, to install a Rheem.
The venting is set up to be compatible with PVC, also making it a cheap installation. Plus it can be used with 3" or 5" venting without needing an adaptor.
With this being an outdoor unit, you have a bit more flexibility as to where you want to install this. But of course, you need to know your local outdoor tankless water heater clearances.
Usually, your mileage may vary obviously as you'll want to make sure you are following your local requirements as far as how far from a window or door you place it.
EcoNet Enabled
Use your phone or tablet to get the most out of your Rheem outdoor tankless water heater.
Link your tankless water heater through your Wifi and get a lot of control.
With the Econet App you can get:
Maintenance alerts right to your phone so you know when there is a problem, or just that you should schedule routine service.
Set your hot water temperature for when you need it hottest or lower for when you don't
Control your gas usage for any period.
Leak detection alerts if there is any water accumulating within the water heater.
Safety Features
Even if you live in a warm part of the country, we've seen over the last few years that you can experience some pretty cold temps. With the freeze protection of the Rheem RTG-95XLN, you won't have to worry about your tankless water heater freezing up on you. (Though you should consider pipe covers to protect your water and gas lines!)
There is also an overheat film wrap to prevent any fires in case the unit malfunctions and overheats.
It also features an electrical ignition so there is no pilot light. This is especially nice to have on an outdoor unit that isn't enclosed so it always starts.
Warranty
You get 12 years out of the all copper heat exchanger which shows that Rheem is pretty confident that they have a solidly built heater.
There is also a 5 year warranty for parts and a 1 year warranty for service done by a licensed Rheem technician.
What We Like:
9.5 GPM water flow rate
Low NOx emissions
.40 GPM Minimum Activation Flow Rate
Freeze protection to -30°F
EcoNet Enabled – can connect to EcoNet mobile app
1/2″ Gas line compatibility
What We Don't Like:
Only goes as high as 120°F
Isolation valves for flushing are sold separately
Verdict
This is easily one of the best outdoor tankless water heaters for a large family of 4 or more.
The connectivity to the EcoNet app and the safety protections makes this so easy to use and gives you a lot of piece of mind.  
If you're ready to save some money on your gas bill but don't want to sacrifice your endless hot water, then this is the unit for you!
If you don't have natural gas, there is a propane Rheem tankless water heater also available.

Best Whole House Rheem Electric Tankless Water Heater
Rheem RTEX-36 240V Review
Rheem RTEX-36 240V Water Heater
External digital thermostatic control with LED display (+/1 degree...
Most advanced self-modulation, adjust power to meet hot water demand
Durable Copper immersion four heating elements, field Serviceable
Simple installation – bottom 3/4 inch NPT water connections
Threaded for easy replacement, simple installation, digital temperature...
If you have moderate water demand, but higher than most electric tankless heaters usually provide, then you're in luck. With the RTEX-36 you can get up to 8 GPM water flow.
This is very high for an electric tankless water heater. And if you need more hot water than that, don't worry. You can use this as a point of use tankless water heater to put under a sink or in a bathroom where you need it.
Flow Rate
As I already mentioned, you can get up to 8 GPM from the RTEX-36. Of course this depends on a few factors as to whether or not you will get that max. Take a look at the chart below to see what you can expect. For some reason the chart only goes up to 6 GPM though, even though you actually get up to 8.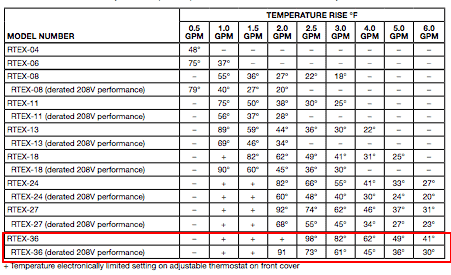 This could work as a whole house electric tankless water heater for a lot of people. Let's suppose you don't get the max GPM of 8 and instead it's only 6 GPM. well, you can still run two showers and do laundry at the same time.
That's good for a family of four or less people, and can replace a 40 gallon or less tank storage system.
It is self modulating so it smartly adjusts water flow based on your needs. If your flow is too high to produce the required temperature it will slow the flow to make sure it is hot at every fixture so you don't end up with endless lukewarm water.
Easy Installation
The small profile of the RTEX-36 plus the fact that it is lightweight means you can put this pretty much anywhere. You may even have the space under your sink to mount it there as a point of use on demand water heater.
Since it doesn't need to be vented as it is electric, you can easily put this in a closet with no loss of storage space.
Water lines need to be ¾ of an inch to connect.
You will need to have (4) 40 Amp breakers for at least 150 Amps to run this. Otherwise expect a your breakers to trip if you are running other electrical fixtures at the same time.
If your breaker can't support that amperage, then you will need to do an upgrade which will add to the installation costs. Unfortunately, this also needs to be hard wired, so you likely will need an electrician. Since it is a pretty basic installation, it won't cost too much in labor, however.
What We Like:
8.8 GPM water flow rate
Copper immersion four heating elements
Easy installation
Small profile to fit in tight spaces
Self-modulation to meet your specific water demand
What We Don't Like:
May strain older electric boxes
Verdict
Electric tankless water heaters are not usually the best solution for medium to high hot water demand. The RTEX-36 is a nice exception to that rule. It performs reliably and is a no hassle model that will fit right in for most households. If you are a family of 5 or less, then you can't go wrong with this one.

Best Point of Use Water Heater for Bathroom
Rheem 240V RTEX-13 Review
Rheem 240V RTEX-13 Water Heater
External adjustable digital thermostatic control with LED display (+/1...
Durable Copper immersion two heating elements, field...
Simple installation – 1/2 NPT adapters included; side 1/2 inch...
99.8% energy efficient. External controls to adjust temperature in...
Threaded for easy replacement, simple installation, digital temperature...
When I say there is a tankless water heater for every need, I was not joking. Consider the RTEX-36 I just highlighted that you can use for the whole house. And the same technology and high quality materials are used when you just need to get hot water to one bathroom. That's when the RTEX-13 comes in.
Flow Rate
The GPM is pretty decent considering how small it is. 3 GPM is going to be enough for most bathrooms to run a couple of fixtures at the same time.
This is especially true if you are using low flow fixtures. Luckily the flow rate activation trigger is at 0.3 GPM to switch the heating elements on. You'll get hot water even if you are just using a single bathroom sink faucet.
Installation
Though you'll need a 6 gauge wire and at least a 60 Amp breaker, it is really no problem placing this yourself. If you are comfortable hard wiring this then you can DIY, but if you feel uneasy, then an electrician can get this done quickly and cheaply. It shouldn't take more than an hour or so to install this yourself.
It is small enough to be mounted under a sink or over your washing machine in a laundry room.
As it is electric, there is no venting required which also keeps the installation easy to do and economical.
If you need to replace the heating chamber, it is threaded so it comes right out and can be replaced on the slot without needing to send the unit in to a shop or do anything complicated. You may even be able to do it yourself depending on how handy you are.
Efficient
You'll see about 30% savings on your electric bill once you switch out your old tank storage system and go with the RTEX-13. It is 98.8% efficient so there is almost no heat transfer wasted.
Since it is also self modulating, it can save even more electricity. It will adjust the flow rate to make sure the water is being heated efficiently and provide a constant temperature even when you have multiple fixtures running at the same time.
Easy to Use
There are really no frills when it comes to the RTEX-13. There is an LED display with a knob to change the temperature. You can adjust the temp in 1°F increments so you get a lot of accuracy.
What We Like:
Very compact profile will fit anywhere
Great affordable price
3+ GPM water flow rate
99.8% Energy efficient
Dual copper immersion heating elements
Self modulation control
What We Don't Like:
Requires a lot of electricity considering its small size
Verdict
If you live in an RV or tiny house then the RTEX-13 could be the best electric tankless hot water heater for your needs.
It saves so much money it can pay for itself in about a year. In fact, it is so economical that you could buy several of these so you can have hot water in the whole house. It just takes a little bit of some plumbing mastery to set up your water flow correctly.
Anyway, for the price and convenience you really can't go wrong with this one.
Honorable Mention
The RTEX series of Rheem tankless water heaters vary as far as size, price and GPM capability. I picked two ends of the spectrum but these other models will likely suit your needs. If you need more GPM than the RTEX-13 and less than the RTEX-36 then check this list:
There isn't much need to review these ones individually since they all provide the same high level of performance with different GPM flow rate.

Tips to Getting the Most Out of Your Rheem Tankless Hot Water Heater
I was reading through the reviews of the different Rheem on demand water heaters and was struck by some of the negative reviews.
It was painfully obvious that the people that were not happy with their units hadn't bought the right one for their needs.
I can't stress enough how important it is to know what your water demands are and what the temperature rise is.
My first line of advice or buying a tankless is this:
Get the right one that will deliver the GPM for your water usage. Use this custom calculator I created to find out what your GPM needs are:
Fixture Type
Flow Rate (GPM)
Quantity
Total for Fixture Type

0 GPM

0 GPM

0 GPM

0 GPM

0 GPM

0 GPM

Total Flow Rate

0 GPM
Make sure you know what you need and start with the ones that deliver the appropriate water flow. Don't look at the price until you've seen the size you need.
Second:
Set a reasonable hot water output temperature. The best way to make sure you are getting consistent hot water is to not set the temperature too high. The best way to go is to set the temperature you want it to come out of the fixture so you don't have to add cold water. This way you have a high enough water flow that you get the right temperature all the time. And it ensures that your temperature rise is not too big.
This is mainly for your point of use Rheem tankless water heaters. If you need to do laundry and wash dishes, then you will need the temperature higher than when you are taking a shower.
Third:
Remember that the GPM listed is the max when all factors work in favor of a high hot water temperature. That means the incoming water temperature has to be pretty warm. If you live in an area with cold groundwater for most of the year, then your GPM will be much lower than advertised.
Conclusion
Rheem water heaters have been one of the most respected brands for decades with good reason. Which model you get will depend mostly on your water usage. So make sure you use the calculator we provided to know the right GPM unit to get.
This is the most important piece of advice I can give you to save you future headaches.