Having cold water come out of your shower or faucet can be quite an unpleasant experience on a winter morning. Luckily, it's a problem that can be solved with an under sink water heater.
Under sink water heaters are quick, efficient, and compact enough to fit into tight spaces. Most provide above 98% of thermal efficiency and take about 5-10 minutes to install.
However, picking the right one to suit your needs can be a daunting task, and so, we've done the research and compiled a list of the 7 best under sink water heaters that you can currently buy. So let's get right to it!
In a Rush? Here are our top picks
Our Criteria in Selecting the Best Under Sink Water Heaters
We've judged the best 7 under-sink water heaters on several parameters, but the main criteria we took into account are as follows:
Dimensions: Under sink water heaters are meant to be compact and fit into tight compartments. That's why one of the factors we've considered is the dimensions of the unit and even the weight.
Flow rate: Considering their compact size, flow rate is an important aspect to consider. It is essentially how much hot water the heater can produce in a fixed amount of time, usually gallons per minute.
Our Picks for Best Under Sink Water Heater
EcoSmart Eco
Sale
EcoSmart Eco
Endless On-Demand Hot Water; Consistent hot water when you need it that...
Save Space; EcoSmart tankless electric water heaters are 90% smaller than...
Save Energy; EcoSmart tankless electric water heaters are 99% thermal...
EcoSmart ECO 11 Sizing; 13-kilowatt tankless electric water heater ideal...
Dimensions (height x width x depth): 11.5″H x 8″W x 3.75″D
Warranty: Lifetime limited warranty
The EcoSmart Eco is one of the most popular and reliable on-demand water heaters available. The Eco 11 is a 13kW unit that offers a flow rate of up to 3.1 gallons per minute, based on the inlet water temperature. In most cases, this is sufficient to provide enough hot water for a bathroom, sink, office breakroom, and other low-flow requirements.
It also scores quite well with respect to the aforementioned criteria – dimensions and energy efficiency. Its compact dimensions allow for it to be installed into compartments, kitchen cupboards, and make it ideal as an under-sink unit. At 6.66lb, it's also rather light.
With an efficiency of 99.8%, it's one of the most efficient water heaters available and the company claims that it will cut your water heating expenses in half. It's also got a nifty, but simple-to-use interface that shows the current status and water temperature.
A lifetime limited warranty means peace of mind when you purchase an EcoSmart Eco 11. However, there are some things you should stay aware of. Even though installing the Eco 11 is a simple process, doing it yourself will void your warranty – EcoSmart requires that you have the unit installed by a certified technician.
Furthermore, the Eco 11 may not be the best choice for you if you live in colder regions. The unit is incapable of providing a steady flow of hot water when external temperatures drop below 67° F.
Depending on the quality of inlet water, it will also require maintenance every few months, in the form of clearing mineral build-up from the heat exchanger.
What we like:
One of the most efficient units
Temperature can be adjusted easily
What we don't like:
Not ideal for colder regions
Bosch Tronic Electric Mini-Tank
Bosch Tronic Electric Mini-Tank
CONVENIENT HOT WATER HEATER: 2.5 gallon point-of-use mini-tank fits under...
LONG LASTING QUALITY: This electric water heater is easy to maintain and...
INDEPENDENT INSTALLATION: 36-37" cord plugs into a 120 volt outlet for...
FAST RECOVERY RATE: Eliminates long waits for hot water at your sink, get...
EASILY MOUNTED: Can be shelf, wall or floor mounted (bracket included);...
Dimensions (height x width x depth): 14x14x12.25 inch
Warranty: 6 years limited warranty
The Bosch Tronic comes in three sizes – ES2.5, ES4, and ES8 – each denoting the number of gallons the unit can hold. They are quite compact but vary from each other by a few inches. The ES4 model is the best of the lot because it's capable of producing a decent amount of water while being relatively small.
The Tronic 3000T has a recovery rate of 6.8 gallons per hour. This makes it suitable for single-outlet applications. If you were to use this to heat water from a conventional shower head, you'd run out of hot water in about 4 minutes.
On the flip side, it works well even when ambient temperatures are low and Bosch has a great reputation for build quality. It's also very efficient with a thermal efficiency of 98%.
While the Tronic 3000T comes with a decent 6-year warranty on the unit itself, with 2 years for the parts, it's not exactly perfect. The unit must be installed by a trained representative for the warranty to be valid. Additionally, the warranty will also be void if the anode inside the heater isn't replaced annually.
What we like:
Compact dimensions
Reliability
What we don't like:
ES2.5 can only work on 120V, while larger ones require 240V
Stiebel Eltron Mini-Tank
Sale
Stiebel Eltron Mini-Tank
Plugs into standard 120 volt outlet
T and P valve included
Wall-mounted with included bracket
Glass-lined tank and fast recovery
6-Year warranty on tank
Dimensions (height x width x depth): 18.7x11x10.6 inches
Warranty: 6 year against leaks
The SHC 2.5 from Stiebel Eltron is one of the company's mini-tank water heaters. It's ideal for small offices, stores, and motel rooms. It has a 2.65-gallon tank with a quick recovery time of 18 minutes. The SHC is also available with larger tanks – 4 gallons and 6 gallons.
Installation is quite simple – it plugs straight into a 120V socket and has a flat back making it easy to prop up against walls. The SHC 2.5 also has the lowest standby losses in the entire industry. So, when you're not using it, it's using almost negligible amounts of power. Additionally, it only requires an 11amp current draw, so no additional wiring is required.
The SHC 2.5 can provide water with temperatures up to 140° F.
Consumers have complained of leaks from the SHC 2.5, but the product is covered under warranty (for 6 years) for leaks. Keep in mind that the warranty will be void if you install the unit yourself.
What we like:
What we don't like:
Ariston Andris Mini-Tank
Sale
Ariston Andris Mini-Tank
Compact design; wall or floor mounted (wall bracket included)
Provide immediate hot water at the point of use; install as booster or...
Easy installation; installs right at the point of use with water connection...
6-year limited warranty on tank, 2-year warranty on parts
TitanShield exclusive technology that fully protects inner surface against...
Dimensions (height x width x depth): 14.25″W x 14.25″H x 10.75″D
Warranty: 6 years (tank), 2 years (parts)
The Ariston Andris is available as 2.5, 4, and 8-gallon options, all of which are quite compact. They come with wall and floor mounting brackets, so you can set them up as you choose.
Like many other units, it requires a standard 120V socket for power. Build quality is decent with a titanium-lined glass tank that eliminates the need for a recirculation line. It can be used as a standalone single-faucet heater or a support unit for a larger water heater that may not be able to match requirements on its own.
Its dimensions allow for it to be fit under cabinets easily, but it isn't an easily portable unit, weighing 19.96 pounds.
The warranty offered on the product is quite comprehensive – 6 months for the unit itself, and 2 years for the parts.
What we like:
What we don't like:
Customers have complained about leaks
Thermoflow Mini Tank
Sale
Thermoflow Mini Tank
➤Under Sink Heater- for the small place under the sink, it helps produce...
➤Save Energy - advanced thermostop technology from Germany results in low...
➤Long Life - Stainless Steel tank do prevent corrosion from water, is not...
➤ Safe & Reliable - overheating protection, auto cut-off electricity,...
➤ NOTES - Please verify that this model is the right size for your hot...
Dimensions (height x width x depth): 18"H x 12.2"W x 11"D
Warranty: 1 year
The Thermoflow Mini Tank is another under-sink unit that's ideal for a kitchen, garage attic, or even in a boat. The UT10 has a decent 2.6-gallon capacity and the company claims it should be able to provide hot water to 2 sinks, simultaneously.
The Thermoflow UT10 may also be your best bet if you live in a cold region with its temperature range sitting between 45° F and 167° F.
It's very simple to install, too. All you need to do is plug it into a 120V socket, tap into the cold water line and you're done. Unlike some of the models here, the UT10 doesn't mandate that you have a technician install it for you to keep the warranty active, thus saving you from that additional cost. However, the warranty is only a year long.
That shouldn't be an issue as the UT10 comes with a stainless steel tank that's fairly durable and designed to withstand much higher temperatures (excess of 180° C).
On the downside, it's one of the bigger under-sink units out there and, at 15.7lb, it also weighs a fair bit.
What we like:
What we don't like:
Size and weight.
Limited warranty.
Camplux Pro Mini Tank
Sale
Camplux Pro Mini Tank
EASY TO USE-43.3'' cord plugs into 120 volt outlet for independent...
MULTIPURPOSE - Can be shelf, wall or floor mounted; Simply tap into the...
SWEET PROTECTION - Thermostat Control allows adjustment of water...
HIGH QUALITY & LONG LAST-Electric water heater is easy to maintain and has...
CONVENIENT HOT WATER - 2.5 gallon Pro mini-tank fits under your sink to...
Dimensions (height x width x depth): 11.75″ W x 17.25″ H x 10.38″ D
Warranty: 1 year.
Camplux is a brand that specializes in camping stoves, gas fire pits, and, more recently, tankless and electric water heaters. The ME25 is one of these models that can store up to 2.5 gallons of water.
The Camplux ME25 is easy to install and use, with a simple plug-in connection and inlet and outlet valves. It gets a dial style knob that lets you easily adjust water output temperature.
If you're looking to buy the ME25, one thing you must factor in is that it's a relatively tall model. That said, its width and depth are quite minimal, so it should fit into tall cupboards and attics.
It comes with only a 1-year warranty. Again, one will be void if you DIY the installation. But, Camplux has used a glass-lined tank in its construction and this increases its durability.
What we like:
What we don't like:
EcoTouch ECO55 Point-of-Use
EcoTouch ECO55 Point-of-Use
【INSTANT & SUFFICIENT HOT WATER】Applied with 5.5KW heating system, the...
【SMART SELF ADJUSTMENT】The hot water heater adjusts power input based...
【CONVENIENT USE】The tankless water heater comes with digital display &...
【SAFE and DURABLE】Applied with multiple protection devices, every piece...
【POINT of USE】The sleek tankless water heater is compact as an oatmeal...
Dimensions (height x width x depth): 11″ x 7.5″ x 2.35″
Warranty: 1 year
EcoTouch is quite new to the heating space, but its products are some of the most popular on the market. This ECO55, in particular, is a best-seller. It uses a 5.5kW heating system and the company promises almost no wait time for hot water.
It uses a self-adjusting technology that only uses what power is required to heat the required water, making it quite efficient – 98% thermal efficiency, to be precise.
The tankless unit comes with a simple digital display and an easy-to-use touch panel interface. There is also a Black model that comes with remote control for about the same price.
The ECO55 is one of the smallest units here and is as large as the average cereal box, making it perfect for almost any tight space. At 6.87 pounds, it's also light and portable.
On the downside, the hot water output temperature depends largely on the inlet temperature and if you live in a colder region, this unit may not be for you.
What we like:
What we don't like:
Why Buy an Under Sink Water Heater?
There are several reasons that an under-sink water heater may suit your requirements better than a conventional one.
Environment friendly: Many larger water heaters are powered by natural gas or liquid propane, propellants that are highly flammable and emit NOx which is harmful to the environment. Under sink water heaters are relatively simpler units that are powered by electricity.
Compactness: As the name suggests, these heaters are typically mounted under a sink – close to where the hot water is needed. This makes them great for low space settings and their small size also makes them portable.
Efficient and fast: Under-sink heaters, more often than not, have a thermal efficiency of above 98% or above, which makes them great for saving on water heating bills. They're also capable of heating water almost instantly, and since they're placed so close to where the water's required, they waste little time in dispensing hot water.
Easy to install: These units usually just require to be plugged into a 120V or 240V socket (based on the model), and connected to the water inlet and outlet pipes.
Easy to maintain: Under sink water heaters are based on a simple mechanical principle and hence, require minimal maintenance. 
Types of Under Sink Water Heaters
There are broadly two types of under sink water heaters – units with a tank and tankless ones.
With tank models:
A unit with a tank can store a small amount of water, mostly between 1 and 7 gallons, allowing for them to have a reserve of heated water. These tanks usually have an insulated wall, which prevents the water from losing temperature immediately.
As a result, very little hot water is wasted, and the heaters are ready to provide water output, immediately. These units can usually be plugged into a standard electrical socket and connected to water pipes.
Tankless models:
As the name suggests, this type of water heater doesn't store water. It instantly heats cold or ambient temperature inlet water as it passes through its system, as the water is running. These tankless heaters are efficient and also cost-saving, as it only works if it is required to.
Plus, since it doesn't have a tank, this type of heater is usually more compact and occupies a little less room. On the flip side, they can sometimes be a little more sophisticated to install.
What to Look for in an Under Sink Water Heater
It's important to pick a water heater that best suits your requirements. Here are a few things you should consider when you are picking one:
Size: Despite their compact sizes, not all under sink water heaters will fit into the preferred space. Make sure you measure how much room you have available and compare it to the dimensions of the heater you're interested in.
Also, take into consideration any additional room you'll require for changes to plumbing or carpentry. Remember, a heater that's too big may not fit, and one that's too small, may not provide adequate hot water.
Flow rate: Flow rate is essentially how much hot water a heater can produce, and it's denoted in a liter or gallons per minute. The higher the flow rate, the more hot water you'll get, and for longer.
For instance, a showerhead has a flow rate of about 2.5 GPM, so if you want a heater that can steadily supply hot water to the shower, you'll need one with a higher flow rate.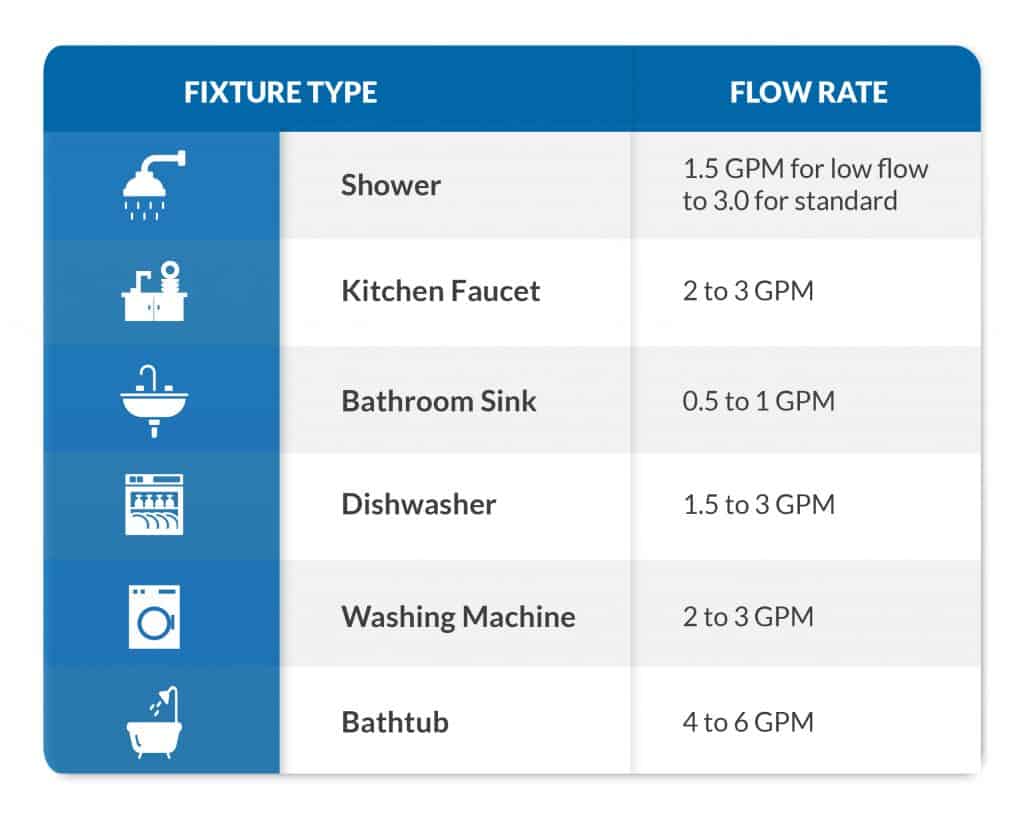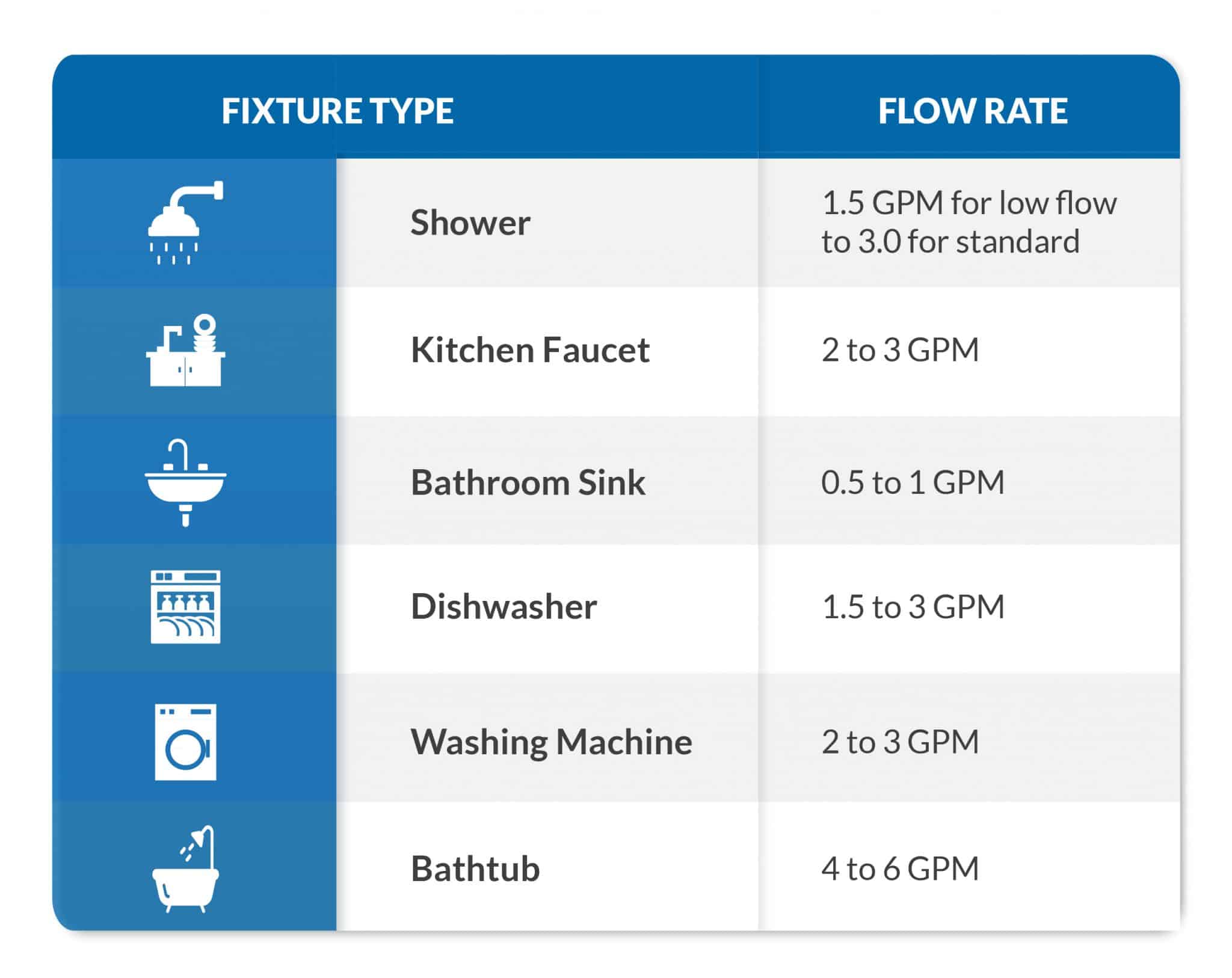 Capacity: If you're picking a tankless water heater, this won't be of relevance to you. But, in the case of a unit with a tank, you should check what capacity you'll require. Tank sizes for under sink heaters vary between 2-8 gallons.
Recovery rate: Recovery rate is essentially something that works alongside capacity – it's the rate at which a heater with a tank can fill itself up with hot water. This is usually denoted in gallons per minute or hour, with a standard increase in temperature of 90 F.
So, if the recovery rate is 5.5GPH, the heater can heat 5.5 gallons of water to 90 F, in one hour.
Voltage: Most under sink water heaters require a 120V power socket, which is what the average household is equipped with. However, certain models require higher voltages and amp breakers, all of which will be listed on the product page of the heater you want to buy.
Efficiency: A heater with a high efficiency ensures that very little electrical power is wasted in the heating of water. Most modern-day under-sink heaters have an efficiency of above 98%, which is very impressive. However, some are even more efficient, and picking those models will help you cut down on electricity bills even more.
Maintenance, installation, and warranty: Undersink water heaters require little maintenance, however, in the case there is a fault, you should consider reaching out to customer support.
Most brands tend to void the warranty of a product when it is installed or worked on by anyone else other than a trained technician. Speaking of, depending on the brand, the warranty durations can stretch between just one year and a lifetime.
Conclusion
And that's all there is to know on the best under sink water heaters that you can buy, the pros and cons of each model, and how you can go about selecting the one that works for you.
Under the sink water heaters are a great investment if you're looking to heat water for a specific outlet, or if you require a backup heater to support your larger, primary unit. Either way, they are an investment, and we hope this guide has helped you make your decision easier.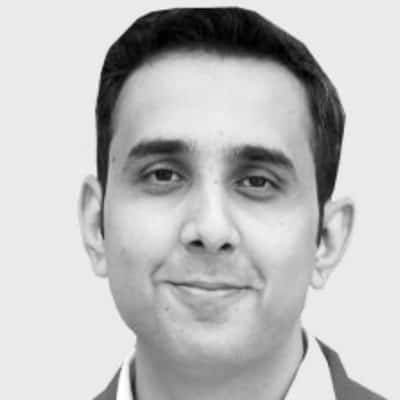 I graduated with a degree in Chemical Engineering and have written for a number of nationally recognized publications in the home improvement space. My skills include fluid mechanics and process engineering and I have worked on numerous projects, including in waste water flow rate calculation and heat balance of steam rollers in the paper industry. My goal as a technical writer is to make complicated topics easy to understand for the average person.