A shower should be a relaxing and invigorating experience. For those that end up feeling a film on their skin and their hair flat and dull, it is anything but.
If you have city water you're dealing with a lot of chemicals that do not play well with your skin and hair.
Well water isn't much better if you have hard water or a really bad sulfur smell.
There are several ways to deal with these problems and get your skin and hair back on track, but this article is all about the best shower filters to remove chemicals.
Read on to see which one is going to be best for you and your needs. They are not all created equal after all!
Do Shower Head Filters Really Work?
The short answer is yes, they do really work. There are different kinds of filters though, so you do have to choose carefully based on your particular water problem and side effects to make sure you get one that works for you.
For instance, if you have well water that keeps your soap and shampoo from lathering up, then you'll need one that removes the lime from your water.
If you have too much chlorine in your water, then there is another type of filter that will take care of that. 
If you are dealing with chlorine then I recommend you check out my article on the side effects of too much chlorine in your water and what to do about it by clicking that link. Then check back here to see which filter I recommend for you.
There are even shower head filters for heavy metal removal that will improve your skin and hair. Heavy metals can create a residue when they react with the ingredients in your soap. Leaving these behind can dramatically improve your skin especially.
Ionic shower heads are said to make your skin look more youthful. Learn more by clicking that article.
What to Look For In a Shower Filter
First and foremost, you need to know what kind of filter you need for the type of problems you are having. So, let's take a look at the different kinds of shower head filter there are out there.
Vitamin C
It may seem strange to have a filter that contains Vitamin C, but they do work very well at removing chlorine from the water. In fact, beer makers often use these tablets to add to their water for the beer making process since chlorine kills the bacteria that turns mash into beer.
The Vitamin C neutralizes the chlorine as it passes through the filter. There is one gimmicky aspect to it, however. It has been reputed to also add collagen to the skin and other cosmetic benefits, but the reality is that it doesn't do anything other than filter the chlorine from your water.
It will leave your skin feeling good, though since there is no longer any chlorine in the water to dry out your skin.
KDF (Kinetic Degradation Fluxion)
Sounding like something out of a Sci Fi movie is the KDF filter. It uses a high-purity copper-zinc formulation that features a basic chemical process known as redox. This can filter out chlorine, lead, mercury, iron, and hydrogen sulfide. 
Rather than just treat chlorine it takes care of those other pesky contaminants that do damage to your skin and hair but can also lead to other problems, especially mercury absorption.
If you suspect that your water problems go beyond a simple annoyance at having too much chlorine, then you should be looking into KDF.
Chlorine or Chloramine
Though chloramine is a chlorine by product, it is not removed the same way that chlorine is. Many filters will claim to remove chloramine by using a Vitamin C media, but that only removes the chlorine. 
To remove chloramine, there must be a carbon filter that removes the chlorine molecules and then uses a reverse osmosis filter to remove the ammonia that was also added to the water with the chlorine. Only then does the chloramine get neutralized. 
There is no shower head filter that can remove chloramine. Your best option is to use a whole house reverse osmosis filter like this one from iSpring. 
Sale
Can a Shower Head Filter Remove Hard Water?
The simple answer is, no, a shower head filter can't soften your water. Unfortunately the process to soften water and remove the calcium and magnesium is more complicated than a shower filter would be able to handle.
The process uses resin, salt water and is called ion exchange. Your only hope to soften water in your shower is to use a whole house water filter or under sink reverse osmosis filter.
You may see some benefits by using a shower head filter since it will remove a lot of the chemicals and minerals that do cause itchy and dry skin, but that isn't because it softened your hard water. If you have a well then you may benefit from a shower head that removes sediment and heavy metals, but again, you'll need a whole house filter to soften your water and remove lime scale.
Best Shower Head Filter for Eczema
Aquasana Shower Filter Review
Sale
Aquasana Shower Filter
Healthier Skin, Hair & Air - Reduced harmful chemicals means more...
Premium NSF Certified Filtration Media - Natural coconut shell carbon...
Maximum Filtration & Water Pressure - Constructed with a unique up flow...
Long Lasting & Cost Efficient Filtration - Our filters are some of the...
Simple DIY Installation & Filter Replacement - Easily install showerhead in...
What We Like:
Removes chlorine, lead, mercury, iron, hydrogen sulfide, pesticides, herbicides, and other volatile organic compounds
Has multiple massage settings
10,000 gallons or six months of filtered water
Easy installation and changing of filters
Unique up-flow design maintains water pressure
What We Don't Like:
Replacement filters are expensive
Takes up a lot of space in a small shower stall
If you have frequent bouts with eczema then you know how irritating chlorine treated water can be. Your skin is always dry, itchy and rough.
No matter how much cream you put on, it seems like it never really gets rid of it.
Time to try the Aquasana shower head filter.
The nicest part about it is that it is really easy to install yourself and doesn't require any special tools. There is the Amazon home service you can sign up for that sends a handyman to install it, but I really don't think you need it. 
Then there is the continuous high water flow so you don't lose any water pressure. In addition, you get some nice massage settings for a luxurious shower experience.
As far as how it leaves your skin feeling, well, the coconut shell carbon does a great job at removing chlorine and heavy metals that can inflame your eczema. 
Its KDF 55 media removes copper and improves the pH level. If your water is hard, it won't soften it, but it will remove some of the alkalinity and be gentler on your skin as a result. Copper itself in the water has been found to be a cause of dermal irritation even with normal skin. You can do the math and see how it affects people with eczema.
The downside is that the replacement filters are expensive. They can be found on sale occasionally on Amazon, but if you need one right away you may pay more than you'd like. They do last 6 months to a year, so you do get quite a bit of time between changes. 
Best Shower Filter for Chlorine for Hair and Skin
Berkey Shower Filter Review
Berkey Shower Filter
Reduces up to 95% of chlorine
Reduces chemical absorption and vapor inhalation
Berkey shower filters typically last (approx.) one year or 20,000 gallons...
Reduces lime, scale, mold and fungi in showers
Back flush attachment included to prevent premature clogging. Do not use...
What We Like:
KDF 55 filter removes 99% of chlorine
Lasts 20,000 gallons or 1 year
Back flush attachment prevents clogging
Reduces lime, scale, mold and fungi from shower stall
Removes hydrogen sulfide, microorganisms, scale and water-soluble heavy metals such as lead, mercury and iron
Removes bacteria and bad odors
What We Don't Like:
Doesn't come with a shower head
What the Berkey shower filter lacks in bells and whistles it makes up for in performance. This filter just works like a charm to get your brittle, dull hair back to being soft and healthy.
If you are suffering from dry, itchy skin then you will notice within a few short days that your skin is now plump and hydrated.
I listed the lack of shower head as a negative, but further reflection makes me consider it a positive. This makes it compatible with any shower head you already have. Now you aren't relegated to using an inferior shower head if you have one you really love.
What really sells this shower head filter is the KDF media that can remove a lot of different types of contaminants. This is why it ranks very high on my list of best shower head filters for skin care.
It doesn't soften water in any way but it does reduce some of the scale in the water so it doesn't create a film on your skin. Or your bath for that matter! You'll definitely notice a difference in how your skin feels but also that there is less of a mess to clean in the shower stall.
A redox media composition helps keep microorganisms at bay which can also help fight your acne, or at least not allow it to spread.
The filters last a long time meaning you can get 20,000 gallons or one year depending on whichever comes first. Which really means 1 year since I am not sure how you can keep track of 20,000 gallons.
Installation is very easy, but make sure you read the instructions regarding back flushing. This ensures that it doesn't get clogged, but also ensures that it works the way it is supposed to.
Best Filtered Shower Head for Fluoride
Pure Action Shower Head Filter Review
Pure Action Shower Head Filter
HARD WATER FILTER: Our shower head filter removes chlorine, flouride,...
TAKES CARE OF YOUR SHOWER: Our filtered shower head is revitalizing your...
WATER SAVER SHOWER HEAD: Save water without sacrificing output pressure...
EASY INSTALLATION: Our showerhead filter comes with 3 settings: rain, power...
PREMIUM GIFT & BONUSES: Our water softener shower head set includes 2 FREE...
What We Like:
Works great with low pressure
50 self cleaning jets stay scale free
Easy installation and even includes the Teflon tape
3 High Pressure Setting: Power Rain, Massage, Rain
Reduce up to 99.9% of residual chlorine, fluoride, dissolved minerals, sediments and heavy metals such as chrome, calcium, iron
What We Don't Like:
Though it seems there is not any danger associated with fluoride in your shower water, if you want to be safe about it just in case there is the Pure Action 2 stage shower head filter.
What is especially nice about the filter is how natural the media is. Using ceramic stones from Seoul will remove the chlorine, fluoride, bacteria and even some heavy metals. Any sediment is trapped by the filter sponge and the rest is scooped up by the ionic cartridge.
Besides the benefits from the lack of chlorine and other chemicals, this shower head is a joy to use.
Featuring a rain effect, it feels like a day at the spa! Also you can enjoy having a high pressure shower even when you don't have very good water pressure in your home. Think RV or cabin and you can see how this would be a big benefit to have.
Even though there is no chlorine or fluoride in well water, I do put this high on the list of best filtered shower head for well water since it does remove heavy metals, sediment and even some foul smells, possibly due to bacteria.
Read this article if you want to know when you can shower after shocking your well water.
Since well water can generally leave a scale residue that builds up on the shower head, the self cleaning feature is very welcome.
Best Shower Head Filter for Sulfur Water
Culligan Shower Head Filter Review
Sale
Culligan Shower Head Filter
Provide your shower with ideal water for softer and cleaner skin and hair
Features: Included WHR-140 filter reduces sulfur odor, chlorine, and scale;...
Compatibility: Installs on any standard 1/2" threaded shower arm; Culligan...
Filter Life: Up to 6 months or 10,000 gallons, depending on usage and...
Certification: Tested and certified by IAPMO R&T against ANSI Standard 177
What We Like:
WHR-140 filters sulfur odor, chlorine, and scale
Limits passage and growth of bacteria
Easy installation and can use your existing shower head
Installs on any standard 1/2″ threaded shower arm
Filter lasts 10,000 gallons or 6 months before needing to be changed
What We Don't Like:
Doesn't come with shower head
A leader in filtration systems, Culligan has been trusted for years to remove any nasty surprises from your water. If you have a problem with a sulfur smell in your water then this is the best filtered shower head for that. If you have a well then this is ideal as sulfur is a common problem for well owners.
It doesn't stop there, though, you get less chlorine and sediment thanks to the unique design of the filter. Though it doesn't exactly soften water, it does remove some of the lime present in hard water so it doesn't affect your hair or skin as if you didn't use a filter.
In general, your skin and hair will feel less dry and have a softer texture.
Just like with the Berkey filter reviewed above, I shouldn't really count the lack of shower head as a negative since this way you can use your favorite shower head without sacrificing it for something that you may not love.
Besides getting rid of the sulfur smell, you'll love how easy it is to clean up your bath now after using this filter. Less scale means less residue on the shower stall and tub. Plus it will have less mold growing. And if you suffer from acne due to your new water then you can reduce the amount of bacteria with the use of the Culligan water filter.
Top Rated Shower Head Filter Overall
AquaBliss Shower Head Filter
Sale
AquaBlish Shower Head Filter
DAY 1 - IMMEDIATELY BEGINS REJUVENATING SKIN, HAIR & NAILS: HARD,...
ACTUALLY WORKS - EXPERIENCE THE CLEANEST CLEAN: MOST filters for showers...
JUST .09 CENTS/DAY: WHAT is your HEALTH worth? What about LOOKING YOUR...
"IT FITS!" - EASIEST NO-TOOL INSTALL: IF YOU can snap together Legos,...
ADVANCED REVITALIZING SF100 VS HEAVY DUTY SF220: CUSTOMERS LOVE both of our...
What We Like:
12-STAGE sediment filters, redox media, calcium sulfite, activated carbon and ceramic balls
Reduces chlorine, pesticides, pharmaceuticals, dirt, odors, helps control scale buildup
Installation and replacing filters is very easy
Filters last 10,000 gallons or 6 months
Filters are inexpensive
What We Don't Like:
Tends to leak at the connection
If you have a series of problems with your water then you need to bring out the big guns. The Aquabliss gives you 12 stages of filter to make sure that you are just about covered for any eventuality.
It mainly removes chlorine and some lime which helps immensely in restoring your hair and skin. That dry brittle hair you get from chlorine, hard water and heavy metals will come back to life after just a few days of using the filter.
The calcium sulfite layer catches most of the chlorine as it passes whether it is cold or hot water coming through. But before that layer are two filters to catch any dust or sediment making it great for well water even if you don't have any chlorine in your water.
Check out this article for the best shower head filters for well water.
Just for good measure there is a Vitamin C layer that gets the rest of the chlorine the previous layer missed. Making it ideal to restoring your hair is the addition of tourmaline which is also used in new hair dryers to bring a softness to your hair and trap in the moisture. It doesn't just prevent your hair from drying out, it also actively promotes good hair health.
You'll get a solid 6 months of use or 10,000 gallons. If you take long showers, though, keep in mind that those 10,000 gallons can go quickly. You may get less than 6 months use out of a filter. Luckily, the filters are inexpensive so it won't cost you a fortune if you only get 4 or 5 months out of one before it needs replacing.
Overall, this is an excellent filtered shower head and will have you wonder how you made it through life without it before!
FAQ About Shower Head Filters
How long do shower head filters last?
Generally, most filters will last for 10,000 gallons of water. How much time that translates into depends on how long your showers are. The rule of thumb is expect to replace the filter after 6 months. Some higher end filters can give you 20,000 gallons or up to 1 year.
Do shower head filters help with hard water?
They can help a little bit but keep in mind that a shower filter can't soften water, although some popular models like the Shower Envy make this claim. The water passes too quickly even if the right filter media is used. You'll see some good results if you use one that reduces lime but the reality is that you need a water softener filter that either fits under your sink or does the whole house.

A resin based water softener, like Sterling water softeners, will be extremely effective in softening your water.
Does a shower filter affect water pressure?
Some cheap filters definitely can affect water pressure. If you stick to the ones in the reviews above then you won't have to worry about water pressure as they are all high quality. When you have a lot of sediment in your water then it can get clogged after a while. This just means the filter needs to be replaced.
Final Thoughts
Honestly, there are way too many filtered shower heads out there and many make some wild claims.
Stick to the best shower head filters in the reviews above and you really can't go wrong. Keep your expectations realistic as they can't work 100% against anything but you will still see some nice benefits.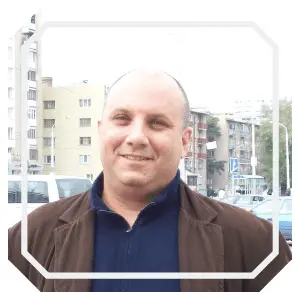 Nick Lopresti is the founder of YourH2Home and a home improvement expert. He has years of experience writing about various home improvement topics, mostly as it pertains to water systems.