Well water isn't without impurities. The US Center for Disease Control (CDC) warns that private well water might be contaminated with radon, arsenic, nitrate, volatile organic compounds, and other impurities. You should thus filter your well water before using it for bathing purposes.
That's where the best shower head filters come into play. Most of them are models that will be compatible with your existing shower head. Or they'll replace the shower head you're currently using entirely (so there's no need for you to purchase additional parts).
Keep in mind, though, that shower filters aren't a 'make-it-and-forget-it' kind of purchase. They'll eventually need you to replace their built-in filter, which is an extra cost you'd do well to factor into your decision-making process. Read on for more.
In a Rush? Here's Our Top Picks
How We Select Best Shower Head Filters For Well Water
We selected all the shower head filters based on the following criteria:
One-year warranty: All five out of five models you see below are backed with a 1-year warranty. This should give you the peace of mind that in case these models don't work as advertised, you can return them and have a replacement.
2GPM+ flow rate: According to a study conducted by the American Water Works Association, the flow rate of an average shower in the US is 2.1 gallons per minute. That's why we tried to pick only those models whose flow rate met or exceeded this number.
Multiple filtration stages: Any shower head filter with a single filtration stage would never be able to remove all the contaminants found in well water. All the models you see below have thus 3 or more filtration stages, with our top pick boasting 15 filtration stages.
ADOVEL High Output Shower Head and Hard Water Filter
Why is ADOVEL's high output showerhead and filter our top pick? Start with the fact that this model offers 15 stages of filtration. They include KDF, vitamin C, KDF and stainless steel mesh filtration. This allows the filter to target heavy metals, chlorine, fluoride, odors and other contaminants.
Next comes this model's design. Its 360-degree swivel head allows you to get any kind of spray you want, from fast to ultra-slow. Both the filter and the showerhead have standard fittings, ensuring easy attachment. So you won't have to hire a plumber to install them.
Both the filter and the showerhead are easy to clean, too. The silicone nozzle from which water oozes out can be easily rid of blockage by pushing and pressing. ADOVEL further sweetens the deal by including an extra cartridge in the package. And you get a one-year warranty, too.
Things We Like   
15 filtration stages
Easy to install and clean
Comes with an extra cartridge
Things We Don't Like      
Water pressure could have been higher
How It Compares With Our Criteria
2GPM+ flow rate: Yes
Warranty: 1-year
Multiple Filtration Stages: Yes
Sale
Adovel Shower Filter
Rain shower experience: ADOVEL 6 inch large top spray with 90 nozzles that...
Softened and healthy water: The 15-stage filter effectively removes...
Rejuvenate your body: Water through the filter head rejuvenates and...
Easy to install & replacement filter cartridge: Universal (G1/2) shower...
Provide Support: ADOVEL, aiming for the great customer experience,...
AquaBliss Multi-Stage Shower Filter
How does the AquaBliss Multi-Stage Shower Filter compare with our top pick? This model has much sleeker dimensions, making it more discreet than our top pick. Also, while our top pick has 15 filtration stages, this one has three of those.
They include redox media, calcium sulfite and activated carbon. These three stages enable this model to remove most of the contaminants found in well water, including chlorine, bad odors, bacteria, viruses, and sediment. You can thus count on AquaBliss to revitalize your skin and hair.
That's where the differences between both our top two picks end. Both of them are covered by a moneyback guarantee, so you can immediately return your model and get a new one. Both are also backed by 12-month warranties and can be installed with bare hands.
Things We Like   
Can be installed with bare hands
Comes with a moneyback guarantee
Replacement parts don't cost much
Things We Don't Like      
Doesn't have a GPM rating
How It Compares With Our Criteria
2GPM+ flow rate: Yes
Warranty: 1-year
Multiple Filtration Stages: Yes
Sale
Aquabliss Shower Filter
PURIFIES YOUR WATER, PERFECTS YOUR SKIN – High output universal shower...
A "MUST HAVE" – REVITALIZE YOUR BODY IN 1 WEEK: USERS SAY...
PROMOTES HEALING & RESTORATION: Beyond the fact that our multi stage filter...
WHY IT WORKS – UNIQUE, PROVEN BLEND of redox media, calcium sulfite,...
NO TOOL, 2 MINUTE INSTALL - MONEY BACK GUARANTEE: Simply unscrew your...
AquaHomeGroup Luxury Filtered Shower Head
The AquaHomeGroup Filtered Shower Head is available in two versions. The 15-stage model we're reviewing here has an internal filter cartridge with vitamins C and E. It is capable of removing heavy metals, rust, sand and other sediments from water, while also reducing the concentration of chlorine.
Sure, this model's body isn't metal, but the fact that it's made of ABS plastic means it can withstand a lot of beating without giving way. And in addition to removing contaminants, it adds vitamin C to filtered water, thereby promoting healthy skin and hair and helping the soap lather better.
Yet another thing that we liked about this shower head is the rain-style spray. The spray's vastness allows it to cover more area, even when you've set the water pressure at a low setting. All in all, this model has plenty of features to make up for the only complaint we have about it: its higher asking price.
Things We Like   
Has a luxurious rain showerhead
Adds Vitamin C to promote healthy skin and hair
Removes chlorine, heavy metals, rust and sand
Things We Don't Like      
How It Compares With Our Criteria
2GPM+ flow rate: Yes
Warranty: 1-year
Multiple Filtration Stages: Yes
Aquahomegroup Shower Head Filter
★ HEALTH CARE SHOWER SYSTEM: Our top-rated showerhead is composed of...
★ WATER PURIFIER: Reduces chlorine, heavy metals, rust, sand and other...
★ REVITALIZING BODY: KDF 55, Alkaline Ceramic Balls, Activated carbon,...
★ EFFORT-FREE CONNECTION: No need to ask for help! Installs in minutes...
★ STYLISH GIFT BOX & BONUSES: With this rain shower head and cartridge...
Aqua Earth 15 Stage Shower Head
There are many similarities between this shower head and our top-pick. Both offer 15 stages of filtration, are capable of removing heavy metals, chlorine, fluoride and other contaminants from your bathing water and are equally easy to install. And both are backed by 1-year warranties from their manufacturers.
Why, then, is this model not our top pick? Perhaps because this model's cartridge is designed to last up to 12,000 gallons, unlike our top pick whose cartridge can filter two times as much quantity of water. Still, when juxtaposed with its price tag (2x lower than our top pick), its filtration capacity seems formidable.
Keep in mind that you need to flush this filter for 30 seconds after installation. This will give it the time to remove any embedded carbon. Multiple users insist that they found traces of carbon even after 30 seconds had passed, leading us to believe that perhaps the flushing time should be extended to a minute.
Things We Like   
Available at a pocket-friendly price
2.5 gallons per minute flow rate
Has rugged ABS plastic construction
Things We Don't Like      
Cartridge won't last longer than six months
How It Compares With Our Criteria
2GPM+ flow rate: Yes
Warranty: 1-year
Multiple filtration stages: Yes
Sale
Aqua Earth Shower Head Filter
Purifies water filter - helps fast remove chlorine heavy metals and other...
Body Care - less well risk of developing eczema, reduces dry itchy skin,...
Complete Compatibility - can be placed over overhead, handheld, rainfall,...
Consistent Water Pressure - our high-performance inline water filter...
Benefits Of Purified Water - Clarified water activates your cell, increases...
Sprite High Output Shower Filter
Oxidation reduction filters like this have a unique operating mechanism. They rely on a copper-zinc alloy to exchange electrons with contaminants, such as mercury and lead, with the resulting chemical reaction converting them into harmless substances.
This model uses KDF-55 cartridge to convert chlorine into chloride, which isn't harmful. It also eliminates bacteria and viruses, both of which get killed off the moment they touch the KDF filter's surface. It comes with an ABS plastic housing and has finger grips for ease of opening.
On top of everything else, this is one of the few shower head filters that are certified by the National Sanitation Foundation. NSF certification means it meets the organization's requirements for structural integrity, material safety, and chlorine reduction.
Things We Like   
NSF and ANSI certified
12-month filter life
Fits most standard fittings
Things We Don't Like      
Only offers a 1.5GPM flow rate
How It Compares With Our Criteria
2GPM+ flow rate: No
Warranty: 1-year
Multiple Filtration Stages: Yes
Sale
Sprite Shower Head Filter
Chlorgon filtration system helps to remove free chlorine, dirt, and odors...
Includes replaceable HOC filter cartridge (rated for 12 months or 25,000...
High-strength ABA plastic housing with finger grips for ease of opening
Certified to NSF/ANSI Standard No.177 and CEC Certified
Fits most 1/2-inch NPT wall pipes with 3-setting 1.75 gpm massage head...
Benefits of Using Shower Head Filter
Here are the benefits of using shower head filter for well water:
Less risk of hair loss. Well water contains many impurities that can decrease the strength of hair follicles, leading to hair poss. A shower head filter could thus save you from going bald by removing such contaminants.
Prevent damage to skin. Health experts say that well water passes through limestone and rock on its way to your well. This exposes it to carbonation along the way, and carbonated water might contribute to the risk of skin eczema.
Helps your soap lather better. Did you know that hard water hurts the ability of soap to lather? As a result, some of the soap particles are left behind on your skin, giving way to dryness. A shower head water filter makes sure this doesn't happen.
How to Choose Shower Head Filter for Well Water
Whether you're buying a shower head filter for the first time, or you intend to replace an existing model, there are a few points you'd do well to factor in your decision-making process. Doing so might help you make a better purchase.
Keep these factors in mind while choosing a shower head filter for well water:
Well Contaminants
According to the US Environmental Protection Agency, private wells can be contaminated by human activities and naturally found sources. The commonly found well water contaminants are: microorganisms, heavy metals, organic chemicals, fluoride, radionuclides, and nitrate and nitrite.
Of all these impurities, heavy metals, organic chemicals and fluoride are likely to be the most common. At the very least, your shower head filter should remove these impurities. Check out the filter packaging for the list of contaminants it claims to remove and ensure these contaminants are mentioned there.
Flow Rate for Well Showerhead
According to a study conducted by the American Water Works Association, the flow rate of a typical shower in the US is 2.1 gallons per minute. This makes showers the third largest water guzzlers in US homes, behind toilets and clothes washers.
Why are we telling you these figures? To tell you that 2.1 gallons is the bare minimum amount of water your shower head filter should be able to process per minute. All the products we've recommended in this review can process two (or even three) times more flow rate.
Material
Shower head filters are available in two materials: plastic or metal. Plastic shower heads don't cost much, come with low-cost replacement cartridges and are lightweight. On the flip side, they don't last much longer and aren't environmentally friendly, either.
Metal shower head filters, however, provide you with the best of both worlds. Their sturdy construction enables them to process more gallons per minute than their plastic counterparts. And the fact that they aren't prone to wear-and-tear and leaking makes them more durable, too.
Lifespan
As is the case with every type of filter, a shower head filter for well water will eventually be clogged by the impurities it has removed from your bathing water. This will leave you with no choice but to replace the cartridge with a new one.
However, while all filter cartridges eventually need replacement, some need replacement more frequently than others. You must avoid them. The best shower head water filter cartridges can last a year under heavy use, making sure you don't have to change the cartridge every few months.
Types of Shower Filters
Different shower filters target different contaminants. Some filters go more after bacteria and viruses, and others take better care of chlorine. Still others might be better at removing heavy metals and volatile organic compounds.
Here are different types of shower filters:
Showerhead Filter
Showerhead filters are meant to replace the showerhead you're currently using. You can identify them from their shape – they look similar to your existing showerhead. These models come with a built-in filtration system to remove common contaminants from your water.
Keep in mind, though, that showerhead filters don't remove as many contaminants as inline water filters (discussed below). If you intend to buy a showerhead filter, make sure it comes with a multi-layer filtering media. This will help it remove more impurities than its single-layer counterpart.
Inline Shower Filter
Inline shower filters attach to the pipe behind the showerhead. They use large-size filter cartridges, with multiple layers of filtering media. Inline shower filters are capable of removing disinfection by-products (DPS), bacteria as well as various other contaminants.
When compared with their showerhead counterparts, inline filters are expensive. However, they justify their asking price with their ease of maintenance. Also, when compared with showerhead filters, they last longer, up to 1,300 showers or more.
Other Types
Carbon Filters: Carbon filters use several layers of carbon (as well as other media) to remove VOCs, chlorine, sediments, lead and fluoride from water. They'll be an overkill if you just want a shower head filter for well water.
KDF Filters: Kinetic Degradation Fluxion filters have a copper-zinc filtration media. They are capable of removing chlorine, heavy metals and hydrogen sulfide. KDF filters work on a principle known as redox to remove contaminants.
Vitamin C: Vitamin C shower filters remove chlorine and chloramines from water. They use either ascorbic acid or sodium Ascorbate to achieve their objective. Click here if you're interested in knowing more about vitamin C shower filters.
Frequently Asked Questions
How do I soften well water?
One of the best ways to soften well water is using a whole-house water softener. One that relies on ion-exchange method to strip water from its hardness causing minerals. Such softeners use sodium ions to replace calcium and magnesium (aka the hardness ions) in hard water.
Is it safe to bathe with well water?
According to the UPMC Hillman Cancer Center, bathing with well water is safe. However, if you have doubts about the quality of well water, make sure you boil it, especially if you use or intend to use well water for drinking purposes.
Conclusion
Most of us already filter our drinking water for health purposes. It won't take a huge leap if we start bathing with filtered water, too, especially if you're using well water for bathing. Especially when we know that private wells have all kinds of bacteria, viruses, and other contaminants that need to be shocked out of the system.
Using a shower head filter for well water would thus prevent these pollutants from coming into contact with your body.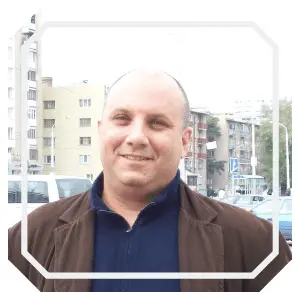 Nick Lopresti is the founder of YourH2Home and a home improvement expert. He has years of experience writing about various home improvement topics, mostly as it pertains to water systems.