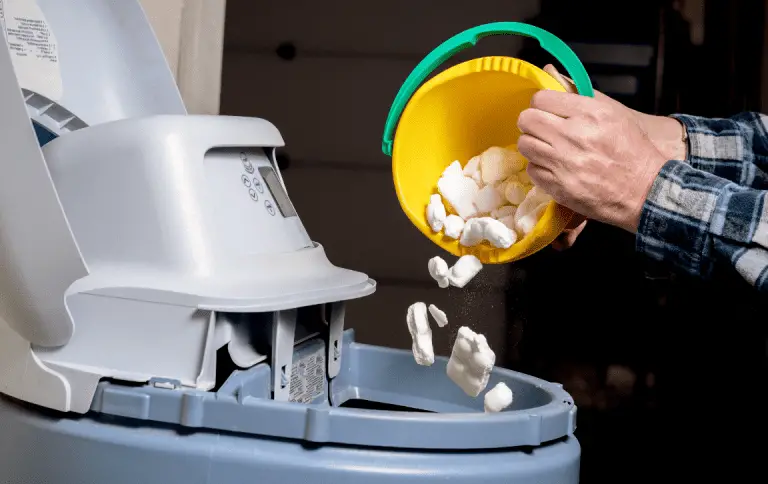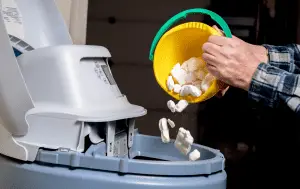 If you are looking out for a water softener, we think Sterling water softeners are a great choice. Using fine mesh ion exchange resin, Sterling water softeners provide a higher iron and softening capacity than most other brands.
With water softeners, you want to have important features like automatic regeneration and bigger control valves for very little pressure loss. This is an area where Sterling water softeners do well in.
But still, they might not be the right choice for you.
In this review, I give you an overview of Sterling water heaters and which ones are good for different kind of households (or businesses). I also included information on what to look for in water softeners. So let's get right to it.
Our Top Picks
Choosing a water softener can be a confusing process and choosing one that is good enough for your space and meets your requirements is another difficult task. A sterling water softener is a great product but which one of it best suits your needs?
Best For Smaller Residencies: XNT34 Sterling water softener
Best For Standard Residencies: FES30 Sterling water softener
Best for Warm Environment and Value For Money: N-0.75S  Sterling water softener
Pros and Cons of Sterling Water Softeners
Let's have a closer look at the pros and cons of using a Sterling water softener.
Technology
Sterling Water Softener uses high-end technology to make its usage easier for its clients. With an automatic shut-off system, there is no unwanted battery drainage. It comes with an automatic regeneration that tracks your water usage patterns and regenerates accordingly.
If you want an ultra-high technology model, the XTS-HE is the perfect one for you. It works as a robot that requires only setting up and then you can expect all your work to be done without any trouble.
Installation Space
With a detailed installation manual that you'll get with the Sterling Water Softener, you can install the water softener easily, if you prefer to do it on your own.
However,  the unit is a bit heavy, so do get a helping hand if you wish to install it on your own. The company does provide installation services.
The space required for installing the water softener depends on the size of the softener that you choose for your house. If you have a small space, then go for the space-saving design of the Sterling water softener.
A quick tip: keep a room or a part of a room empty for installation. It might get a bit messy!
Cost of Maintenance
The cost of maintaining a water softener depends on the type of salt you use and the cost of other maintenance units. It takes at least $500 – $700 for maintaining a water softener.
However, do not scrimp and choose cheap products because that will lead to enormous repair costs in the future.
Factors to Consider When Buying a Water Softener
If you are looking to buy a water softener, you might be overwhelmed by the variety and options available in the market. Here are some factors that you should keep in mind before purchasing a water softener.
Water Hardness Level
Before we discuss any further, you should know what exactly is hard water.
Hard water is basically contaminated water that needs to be treated using a water softener. The contamination can be caused due to a variety of heavy minerals and compounds such as chlorine, magnesium, and calcium.
You can determine the level of hardness of the water by using the water hardness strips that are available in the market. This helps in setting the salt and water levels for regeneration.
Regeneration is a process by which the softener will dispose of the minerals from hard water, making it safe for you to drink.
Type of Water Softener
There are three types of water softeners – salt-based ion-exchange softener, resin, and salt-water conditioner.
Salt-based ion exchange softeners
It comes with two tanks that prevent any mineral residues. Salt-based water softeners are based on the principle of ion exchange. These electrically charged atoms help in the exchange of sodium ions from the water to resin to bind the particles firmly and make the water soft.
This is the most efficient of water softeners for removing hard water from your home. The resin initiates the exchange of hard ions to make the water soft. When the resin has reached its ion holding capacity, the softener initiates a regeneration cycle.
And as expected, the Sterling brand falls in the type of Resin-Based Water Softener.
This water softener does not remove the contaminants entirely but changes the way they act in the water. The calcium, magnesium, and sodium ions present in the water are harmful. Salt-water conditioner changes its harmful properties to make the ions null so that they don't react adversely.
Quantity
You need to determine your requirements before buying a water softener. Some situations require a bigger water softener.
You can determine the quantity that you will require based on the level of hard water in your house and the usage of water in your house. If unsure, you can ask a professional for help with the size.
Cost
There is a wide variety of water softeners in the market with different features and sizes. The average cost for a basic water softener will be between $1000 to $4000 but a highly advanced system may cost you more than $5000.
So depending upon your spending capacity, you can select the perfect softener.
Maintenance
It does not matter which water softener you buy because all of them require proper maintenance. Regular maintenance will ensure that the product is working properly.
You will be required to restock salt and clean the brim to maintain your water softener.
The softener that you choose would probably come with some basic information on how to maintain it but if you have any other concerns, you can ask your water softener provider.
Sterling Water Softener Review
XNT Series for Smaller Residencies
The Sterling Water Softener XNT series is a space-saving design with all the features and benefits of a commercial water softener. It comes in a very small footprint of 12" x 25" as compared to the standard size of 16" x 29".
It has all the standard features like meter initiation, vacation mode, proportional brining, adjustable cycles, and much more. The unique features include high efficiency that uses less water than a mechanically controlled softener, high resin capacity to fight even the most harmful ferrous iron.
What we like:
Space-saving design: It is perfect for small apartments and is also lighter in weight as compared to other Sterling water softener models.
Optional injector cleaner: This will help you clean the softener simply by pushing a button. This ultimately reduces service calls and maintenance costs.
Full flow by-pass valve: This really smart feature allows you to do activities like cleaning your car or watering your plants with raw water.
No tools required for repairing: There are no bolts or screws attached to the unit which means that it is easy to repair without any tools.
What we don't like:
No warranty for the filter: The filter works well for a maximum of two years after which it either requires repair or replacement. It may turn out to be costly if you do not maintain the water softener.
The unit is quite heavy which may make it more difficult to handle while installing.
Best Suitable For:
If you are looking for a softener that occupies less space but still provides the same services, then this model should be your go-to option.
FES Series for Residential Use
The FES series of the Sterling Water Softener is perfect for residential use. It has a back-lighted display that helps easy reading in dark locations. The electronic meter measures the usage of water at your place and initiates regeneration based on the usage.
The FES24 and FES30 models are recommended if you have standard requirements. You do not have to worry about power outages because this series comes with a constantly charged battery that can last up to at least a week. It is easy to use with simple push-button programming.
What we like:
Back-lighted display: Helps to look at the monitor in dark places
Constantly charged battery: This is very helpful for places that face frequent power outages.
Simple push buttons: Makes it easyto control and operate
Hefty Brine Tank: This helps toreduce the frequency of salt refill
What we don't like:
The unit takes up a little more room than expected
Best Suitable For:
We recommend using this model if you have a lavish residence, and space is definitely not a problem for you.
CIMX Series for Commercial Use
If you require a water softener for commercial use, then the CIMX series is for you. It is built with a 1", 1.5" or 2" control valve; you can choose according to your requirement.
It has a single unit that flows up to 100 gallons per minute. Its multiple tank system is capable of 300 GPM as compared to the 120 GPM in standard models which means that it can perform optimally even in challenging environments. This makes it ideal for large companies that require smooth functioning with minimal effort.
The CIMX90 and CIMX120 models are ideal to meet the needs of most apartment buildings, hotels, schools, restaurants, and office buildings.
What we like:
Different sizes for the control valve: This allows long term operation with minimal efforts
The regeneration controller is fully adjustable and easy to use.
Fiberglass tanks: The fiberglass tanks work properly even in environments up to 120°
What we don't like:
The unit is very heavy which makes it difficult for installation
Best Suitable For:
This model should be your choice if you are planning to install a softener in a commercial space like a hotel or a school.
N Series for Warm Environment and Value For Money
N Series Softeners are the most basic softeners with no-nonsense and are extremely reliable. They initiate regeneration strictly based on time. It comes with a rain cover for outdoor installations in warm environments.
The N series of Sterling Water Softener is suitable for warm climates and it comes at a very reasonable price. N-0.75S and N-1S are the most basic models if you are looking for a low price range water softener with basic requirements.
What we like:
Comes with a rain cover for outdoors that protects the unit from heavy heat and rain
Low price range: The N series of the Sterling water softener is the least costly of them all.
Monitors the water usage patterns for regeneration.
What we don't like:
Does not automatically regenerate. Needs to be set every time
Best Suitable For:
If you stay in a warmer climate, or if you are looking for a budget-friendly Sterling water Softener, there cannot be a better option than the N-series for you.
XTS-HE Series for Ultra High-Efficiency
The ultra-high efficiency isn't just a claim. It helps in conserving salt and water in three different ways.
The Intellis Control tracks the water usage patterns to determine the optimum time for regeneration. Secondly, before each generation, the control calculates the amount of salt that will be required for the unit's full capacity. A more expensive ion resin is used in the unit for higher kinetics.
The XTS-HE Series model is far more durable for highly chlorinated water. The UHE resin in this model is perfect for highly contaminated water.
What we like:
Helps saving salt and water in three ways which leads to 33% less usage of salt
Provides luxuriously soft water with minimal contaminants
What we don't like:
It is a little expensive as compared to other products and not worth it if you have standard requirements
Best Suitable For:
This model is best suited for places where the chlorine level in water is extremely high.
Why Use a Water Softener?
Below are the main reasons why you should invest in a water softener if there is an issue with hard water at your residence.
1.   Say no to clog pipes
Hard water is infamous for clogging the water pipes, due to the deposition of the chemicals and the minerals in the pipes. This can inadvertently lead to recurring plumbing expenses, which probably you wouldn't want.
Using a water softener can prevent this problem, and definitely save you a lot of bucks.
2.   Maintain the efficiency of hot boilers and tanks
There is a higher risk of limescale deposits if you have a supply of hard water in your household. This reduces the efficiency of hot boilers and tanks due to the limescale build-up and clogged pipes.
Due to this, the cost of domestic water heating increases by 20%. A water softener can save you costly repair bills.
3.   Better health and healthier skin and hair
The mineral and chemicals in hard water can be harmful to you. Apart from this, hard water is also harsh on your hair and skin. The reason for this is that hard water is not completely soluble with soaps and forms a precipitate that can harm your hair and skin.
By using a water softener, you can be assured that the natural oils that are needed to nourish your skin and hair are not lost.
Hence, a water softener is essential in maintaining your health as well as your skin and hair.
4.   Lesser time while cleaning your home
Cleaning your home, washroom, laundry, and dishes will be a big headache if you do not use a softener. The chalking lime deposited due to hard water is a tough thing to clean.
Water Softener Installation and Maintenance
A water softener can be perfectly used only when it is properly installed and maintained.
Installation Process Tips
It is very important to decide where you will install your water softener. You need a room or part of a room vacant for installing the water softener to avoid any disturbances with the functioning of the unit.
Before installing the water softener, make sure that you have everything that you require for getting the job done. Some basic tools that you will require for the installation process are a drill, glue, and clamps. These will help you install the water softener with ease.
If you are doing the installation on your own, then make sure that you have an instruction manual with you. Read and follow all the instructions provided by the manufacturer carefully.  You can use the contact information in case any complications come up while installing the water softener.
The water softener unit is known to be very heavy and it can be difficult to handle on your own. Get someone to help you if you can with the installation process. It will make heavy lifting easier for you.
Water Softener Maintenance
Get the Right Type of Salt
Do not scrimp on the salt to get a less expensive option. It might be tempting to use the standard rock salt but refrain from using it. Get pure salt with iron remover for better results.
Rock salt can cause inches of sedimentation in the brine tank leading to clogging the softener's control valve. The standard rock salt may be costly but it will save you from the repairing costs in the future.
Add Optimum Amount of Salt
Do not add more salt if your salt tank is still half full. Let the salt be used completely before you add more salt to the tank. Refrain from filling up the salt tank entirely. Fill it up to ⅔ of its entire capacity for optimum use.
Salt is not the only important component. Adding a rust stain remover can help you to maximize the maintenance of your water softener. Use it once a year to clean the control valve and the resin bed.
Pure salt is a better option than rock salt but pure salt also has some contaminants. Clean the brine tank at least once a year to get rid of the contaminants from your water.
Positioning of the Drain Line
The softener's drain line should be positioned into a floor drain so that there is no accidental siphoning of the sewage in the softener. To prevent malfunction of the softener, place the drain line above the grate of the drain.
You might want to install and maintain the water softener on your own but do consider the option of rendering the services of a water softener cleaning company at least once a year. It will help get a professional opinion on the changes you need to make to get the complete advantage of using it.
Sterling Water Softener Alternatives
Whirlpool Water Softener
Whirlpool Water Softener
Whirlpool WHES30E is ideal for households of 1-4+ people and removes up to...
NSF certified to reduce hard water symptoms such as embarrassing stains,...
Whirlpool water softeners automatically calculate how much salt and water...
Full 1-year parts and labor warranty. The system can be extended to 2 years...
Designed, engineered and assembled in the USA
Whirlpool Water Softener is a good option for nuclear families. It reduces the symptoms of hard water such as stains and clogging of pipes. It automatically calculates the amount of salt and water savings. Whirlpool provides a 1-year warranty as well.
This model is suitable for removing lime and scale from your water. Have your water tested to find out what makes your water hard. The 6th sense technology of this model automatically calculates the amount of salt required for regeneration. It is a good competition to the XTS-HE ultra-high efficiency water softener.
There is a system monitor installed in the unit that makes your workload a lot easier than the manually operated water softeners.
WaterBoss Water Softener
WaterBoss Water Softener
Highly Efficient Tank for Whole House Softening - Conserves water and...
Features Built-In Self Cleaning Whole House Sediment Filter - The model 900...
Compact & Convenient High Usage Model - The 36,400 grain capacity makes...
Fast On-Demand & Quiet Regeneration - Softens water in 26 minutes using...
DIY Installation - Includes installation video, owner's manual and...
WaterBoss water softener is a good competitor to Sterling water softener. It has a safety feature of automatic shut-off for safe operation. It is highly efficient in helping conserve salt and water. It is easy to use as well.
This model is ideal for a working couple who have very little time for themselves and menial work is not what they look for. It is easy to install as well as easy to use. It is probably one of the best water softeners that give the cleanest water.
Pentair Water Softener
Pentair Water Softener
Fleck 5600Sxt digital metered control head
1.5 cu. Ft. Upgraded 10 percent crosslink resin
Easy to install with AFW install kit as pictured included, reliable long...
Complete system including standard 14x33 brine tank, mineral tank, valve...
The Pentair water softener model comes with a hardness test strip so that you can set your water softener accordingly. It has a 10% cross-linked resin upgrade that gives it a longer life. It has an on-demand control that is easy to use.
This model is suitable for the ones with standard requirements. It comes in three sizes and can be programmed to regenerate every week. It requires a bit of manual work in the beginning but after you are set, you won't have any complaints. It is your standard water softener so do not expect any more features than the regular ones.
Conclusion
Sterling is a reputed brand when it comes to buying a water softener. The main reason for buying a Sterling water softener is that it offers high-end features at reasonable rates.
The only drawback it has is that there is no filter replacement but it does not make much of a difference. The Sterling water softener does a fantastic job of removing harmful contaminants and making the water hygienic for you to use.