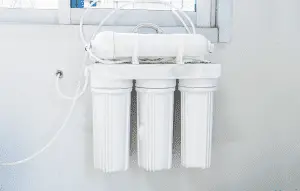 The Aquasana Whole House Water Filters have been a popular filter option for larger families. Not only do they eliminate the "bad" stuff, but they soften you water, making it an ideal cleaning agent.
The Aquasana whole house filters provide three crucial benefits:
1) It protects the health of your household
2) saves you from re-washing your clothes and dishes, and
3) prevents your pipes from rusting, corrosion and scaling.
Furthermore, it combines KDF filtration media with carbon filter pads. This allows it to reduce the amount of, chlorine, mercury, silver and many other pollutants in your tap water. All these are impurities that, if left untreated, could hurt your health big time.
It also contains a salt-free softener that removes magnesium, calcium and other minerals from your home's water supply. The resulting water loses the ability to cause mineral stains or soap scum, saving you from re-washing your clothes or dishes and your water pipes from scaling.
Features of Aquasana Whole House Filter
Here are the major features of this whole house water filter and softener:
Three Stage Filtration
The Aquasana Whole House Filter purifies water in three steps:
Step 1 (Pre-Filtration): Before the water could enter the filter, it passes through the sediment pre-filter. The pre-filter captures rust, silt and sediments that could clog the whole system if allowed entry inside the filter.
Step 2 (Filtration): In this step, water is passed through copper-zinc and mineral stone filter. These two filters reduce chlorine and heavy metals from water, making it perfectly safe to drink.
Step 3 (Post-Filtration): The post-filter acts as a polishing agent by removing all the remaining organic particles, herbicides, pesticides, VOCs and other organic materials from water. It relies on activated carbon filtration to remove these substances.
Salt-Free Water Conditioner
Also known as salt-free water softener, it uses potassium in place of sodium to remove calcium, magnesium and other minerals from water. All these minerals, if left untreated, reduce the ability of water to cause lather and cause scaling deposits inside pipes.
Their removal gives a boost to the softened water's cleaning effectiveness. The softened water is also less likely to cause mineral stains or soap scum. This turns it into an incredibly effective cleaning agent, helping you save money on water bills as you won't have to re-wash your dishes or clothes.
7 GPM Flow Rate
According to an estimate, most single-family homes need at least a 6 GPM flow rate to meet their water needs. This flow rate means they'd get 360 gallons of water every hour, which is more than enough to meet most homes' peak water demands.
The fact that the Aquasana Rhino Filter can offer up to 7 gallons of water per minute means it can easily meet the pure water requirements of an average household.
But make sure to clean your filters once every 1 to 3 months to ensure the filter's flow rate is at its highest.
Smart Dual-Tank Design
The dual-tank design provides the Aquasana Water Filter with two benefits. First, by increasing the contact time of contaminants with removing media, it ensures that most contaminants present in the water are captured by one of the three filters before water comes out of the tap.
Secondly, the presence of two tanks also prevents clogging. The tanks' added surface area reduces the risk of 'media channeling' in which dirty water begins to flow around the filter rather than through it, reducing the filter's effectiveness and putting your health at risk.
Bacteriostatic Media
Most water filters become breeding grounds for bacteria and algae growth after some time. That's because their water is filtered from any disinfectants and chemicals and has nothing that could prevent the growth of algae and bacteria once they start growing inside the filter.
The Aquasana Water filter is different. Its filtration media contains a bacteriostatic agent, a chemical or biological substance that prevents bacteria from reproducing. This allows the filter to stop the growth of algae and bacteria in its tracks, saving this filter's interior from turning green.
Water-Saving Shut-Off Valve
Unlike other water filters that you see on the market, the Aquasana Filter won't waste water while performing maintenance. It would also prevents the leakage of water during water change. Here's how it would do that to reduce water wastage.
This model comes with a shut-off valve that automatically blocks the entry of water during filter changes and maintenance. The shut off valve isn't automatic – you'd have to open/close it manually – but it still reduces your water bills.
NSF Standard 42 Certified
NSF standard 42 certified filters are extremely effective at treating water. They can easily remove (or reduce) the quantity of cysts, total dissolved solids (TDS), magnesium, and iron from treated water. Such filters are also certified for removing up to 97% of chlorine from treated water.
That's where the good news ends. While NSF standard 42 certified filters can get rid of all impurities mentioned above, they can't do much against lead and chromium. Neither can you expect the Aquasana Whole House Water Filter to remove lead from your tap water.
Installation & Maintenance
Make sure to hire an expert plumber for the installation of the Aquasana whole house water filter because you'd need more than basic plumbing skills to hook it up to your water line. Sure, written installation instructions and online tutorial videos are there, but most users would still do well to opt for a plumber.
Note that this whole house water softener and filter combo doesn't come with all the tools needed for installation. As such, you may have to note down the parts that are missing and purchase them from your local hardware store. Only then the plumber could begin with its installation.
Maintenance for the Aquasana Whole House Filter won't take much time. You don't have to clean out any tanks or do any salt top-up. All you need to do to keep its flow rate close to the maximum is to clean its filters once every month and change them once every 3 months.
Keep in mind that the filter cleaning and change schedule isn't optional – the more time passes between successive filter repairs and replacements, the more clogged the filters will become. This will reduce their ability to filter water effectively.
Warranty
According to the manufacturer's website, the Aquasana Whole House Water Filter comes with a 10-year limited warranty and 90-day guarantee. All of its filters have a shelf-life of 6 or 10-years, though they may need replacement much sooner depending on water usage and quality.
Pros and Cons
Pros
7 GPM Flow Rate
Three-stage filtration
Salt-free softening
NSF Standard 42 certified
Doesn't rely on electricity to run
Warranty won't void even if you install it yourself
Cons
Installation isn't the easiest of whole house filters we have seen
Package doesn't have all the parts needed for installation
Flow rate nosedives if you fail to clean the filters on time
Pelican vs Aquasana Whole House Filter
Given that the Pelican whole house water filtration system is one of the biggest competitors of the Aquasana, we have decided to compare the features of both. Go through this comparison if you're having trouble deciding between the Pelican and Aquasana whole house filters.
Pelican Whole House Water Filter System
Flow rate: 12 GPM
Contaminants removed: Chlorine+
Filter lifespan: Up to 1M gallons
Warranty: 12 years
Price: $$$$
Aquasana Whole House Water Filter System
Flow rate: 7 GPM
Contaminants removed: Chlorine+
Filter lifespan: Up to 1M gallons
Warranty: 10 years
Cost: $$$
Capacity
The Aquasana Water Filter is available in two capacities: 600,000 gallons or 6 years of filtration and 1,000,000 gallons or 10 years of filtration.
The Pelican whole house water filtration system also available in 600,000 and 1,000,000-gallon capacities.
Filter Media
The Aquasana water filter comes with three filters: sediment, copper-zinc & mineral stone and activated carbon. The first two filters remove dust particles, chlorine, cysts, heavy metals and lead from water, with the activated-carbon filter taking care of VOCs, herbicides, pesticides and other organic materials.
The Pelican filter, too, offers three-stage filtration. A pre-sediment filter traps larger contaminants in its 5-micon pores, an activated carbon media uses the process of adsorption to remove VOCs and organic materials from water, and a KDF zinc-copper filter uses electrons to remove pollutants.
Contaminant Removal
The Aquasana Water Filter can remove over 70 contaminants in total. They include chlorine, VOCs, pharmaceuticals, heavy metals, pesticides, herbicides and asbestos.
The Pelican, meanwhile, can take care of just over 60 contaminants. You can count on this whole-house water filter to remove chlorine, lead, cysts, mercury, PFOS and PFOA.
Certifications
As noted above, the Aquasana is NSF Standard 42 certified. That means you can count on it to remove up to 97% of chlorine from treated water and improve the taste. Though it also reduces the amount of cysts, total dissolved solids (TDS), copper and magnesium from treated water.
Pelican, meanwhile, has been NSF certified to Standards 42 and 61. That's why that apart from improving the taste of water by removing chlorine – something that Aquasana also does – it also removes chemicals and heavy metals from water – something that Aquasana doesn't.
Frequently Asked Questions
Is Aquasana a good water filter system?
The Aquasana water filter system is an excellent option for people who want to keep the "healthy" minerals in their water.
In terms of harmful materials, apart from removing chlorine, improving the taste of water and eliminating heavy metals, it also kills viruses and bacteria up to 97%. This product also come with a 10-year warranty.
How long do Aquasana Water Filters last?
Aquasana water filters can last up to 12 months with regular care and maintenance. You can keep using them for up to a year by cleaning the filters once every month, depending on water quality, usage and sediment levels in your area.
Does a water filtration system add value to your home?
Real estate experts say that you can increase the value of your home by installing a water filtration system. That's because most home buyers are impressed with receiving filtered water directly from any faucet in the home and think of it as a pure luxury.
Conclusion
The Aquasana Whole House Water Filter system will be a valuable addition to any home. Apart from removing chemicals, chlorine, herbicides, pesticides and VOCs, it is backed by a 10-year warranty and is easy to maintain and/or replace.
That's not all. When compared with the Pelican water filter system, this unit costs less and can remove more impurities. Throw into the mix its 6 GPM flow rate, and the Aquasana whole house filter becomes a must-have for most households.