A whole house filter to remove iron from well water is something I believe every well owner should have.
Excess iron in the water is the most common problem in wells. 
Staining of sinks, tubs, and laundry takes all the pleasure out of owning a well to be self-sufficient.
And drinking water that tastes metallic and smells like rotten eggs can really degrade your quality of life.
After you've tested your water for iron to see what you are dealing with, you need to move to the next step and get an iron removal system to get your water back to being a pleasure to drink. If you haven't already tested your water for iron then click this link to find the right iron water test.
Read on for the reviews of the best iron filters for well water. If you don't have time to read the details, then check out this comparison table below to see how they compare.
What Size Filter Do You Need?
Before we can get into what the best iron water filters are, we need to go over what to look for so you buy the one you actually need.
The first thing you should be thinking about is GPM or Gallons Per Minute. You need to know how much waster you use at the same time. I don't mean over the course of the day, I mean how many fixtures do you use at once. If you use two showers and a dishwasher at the same time then you'll need to know what the water flow rate is on each of those to know how many GPM you actually use.
Here is a handy chart to help with the GPM of the most common fixtures.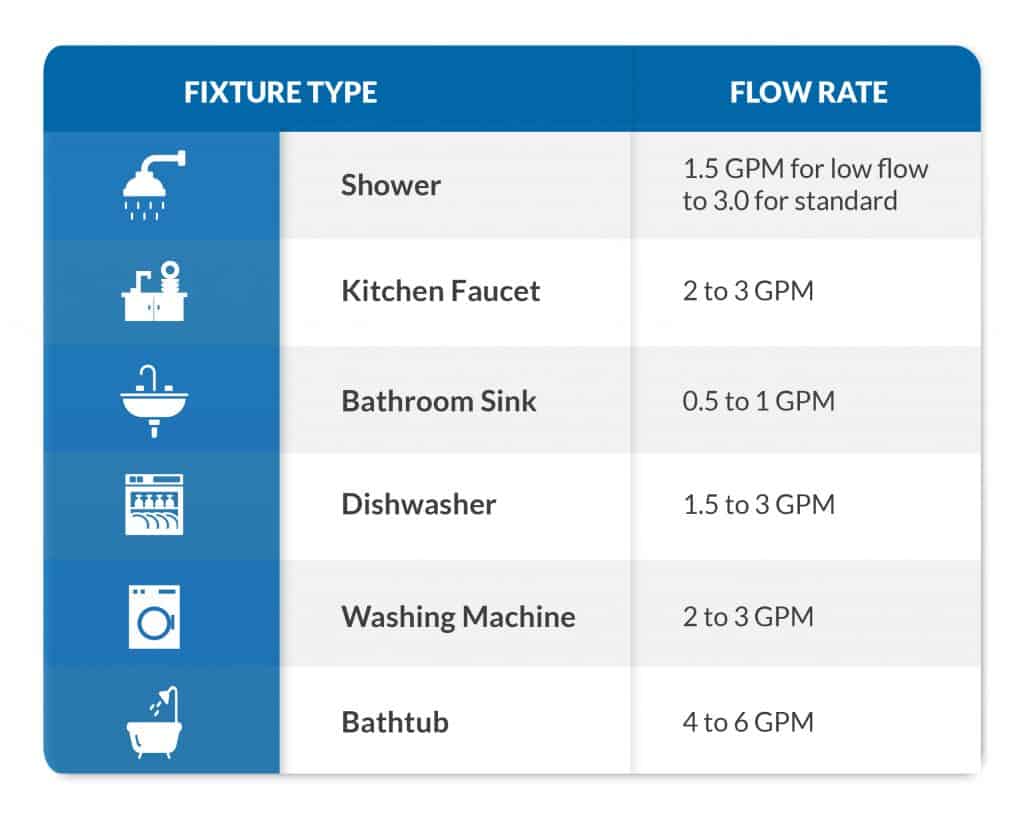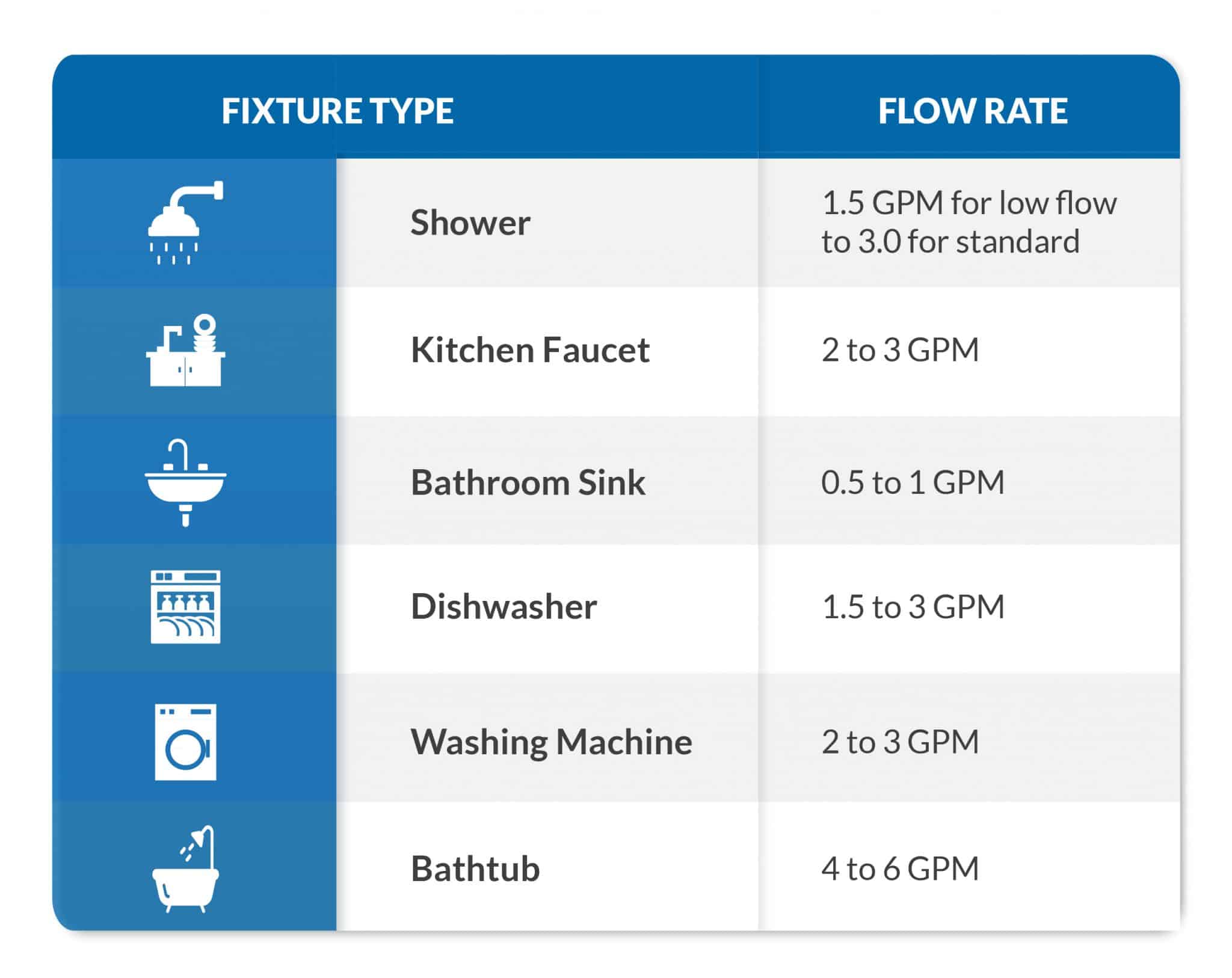 Many filters will only allow so much water to pass through the filter. Whatever the media used to filter the water will determine how many GPM you'll get out of it. Water can only go through a mesh or carbon media filter so fast.
The first step is to figure out the GPM you use. The next step is to check the GPM of the filter you are thinking to use to see if it will affect your water pressure. It will drop if the GPM is lower than what you use.
Also, the filter should be clear about the backwashing process so you know if your pressure will drop when it needs to be back washed.
Another consideration is how many Parts Per Million (ppm) of iron you have present in your water. It's important to test your water to see how much iron you have so you can get the right size filter for your needs. It isn't enough to know that you have iron, you also need to know how much.
What Types Of Filters Remove Iron?
There are three main types of filters that remove iron from well water:
Reverse Osmosis – This filter uses a partially permeable membrane to remove ions, contaminant molecules, and larger particles like rust from drinking water. 
Water Softener – A softener removes scale and lime by ion exchange so they fall out of the water and cannot pass through the membrane. The same process works for iron and manganese. If your iron concentration is over 5 mg per liter then the softener will not be able to remove the iron completely. You'll also need to keep an eye on the pH level of the water when using a softener. Ferrous iron converts to Ferric quickly in high alkaline water.
Air Filter Injection – These filters use oxygen and air bubbles to remove the iron from the water. First, they oxidize the iron creating oxides that can then be trapped by air bubbles. The air is then rinsed out of the tank automatically.
The best type is going to depend on what you need to filter. Since most wells have many other problems besides just iron and manganese, it pays to have a filter that takes care of many other contaminants. You may have to filter coliform or even arsenic. Having a filter like a reverse osmosis type will help on many fronts against other types of contaminants. 
The downside to using a reverse osmosis filter is that it drops water pressure and only processes a certain amount of water per day. A pressure tank type system is generally needed.
A water softener is great in many ways to effectively remove iron from well water. The problem is that these are not filters and won't take care of other contaminants. Another issue is they tend to waste quite a bit of water and add salt to your drinking water. There are types that waste less water and don't use as much salt, which I will go over in the review section.
The air injection type is probably the best one if you only have iron in your water. If you have tested for other contaminants then you may need another filter in addition. The nice thing about air injection filters for iron is that they use no chemicals.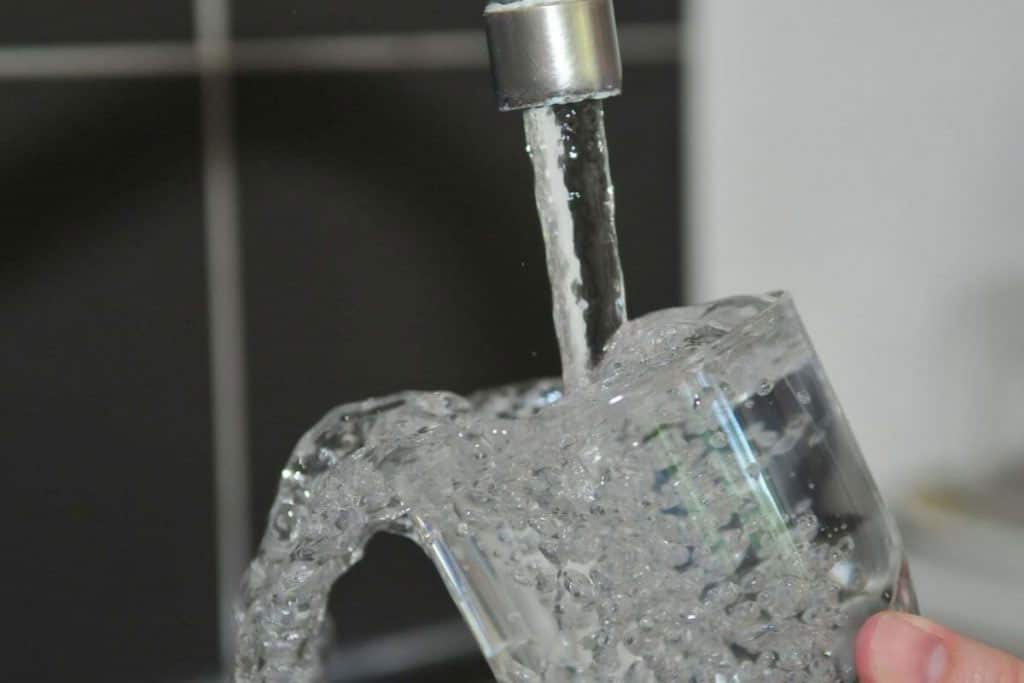 Types of Iron in Well Water
The two most important distinctions in understanding what you need to filter for is Ferrous vs Ferric Iron. 
Ferrous Iron – Also called Clear Iron, it comes out of the well and your faucets clear. Just looking at the water would give no indication that there is iron in it. The taste is a dead giveaway, however. Also, if your water is let to stand in a tub or sink, it will eventually start getting darker as the iron oxidizes from exposure to air.
Ferric Iron – This is rusty iron that comes out of the well discolored already. It can range in color from a light yellow to a brick red. It adds a thick texture to the water and is responsible for clogging pipes as it slowly builds up on the pipe surface. 
There is a third type called iron bacteria, which is organic and is a type of bacteria as the name suggests. You can have iron without it being bacteria, too. The presence of manganese usually increases the risk that your well water will have iron bacteria. This is what is responsible for the rotten egg smell. If you have tested for iron bacteria then you'll need to shock your well and then add a filter.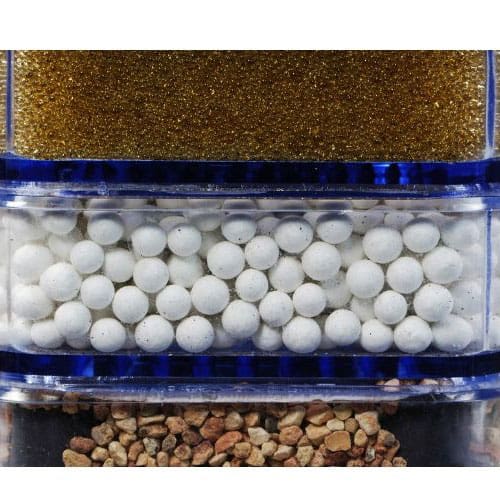 Types of Media in Iron Filters
There are a few types of air filter injection type iron removal systems. The media is what makes the difference.
Before you can decide on the right filter, you'll need to know the flow rate as I alluded to earlier. Different media types will affect the GPM you can get out of your filter greatly.
Birm Filters
Birm is filter media manufactured from natural pumice. It is then covered with a very thin layer of manganese dioxide. When the water has enough dissolved oxygen to oxidize the iron, the manganese dioxide can remove it. The filter traps the particle and keeps it from passing through to the household plumbing system.
For the birm to work properly, pH has to be over 8.5. Also, if your well water has tested for manganese it is not recommended that you use a birm media filter. I'll stress again that this is why you need to test your well water so you know which filter you actually need. Make sure you follow the link I posted earlier to my article about testing your well for iron.
Birm is the least expensive of the filter media for iron, but it also doesn't last long. Expect to change it after two or three years.
Greensand Filters
This is a more popular media for iron water filters since it can handle a higher GPM water flow rate. Greensand does not need air injection to oxidize the iron as the coating of manganese oxide takes care of that.
It uses potassium permanganate that cleans and restores the greensand.
A benefit of using greensand is that it also takes care of manganese and iron bacteria. This kills three birds with one stone.
It can also take care of up to 15ppm of iron. The optimum pH of the water should be around 6.8 to 7.5 but can also be effective in water that is as low as 6.5 pH. 
Greensand does not need to use as much backwash water so it wastes less and is more easily restored to keep the water flowing. It should be changed every few years.
Manganese Oxide Filters
Unlike Birm and Greensand, Manganese Oxide filters use a solid manganese oxide ore. These types of filter might not be best for well water since they work best when the water is chlorinated. That doesn't mean you shouldn't use one, it just might not work as well as the other. Besides, the media is solid so the water flow rate is affected. It requires a high amount of backwash water.
Best Iron Filters For Well Water
Any of the iron water filters in the reviews below can do a great job. But, only if you buy the right one for the right job. Pay attention to the GPM and the ppm of iron in your water. If you've already figured out your average GPM needed at its peak and tested your water for iron then you are halfway there.
iSpring Iron Eater Filter
Sale
iSpring Iron Eater Filter
Whole house water filter that protect your family and household appliance...
DIY installation and maintenance - refer to our manual and our helpful...
Top-notch quality - the first stage high capacity polypropylene sediment...
Peace of mind customer service - register online to activate your 1-year...
Please note - this whole house water filter is installed at the main water...
Features: 
Removes iron up to 3ppm
Also removes manganese and iron bacteria
Works up to 15 GPM
Filter capacity of 100,000 gallons or 2 years
1 year warranty
This iron filter is ideal for well owners as it can take care of iron and manganese. This also eliminates the possibility of there being iron bacteria. 
iSpring Iron Eater Filter is able to drop your iron ppm from 3 all the way down to 0.01 ppm. At that level, it is impossible to taste any metallic flavors from iron and your fixtures and clothes.
This 3 stage filter also lasts up to 3 times longer than greensand media. And, it can filter much more than just iron and manganese.
It also removes sediment, chlorine, rust, pesticides, herbicides, industrial solvents, VOCs, and various other contaminants. As most well owners know, iron is usually not the only thing lurking in the water. In fact, the first stage filter can remove particles as small as 5 microns. 
You won't experience any drop in water pressure as it works as it is able to handle up to 15 GPM. Most people do not come close to that kind of water flow demand.
The filters will last up to 100,000 gallons before they need to be replaced. How long that is in terms of years depends on how much water you use. A rule of thumb is that most households use 50,000 gallons of water per year. If you use low flow fixtures you can get up to three years out of your filters.
AFWFilters Iron Eater Filter
AFWFilters Iron Eater Filter
Tank color may vary depending on stock. Water softener, iron filter, all in...
64,000 grain capacity, fine mesh resin designed for high iron removal &...
Fleck 5600SXT digital metered valve for efficiency and ease of use, 5 year...
Removes hardness from your water and also Iron up to 6 ppm range, Manganese...
Comes complete with brine tank, DIY instructions, bypass valve
Features: 
Fleck 5600SXT digital metered control
Round almond brine tank with safety float
Fine mesh resin for ferrous iron up to 6ppm
Bypass valve and 1″ male connections
You get a nice two for one in this AFWFilters Iron Eater Filter by Fleck called the Iron Pro. Most water softeners only treat the scale and calcium in your water. This one will also remove the iron as well. Actually, it is a three in one because I almost forgot to add that it also removes manganese.
Not only do you have a softener that will keep your appliances like a tankless water heater running smoothly, but it also gets rid of any rotten egg smell.
The fine mesh resin is able to remove iron levels in the water up to 8ppm. That is quite a bit more than the iSpring even though they do different things.
Using a digital meter, it measures water usage and regenerates as needed. This takes all the guesswork out of using this water softener and is as hands-off as they come.
A big downside is that it does not remove Ferric Iron. If you have rusty colored water as soon as you turn on the tap, then that means that this water softener is not going to work for you unless you also use an iron filter in addition.
Whirlpool Iron Eater Filter
Whirlpool Iron Eater Filter
Whirlpool WHES30E is ideal for households of 1-4 plus people and removes up...
NSF certified to reduce hard water symptoms such as embarrassing stains,...
Whirlpool water softeners automatically calculate how much salt and water...
Full 1-year parts and labor . The system can be extended to 2 years parts...
Features:
Removes up to 8ppm of iron
Ideal for households of 1 to 5 people
Demand Initiated Regeneration only uses salt when it is needed
Also removes Lead, Chlorine, Sediment, Calcium, Magnesium, Manganese
Another water softener that comes highly recommended is Whirlpool Iron Eater Filter by Whirlpool. It can remove manganese as well as iron so it keeps iron bacteria at bay.
Before I go on, let me say that it does an excellent job at removing Ferrous Iron but it does not help with Ferric. This seems to be a problem with water softeners in general.
Not only does it remove the iron in your water, but it also removes other contaminants that affect your appliances as well as your health.
Most well owners are not only dealing with iron in their water. If there's iron there usually are plenty of other baddies in the water.
This water softener does not use as much salt as your typical unit as it has Demand Initiated Regeneration. The internal computer assesses how much salt is needed to regenerate the resin. 
Installation is very easy and only requires knowing how to handle a wrench. No plumbing experience is necessary to get you up and running. You will need to get the connections separately, however.
Durawater Iron Eater Filter
Durawater Iron Eater Filter
DuraWater, Black Series HD Digital air injection system
Black Series system, for best removal iron 12 ppm,
Remove iron up to 12 ppm, Sulfur up to 10 ppm, Manganese up to 2 ppm
Easy to install yourself with our instructions and some basic plumbing...
Air injection creates pocket of air to super oxidize your water for optimal...
Features:
Removes iron up to 12 ppm
Automatically back washes the system daily to clean the media
Also removes Sulfur up to 10 ppm, Manganese up to 2 ppm
This single tank system is efficient and effective. And all in a very small size which easily fits into any area to protect your water from iron.
Durawater Iron Eater Filter will remove both Ferrous and Ferric Iron as well as manganese and sulfur. If you have that rotten egg smell in your water, then that is removed as well.
It is digital so very easy to set up for your specific needs. This makes it almost completely hands off so you don't have to break a sweat just to drink clean water.
There is an air pocket at the top of the tank. When water flows through the iron is oxidized and then removed by the media in the filter. 
Every day the system is backwashed so the media remains clean and water can pass through without dropping your water pressure. A piston in the middle allows for the backwashing to take place all in one tank saving you lots of space.
Installation is very easy so setting it up is fast. In fact, it even comes with the filter already inside the tank when it arrives from Amazon.
Summary
I hope these iron water filter reviews prove helpful. It seems that it can be confusing to know which one to buy. With the help of this list, I think you should find exactly the right one for your needs.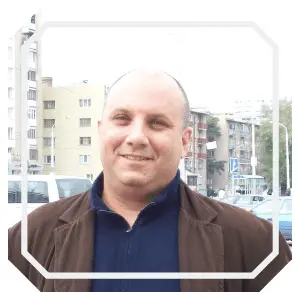 Nick Lopresti is the founder of YourH2Home and a home improvement expert. He has years of experience writing about various home improvement topics, mostly as it pertains to water systems.