Indirect water heaters are different from your average water heater. They don't have an electric or gas heating element in their tank to create hot water. Instead, indirect water heaters use the heat generated by an external source (boiler or furnace) to heat water in their tank.
Their tank doesn't only transfer the energy it receives from the furnace to water. It also conserves it. This lets the furnace or boiler generating and supplying the heat to the tank turn on and off less often, saving energy and bringing down your monthly heating bills.  
The US Department of Energy confirms this. One of its reports states that an indirect water heater, if used alongside a well-insulated tank and a high-efficiency boiler, can be the "least expensive option of providing hot water" to your point-of-use fixtures.
How Do Indirect Water Heaters Work?
Indirect water heaters create hot water by taking advantage of the space heating boiler that is already running to keep your premises warm. The indirect water heater's tank is connected to the boiler via a pipe (through a closed water loop) that runs both ways.
When the pipe exits the boiler carrying hot water, it's straight to minimize any heat losses during its journey to the indirect tank. However, when it enters the tank, the pipe is twisted like a coil to maximize the area of heat transfer.
Here's how indirect water heaters work:
Hot water exits the connected boiler through the pipe
Enters the indirect water heater tank in the coiled pipe
Transfers its heat to the cold water in the tank
Goes back to the boiler to get reheated
Steps 1 – 4 keep on repeating until the indirect tank's water temperature reaches the required temperature
All in all, it's the boiler that is doing all the work. The role of the indirect heater is to merely facilitate the transfer of heat from a hot fluid (hot water) to cold fluid (cold water), after which the hot water from the indirect tank enters your plumbing.
Pros and Cons of Indirect Water Heater
Here are the benefits and drawbacks of indirect water heaters:
Pros of Indirect Water Heaters
The US Department of Energy lauds indirect water heaters for a reason. Indirect water heaters are pretty good at what they do and offer a lot of benefits to the right person. There are many benefits of indirect water heaters that are worth discussing, including:
Massive Energy and Cost Savings. According to the US Department of Energy, an indirect water heater, when used with an insulated water tank and a high-efficiency furnace, provides massive energy and cost savings.
Less Expensive to Install and Maintain. The best indirect water heaters have a simple, streamlined design and do not require multiple utility hook-ups. This makes them less expensive to install and maintain than other water heaters.
Take up Less Storage Space. Unlike your average water heater, which requires a boiler and a tank to operate, indirect water heaters do not need a separate boiler. They could make do with your home's existing space heating boiler, thereby taking up less storage space.
Deliver Hot Water on Demand. Unlike tankless water heaters, indirect water heaters can store immense amounts of water in their tank. This enables you to get hot water whenever you want. All you have to do is to open your hot water faucet to get sizzling water.
Likely to Last Longer. Most indirect water heaters out there are made of stainless steel. This enables them to resist rust, corrosion, and leakages for a longer period, ensuring a shelf life spanning decades.
Cons of Indirect Water Heaters
Not everything is excellent about indirect water heaters, even though it might seem that they are the ideal fit for every home. Like other types of water heaters, indirect water heaters have their fair share of drawbacks, too. Here are the disadvantages of indirect water heater:
Heat Transfer Suffers When Dealing With Hard Water. This means you may have to fix the hard water issue before you install the heater. Otherwise, if worse comes to worst, a sediment problem may end up prematurely killing your water heater.
May Need a Larger Boiler if Workload is High. If you have a large-size household that uses a lot of hot water, your existing space-heating boiler might need to be replaced with a bigger model to handle all the workload the heating system will put on it.
Costs More Upfront. With the other water heaters, you pay less upfront but more later on. With an indirect water heater, the reverse is true. This unit is prohibitively pricey upfront but has meager running costs. 
Are Indirect Water Heaters Worth It?
Indirect water heaters are definitely worth it because of their space-saving design, energy-efficient operation and low running costs. These heaters deserve your money because they are easy to install and maintain than other types of water heaters.
Yet another reason that makes indirect water heaters worthwhile is that they can be fired by oil, natural gas, electric, propane, solar or a combination of any of these. This is what makes them the right fit, even for those of you who are living off the grid.
Frequently Asked Questions
How long do indirect water heaters last?
Indirect water heaters typically last between 15 and 20 years, though you can expand their shelf-life even further with regular maintenance and by making sure that hard water isn't coming into contact with the indirect tank, as it may cause rust or corrosion.
How much does it cost to install an indirect water heater?
The installation cost of an indirect water heater ranges from $1,840 to $3,500. The cost depends on the boiler or furnace type, the labor cost, and the distance between the boiler or furnace and the indirect tank. The greater the distance between the two appliances, the higher the installation cost.
Do I need to flush my indirect water heater?
Flushing the indirect water heater every year can eliminate the build-up of sediments on the bottom of the tank. These sediments, if left unattended, can hurt the heater's efficiency and lifespan. By flushing your indirect water heater, you'll be helping it heat water faster, saving money.
How do you size an indirect water heater?
To size your indirect water heater, measure the flow rate (in gallons per minute or GPM) of each point of use in your home. Next, multiply the total gallons by 0.85 to estimate the quantity of hot water you'd need from the tank itself (on average for 40*F inlet and 120*F storage temperature).
How to reduce water heating costs?
Start by lowering your water heater's thermostat. Insulate your pipes to minimize heat losses and install low-flow faucets and showerheads. Use water-efficient appliances, run full loads of laundry and dishes, and take faster showers to minimize hot water wastage.
Conclusion
Indirect water heaters provide you with the best of both worlds. On one hand, they bring down your household's heating costs. On the other, they are much easier to install and maintain than water heaters.
Indirect water heaters also have a space-saving design that allows you to install them in closed or tight spaces. You can hook them up with electric, gas, and solar-powered boilers and can also use them even if you're living off-the-grid.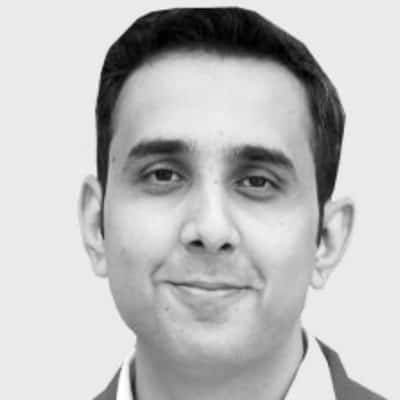 I graduated with a degree in Chemical Engineering and have written for a number of nationally recognized publications in the home improvement space. My skills include fluid mechanics and process engineering and I have worked on numerous projects, including in waste water flow rate calculation and heat balance of steam rollers in the paper industry. My goal as a technical writer is to make complicated topics easy to understand for the average person.