There are several reasons to select a wall-mounted boiler over its traditional units: they don't use up as much space and they're lighter, making them better suited to install and handle.
They're also much more efficient. According to the U.S. Department of Energy they typically increase efficiency by about 24-34 percent. Furthermore, a good wall-mounted boiler can last you a couple of decades.
In this article, we give our picks for the 5 best wall-mounted boilers on the market today. We also include inflormation on some of main benefits of a wall mounted boiler. So let's get right to it!
In a Rush? Here's Our Top Picks
We selected all our boilers based on the following criteria:
Warranty: When you invest in a water heater, you want something that doesn't require tedious maintenance, and something that won't malfunction when you need it the most. A strong warranty policy means the company is confident in their product and that's why it's one of the criteria we've considered.
Efficiency: The other one is efficiency. Most modern day boilers are highly efficient, but some more than others. Better efficiency translates to lower electricity bills.
Rinnai Indoor Condensing Gas Boiler
No products found.
Flow rate: 9.8 GPM
Dimensions (height x width x depth): 671x471x276mm
Energy efficiency: 95.5%
Warranty: 12 years (heat exchanger), 5 years (parts), 1 year (labor)
The i120CN is Rinnai's top-of-the-line combi-boiler, and for good reason. It has a maximum heat output of 58.3kW and comes with a stainless steel heat exchanger and a unique self-cleaning feature.
However, it's a rather straightforward unit and misses out on any smart features, meaning you cannot access or control it remotely.
Yes, the i120CN is one of the more expensive models on this list, but it's also the most efficient. If you can put together the cost of investing in one, the long term cost-savings are rewarding. It also comes with a rather comprehensive warranty scheme as standard.
What we like:
Extremely efficient.
Ideal for larger homes with 3 or more bedrooms.
What we don't like:
Can get a little noisy in a tight space.
Can't be accessed remotely.
Very expensive.
VIESSMANN Vitodens Wall-Mounted Boiler
Flow rate: Over 6 GPM
Dimensions (height x width x depth): 768x400x400mm
Energy efficiency: 95%
Warranty: 10 years.
The Viessmann is no stranger to making boilers. The Vitodens is one of its most popular offerings and it's gotten some pretty nifty updates in 2021.
The most notable of these additions is the built-in WiFi.
This allows users and service engineers to control, maintain and check the status of the boiler remotely. This means that service requests can be dealt with a lot faster, as the inbuilt system will notify the technician of what's wrong.
Additionally, the Vitodens 100-W has a new 7-inch backlit touchscreen interface that makes adjusting temperate, or checking info, a breeze.
Now, if we're being honest the Vitodens 100-W is competent to be at the top of this list, but it's been narrowly pipped by the Bosch's higher heat output rating.
What we like:
Stainless steel heat exchanger
High efficiency
What we don't like:
The installation process can be complicated. Requires the help of a technician.
Noritz Indoor Direct Combination Boiler
Sale
Noritz Indoor Direct Combination Boiler
Simultaneous domestic hot water and heating
Superior temperature stability for domestic hot water
Noritz accessory
Clean burner
Easy to install with new wall bracket
Flow rate: 9.8 GPM
Dimensions (height x width x depth): 687x471x325mm
Energy efficiency: 95%
Warranty: 10 years (heat exchanger), 5 years (parts)
The Noritz Direct Combi Boiler is as capable a boiler as the Rinnai, but it has a slightly shorter warranty period, and is marginally less efficient. It's also a slightly larger unit, so if you're tight on space, the few inches between the two may be the deciding factor.
However, in terms of heating capacity and flow rate, it's just as competent. Just like the Rinnai, this one, too, is a combi boiler, meaning it can cater to your home and water heating needs. For water, the temperature range is from 90 to 140 degrees Fahrenheit, while for the home, it's between 100 and 180 degrees.
Apart from its high thermal efficiency, it also boasts of low NOx emissions – 14 parts per million.
One aspect where the Noritz edges in front of the top-spot Rinnai is in the fact that it can provide hot water for domestic requirements and space heating, simultaneously. That said, the two aren't interlinked, so you can set separate temperatures for either task without each affecting the heating of the other.
It's also worth noting that some customers have experienced a drop in system pressure when the domestic water heating was in use along with the space heating.
Additionally, Noritz tech support typically takes anywhere between a few hours and over a day to respond to queries, so if you're going to be relying on them and don't know an experienced technician to sort out any issues, you may have to wait a while to get your issues resolved.
Rinnai Boiler Max Combi
Rinnai Boiler Max Combi
Hot Water Heater: Heat the whole house with this boiler featuring a...
Smart Features: Multizone control capability allows thermostat and...
User-Friendly Interface: Electric heater features a digital display main...
Space-Saving Design: Compact wall-mounted design of this water heater saves...
Guaranteed to Last: 12-, 2-, and 1-year residential and 5-, 2-, and 1-year...
Flow rate: 4.2 GPM
Dimensions (height x width x depth): 808x440x266mm
Energy efficiency: 95%
Warranty: 12 years (heat exchanger), 5 years (parts), 1 year (labor)
Next on the list is another model from Rinnai, the top-of-the-line model from the M series – the M160CN. Like the i120CN, this one, too, is a combination boiler. However, it isn't as equipped as the I series model, or the Noritz above it.
The Rinnai Boiler Max is capable of a maximum flow rate of upto 15.9 litre min, so if your requirements exceed that, the two models above this will be a better fit. On the flipside, this M160CN has a higher output of 160,000BTU (or 46.9kW). The i120CN in comparison offers 120,000BTU. This model also emits slightly higher amounts of NOx in comparison to the i120CN.
On the plus side, it's warranty policy is just as comprehensive and one of the most extensive on the market.
Some things you must be vary of are that it has a slow start up time. So, if your residential space has frequent power cuts and no backup, getting immediate heating may be an issue.
Additionally, the system lacks an auto-reset function; if there is an error, you will have to manually reset the unit. This is a matter of concern; if the system is installed at a secondary residence and encounters an error, the system will not reset and potentially allow the pipes to freeze.
But, if you're on the same property, a manual reset should help resolve most errors.
The installation process is quite complex, as well, and you will most likely require the help of a technician to have it fit.
Rheem Prestige Series
Rheem Prestige Series
Hot water without the wait - or the waste
Low operating cost - High energy efficiency and water savings setting
Space Savings - Compact, space-saving design. Perfect for a tank...
Water & Gas Leak Detection will shut down unit and provide an error code
Auto-Learn Programming - tracks water usage over a period of time and...
Flow rate: Up to 9 GPM
Dimensions (height x width x depth): 729x439x376mm
Energy efficiency: 95%
Warranty: 12 year limited warranty
The Rheem Prestige is another impressive combination boiler. However, it's not as easily available as the other models on this list, and so, makes its way into the final spot. It's available in two power outputs – 180,000BTU and 199,000BTU.
We like the Rheem Prestige for its ease of installation – venting requires 2" and 3" PVC tubes, which are much easier, and more affordable, to work with in comparison to stainless steel pipes. The Prestige also offers a flow rate of upto 34 litres per minute, sufficient for heating water in three or more bathrooms.
Some users have complained about heat loss when the distance from the boiler to the point of use is large, but for residential use, you're likely to face any issues.
It also has an external sensor that automatically resets itself when ambient temperature changes to keep the inside of the home at optimum temperatures. Furthermore, it has an auto-boost feature that provides extra heat to achieve the desired heat faster.
It's also one of the quieter models on this list. On the downside, like we mentioned earlier, Rheem is not as widely present as some of the other names on this list and if you do manage to get your hands on one of their boilers, after sales support may be an issue.
What we like:
What we don't like:
Heat loss when piping is over 500-600 feet
Wall Mounted vs conventional boiler
One of the biggest advantages of using a wall-mounted boiler in place of a conventional boiler is space-saving.
A standard boiler also includes a large storage tank and a combi-boiler does away with this, resulting in a lot more space. Wall-mounted boilers are also much easier to install – largely owing to how much smaller and lighter they are – and also to maintain.
You'll have to call multiple people to help you install a standard boiler, while you can install a wall-mounted one on your own if you know your way around a toolkit.
If you're living on the ground floor of an area that's prone to flooding, a wall-mounted boiler will be a much safer option. Yes, even a standard boiler can be propped up on a platform, but it can only be protected to an extent. And, considering their height, wall-mounted units are a lot more convenient to repair.
The only major downside to one is that wall-mounted boilers rely on water pressure to provide a steady flow of hot water, while traditional ones can store larger amounts of hot water.
Benefits of Wall Mounted Boilers
Easy to install
Can be installed in tight spaces
Combi-boilers offer a two-in-one solution
Highly efficient
Smart features, remote accessibility
Affordability
Wall Mounted Boiler Installation
Yes, installing a wall-mounted boiler is a lot easier than installing a conventional one, but there are a few things you should take into consideration while getting it done.
For starters, your new wall-mounted boiler may not have to be the same capacity as the one you're replacing. Older boilers can be oversized, and so you should get a technician to do a heat loss calculator that will help you decide what capacity boiler your residential space needs.
It's also easy to underestimate your hot water needs. Factor in the number of bathrooms, faucets, and also whether your showerheads are low or high-pressure units. Anything from new windows and different paneling can alter how much capacity is required to heat your home, so make sure you have a heat loss calculation done around when your selecting your new boiler.
Trust us, it's a lot better to pay the fee for a heat loss calculation, than to get a boiler that doesn't fit your requirements and have to pay for a more capable one. Inversely, you don't want to spend extra money on something more than required and also end up paying higher electricity bills.
Another mistake that we hear a lot of is a failure to properly set the outdoor reset control. A boiler can't be as efficient as it's meant to be if it doesn't know what temperate water it must supply with correspondence to the outside temperature. For instance, you don't want the same temperate of water bring supplied when it's 7° and when it's 40.
So, make sure the sensor is set properly, away from the sun, on the north side of the building, away from windows, vents, and doors.
Conclusion
There you have it, our list of the 5 best wall-mounted boilers you can buy. All of the aforementioned models have their pros and cons, and what suits someone else's requirements may not be what's best for you.
Having said that, all of these models are exceptionally good at what they've been designed to do, and it's only a matter of picking a variant that fits your specific needs.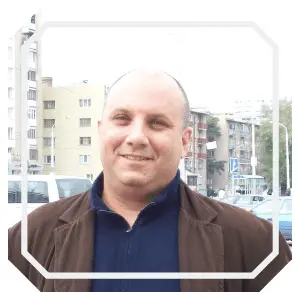 Nick Lopresti is the founder of YourH2Home and a home improvement expert. He has years of experience writing about various home improvement topics, mostly as it pertains to water systems.