Waterwise has been in the water purification industry for over 4 decades now and makes some of the best water distillers in our market. Their products range from countertop units that are ideal for small homes, to larger units that can distill several gallons of water a day.
Knowing which distiller best suits your requirements can be a time-consuming bit of research.
But, don't worry, because we've done that for you. We've considered the different requirements people have from a distiller, and determined which one of Waterwise's products best suits those needs.
By the end of this article, hopefully you will know which Waterwise unit is best for you.
In a Rush? Here are Our Picks
Pros and Cons of a Waterwise Distiller
Reputation:
As we said earlier, Waterwise has been around for a lot longer than several other distiller manufacturers that have entered the market more recently. Yes, certain units of their products do see quality issues, but a large majority of consumers have been using their distillers for decades.
Waterwise distillers, more often than not, stand the test of time. In case you're still skeptical, the company offers a 100-day refund or exchange policy, apart from the standard 1-year warranty that covers manufacturing defects.
Production rate:
When compared to water distillers of similar size, Waterwise units usually offer higher production rates or distillate capacity. This value is how much water the distiller can process in a certain amount of time, usually a day.
For instance, the base Waterwise 3200 countertop distiller is capable of distilling up to 6 gallons each day, while similarly sized units from Megahome and H2o Labs can distill between 4-5 gallons each day.
Price and cost of maintenance:
One of the major downsides to owning a Waterwise distiller is the costs affiliated with it. Waterwise distillers are some of the more expensive models, and the models we mentioned above from its competitions typically cost much less; sometimes even less than half the price.
Waterwise distillers can also be slightly more expensive to maintain. For instance, all the models come with one extra post-filter activated carbon filter, while some rival companies, like H2o Labs, supply with you a year's worth of carbon filters with a purchase of a distiller.
How we Picked the Best Model
Here are the criteria we considered while picking the best Waterwise distillers for you:
Distillate capacity:
The distillate capacity is how much water the unit can purify, usually denoted in gallons per day. This is an important aspect to consider as some distillers may not be able to match your daily requirements. For the average person, half a gallon of water is recommended per day.
Maintenance cost:
We've also considered the cost of maintenance, as distillers can have mineral build-up that may require special chemicals to clean, and filters that need to be replaced periodically.
Best Waterwise Distiller for Small Homes
Waterwise Countertop Distiller
Distillate Capacity: 6 gallons in 24 hours
Maintenance cost per year: $39 (filters) + $23 (Kleenwise descaler)
The Waterwise countertop is the company's mid-range countertop unit, but it's at the top of the list because it provides the best price to gallons-per-day ratio. The unit is rather simple and straightforward in its operation.
Build quality:
The Waterwise 4000 consists of a stainless steel boiler and a borosilicate glass storage bottle. Other features include an automatic shut-off after producing 1 gallon of water.
The construction of the Waterwise 4000 is also predominantly plastic and stainless steel, the build quality of which is decent, but not excellent.
One of its major design flaws is with the glass storage container. Its lid is a little flimsy and has a narrow spout, and a lot of consumers have complained of water spilling while pouring. The quality of the start button is also sub-par.
Production rate:
Speaking of, the Waterwise 4000 is capable of producing 1 gallon of steam-distilled water in 4 hours, equalling up to 6 gallons per day. At just 15 inches tall and 10 lbs, it's also quite portable, so you can move it around the house as required.
Maintenance:
It comes ready to install and includes an extra carbon filter that should be replaced every 2 months. One of the issues with this carbon filter is that it is attached to the exit spout of the distiller. As a result, that entire piece must be replaced – this is a waste of plastic and an alternative, more affordable carbon filter can't be used.
The cost of replacing the filters adds up to about $40/year, if changed every 2 months, so keep this cost in mind as well.
Warranty:
The Waterwise 4000 comes with a 1-year warranty against defects, and despite its flaws, is one of the best distillers in this price range.
Verdict:
We'd recommend the Waterwise 4000 countertop if you're looking for a distiller to purify water for a household with 5-6 people. It's easy to set up, simple to use and one of the easier units to maintain.
What we like:
Portability
Auto cutoff after distilling 1 gallon
What we don't like:
The water-filled storage container is heavy
Carbon-filter is attached to the spout
Best Waterwise Distiller for Large Homes
Waterwise Commercial Distiller
Distillate Capacity: 5 gallons in 24 hours
Maintenance cost per year: $29 (pre-filter cartridge) + $49 (post-filter – pack of 6) + $23 (Kleenwise descaler)
The Waterwise 7000 is the top-of-the-line unit in the company's countertop portfolio and is the one that's capable of producing the most water in a day. However, it's notably larger and also costs almost 4-8 times more than the aforementioned models.
Build quality:
The Waterwise commercial distiller uses a predominantly stainless steel construction. It's available with a 3-gallon reservoir – this unit is a countertop model – or with an 8 or 12-gallon reservoir. However, these models aren't countertop units and have their dedicated stands.
The build quality is good, but certain parts do tend to show signs of oxidation after a couple of years, if not maintained properly.
Production rate:
This unit is capable of producing up to 9 gallons of water a day, which is one of the highest production rates for a Waterwise model. So if you have a large family, this unit is probably your best choice.
The fact that the unit comes with a reservoir means that the distiller will purify water and store it as required, eliminating the need for you to monitor it frequently.
Maintenance:
This unit is also more expensive to maintain, requiring changes of a carbon prefilter ($29.00) and post-filter carbon cups ($47.00 for a pack of 6) every couple of months.
In case of any defects after the warranty period, the cost of replacing parts is also on the higher side. The pre-filter housing is priced at $35 and the remote faucet pump system will set you back a hefty $475.
Warranty:
The Waterwise 7000 comes with a 2-year warranty that covers defects in materials or construction, excluding the carbon filter.
Verdict:
If you live in a large household with more than 6 people or are looking to get a water distiller for a small office with 10-15 people, this is the unit that will best suit your needs.
What we like:
Distillate capacity
Large reservoir options
What we don't like:
Best Waterwise Distiller for Outdoors
Waterwise Non-Electric Distiller
Distillate Capacity:  Upto 16 gallons per day (based on 8900BTU/hour burner)
Cost of maintenance: Virtually none.
Now, the previous two distillers require a constant supply of energy to function, so they're of no use when there's no power, or if you want to purify water outside the home, like on a camping trip. That's where the Waterwise 1600 comes in.
Build quality:
The Waterwise Non-Electric Distiller consists of steel construction and comprises no moving parts, eliminating any unforeseen mechanical errors. It's a rudimentary setup, but one that works.
The company has stated that it uses a stainless-steel construction, but the coolant tray, for instance, is not made of stainless steel and is prone to corrosion. Certain exposed corners also tend to show signs of oxidation after a few months, if not maintained well.
As a result, the water can have a metallic taste.
Production rate:
As we mentioned, this Waterwise 1600 works over a stove, or grill, and as a result, the production rate varies. The company claims that it can produce up to 16 gallons per day while on an 8900BTU/hour burner (the equivalent of a 2.6kW electric stovetop), but we find that it usually takes a little longer to distill water.
Some consumers have also reported that it takes nearly twice as long.
Maintenance:
Since the model uses solely the natural process of distillation, it consists of no parts that require major maintenance or replacement. Maintenance includes cleaning the storage container, coolant tray, and boiler assembly with soap and water, and white vinegar in the case of mineral buildup.
Warranty:
The Waterwise 1600 comes with a 2-year policy against manufacturer defects.
Verdict:
The Waterwise 1600 boasts of a higher claimed production rate, but it's nowhere near as easy to use as the other models that require you to just plug them into a power socket. The 1600 has multiple layers that need to be assembled just right for the distiller to perform effectively.
It's also quite expensive for what it has to offer and is the distiller for you only if you're
going to need one when you're out camping or have an electricity problem.
For these reasons, we would not recommend that you buy the Waterwise 1600 as your primary distiller.
What we like:
Requires no electricity, portability
What we don't like:
Metal quality is sub-par
Rudimentary system takes effort to set-up
Different Types of Water Distillers
Distillers can be broadly classified into two main types: one runs on electricity, and generally sits on a counter, while the other is non-electric and functions with a heat source, like a fire, stove, or natural gas.
Electric distillers:
All the distillers mentioned above are electric. They're the easiest to use as you can simply plug them into a power source, fill them with water and turn them on.
The heating element will convert the water in the reservoir to steam, filter it, and then condense it back into liquid in the collection jar.
These distillers are the perfect choice for everyday household chores. Electric distillers can also come with larger reservoirs, and the ones with larger ones, typically are standalone units that don't fit on a countertop.
Electric distillers are great because they don't need to be monitored. On the downside, they are redundant without electricity.
Non-electric distillers:
As the name suggests, non-electric distillers work without electricity. They use an external heat source instead.
These units are great because apart from being used at home, they can also be used to treat water on the go, like on a camping trip. On the downside, you can't turn your back on them while they're working and need to be monitored.
Benefits of Using Distilled Water
Water distillation has been around for decades and, yet, even today is one of the most effective methods to filter and purify water. It works on the same principle as to how nature purifies water – it turns water into vapor, passes it through a filter, and condenses back into liquid form.
Here are some of the benefits of using distilled water:
Clean water:
Up to 99% of impurities in water, including most chemicals and heavy metals, can be removed by a good distiller.
When water is boiled in a distiller, a large extent of the microorganisms present in it is killed. These Waterwise distillers also come with activated carbon post-filters that act as a final filtration later, removing any pesticides and organic compounds.
Health benefits:
The effects of clean water on the body are virtually endless. A study by the American Journal of Epidemiology on more than 20,000 healthy men and women (aged 38-100), found that women who drank less than 2 glasses of clean water a day were 41% more likely to die from a heart attack than those who drank more than 5 glasses a day. The benefits were even greater in men.
Apart from the obvious benefit of distilled water being pure, there's are some other benefits of using them:
More affordable than bottled water:
Yes, there's the cost of the initial purchase of the distiller itself, but you'll find that in the long run, it will work out to be more affordable. Try adding up how much you spend on bottled water every year, and potentially having to spend that amount for the rest of your life.
Most affordable form of water filtration:
The average price of a Waterwise distiller is about $400. Some water filters that use reverse osmosis technology, for instance, can set you back thousands of dollars. On the contrary, more affordable technology may not be as effective.
Eco-friendly:
Buying a distiller at home will eliminate the need to buy plastic bottles repeatedly. When you distill water at home, you do it directly into a glass container or a high-grade plastic that's reusable for years.
Conclusion
Waterwise is one of the more popular names in the water distiller industry, and for good reason. Their products typically last decades, justifying the premium that they demand.
The only thing you need to know before buying one is how much water you'll require every day and what you're primarily going to use the unit for, both of which you should have a better idea of from the information above.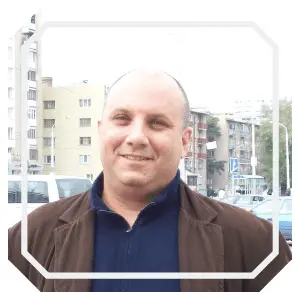 Nick Lopresti is the founder of YourH2Home and a home improvement expert. He has years of experience writing about various home improvement topics, mostly as it pertains to water systems.