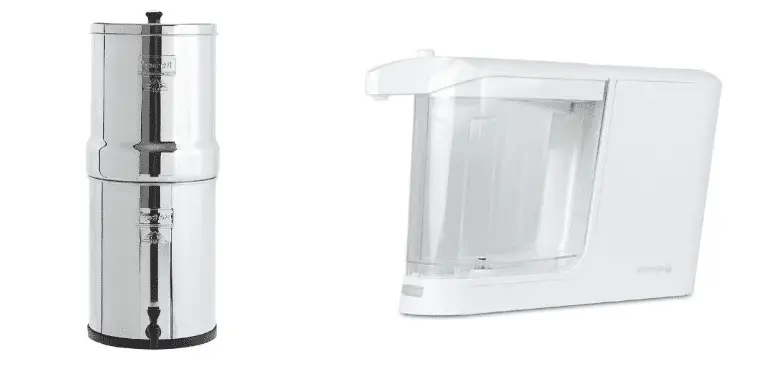 The world of water filters is quite contentious. 
Many make claims that sound too good to be true. Some actually fulfill their promise while others come up short. How to know which one actually works better?
In this head to head we will compare Aquasana water filters with their Big Berkey counterparts to see how they compare. 
Which one is best will depend on your needs and even your budget. I've made the process easy for you to decide by putting a head to head comparison on the types of filters they both offer.
Read on for all the details so you can make an informed decision when it comes time to buy the best water purifier for your home.
Filter Features:
Uses activated carbon, catalytic carbon and ion exchange
No installation
Very fast filtration
Up to 16 cup dispenser
Converts to 8 cup pitcher
Filters 8x capacity than gravity filter
Filters out bacteria, heavy metals, cysts, VOCs, pharmaceuticals, pesticides, chlorine, chloramine, and 70+ more
Improves alkalinity
1 year warranty
NSF certified
Filter Features:
Big Berkey features
No installation required
Doesn't use electricity
Proprietary filter media
Holds up to 3.25 gallons of filtered water
Stainless steel construction
Can purify raw, untreated water
Option to add filter for fluoride and arsenic
Removes bacteria, heavy metals, cysts, VOCs, pharmaceuticals, pesticides, and sediment plus lots more
Filter can last up to 5 years
---
| | Aquasana Clean H2O Machine | Royal Berkey Gravity Filter |
| --- | --- | --- |
| Lower Cost to Buy | ✓ | |
| Easy Installation | ✓ | ✓ |
| Removes Fluoride | | ✓ |
| Fast Filtering | ✓ | |
| NSF Certified | ✓ | |
| Filter Life | | ✓ |
| Capacity | | ✓ |
| Space Saving | ✓ | |
As you can see from the chart above, both of these filters have their strong suits when compared to each other. Then there are areas where they fall flat. Knowing what you need your filter to do is going to make all the difference when choosing which one to buy.
Take some time to evaluate your filter needs. I highly suggest running some water tests to see what your water is hiding from you. Use this one if you have well water and if you have city water then I suggest using this one.
If you already know what you need the filter to remove, read on to see how each of the filters compares head to head.
Royal Berkey Gravity Filter Review
Berkey gravity fed water filters have been popular with preppers, homesteaders and natural living enthusiasts for quite some time.
They have been the go to source for many people to purify their water whether they have a well or rely on city water. The biggest reason is that it works without any installation and uses no electricity.
It's an ideal solution for people living off grid or that are afraid of blackouts or power supply issues in case of a natural disaster. Not only that, but in the event of a natural disaster, the drinking water is usually affected and the Berkey water filter provides an easy solution to that.
The other reason they are popular is that they last a long time. The filters can go up to 5 years with heavy use or up to 6,000 gallons, whichever comes first. This offsets the high initial cost to buy since it doesn't require buying replacement filters for a few years. 
Berkey filters remove quite a bit of contaminants from bacteria, to heavy metals to pesticides and even have the option to add on an extra filter for fluoride and arsenic that are ideal for use with well water. Even raw, untreated water can come ready to drink.
The disadvantages?
There are a few important areas where the Berkey gravity fed filters are not worth it, however. For some people, anyway.
The biggest downside to many is that they have not been independently certified by the NSF. This is a third party that runs tests to see what exactly the filters remove and what they don't.
It's good peace of mind that the filters can back up what the company claims so you can drink the water without worrying. Berkey does their own tests and says that they remove the listed contaminants, but there is no way to know if it is true unless you run your own tests. This can be expensive and inconvenient.
Another couple of downsides are the fact that it filters very slowly. You can only get 3.5 gallons per hour from a Berkey water filter. That means it can take up to four minutes to get a couple of glasses of water if you let it run out. 
Then, there is the issue of space. It takes up a lot of room on a counter and may not even clear the cupboards. You'll need up to 24 inches of height plus the extra height to pour the water to be able to keep it on a counter. 
What We Like:
Can be used off grid or during blackout
Filters raw, untreated water
No installation and can travel
Filters last up to 5 years
No ongoing costs
High water capacity
What We Don't Like:
High initial cost
Filters very slowly
Takes up a lot of space
Is not third party or NSF certified
Aquasana Clean Water Machine Filters Review
Aquasana makes some of the best water filters on the market. And they have the NSF certifications to prove it. 
How does the Aquasana Clean Water Machine compare to the Royal Berkey water filter? They are not exactly the same class of filter, but the basics are the same.
The Clean Water Machine is a dispenser but it uses electricity to pass the water through the media rather than rely on gravity. Because of this, it can filter water very quickly and is extremely versatile. This doesn't mean it requires any installation. It simply plugs into any outlet you have on your counter.
It is versatile because it can be used as a dispenser and kept on the countertop, or it can be removed and used as a water pitcher and even kept in the fridge.
Using carbon based filters that are 8 times more efficient than any other pitcher filter on the market, it can remove over 75 contaminants.
Click to open the performance chart to see every contaminant that it removes.
Disadvantages of the Aquasana
Though my recommendation is to go with the Aquasana filter over the Royal Berkey, there are some factors that might not work for some people.
For instance, it can't be used during a power outage unless you have some backup electricity supply. It needs to use electricity to filter the water.
Another factor is the capacity. It doesn't give you as much water storage as the Royal Berkey. You can get over a gallon of water to dispense but if you use a lot of water, you will be filling it often.
The last downside is the cost. Though it costs far less to buy the filter outright than the Royal Berkey, you will need to be buying replacement filters more often. Every 3 to 6 months depending on your water usage. The ongoing costs will come to around $30 per year.
A less expensive option is to try out the other countertop filter they offer that attaches to the faucet. It takes up even less space on the counter and doesn't need any electricity. It is not a dispenser, however, so it is a different type of filter completely. But, it costs less to buy but uses the same filters as the Clean Water Machine. 
What We Like:
Very fast filtration
Can be used as dispenser or water pitcher
Highly effective carbon filters
Leaves beneficial minerals like calcium and magnesium
Removes chlorine and chloramine
Low cost to buy
What We Don't Like:
Filters need to be replaced a couple times per year
Doesn't work without electricity
Capacity is less than Berkey
Check Out The Aquasana Faucet Filter Here!
FAQ About Berkey And Aquasana
Why are Berkey water filters banned in California?
Current law in California requires that water filters and other water devices contain no lead and can be certified as such. Even though Berkey filters do not have any lead, they also don't have any third party certifications like from the NSF so they are not allowed to be sold in California. If Berkey would submit to independent testing, then they would be able to sell there.
Do Berkey filters remove fluoride?
The basic factory version of any of the Berkey filters do not remove fluoride, but there is a filter that can be added for an extra cost to remove both fluoride and arsenic.
Does Aquasana remove fluoride?
No, the Aquasana Clean Water Machine doesn't remove fluoride. The Aquasana filters that do remove fluoride are the OptimH2O Reverse Osmosis filter and Rhino filters for well water.
Does Aquasana Clean Water Machine soften water?
No, if you want to soften your water then one of the Rhino whole house filters is your best bet.
Is the Berkey or the Aquasana Filter the Best?
As you can see, they are both great filters. But, when it comes to trust, I have to go with Aquasana. They have the certification under their belt and that means a lot in this day and age. I like to know for sure that the water I drink is going to be pure and I don't feel like the Berkey filters can guarantee that.
Of course, I would love to hear back from anybody who has bought a Berkey filter and done the water tests to determine that they are indeed the better water filter.