You probably found your way to this article because you need a new water heater and have heard that a tankless is the way to go. 
An electric tankless water heater can be the ideal solution to your water heating needs and with energy saving features to boot.
But, is one right for you? If so, is the Ecosmart ECO 27 worth it?
It is one of the most popular electric tankless water heaters on Amazon and for good reason.
First and foremost, it will save you money. It has a decent GPM flow rate so if you don't have high hot water demand, it will give you endless hot water.
There are a lot of reasons to love the Ecosmart ECO 27 so read the rest of the review to see if it's going to be the best for your needs!
EcoSmart ECO 27 Pros and Cons
Sale
Ecosmart ECO 27 Review
Endless on-Demand Hot Water; Consistent hot water when you need it that...
Save Space; EcoSmart tankless electric water heaters are 90% smaller than...
Save Energy; EcoSmart tankless electric water heaters are 99% thermal...
EcoSmart ECO 27 Sizing; Refer to the sizing map. Requires 3x40 AMP Double...
Warranty and Certifications; Limited Lifetime Warranty on electronics,...
What We Like
6.6 GPM water flow rate with 30°F temperature rise
Digital temperature control in 1° increments
90% smaller than similar units
Copper and stainless steel components for efficiency and longevity
Saves up to 50% on energy costs
What We Don't Like
Installation can be expensive
Flow Rate of Eco 27
With a water flow rate of 6.6 gallons per minute with a 30°F temperature rise, which in a warm climate means you can have 4 low flow showers running at once.
Now, most medium size single family homes don't have four showers running at the same time. So if you have two showers and, say, a dishwasher you will have endless hot water with no issues.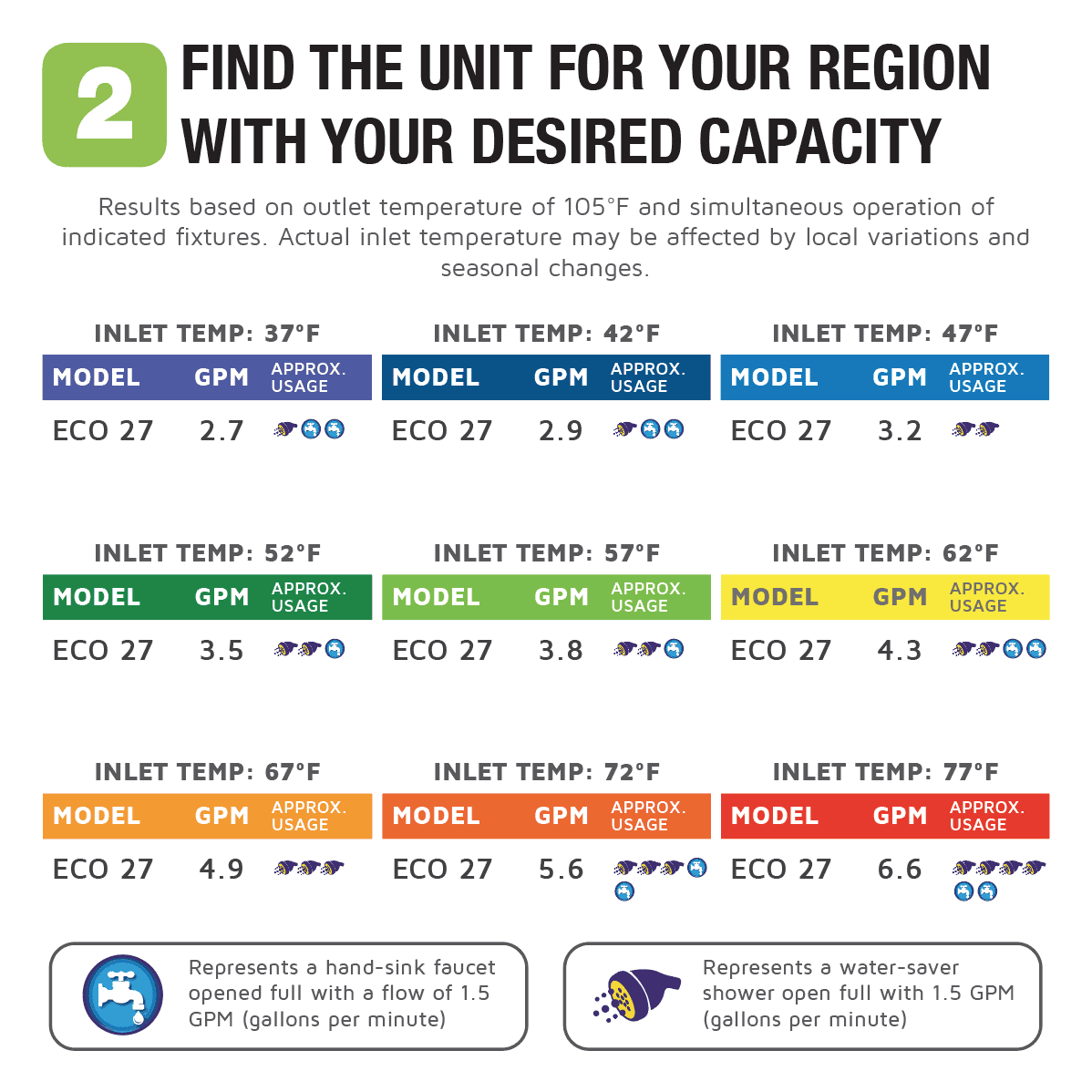 The most important thing to do before you buy any tankless water heater is to figure out what size it needs to be to fill your needs. Check out this article about how to size a tankless water heater that features a calculator so you understand exactly what GPM you will need based on certain criteria.
Is the Ecosmart Eco 27 Energy Efficient?
The Ecosmart Eco 27 is energy efficient due to its self-modulating heat sensor, which helps keep the inline electric water heater running at just the right energy level. For instance, if there is high water demand, generally other tankless water heaters will just have the water not be as hot since it can't keep up. Ecosmart Eco 27 will adjust the water flow so you get the right temperature every time. 
In addition to that, it will adjust how much energy it uses based on the water demand. For smaller families, especially in warmer climates, this is ideal.
However, keep in mind that electric water heaters in general are much more vulnerable to grid failures. A gas tankless will be able to work with a small generator as it requires only 120 volt outlet.
Space Saver
At 17″ x 17″ x 3.75″, it is so small that it is hard to imagine that you can get up to 6.6 GPM out of something that can fit inside a backpack.
It is 90% smaller than other inline electric water heaters that offer up the same GPM and use the same amount of electricity.
An advantage of this is not just that you have lots of options as to where to install, but you get faster hot water to your fixture.
Since you can put it under a sink, for instance, you can have hot water in seconds to that fixture. Gas tankless heaters may need to be further away from where you need the hot water most and can see you waiting up to a minute to get hot water at the faucet or shower.
Easy to Maintain
By using copper and stainless steel in the heater exchange and the hardware, it is easy to find replacement parts in the event any of them give out.
If you buy an isolation valve kit, sold separately, then you can easily flush the system if you live in a hard water area. I suggest flushing your tankless water heater once per year to make sure it is running efficiently.
People with hard water or that use a well can still have a tankless water heater, but I do recommend using a filter. Even if you plan to do a yearly flush, having a filter will ensure that your water isn't ruining the heat exchanger. 
Other than that, there really isn't much to do to keep your Ecosmart ECO 27 running smoothly.
Ecosmart Eco 27 Installation
3/4″ NPT male water connectors make it easy to hook up to the water supply, especially when using flex hoses.
Where installation falls flat is from the circuits and wires needed. It can get expensive with #8 wires, and 240V requiring 3 x 40 breakers. In some cases the breakers will need to be upgraded which adds to the expense.  
It needs to be hard wired by somebody that knows what they are doing, that is for sure. If you, or somebody else, does know how these things work, then the installation is pretty straightforward.
Here is a short video explaining how to install the Ecosmart Eco 27 electric tankless water heater.
The benefit of the Ecosmart ECO 27, and any electric tankless for that matter, is that it doesn't need to be vented. This allows you to install it in a crawl space, closet or even under the sink where you need it most.
Self Modulating Technology
To make sure that your temperature stays constant and you don't have it dropping while you are in the shower, the unit will automatically modify the flow rate to keep up with the demand. If somebody turns on a faucet while you are in the shower, you might notice a drop in the water pressure but not the temperature.
On the other hand, if your incoming water temperature is high, it will use less energy to heat it up so you aren't wasting electricity needlessly.
Ecosmart vs Stiebel
These are the top two brands for electric tankless water heaters so it makes sense to compare them head to head to see which one comes out on top.
The thing to remember is that you can't make a mistake if you get one over the other. The reason for the comparison is to see which one best suits your needs.
|   | Ecosmart ECO 27 | Stiebel 36 Plus Tempra |
| --- | --- | --- |
| GPM | 6.6 | 8.0 |
| Activation flow rate | 0.30 GPM | 0.77 GPM |
| Min. required breaker(s) | 3 x 40 A Dual Pole | 3 x 50 A Dual Pole |
| Water Connections | 3/4" NPT | 3/4" NPT |
| Warranty | Lifetime on exchanger | 7 year on exchanger |
Compared head to head, there are areas where they each excel. If you need high GPM then the Stiebel Eltron 36 Plus is going to be better. In other ways, they both are very similar. Where the Ecosmart ECO 27 comes up big is that it has a lifetime warranty on the heat exchanger.
They are also very similar in the technology that they use. They both do great at saving energy and provide the perfect temperature by using self modulating technology.
In essence it comes down to two things: your budget and your ideal GPM. The Stiebel Eltron 36 Plus is more expensive but also gives you a higher GPM. The Ecosmart ECO 27 doesn't give you as high a GPM but costs less as a result.
You can see how it compares to other electric tankless water heaters by reading this guide to the top five according to category.
FAQ About Ecosmart ECO 27
What is the power consumption of the Ecosmart ECO 27?
This highly depends on how big your household is and how much hot water you use on a daily basis. It uses 27 kilowatts which roughly equates to $0.16 kilowatts per hour. If your grand total of hot water usage over the course of the day amounts to an hour, it will cost you $0.16 or about $5 per month. If your household is larger and you run many showers over the course of the day, plus a dishwasher, washing machine and other uses, then expect that number to multiply considerably.
Is a gas or electric tankless water better?
This is dependent on your budget, hot water demand and availability of natural gas or propane in your area. If you have high hot water demand then a gas tankless water heater is ideal. Especially if you live in a cold climate.

If you have low hot water demand, then an electric will be better as they cost much less and are easier to install. You can read more about how they compare in this article about the differences between gas and electric tankless water heaters.
Where can I buy an Ecosmart ECO 27?
Not every big box store or small hardware store carries tankless water heaters so they can be hard to find. I recommend clicking the link that takes you to Amazon in the beginning or end of the article to buy it from them. It is easy to find this way without having to drive around to different locations and the price is usually better.
Specifications of Ecosmart Eco 27
14.7 pounds
17″ x 17″ x 3.625″
0.3 GPM flow rate activation trigger
Min Required Breaker: (3) 40 DP
113 A amperage draw
Verdict
For those with a medium sized, single family house, then this is the best electric tankless water heater. It gets the job done and saves money.
There is a lot to love with this endless hot water heater. So much so that if you have a bigger house with high demand for water, then I would recommend putting two of these in so you can run multiple points at the same time. It also helps to have each one close to the point of use, too.
In my mind, it is the best tankless electric water heater for most whole home uses.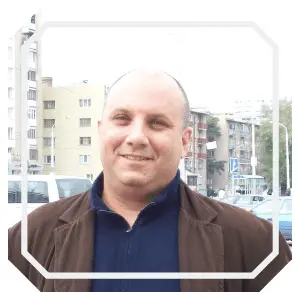 Nick Lopresti is the founder of YourH2Home and a home improvement expert. He has years of experience writing about various home improvement topics, mostly as it pertains to water systems.