Reverse osmosis does filter out healthy minerals from our water which gives many people pause who look into these filters.
The problem is that the WHO issued a report a number of years ago that it could cause health problems. Unless you live in a third world country that lacks basic resources, your diet will cover the lack of minerals in the water.
However, it does seem that you will need to be very careful about eating foods high in minerals like calcium, magnesium and selenium. 
There are RO filters that add minerals back to the water, so if you are concerned about the health side effects, then those are the best option.
Let's dive deeper into the pros and cons of reverse osmosis filters so you can see if you think it is worth it for you to have one.
Below you can check out my recommendation for the best reverse osmosis filter since it remineralizes and also wastes less water.
Frizzlife RO Reverse Osmosis Water Filtration System
【Remineralization & Alkalization Under Sink Water Filter】: The water...
【No Tank Design Under Sink Reverse Osmosis System】: Frizzlife PD600...
【600 GPD High Water Flow】: PD600 Reverse Osmosis water filter system...
【1.5:1 Low Drain Ratio】: Thanks to advanced water-saving technology,...
【Smart LED Display & Quick Change】: The smart display panel tells...
How Does Reverse Osmosis Work
The reverse osmosis system is pretty simple. They have a semipermeable screen that allows water molecules to pass through, but contaminants can't.
The screen is a membrane that is very thin and has holes small enough to block larger molecules and not just particles. The pores are 0.001 micrometers so it blocks many of the particulates in the solution.
Because the membrane is so thin and the pores so small, it requires a great deal of pressure to force the water through. This is where the name of the filter comes from as it uses the water pressure to overcome osmotic pressure.

What makes it different from other filters besides just how small the pores are, is that it uses cross filtration. The water is washed away in one direction where the contaminated water from the total dissolved solids goes another. 
Do RO Filters Remove Good Minerals?
Yes, reverse osmosis filters do remove the good minerals in water. Calcium and magnesium are important in our diet. The good news, however, is that the average person consumes far more of their daily needs in those minerals and don't really need them in their drinking water.
The bad news is that you will need to add a lot more of those minerals to your diet than there would have been in the water.
In other words, just adding the same amount of the minerals lost by eating the right foods will not be enough. You'll have to overcompensate for the loss of minerals from the water. 
The issue is that the body will leach the minerals out of your system and you end up urinating most of them away when you don't get them from the water. And that is even when you are adding more of the minerals through your diet.
What minerals does a reverse osmosis filter remove?
Calcium – This mineral is essential for keeping bones strong and your teeth healthy. It is also important for many other functions of the body such as muscular contraction and regulating of your hormones, among other things.
Magnesium – Magnesium is mostly found in the bones so is vital for healthy and strong bones. It has other effects on the body, however, so a lack of it will cause fatigue and cardiac problems.
Selenium – Your metabolism relies on adequate selenium levels in your body and it also helps regulate your thyroid.
Trace elements – Things like fluoride, copper, and manganese are also removed which can lead to tooth decay and also high cholesterol.
Adding Minerals to Reverse Osmosis Water
Instead of trying to change your diet to overcompensate for the loss of good minerals, you should look into adding those minerals back into the water.
This can be done by adding a post filter cartridge that allows water to pass through media that will send those minerals back into the drinking water. Or, you can buy one of the many reverse osmosis filters that remineralizes your water.
Alkalization Stage
After the water has been purified, it passes through a cartridge where it dissolves minerals such as calcium, magnesium and selenium and adds it back to your water. This not only improves the health of the water, but it makes it taste better, too. 
Look for reverse osmosis filters with this part of the stages so you don't have to think about adding minerals back to your water.
Sale
iSpring RCC7AK 6-Stage Water Filter System
Certified to NSF/ANSI 58, 6-Stage Alkaline Remineralization Layered...
GREAT-TASTING MINERAL WATER - A standard 5 stage RO system produces...
LOW MAINTENANCE - Transparent 1st stage housing for easy visual inspection....
EASY TO INSTALL & NO LEAKS - The water purifier is designed for...
100% SATISFIED CUSTOMERS - RCC7AK from America's favorite brand of under...
The iSpring RCC7AK water softener includes an Alkaline Remineralization filter which adds healthy minerals back to the water and produces balanced alkalinity.
If you already have a reverse osmosis filter and want to add minerals back to the water easily, then try adding a post filter between the filter and your faucet.
Sale
If you already have a reverse osmosis filter and want to add minerals back to the water easily, then try adding a post filter between the filter and your faucet
Trace Element and Electrolyte Drops
Reverse osmosis water can leach out sodium and potassium from your intestines that are hard to replace through just your diet. Often called electrolytes, you can use dietary supplements drops right to your water to get those electrolytes back into your system quickly.
Fulvic Acid Trace Mineral Drops
These all natural keto supplement drops use fulvic acid, humic acid, and...
Includes over 70 trace minerals that improve pH balance, strengthen the...
Our plant based energy supplement is 100% organic and manufactured using a...
These drops are tasteless and easy to mix into drinks; drop directly under...
Includes 4oz or 2oz glass bottle with dropper; independent 3rd party lab...
Is RO Water Acidic?
Reverse osmosis water is slightly more acidic than pure water. Pure water has a pH of 7.0 to 7.5. RO water has a pH of 6.0 to 6.5. For comparison, milk has a pH of 6.5 and coffee comes in around 4.0 to 6.0.
In other words, reverse osmosis is not so acidic that it will cause any problems for you.
If you want to regulate the pH of your water after it has been filtered by an RO system, then you can use a water pitcher filter. Now, your water has already been purified so you don't need the pitcher to further purify it, but they do raise the pH of the water if you prefer. Many people do not see the need to do this, however. 
Check the acidity of your water with a pH meter after it has been filtered to see if you even need to raise the pH. 
If it is below 6 then you definitely need to raise the pH up to at least 6.5 to 7. 
Seychelle pH2O Alkaline Water Filter Pitcher
✅ MILLIONS OF AMERICANS DRINK CONTAMINATED WATER EVERY DAY - These...
✅ ENHANCES pH UP TO 9.5 - This hydration helps flush harmful toxins from...
✅ BETTER TASTING WATER AND BEVERAGES - Taste the difference in your...
✅ SIGNIFICANT COST SAVINGS - While another type of alkaline water machine...
✅ FILTERS PROUDLY MADE IN USA - Beware of other water filter companies...
When Should You Use a RO Filter?
If you live in an area with high TDS or total dissolved solids, then a reverse osmosis filter is probably a good idea. A lot of people ask me, does reverse osmosis remove coliform bacteria?
Well yes, they do an excellent job of filtering out disease causing bacteria like coliform and e coli. They also remove heavy metals that can accumulate in your body.
If you have really hard water but you don't have any pathogens that need to be filtered, then you really don't need a reverse osmosis filter. Instead, look into an electronic water descaler.
The nice thing about these is that they don't remove the good minerals. The way it works is that the minerals are charged so they can't attach to the fixtures and pipes but still leave them in the water.
HQUA 5000E Electronic Water Descaler
HOW IT WORKS? Descale the existing deposit in your entire pipe system and...
THE BENEFITS YOU WOULD GET: Blocking, Worse heating efficiency, Rust...
ADVANTAGES: Cable bands works great in this new technology since it has a...
NOTICES: The Max Pipe Size: 1-1/2". The Max Water Hardness: 25 gpg...
1 YEAR-100% MONEY BACK GUARANTEE. You would get a full, no quibble refund...
Now, if your problem is that you have contamination from coliform and other pathogens but your water is not hard, then you can use other types of filters like a UV purification system.
HQUA-OWS-12T Ultraviolet Water Purifier Sterilizer Filter
12GPM Whole House Water Filtration Unit,37.2 inch long and 2.5 inch...
High Efficiency.Destroys up to 99.99% of bacteria and viruses.
No Secondary Pollution.No chemical added to the water supply.No change in...
Easy Installation .Simplicity and ease of maintenance.
Long Life. Normally, the lamp can work more than 9000 hours.
Now, if you have hard water and bacteria, then your best bet is a reverse osmosis filter. As I mentioned earlier, you just need to make sure you have one that will add the minerals back. Not only that, but RO filters waste a lot of water. There are some called zero waste that also conserve water as not as much is flushed away.
Frizzlife RO Reverse Osmosis Water Filtration System
【Remineralization & Alkalization Under Sink Water Filter】: The water...
【No Tank Design Under Sink Reverse Osmosis System】: Frizzlife PD600...
【600 GPD High Water Flow】: PD600 Reverse Osmosis water filter system...
【1.5:1 Low Drain Ratio】: Thanks to advanced water-saving technology,...
【Smart LED Display & Quick Change】: The smart display panel tells...
This tankless reverse osmosis filter delivers 600 gallons per day while wasting 5 times less water than other filters. It also remineralizes the water and takes up less space under your sink than other filters.
Reverse Osmosis Filter Pros and Cons
Aside from the fact that a RO filter removes the healthy minerals and needs to add them back to the water, there are some other downsides. But, there are plenty of positives, too. Let's go over the advantages and disadvantages of an RO system.
What do we like?
Removes 95 to 99% TDS
Energy efficient (Doesn't use electricity)
Costs less than buying bottled water
Very easy to maintain and replace filters
What we don't like?
Removes healthy minerals
Wastes water
Water flow is slower
As you can see, the cons are mitigated when you use a good reverse osmosis filter that has remineralization and also reduces the discharge water needed. So there are far more positives than negatives when you use the right kind of filter.
In my opinion one of the best RO filters that does all of this is the RKIN Alcapure Undersink RO Filter. It remineralizes Calcium and Magnesium specifically.
RKIN Alcapure Undersink RO Filter
HIGH CAPACITY 5 STAGE REVERSE OSMOSIS SYSTEM. Flash Water Filtration System...
ALKALINE WATER PURIFIER: AlcaPure Polishing Alkaline Post Filter returns...
SPACE SAVING DESIGN: Undersink space is at a very high demand, and your...
EASY AND SANITARY FILTER REPLACEMENTS: Quick and easy twist on and off...
FAQ About Reverse Osmosis Water
How does RO water taste?
In many cases, it tastes much better than your water before it was filtered. In fact it hardly tastes like anything at all. Some people will miss the taste of pure water and are better off with the reverse osmosis model that remineralizes the water.
Is RO water banned in Europe?
There is no European country that has outright banned the use of an RO filter. Talks have been held to consider it if the filter doesn't remineralize water and if it wastes too much water.
Is reverse osmosis water good for pets to drink?
Just as with humans, it is better to give your dog reverse osmosis water that has been remineralized. Otherwise, pay close attention to their diet to make sure they are getting the healthy minerals they need.
Is Ro water bad for coffee makers?
Yes and no. They are good because they remove much of the scale that ruins coffee makers. But, the slightly acidic water can also wear out any copper parts. They will eventually be ruined by RO water, but much later than if you use hard water.
What is the difference between distilled water and reverse osmosis?
Even though the process is different, the end result is pretty much the same. Distilled water is boiled and then the steam collected with the contaminants left behind. RO water is pressure forced through a membrane that removes everything but the water molecules.
Is RO Water Worth it to Drink?
I think that it is absolutely worth it if you have the right filter. If you have particularly hard water with the addition of disease causing pathogens, then it pays off to filter that water. When you use one that remineralizes the water and also wastes less water than other types, then it adds up to a great move.
So, yes, reverse osmosis water can be safe to drink. There are pros and cons, but the benefits outweigh the bad in my opinion.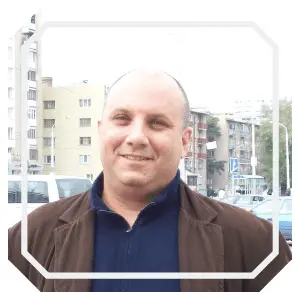 Nick Lopresti is the founder of YourH2Home and a home improvement expert. He has years of experience writing about various home improvement topics, mostly as it pertains to water systems.