If you want a successful business and a healthy workforce, you need the best commercial water filters. But given there are so many choices, what's the right filter for you?
In this article, we created a list of the best commercial water filters considering key factors like production rate and filtering capability. In this way, you can pick exactly the right commercial water filter for your situation. So let's get right to it!
In A Rush? Here are our Top Picks
Best For Light Commercial Use
Our Criteria
The market is flooded with a wide range of commercial water filters, so sometimes picking the right one can be confusing.
Here are some of the important factors that we monitored closely before recommending the best commercial water filters. 
Production (GPD)
Water filters are rated depending upon the amount of clean and filtered water they can produce per day. This is commonly referred to as Gallons Per Day (GPD).
The production rate is measured under various conditions. You can take a look at the entire measuring process here.
While a 50 GPD water purifier works well for residential use, commercially used water filters should have a GPD of more than 300 GDP or more for optimal results.
Filter Life 
The lifespan of a commercial water filter depends on the type of filter, the water usage, and the level of contamination. 
The average lifespan of a water filter is between three to four months. Some brands even offer a service life of up to a year or two.
Flow Rate
Flow rate is the amount of water that comes out of the faucet or the water outlet. It is measured in gallons per minute(GPM).
As a frame of reference, a residential complex with 9-10 residents and 4-5 bathrooms would need approximately 20 GPM as per these experiments. Depending on how big your establishment is, you might need an even higher GPM.
Our best pick has a GPM value of 35.
Water Pressure
RO filters and UV filters both make use of high water pressure. If your establishment does not have a consistent water supply, then you should not buy RO filters without a booster pump. 
Choosing a carbon-activated water filter will also solve the problem of low water pressure.
If your water supply is not only low but also high on TDS, then you have to get a RO filter. However, if you have a steady water supply, you can choose either UV or RO filter.
Best Commercial Water Filters
WECO HydroSense Reverse Osmosis Water Filter: Best Overall
WECO HydroSense Reverse Osmosis Water Filter
Reverse osmosis drinking water purification system for residential and...
Sediment and compressed carbon block pre-filtration removes tiny particles...
Standard 1812 Volume Thin Film Composite reverse osmosis membrans removes...
Ideal for residential drinking water use, medical offices, laboratories,...
Please note this is not a complete whole house reverse osmosis system....
This HydroSense reverse osmosis model gives you everything you look for in a commercial water filter. It has an automatic electric booster pump that makes sure that the functioning of the system is always in optimal conditions. Its treatment process can remove 0.5-micron particles from the water to make it odorless. 
The reverse osmosis treatment sieve traps heavy metals like chromium and lead. It produces 500 GPD which is higher than a standard commercial water filter that produces 300 GPD. This is enough water for something like breweries.
Most components of this unit come pre-assembled which makes it easy and quick to install using simple hand tools. You only have to connect it with the supplied atmospheric tanks and your water pipes to get it up and running. 
What we like:
Automatic electric booster pump
Pressure sensors are built-in
No noise disturbance during the filtration process
Easy installation 
1:1 waste to reject water ratio
What we don't like:
Best Suited For:
It is an ideal commercial water filter for medical offices, laboratories, schools, aquariums, and hydroponic growing operations because of its low maintenance and high efficiency.
APEC Water Systems RO-Lite: Good Filter Life and Low Maintenance
APEC Water Systems RO-Lite
Supreme quality - designed, engineered and assembled in USA to ensure water...
Equipped with three US made high capacity 20" pre-filters and three Dow...
Featured with big 3/8" fast-flow output design to increase the flow rate...
Comes with 100% metal and lead-free designer faucet, heavy duty 14-gallon...
Provides ultimate satisfaction and peace of mind with lifetime support from...
This model is a 5-stage filter system that comprises high-capacity filters which not only improve the water quality but enhance the life of the overall system. The first stage removes dust particles and rust using a polypropylene sediment filter.
The second and third stage filters use activated carbon filtering to remove chlorine, foul taste, odor, and cloudiness from your drinking water. The Volatile Organic Compounds are also removed in this stage.
The reverse osmosis membrane filter at the fourth stage removes up to 99% of the dissolved solids from your water. The pressure in this stage is so high that it can get rid of contaminants like arsenic, lead, bacteria, and viruses.
The contaminants that are stubborn enough to remain in the water supply after 4 stages of filtration, will find their way out in the 5th stage of the filtration process using its advanced coconut shell refining carbon. The residual taste from sitting in the filter for so long is also removed in this stage.
What we like:
Long-lasting filters with a 2-year warranty
The remineralization in the last stage enriches the water with important minerals and balance the pH of the water
Bigger output results in drawing more water in a shorter amount of time as compared to other brand commercial filters.
Filters are WQA(Water Quality Association) certified 
What we don't like:
No booster pump. If you have low water pressure, you might have to invest in an additional permeate pump.
Best Suited For:
This model is good for organizations with good water pressure since it does not have a booster pump. It is perfect for providing safe drinking water to schools, offices, restaurants, and hotels.
iSpring Reverse Osmosis Tankless Water Filtration System: Light Commercial Use
iSpring Reverse Osmosis Tankless Water Filtration System
High capacity Reverse Osmosis systems removes up to 99% of over 1, 000...
Freestanding Stainless Steel Frame and Metal hanging bracket. Makes your...
Super-efficient RO membranes combine to provide up to 300 gallons of...
Built in booster pump increases the production of purified water by raising...
Great for light commercial use in Restaurants, salons, labs, and offices...
This model from iSpring also has a 5-stage filtration system to remove all contaminants from the water. The first stage has a standard sediment filter that boasts a multi-layer filtration to ensure fewer clogs and minimizes pressure loss.
The water then goes through the activated ANSI-certified carbon filter that bids farewell to chlorine, foul odor, and rust. The next stages reject a broad spectrum of impurities up to 0.0001 microns. This means that you will have luxuriously safe drinking water at your establishment.
The advantage of this commercial water filter is that it comes with a booster pump which raises the water pressure and exceeds the daily usage requirements. 
As per the iSpring Customer Support team, this model with a 300 GPD is best suited for light commercial use. So, if you are having a medium-sized restaurant, with a high volume of around 200-250 guests, this filter will do its job well.
However, if you are selecting a water purifier for a school, with probably hundreds of students, then it is best to go with the WECO water filter, which has 500 GPD.
What we like:
The filters are oversized at 20 inches which means they can provide access to 30,000 gallons of water before replacement.
Comes with a built-in pressure gauge that allows you to see when replacements are needed before the pressure drops
Has a booster pump
Filters particles of 0.0001 micron
What we don't like:
A water storage tank is not included which means you can expect a 15-20 second delay for on-demand water
The motor seals may fail prematurely if you have a poor water source
Best Suited For: 
This model is best suited for light commercial use in restaurants, labs, salons, etc. It removes even the finest of particles from water with its 0.0001-micron filter.
Light Commercial Reverse Osmosis Water Filtration System: The Eco-friendly Water Filter
Light Commercial Reverse Osmosis Water Filtration System
Great for light commercial use in restaurants, labs, salons, cafes,...
The oversized 20" pre RO filters provide up to 30,000 gallons of filtered...
Economical & Environmentally Friendly. Eliminates Plastic bottles. 20"...
Compatible with most pressurized storage tanks; tank not included*
Built in booster pump increases the production of purified water by raising...
Its three specific features make it ideal for commercial use. It comes with a booster pump to adjust the water pressure between 22 and 95 psi making it useful for commercial premises. Its 20-inch pre-PO filters enable it to deliver 30,000 gallons of water. 
Thirdly, the size of the filters is twice that of the industry-standard filter which means you won't have to replace them anytime soon. Its 5 stage filtration system is efficient enough to provide you with clean drinking water. The low-pressure membrane can process up to 400 gallons of water every day.
The Light commercial RO water filter is eco-friendly. It has a 20-inch premium filter that ensures long filter life and low maintenance costs. 
What we like:
Oversized 20″ pre RO filters process twice as much water as standard water filters
The eco-friendly model eliminates plastic bottles
Compatible with almost all storage tanks
Includes a booster pump
What we don't like:
Best Suited For:
Ideal for light commercial use in restaurants, salons, cafes, offices, schools, etc for its overall standard features. For those who are always on the lookout for eco-friendly models, this one's for you.
Express Water Commercial RO Water Filtration System: Standard Water Filter
Express Water Commercial RO Water Filtration System
Commercial RO Water Filter: Reduce up to 99.99% of impurities including...
High Quality Commercial RO System: Express Water Commercial Reverse Osmosis...
A Filtration System You Can Trust: Inner membrane layers made from...
Catch More Impurities : Density grading of the membrane layers gives your...
On Demand Support: Support from experts who can answer any of your...
If you own a car wash or hotel and really go through a lot of water every day, then you might want to go for something like the Express Water Commercial Filter. Its 2000 GDP is amongst the highest you can find.

Of course if you own a small restaurant, something like the WECO HydroSense filter is MORE than enough.
The Express water filtration system is a stainless steel construction that is sturdy and reliable. This model is equipped with a sediment filter at every entry point. This means that dust particles and rust can't enter your water supply from any entry point.
The polypropylene microfibers in the filter can capture particles of 5 microns and above. It is not as good as the 1-micron water filters but if your water supply does not have super fine particles, you are good to go with a 5-micron water filter.
Other features are quite standard but one thing that makes it different is its compact design. It takes up less space than other commercial water filters and is comparatively light in weight. 
The installation process is easy and can be done on your own using basic home tools.
What we like:
2000 gallons capacity per day
The compact and durable build of the unit
What we don't like:
Best suited for:
The reverse osmosis filtration system is great for Hotels, Hospitals, Factories, Car Washes, Restaurants, and more. It improves the taste of food and drinks and protects appliances that use water like boilers or water heaters.
Commercial Water Filter Types
Different types of impurities require different types of water filters for making them safe for drinking. Tap water contaminants vary depending on the source and can be treated using different types of filters. The different types of commercial water filter are:
Reverse Osmosis
Reverse osmosis filters are surface filters that remove contaminants using membrane screens. The contaminated fluid is forced through the membrane by applying pressure. The water that comes out of the filter is free of most of the contaminants from water.
The contaminants are removed depending on the size of the membrane pores. If the particle size is greater than the membrane pores then they are trapped there but smaller contaminants can pass through.
A reverse osmosis filter can be used to remove limescale, salts, and nitrates. However, there is a lot of wastewater in these filters.
UV Filters
The UV water filter system uses ultraviolet rays to kill the harmful substances in the water. It is one of the most effective methods for disinfecting bacteria from drinking water. The UV rays penetrate the harmful pathogens and eliminate their ability to reproduce.
The contaminants from the water are removed without adding any chemicals to the water which retains the water's taste. UV filter treatment should be used for poor water sources.
Carbon Filters
Carbon filters use activated carbon granules that have been burnt at a high temperature in limited oxygen. These filters can remove harmful contaminants such as pesticides, chlorine, manganese, iron, and hydrogen sulfide.
Carbon filters need to be replaced after a few months to avoid clogging pipes with impurities. 
Conclusion
Commercial water filters help increase the efficacy of industrial operations. We have provided a list of the best commercial water filters that have been built for different industrial functions.
If you want a standard commercial water filter with the basic functions then we recommend that you go for Light Commercial Reverse Osmosis Water Filtration System.
For low maintenance and highly efficient water filter, we suggest the WECO HydroSense Reverse Osmosis Water Filter. It is a bit expensive but the features that it provides are worth it. 
Best For Light Commercial Use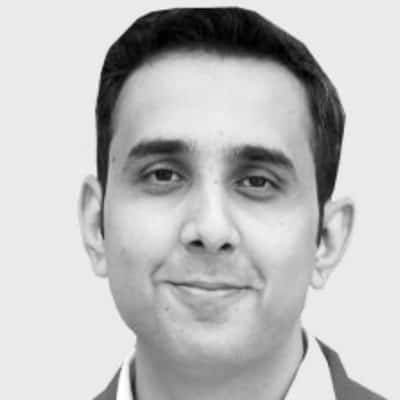 I graduated with a degree in Chemical Engineering and have written for a number of nationally recognized publications in the home improvement space. My skills include fluid mechanics and process engineering and I have worked on numerous projects, including in waste water flow rate calculation and heat balance of steam rollers in the paper industry. My goal as a technical writer is to make complicated topics easy to understand for the average person.