Before I get into the heart of the review, click the link above to check the current price. This is not a budget tankless water heater. It pays to see if it is within your budget before reading on.
If you have high hot water demand you need a powerful tankless water heater to give you the gallons per minute necessary. This is especially true if you live in a cold area.
This RUC98iN review should help you decide if it is going to be the best choice for your needs.
Pros and Cons of Rinnai RUC98iN
Rinnai RUC98iN Tankless Water Heater
INDOOR installation only. Fuel Type: NATURAL GAS.
Concentric or PVC venting option
Up to 0.96 Energy Factor/Up to 0.92 Uniform Energy Factor
The space-saving design allows Indoor Installation type
Ultra low NOx emissions
What We Like:
9.8 GPM (Gallons Per Minute)
Can be used with natural gas or propane
Condensing technology
Incredibly efficient – Up to 0.96 Energy Factor
Low flow rate trigger – .4GPM
Ultra low NOx emissions
Includes isolation valves
Concentric or PVC venting option
Long warranty – 12 years for residential
What We Don't Like:
Requires ¾ inch gas lines
Takes a minute to heat the water at first
Water Flow Rate
This alone makes it worth the price. You get almost 10GPM which is enough capacity for many households.
If you have three bathrooms and use multiple fixtures at once then you need a high GPM tankless water heater. If you live in a cold area, then the gallons per minute become even more important.
How cold your incoming water is has a huge impact on how many gallons per minute you will get out of your tankless. Check out my detailed guide on how to size a tankless water heater to see how many GPM you need yours to be.
For example, if you run two showers with a dishwasher at the same time then you will need at least 6 GPM which the RUC98iN can handle without any problem.
To activate the unit and start heating the water, it requires 0.4 gallons per minute of water flow to trigger it. Most low flow faucets start at 0.5 GPM so you will still get plenty of hot water even if you use those water saving fixtures.
Check the chart below to get an idea of what your GPM may be based on the incoming water temperature.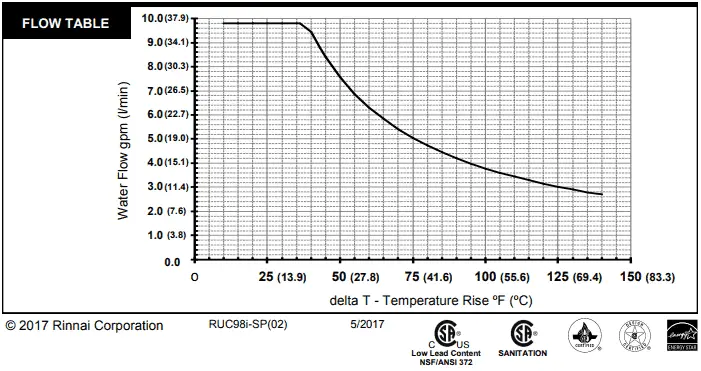 Highly Efficient
The RUC98iN has a staggering 0.96 Energy Factor rating. Only 4% of the heat used to make the water hot gets lost. You will save up to 30% on your gas bill by switching from a tank storage heating system to the RUC98iN.
No gas is wasted on a pilot light, either as it has an electric ignition. It starts on its own when it detects 0.4 gallons of water per minute flowing through the heat exchange.
It is also very low in NOx emissions.
Variable Venting
With two ways to vent the RUC98iN you potentially can save money on the installation.
There is the option for concentric vents. There is an inner vent that emits the hot exhaust. That is surrounded by an outer vent that draws in the cool air from outside. As a result, there is no need to use any special installation of the vent to prevent issues with a hot vent.
The other alternative is to use the PVC vent for the traditional twin pipe style vent kit. PVC is also very easy to use for venting as it can be sealed without it getting hot.
You can check out some different tankless water heater venting kits to see which kind you can use for any Rinnai brand tankless.
Easy Maintenance
You'll always know when your Rinnai needs to be maintained as it has an error code for all kinds of issues. Whether there is something wrong with the unit or it simply is time to descale.
Knowing the problems is half the battle. 
When it comes to descaling, it is very easy to do it yourself. Thanks to the included isolation valves, you can pump a solution through the tankless water heater to remove any lime buildup without needing to open the valves.
This saves you quite a bit of money since you won't need a plumber to do it. 
Take a look at this article to see what kind of flush kits you should use to clean your RUC98iN.
Specs
Warranty:  Limited 12-year on heat exchanger, 5-year on parts, 1-year on labor (5-year optional on labor)
Weight: 84 pounds
Dimensions: 10 x 18.5 x 26 inches
15,200 – 199,000 BTUs
Natural gas or propane
Water Pressure: 50psi to 150psi
Gas lines: Needs to be ¾ inch lines
Takeaway
I hope this Rinnai RUC98iN review has helped you realize what a great tankless water heater it really is.
If you live in a large house with a big family, then this is an ideal tankless with enough capacity for your high hot water demands.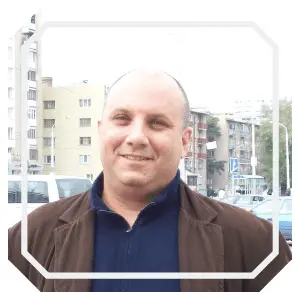 Nick Lopresti is the founder of YourH2Home and a home improvement expert. He has years of experience writing about various home improvement topics, mostly as it pertains to water systems.