There are many reasons why people install pool grottos. Some choose to install a grotto in their pool as an aesthetic feature, while others choose to add them to pools to increase their homes' value.
People love pools for what they are, a fun haven. One thing is common across all pool owners—they all love a custom-made and well-manicured pool.
Apart from the fun activities in a pool, the aesthetic appeal of a pool does wonders to a home. This is why pool grottos are a great add-on feature for any pool.
What Is a Pool Grotto?
The most basic definition of a pool grotto is a small cave with a waterfall entrance. But this doesn't mean that's all a grotto can be.
There are a ton of great grotto designs. Some of these grotto designs do not have a waterfall, but instead, the top of the grotto has features like a water slides. A grotto can also be designed as an underwater entrance to a small bar or spa room. This awesome feature can also be used to create a hidden entrance to small caves that can be utilized for various purposes.
Grottos are made to mimic real-life cave entrances. This is why the exterior of a grotto is made to look like a pile of rock boulders.
The exterior can be made from natural stone or from a similar substance. The grotto must then be landscaped to match the theme intended in the pool area. Engineered concrete is one of the most versatile materials used to create grottos. However, it makes the grottos even more expensive than casting the boulders from real rock. Natural rock also makes some of the heaviest and expensive grottos. Prefab artificial rock is used to make affordable pool grottos.
Waterfall Grottos
Waterfall grottos take the shape of a hidden cave that can only be accessed through the waterfall at the entrance. To create room in the space inside, the roof of the grotto is usually raised. This results in another great space behind the grotto that can be utilized in many ways.
Typically, the waterfall on the grotto is about 48 inches in height and cannot be customized in any way. This common adaptation of the pool grotto is just high enough to conceal the space with water sheathe and allow easy access by swimmers. However, in some pools, the waterfall may be high enough to allow swimmers to wade under it.
If your sole intent in installing a pool is to ramp up the value of your home, then you still can't go wrong with a pool grotto. According to realtors, a pool will increase the value of a home by seven percent on average. However, if remarkable water features like a pool grotto are installed in the pool, the value of your home goes up with the pool's aesthetics.
True, there is a broad spectrum of pool add-ons that can be used to spice up your pool, like waterfalls, swim-up bars, and pool lights. A grotto ranks as a luxury pool feature that adds to the pool's aesthetic appeal and home value.
Not long ago, grottos were only a pool feature found in resort clubs. However, newer and cheaper construction methods have made it possible for any pool owner to enjoy the luxury of a grotto. You can choose from a wide array of grottos that range from hidden spas to simplistic loveseats.
Some other ideas that can be used for pool grottos include:
Swim-Up Bars and Lounging Areas
In-water benches can be used to create great lounging spaces for swimmers to socialize and relax. Grottos can also be designed to feature entire rooms that can be used to create swim-up bars or lounging areas. Of course, these designs will vary depending on the shape and available room in your pool grotto. What makes pool grottos the ultimate space to relax is the sound of the trickling waterfall and the cool interior.
Loveseat Grotto
A grotto may also incorporate two or more seats, depending on the size of the grotto, behind the waterfall. This allows for a great space to bask in the sun and relax. Most loveseat grottos are usually made from actual rock, but artificial stone can also be used if well reinforced. To match the aesthetics of your pool, artificial stone has to be stained in different colors. If steadily placed, the rock ledge on the top surface of the grotto can also double as a diving rock.
Hot Tub Grotto
A great twist on the loveseat grotto is installing a hot tub for your grotto. If you need a grotto that satisfies your group seating needs, you can have a hot tub incorporated into your pool grotto design. Most waterfall grottos have a water line running to the top of the grotto, allowing water to cascade down in a waterfall.
This waterfall can be designed to rain down onto a hot tub instead of directly into the pool. A hot tub grotto allows for more seating room than the regular grotto. You will also need to have lighting installed since most hot tubs are used at night.
Add A Slide to Your Grotto
To make the grotto the focal point of your pool, you can have a slide added to the pool grotto design. This not only adds to the fun activities that can be carried out in a pool but also gives the entire pool a natural vibe. This is because the slide will also have to be made from the same rock material as the grotto. You can choose to go high-end with the slide or install a shorter design on a basic loveseat grotto. 
Hidden Rooms
A grotto can be the place you go when you want to enjoy ultimate privacy. Past the water sheathes, you can have hidden rooms where you get away from the noisy world.
You can have the hidden rooms decked out in luxury features if money is no object. The cool interiors and ambiance of the grotto make it the perfect space for a private room. However, you should bear in mind that additional space will only increase the amount of cleaning to be done. Cleaning grottos can be a pain as they are typically not connected to the pool's vacuum. 
How Much Is a Grotto Pool?
When considering a pool grotto or any other add-on pool features, the cost is always a primary consideration. The design proposed by the builder will range from good, better, best, depending on your budget.
As with any other construction project, your budget heavily influences the design choice. The cost of building a pool grotto will vary depending on the material and labor costs in your area. Pool grottos are not cheap to construct, which is why they are ranked as luxury resort pool features. Typically, in addition to the cost of constructing the pool as well, a pool grotto will cost you about $5000 to $10000. 
The cheapest option of a pool grotto would be a waterfall design with one or two seats behind it. However, the sky's the limit for such deluxe designs when it comes to pool grottos that incorporate hidden rooms, hot tubs, and swim-up bars.
Grottos with larger waterfalls or bigger rotomolded slides will cost in the range of $10000 to $20000. Pool grottos with high-end features may cost up to $50000. This includes grottos that have sides made of fiberglass flumes or rock-type staircases. 
It is also prudent to include landscaping costs since it is the key to making your pool aesthetically pleasing. 
When choosing a builder for your grotto, it is advisable to look for a water expert that offers landscaping services. This is often cheaper than having to go to professional landscapers for the surrounding area as well as the pool grotto. Landscapers who are not pool experts may unintentionally compromise the pool while landscaping.
Cost variation of pool grottos often arises from the choice of material to be used. As stated earlier, real rock and engineered stone make the most expensive grottos. This is because of the labor involved as well as the construction process. 
Cheaper grottos can be made from artificial stone. Previous versions of grottos included rocks made from rubber molds. The labor cost is typically negotiable with the pool builders.
However, pool owners should be wary of attempting to build a pool grotto as a DIY project. This is because a grotto is a reasonably sophisticated structure that people will be spending a considerable amount of time under and in. It is best to work with a team of pool construction experts who are experienced and well trained for the job.
FAQ
Can You Add a Grotto to An Existing Pool?
A pool grotto is an add-on feature that can be added to an existing pool. Pool owners can add grottos to their pools as a great way to enhance the appeal of their homes as well as to spice up their pool experience.
However, there will be certain limitations as to what is achievable, depending on the space available as well as the nature of the pool. Structural considerations may also influence the grotto design that can be incorporated into an existing pool. Experienced pool construction teams may help you understand any existing limitations of your existing pool, terrain, or yard. It is also prudent to apply for a permit and comply with zoning requirements for larger grotto designs.
2.      What Is the Difference Between a Cave and A Grotto?
A grotto is a cave-like structure often added to pools to increase their aesthetic appeal and make swimming experiences more fun. The hidden nook is typically situated beneath the pool and hidden behind a waterfall entrance. Artificial pool grottos are made from fake rock boulders that have been stained with different colors to mimic natural rock. On the other hand, a cave is a naturally formed chamber situated on a cliff or hillside.
3.      How Much Does a Grotto Slide Cost?
High-end grotto designs include adding a slide and staircase since kids want to slide down these resort-style water features. Experienced builders can build a modular staircase system in a single day. This is so much quicker and efficient than having to build an entire staircase system from scratch.
Many construction companies offer this type of component system since it is highly price-competitive. Today, you can have a grotto with a slide for a price range of $6000 to $15000. The costs may go even higher if you intend to get an elaborate custom design complete with pool lighting.
The cost of the grotto slide may vary depending on the material used for the slide. You can get a deck slide made of acrylic for about $5,000. The slide comes with ladder access but does not in any way blend with the rocks. Plants can be used to disguise this type of slide. At the price range of $10000, pool owners can get heavy gauge rotomolded slides made from plastic. These slides come with very sturdy ladders.
Fully custom grottos with slides require several weeks of construction. This is largely why they can cost up to $80,000.
Bottom Line
Pool grottos are a great way of elevating your pool as well as your home. Such features are what separates a typical residential home from a luxury home.
Pool grottos also work in favor of the property's value. This is why grottos are becoming a new necessity for pool owners.
Technological advances have also made it possible for people on a tight budget to add grottos and other water features to their pools. It is now possible to have attractive grottos molded from real rock- with the texture and color of real rock- at a fair, reasonable cost.
So what are you waiting for? Will you be adding a pool grotto to your home?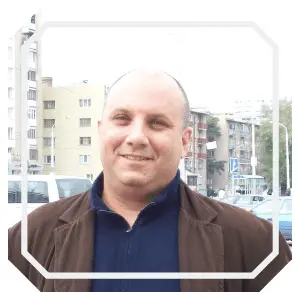 Nick Lopresti is the founder of YourH2Home and a home improvement expert. He has years of experience writing about various home improvement topics, mostly as it pertains to water systems.